Superfood dark chocolate beet fudge made with medjool dates, cacao powder, unsweetened chocolate, coconut oil, walnuts, and beets – A healthful take on the classic dessert.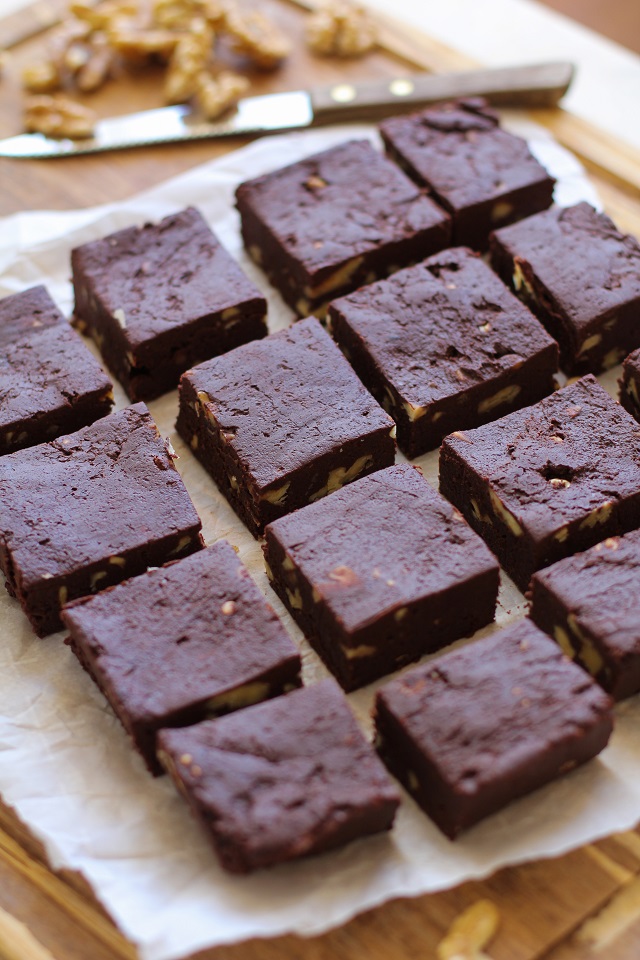 Around the holidays, my momma whips up batch upon batch of fudge to share with our extended family.
Her version is so sinfully addicting, made with straight up-marshmallow fluff, butter, cream, and hunks of chocolate – anyone who has had it can barely contain their elation when the mega holiday treat-making event goes down.
Because I'm a fabulous specimen of offspring and always enjoyed helping out in the kitchen, I took it upon myself to clean up any remaining melty chocolate goo that didn't make it into the pan with my face. Via rubber spatula.
No fudge left behind.
The sweet, creamy treat made my siblings and I bounce to and fro from the couch to the wall, then crash into a fudge coma in front of Disney movies. Yeah, that stuff was gooooood.
But now that I've reached the ripe age of (almost) 30, and have the metabolism of a sloth rather than a cheetah but still enjoy chocolate on-the-nightly, I cleaned up the family fudge fave and whipped out the next best thing: fudge au natural.
Insert eye roll.
I know… nothing beats a real batch of silky smooth milky chocolate decadence that melts on your tongue and sends insta-pleasure signals to your brain, but hear me out. Way I see it, nightly dessert eaters such as myself can enjoy this cleaner Superfood Dark Chocolate Beet Fudge version in higher frequency without feeling the brain fog that comes with the real deal.
Plus, you get to give yourself a pat on the back for making wise food input decisions. Desserting in adult-like fashion? We've got this.
Let's break it all down, beat boy style. Recipe highlights:
Healthy fudge.
Minus the dairy and refined sugar.
Made with all natural ingredients.
In a food processor.
Takes like 7.23 minutes to make (if you don't count refrigeration time).
And you can quote me on that.
This healthy fudge recipe is super to prepare and uses straight-forward ingredients – medjool dates, cacao powder, beets, etc. – with the added benefit of packing a superfood punch.
Chocolate + beets + walnuts award you antioxidants galore, and the subtle flavor of the dates makes them taste super sweet, without tasting "healthy."
I will say, this dark chocolate beet fudge isn't going to taste like your momma's high-octane authentic fudge recipe, but it certainly will please your palate.
For those of you who are beet-averse, fret not – you'll taste chocolate, not beets – I promise.
In addition, this super simple fudge takes less time to prepare than your classic sugar and dairy-filled fudge. All it requires is tossing a few ingredients into your food processor, then letting it set up in the refrigerator.
This recipe is ideal for those times you have leftover steamed or roasted beets. Note: you can also use pre-cooked beets from the grocery store!
Using the already cooked beets eliminates the long roasting time and makes for easy preparation.
If you're in the market for a quick and healthy chocolate recipe, this's your go-to guy.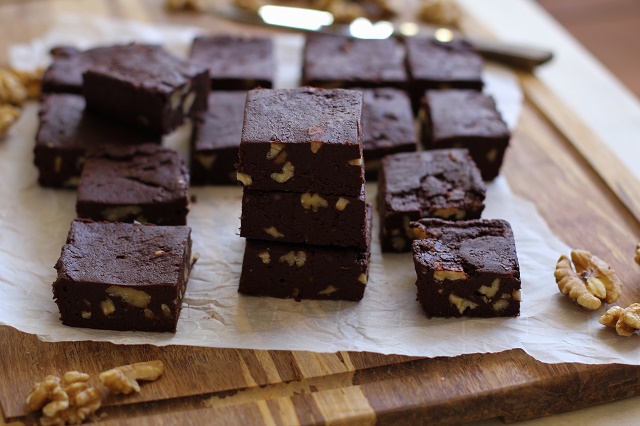 Superfood Dark Chocolate Beet Fudge
Superfood Dark Chocolate Beet Fudge are rich and flavorful nutritious treats!
Instructions
Place the dates in a bowl and fill with boiling water. Allow dates to sit for 10 minutes to soften.

While the dates are soaking, place the chopped chocolate and coconut oil in a glass bowl over a small pot of boiling water, stirring occasionally until chocolate has melted.

Drain the dates and place them in a food processor, along with the chopped beets, vanilla extract, cacao powder, cinnamon, and salt. Process until thick and smooth — you may need to stop the processor, scrape the sides with a rubber spatula, and start again several times.

Leaving the food processor on, pour the melted chocolate/oil through the top and allow the mixture to process until smooth.

Fold the chopped walnut into the fudge mixture with a rubber spatula.

Transfer the fudge mixture to a parchment-lined 8" x 8" square baking pan and spread evenly. Place another piece of parchment paper on top of the fudge and gently press down in order to create an even, packed layer.

Refrigerate at least two hours. Turn the block of fudge out onto a cutting board and slice into 16 square with s sharp knife.
Notes
Fudge can be stored in a zip lock bag in the freezer, or in a sealed container in the refrigerator.
Nutrition
Serving:
1
of 18
|
Calories:
194
kcal
|
Carbohydrates:
23
g
|
Protein:
3
g
|
Fat:
13
g
|
Fiber:
4
g
|
Sugar:
18
g