Silky-smooth dairy free fudge made with all whole food ingredients. This easy fudge recipe is refined sugar-free, paleo, and easy to make!
This post is sponsored by Vital Proteins.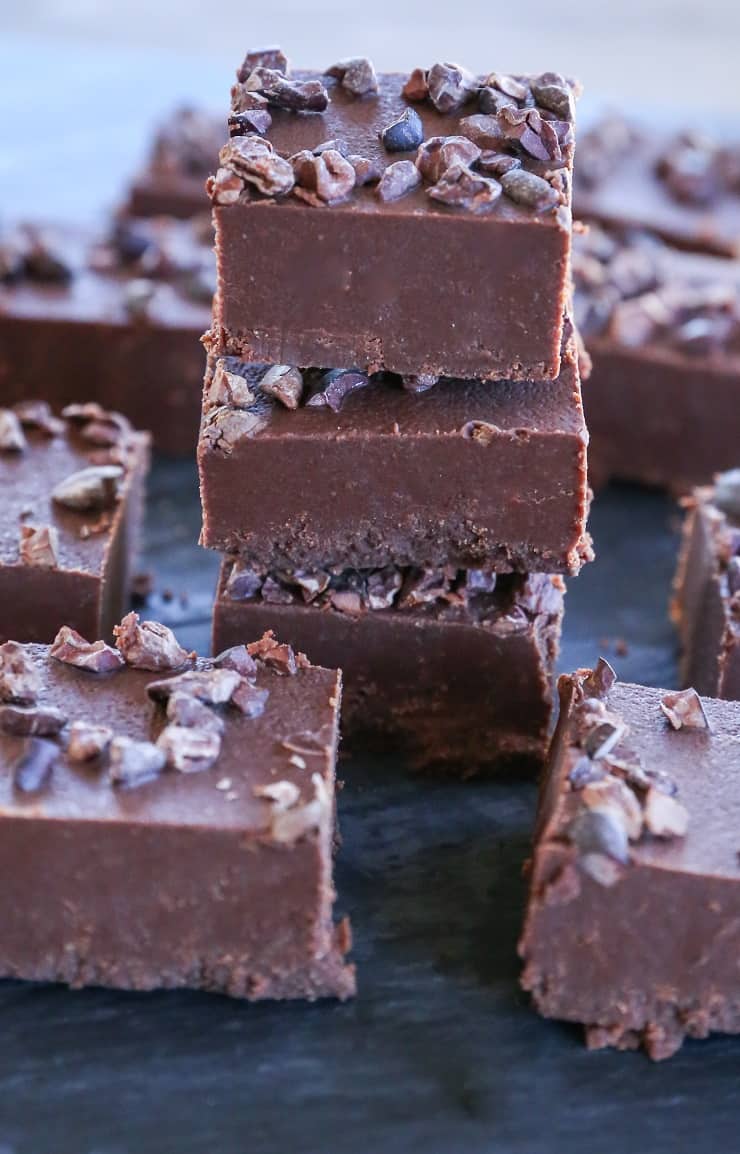 Is it too early in the year to talk about fudge?
If you're taking a brief pause from sugar like me, you may have to put this recipe on hold (oh hey, you can Pin it for later to remind yourself to make it!). If not, I say dive right in, because holy mackerel this fudge is flabberghasting!
My family is big into fudge, so healthifying the classic version of it is a continued To Do for me. I made Superfood Dark Chocolate Fudge a few years back, followed by Maple Walnut Vegan Fudge, and Paleo Sweet Potato Fudge but I have to say, this recipe is the closest I've gotten to the real McCoy. It's nearly indistinguishable from its butter and cream counterpart, yet won't jettison you into a sugar coma or make you feel like you just – well – ate a stick of butter. This fudge isn't overly sweet, which is mega for us sweet-toothers who like keeping our sweets on a managed level of sweet.
How do we make this cleaner version of fudge? Easy! I simply replace the classic fats (butter and cream) with cleaner fats (almond butter, coconut butter, and coconut oil), and I substitute the classic sugar (cane sugar) for unrefined sugar (pure maple syrup).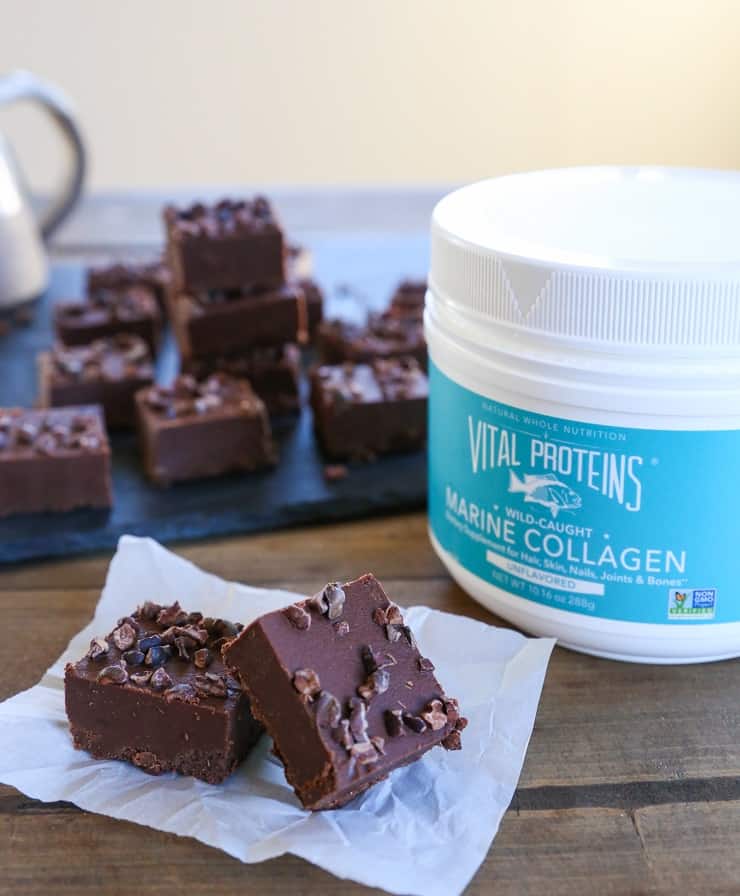 Given from a macronutrient standpoint this fudge serves as an epic fat bomb, I found it brilliant to boost it with collagen, because why not? I added a couple scoops of Vital Proteins Marine Collagen to the fudge to give it that added health benefit of Remember, collagen is the most abundant protein in our body, and we need it for sustaining healthy bones, cartilage, tendons, and joints, growing luscious hair and nails, and keeping our skin vibrant and young; BUT, the way our food is processed removes much of the collagen you would get naturally (much like the concept that our vegetables are far less nutrient-dense than they were say 20 years ago because of depleted soil quality), which is why it's smart to supplement it.
Collagen has been pivotal in healing my gut and maintaining a healthy digestive system. For those of us who have leaky gut (a damaged intestine such that food particles permeate through the digestive tract and enter the bloodstream), collagen is a powerful fix that begins working immediately and helps tremendously when integrated into your daily routine. It contains the amino acids proline and glycine which are the building blocks of your intestinal lining, making it essential in repairing a damaged intestine.
I consume collagen every single day in my bulletproof coffee, I add it to bone broth and drink it like tea, and I also put it in various treat recipes like this fudge and those Paleo Fat Balls I showed you last year. It's tasteless and dissolves in both hot and cold liquid, so it's an incredibly versatile tool! You can also add it to smoothies, homemade protein bars, you name it.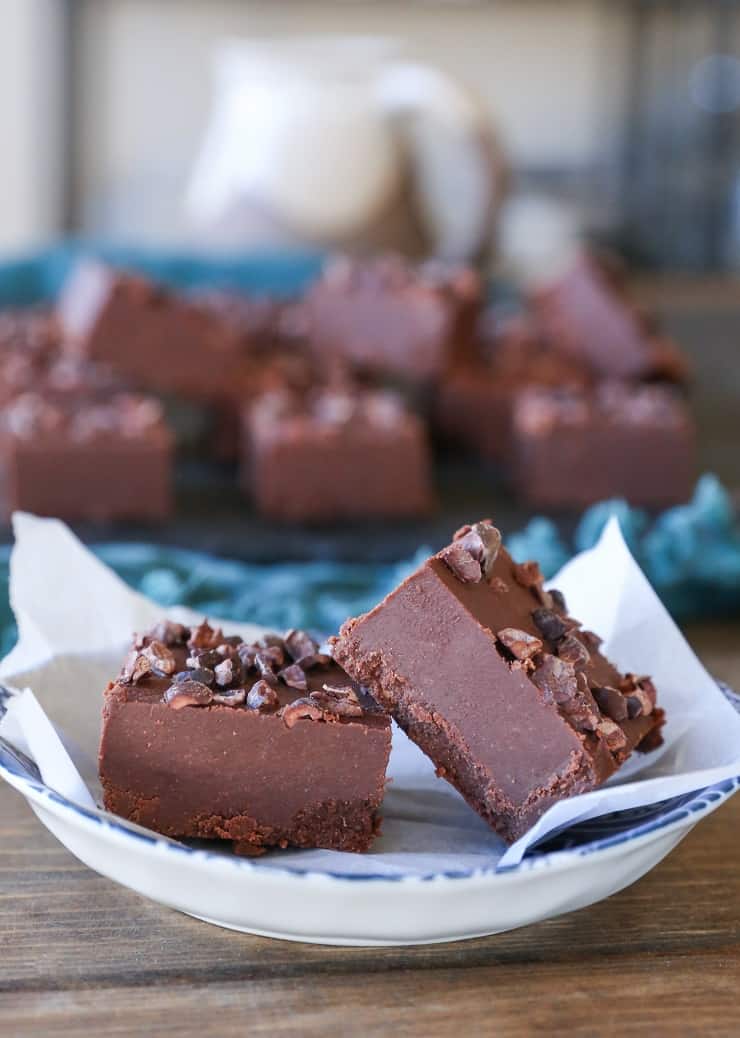 I've found good sources of fat to be an incredible support for my digestive system (fat helps move things along and is paramount in helping your body absorb nutrients), and collagen has also been pivotal in healing my gut issues. That's not to say this fudge is your cureall! It's merely to suggest it contains the ingredients I find to be useful in my own digestive health.
How does this fudge come together? So effortlessly, you won't even believe it. I simply heat all of the ingredients in a saucepan on the stove top, then pour them into a parchment-lined loaf pan. I allow the fudge to sit at room temperature, which I've found creates the creamiest, dreamiest fudge. You can absolutely refrigerate or freeze the fudge to speed up the process, but the great thing about this fudge is you don't need the refrigeration to keep it stable – it's stable at room temperature.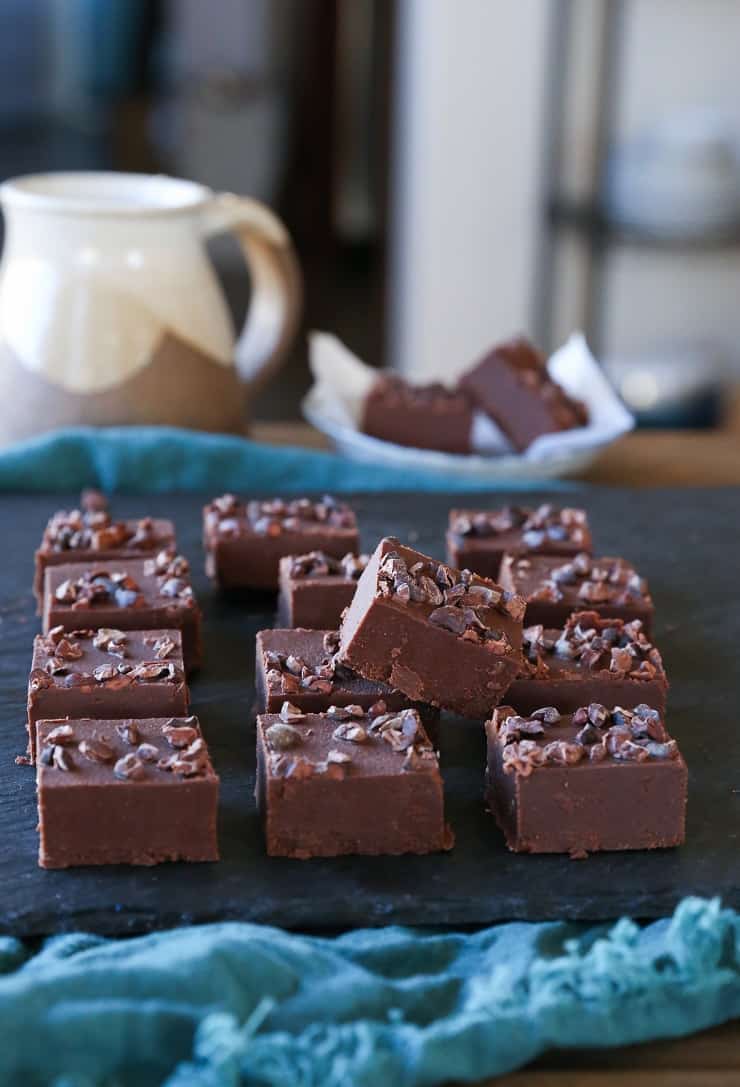 My epic plan is to use this as my base recipe to create various flavors of fudge (can you even imagine a mint-chocolate fudge? I'm getting goosebumps just thinking about it)! I top the fudge with cacao nibs, but you can leave it as-is or top with nuts or seeds (perhaps even some dried fruit or goji berries for added antioxidants and tang!)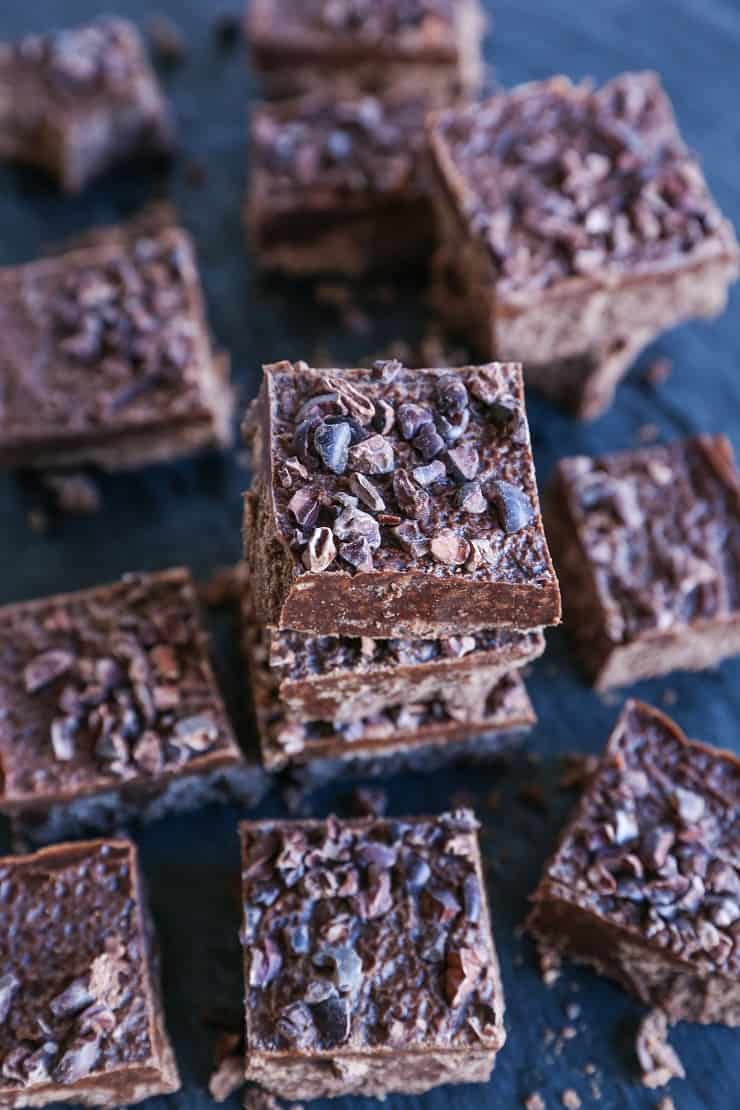 I hope you enjoy your newest chocolate fix! Let me know how you like it!
Dairy-Free Fudge (Paleo)
An easy recipe for dairy-free, vegan, paleo fudge that will delight all who try it!
Instructions
Heat all ingredients in a saucepan over medium-low heat, stirring until melted and creamy.

Pour the fudge mixture into a parchment-lined 9" x 5" loaf pan. Top with cacao nibs, nuts, seeds, and/or dried fruit. Allow fudge to cool completely, or transfer to the refrigerator to speed up the process.

Slice fudge into squares and enjoy!

Store any leftovers in a zip-lock bag and keep in the refrigerator or freezer.
Notes
*You can also use sunflower butter or cashew butter.
**Make the recipe keto or low-carb by replacing the pure maple syrup with Stevia or Swerve Sweetener. Start with 3 tablespoons and add more to taste.
Nutrition