Paleo fat balls made with nuts, seeds, coconut oil, and pure maple syrup. Perfect for a paleo or keto snack, this recipe is highly customizable. Full of fat and protein, these bites are perfect for a paleo or low-carb diet.
This post is sponsored by Vital Proteins.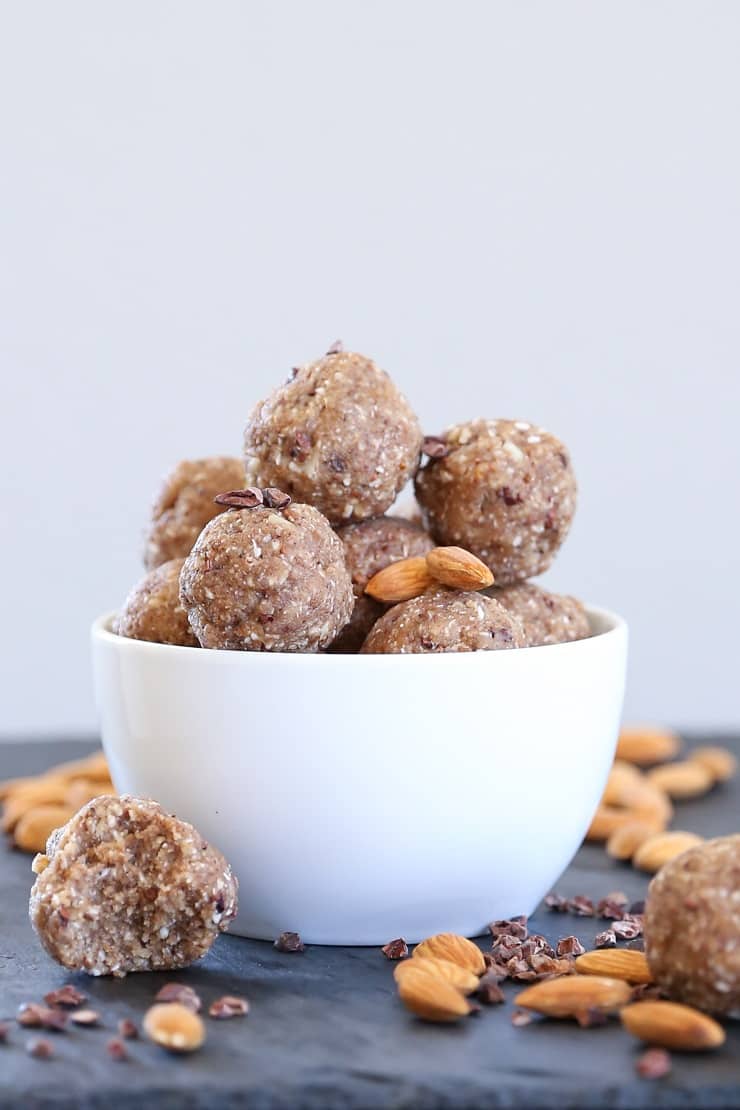 Paleo fat balls!
Also known as energy balls, protein balls, protein bites, snack balls, you name it.
While there are many recipes for the ball food group on the internet, there are some differentiating factors between them.
Some energy or fat ball recipes you'll come across are made using oats, dates, and/or other ingredients that contain carbohydrates or high amounts of sugar.
While there is definitely nothing wrong with these types of snacks, I personally avoid high high sugar snacks and instead focus on protein and fat.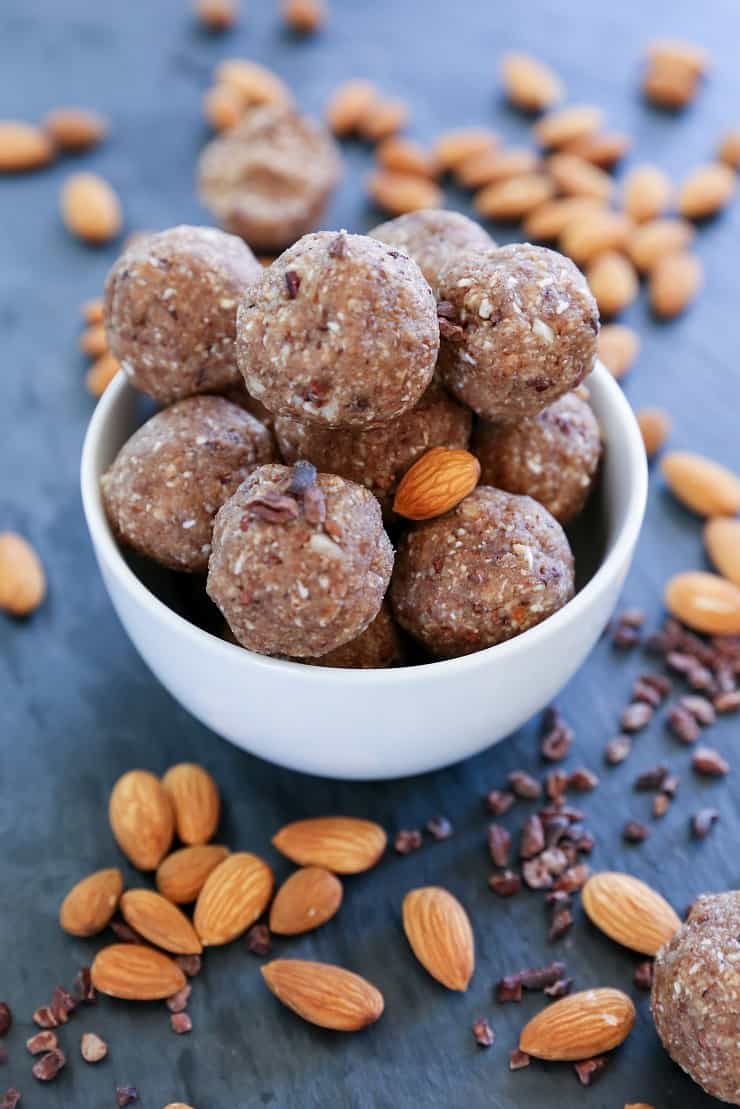 Paleo and keto fat balls are designed to be low in sugar and carbohydrates, upping the fat ante for a snack that feeds your ability to burn fat for fuel rather than carbohydrates.
You'll notice I use pure maple syrup in my paleo fat ball recipes. If you follow a ketogenic diet, use a tablespoon of Erythritol (I like Swerve), monk fruit sweetener, or xylitol
Which brings me to my next point – the ketogenic diet.
What is Ketosis?
In case you're unfamiliar, ketosis is a metabolic process wherein your body burns fat for fuel when it doesn't have enough glucose to convert into energy.
In this sense, for one to stay in a state of ketosis, consistently consuming a low-carbohydrate diet is necessary so that the body is trained to recognize fat as fuel.
This method of living generally results in high energy and athletic performance, although when many people first begin eating a ketogenic diet, they notice a short-term decrease in energy until their body is in ketosis.
Achieving ketosis does take time and only works when one truly sticks to a low-carbohydrate diet. In my humble opinion, a ketogenic diet is unnecessary unless you're doing so for specific health or fitness reasons – if your body thrives on carbohydrates and your overall health is good, I don't see a reason to stop doing what works for you.
You may have read in my How to Make Bulletproof Coffee post that I tend to eat a diet high in fat, because my body doesn't process carbohydrates well. In essence, I've trained my body to efficiently burn fat for fuel rather than carbs and sugar.
While ketosis can have a weight-loss effect, and/or make you look supremely awesome naked, the purpose of eating a high fat diet for me is for health, not vanity.
There are a great deal of opinions out there on who should be eating what in which amount. I generally ignore unsubstantiated statements and go with my gut – literally. I eat a diet my body loves and craves, which happens to be paleo-centric.
Made with raw nuts (I like using almonds and cashews), nut or seed butter (I use sunflower seed butter), pure maple syrup (or zero sugar sweetener for a keto option – see details below), coconut oil, and collagen powder, these balls equate to balls of high-octane energy in the form of protein and fat.
How to Make Keto or Paleo Fat Balls:
Step 1: Choose your ingredients! Decide which nuts, seeds, nut butter, sweetener, and/or any other add ins you want to use.
Nut options: Almonds, cashews, pecans, walnuts, sunflower seeds, pumpkin seeds, and brazil nuts are great!
Fat options: Coconut oil, flax oil, almond butter, sunflower seed butter, peanut butter, and coconut butter are marvelous in fat balls or energy bites. The fat helps hold the ball together, provides quality macronutrients, and makes the ball taste great.
Sweeteners: If you're making a paleo version, consider pure maple syrup, honey, coconut nectar, dates, and/or raisins for sweetening. If you're making a keto version, use your favorite liquid or granular sugar-free sweetener.
Extras: Dried fruit, flaked coconut, vanilla extract, and cacao nibs are some examples of pantry staples that taste great in fat balls and bring them life!
Step 2: Simply add all of the ingredients to a food processor and process until a thick sticky paste forms.
Step 3: Transfer this mixture to a container and refrigerate for 2 hours.
Step 4: Form balls (of any size!) out of the mixture and either store in the refrigerator in a sealed container or in the freezer in a zip lock bag.
Are These Fat Balls Keto?:
I consider these fat balls to be low-carb and keto-friendly for most people, but it depends on the amount of carbs you eat in a day. If you're trying to stay below 30 grams of carbs, it may be worth using sugar-free sweetener instead of pure maple syrup in the recipe.
When made with pure maple syrup, each ball contains 3 net grams of carbohydrate, which only decreases by 1 gram of carbohydrate when using sugar-free sweetener. Use whatever method you choose for sweetening these fat balls! And if you're fine with more carbohydrate, add more pure maple syrup for a sweeter treat!
Sweetener Options:
I use pure maple syrup to sweeten the balls, but as I mentioned earlier, you can use a zero sugar sweetener, such as Erythritol, xylitol, or monk fruit sweetener.
I don't add very much sweetener to the balls because the intent for me isn't to eat these as a sweet treat or dessert, but rather a high-quality fat bomb snack.
Pure maple syrup is my go-to sweetener over a zero-sugar sweetener because sugar alcohols upset my GI.
If you have gut issues, I suggest sticking with a natural liquid sweetener like pure maple syrup, honey, or coconut nectar. You can also stick with pitted medjool dates!
Recipe Adaptations:
You can use virtually any nut you'd like (walnuts, almonds, cashews, and macadamia nuts work great), any nut or seed butter (sunflower seed butter and almond butter are my favorites), and can get creative by adding dried fruit, cocoa powder, extracts, etc.
I add Vital Proteins Marine Collagen to my ketogenic fat balls, because they provide an additional nutrient boost. Collagen is helpful with digestion, repairing your gut lining, which is awesome for folks like me who have Irritable Bowel Syndrome or other digestive issues.
In addition, collagen is the protein building block for your skin, connective tissue, ligaments, muscles, bones, hair, nails, etc. The powder is flavorless, so you won't notice a difference in the flavor of the balls. I love that the simple addition of the powder generates more protein and benefits to my GI tract and tissue.
There are a myriad of ways you can go about this recipe. You'll notice I kept certain ingredients vague (see my recipe notes for details) so that you can customize them to your heart's delight.
Flavor-wise, these balls taste nutty and coconutty with a slight chocolaty undertone from the cacao nibs. They're not overly sweet, so feel free to adjust the sweetness to your own palate.
These fat bombs are perfect for packing for road trips, airline trips, hiking, biking, trail running, etc. They provide instant workable fuel to keep you energized and replenish your calorie tank.
If you're an athlete, and/or are training for an event, these are your jam! If you're a parent of children with food intolerances, these are also a great resources for summer snack or school lunches.
Fat balls for life!
My cookbook,
Paleo Power Bowls
, is now available! CLICK HERE to check it out. Thank you for your support!
If you make this recipe, please feel free to share a photo and tag @The.Roasted.Root on Instagram!
Paleo Fat Balls (with a keto option)
Fat balls made with nuts and seeds are a marvelous healthy snack. Make them keto by using your favorite sugar-free confectioners sweetener
Instructions
Add the raw nuts to food processor and process until finely chopped. Add the remaining ingredients to the food processor and process until a thick paste has formed. The dough should be sticky.

Roll the fat ball mixture into 16 to 20 balls. Store in a zip lock bag in the refrigerator or freezer (balls thaw quickly, so I store mine in the freezer).
Notes
*I used 1 cup raw almonds and ½ cup macadamia nuts, but you can use any combination of your favorite nuts.
**I used sunflower seed butter. To keep these paleo, avoid using peanut butter
***Use 2 to 3 tablespoons zero-sugar sweetener such as Erythritol, monk fruit sweetener, or xylitol or a few drops of liquid Stevia to make these a completely sugar-free ball for a ketogenic diet.
If you have it on hand, use sugar-free confectioners sweetener for a less grainy consistency, or use sugar-free maple syrup.
If you aren't on a ketogenic diet, you can increase the amount of pure maple syrup to up to 5 tablespoons for a sweeter ball.
Nutrition
Serving:
1
of 24
|
Calories:
140
kcal
|
Carbohydrates:
4
g
|
Protein:
4
g
|
Fat:
13
g
|
Fiber:
1
g
|
Sugar:
2
g