A classic holiday dessert made healthy using just three ingredients. This dairy-free, refined sugar-free treat is perfect for those with diet restrictions, and makes for a rich and decadent dessert.
This post is sponsored by SunButter.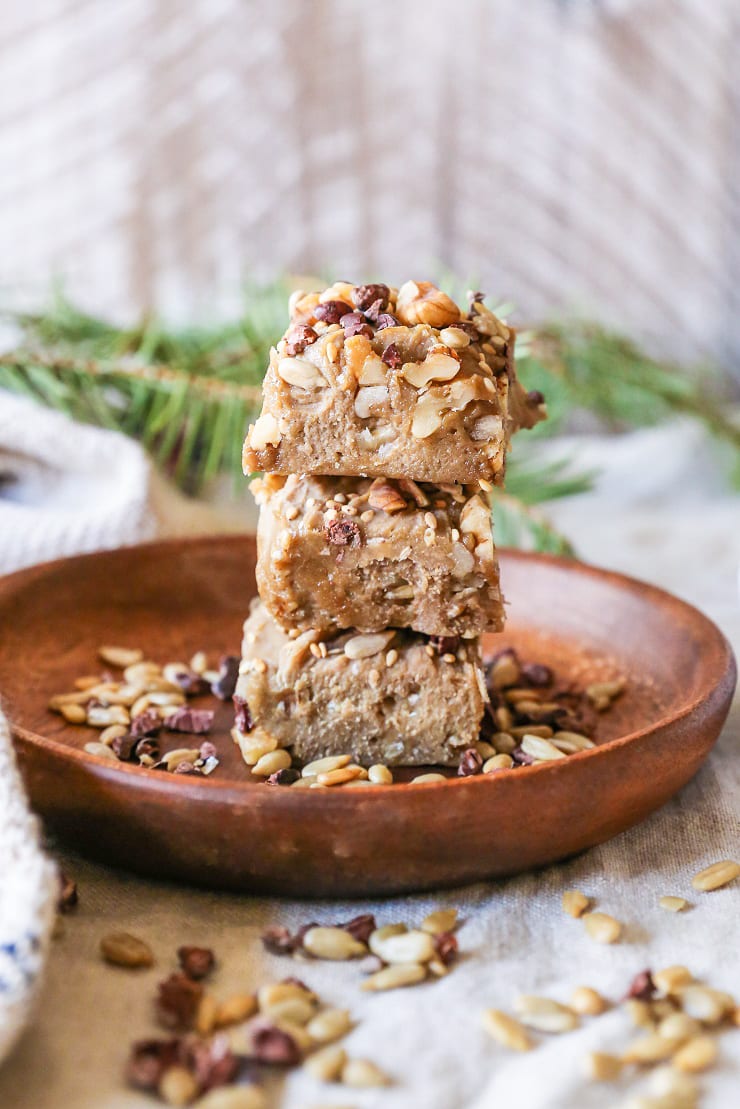 Great news! It's the return of the superfood fudge! If you read my Superfood Dark Chocolate Beet Fudge post last year, you know I had access to some seriously sinful fudge during each holiday season on account of my mom's holiday dessert-forming steaze, but have since refined my own healthy fudge recipes using healthful, whole food ingredients.
If you're looking to keep your treats healthier, are catering to those with food allergies, or simply enjoy consuming mouth-melting edibles boy oh boy do I have an experience for you?!
Rather than using butter, cream, and sugar for the fudge base, guess what we're using? Can you guess? Can you even fathom? No peeking…
Sunflower seed butter!
I used SunButter's Organic Sunflower Seed Butter, which only contains sunflower seeds…no sugar, no salt, no added hydrogenated oils or preservatives! If you've never tried sunflower seed butter, this is going to blow your mind! It has a mild flavor somewhat similar to tahini, a nice creamy texture, and is perfect for using in any of the same applications as nut butters.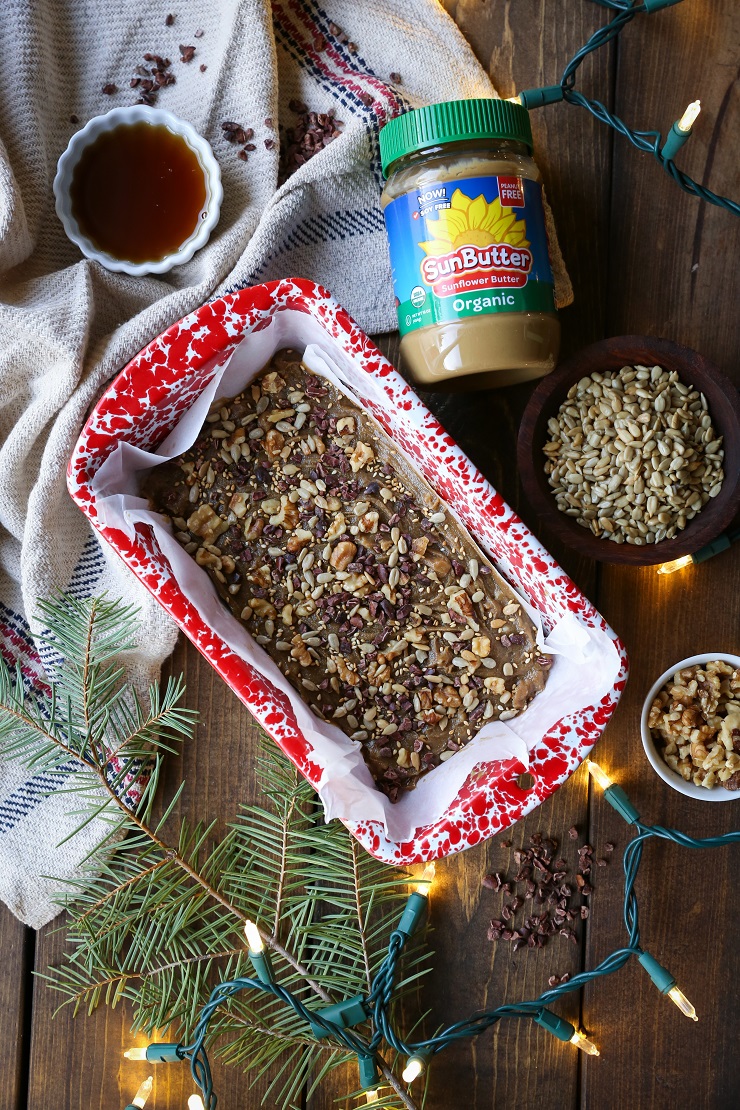 SunButter acquires its sunflower seeds from locally-grown, non-GMO sources, and processes its products in a soy-free, peanut-free and tree nut-free facility. Not only is sunflower seed butter a great alternative for those who have nut allergies, but it's full of health benefits. Sunflower seeds are a good source of Vitamin E and B1, which help detoxify your cells and derive energy from the food you consume. SunButter is also nutritionally superior to peanut butter. With one-third less saturated fat, less salt and sugar (or in the case of the type I used, no salt or sugar), three times the iron, twice the zinc and fiber, more vitamin E and the same protein content as peanut butter, you're looking at a serious superfood.
All in all, this recipe is…
Dairy-free
Gluten-free and grain-free
Peanut-free
Soy-free
Refined sugar-free
Paleo-friendly
Vegan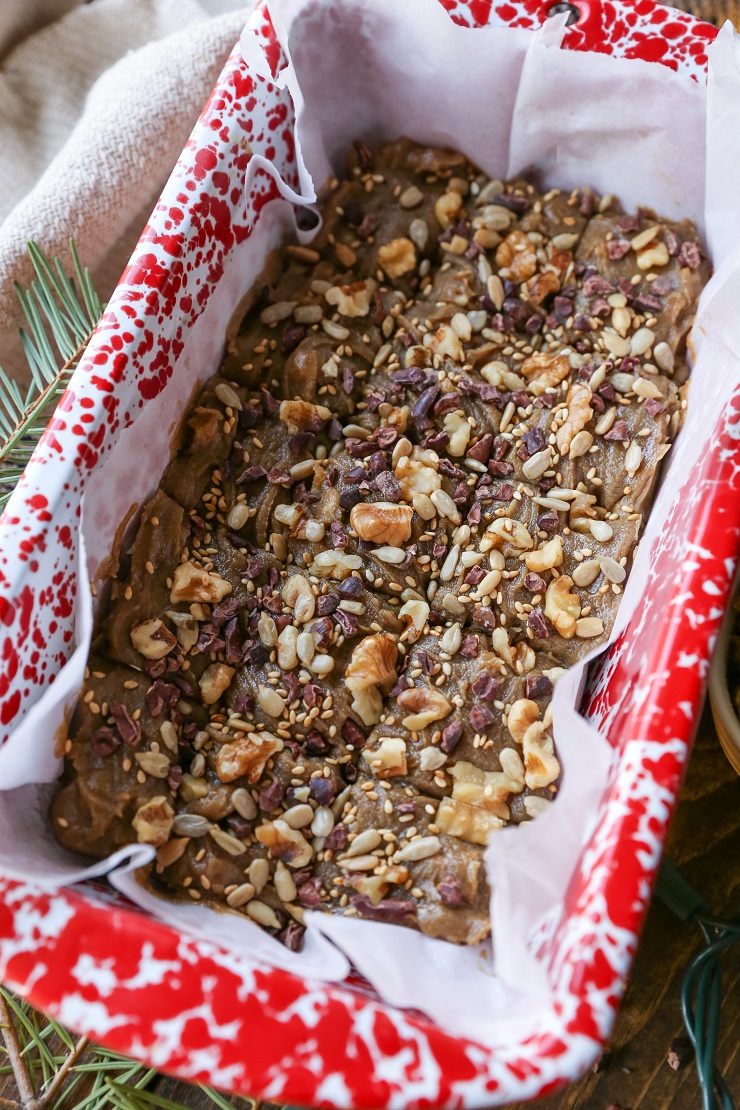 Just when you thought this couldn't get any better, I have yet another piece of great news: preparing this fudge is incredibly easy! Easier than preparing regular fudge. It literally requires stirring the ingredients together and spreading them into a pan. BOOM! Brilliance.
If you're unfamiliar with the concept of "freezer fudge," it's just as it sounds. You incorporate the magic of the icebox to help the fudge set up. Since we're using a spread (SunButter) and a liquid sweetener (pure maple syrup), we need some help in the adhesion department. A couple-hour zap in the freezer is what does the trick! Once the fudge sets up, it can be stored in either the freezer or refrigerator, just like regular fudge.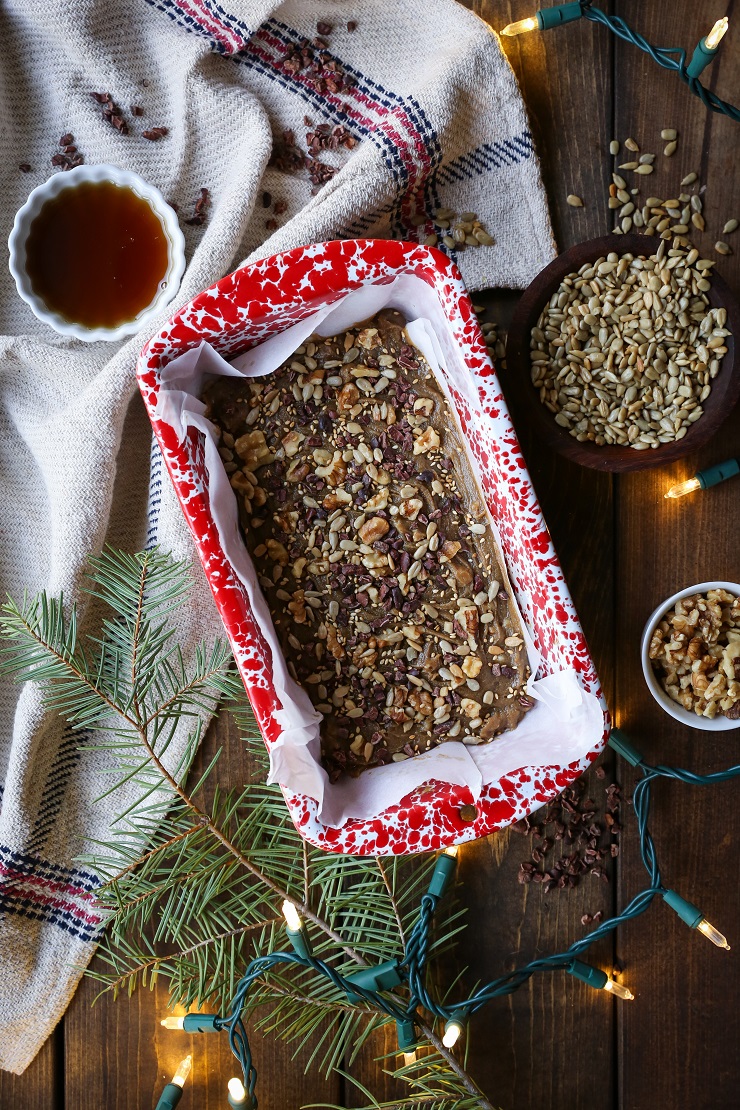 At a minimum, this maple walnut freezer fudge recipe requires only three ingredients: sunflower seed butter, pure maple syrup, and walnuts. Everything else is just icing on the cake…or bonus goodies in the fudge! I love adding some ground cinnamon and fresh nutmeg for a little warm spice action, and vanilla extract's always tasty in these sorts of applications, but if you're trying to keep this a 3-ingredient adventure, feel free to leave out my add-ins. And of course, if you're allergic to walnuts or prefer a different nut, feel free to omit or substitute them for something else!
Let's talk fudge toppings: I'm all about a good texture fusion, so I topped the fudge with roasted sunflower seeds, sesame seeds, cacao nibs, and walnuts. If you're looking for a creamy dreamy fudge, simply omit the toppings altogether! You can also use tasty toppers such as shredded coconut, goji berries (or other dried fruit), caramelized ginger, etc.
Maple Walnut Vegan Fudge (Paleo)
Amazing, unique fudge recipe made dairy-free with sunflower butter and refined sugar-free with pure maple.
Ingredients
For Garnish:
Sunflower Seeds

Sesame seeds

Raw walnuts

chopped
Instructions
Line a 9" x 5" loaf pan with parchment paper.

Add all of the ingredients for the fudge to a small saucepan and heat over medium, stirring constantly, just until all ingredients are well-combined, and the mixture is very thick.

Transfer the fudge mixture to the prepared loaf pan and smooth into an even layer.

Sprinkle fudge with sunflower seeds, sesame seeds, cacao nibs, and chopped walnuts. Gently press the toppings into the fudge. Freeze (uncovered) for 2 hours, or until fudge has solidified.

When ready to serve, allow fudge to thaw 10 to 15 minutes, then cut into small squares using a sharp knife. Store fudge in a sealed container or bag in the freezer or refrigerator.
Nutrition