Nutritious and easy to prepare summer vegetable frittata. This healthy breakfast incorporates avocados instead of cream for that delicious creamy flavor without the dairy.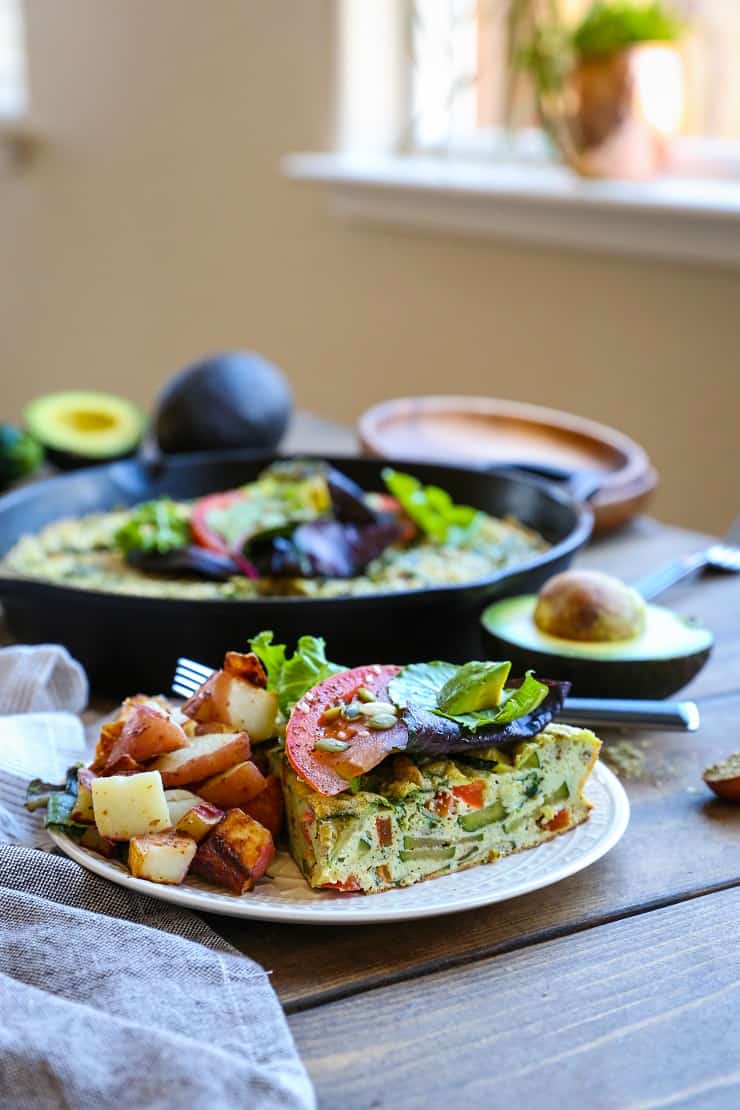 Oh hello, summer, where did you come from?
With the summer solstice only two days away, I'm thinking it's high time we start incorporating summer produce into our every meal. You in?
And what better way to ring in summer than with a nutritious breakfast recipe?
Sautéing fresh seasonal vegetables is an instant win when it comes to frittatas. The result always tastes so fresh and makes for a nutrient-packed meal. For this round of frittata making, we're using fresh summer vegetables: zucchini, yellow squash, bell pepper, and fresh basil, with a boost of kale.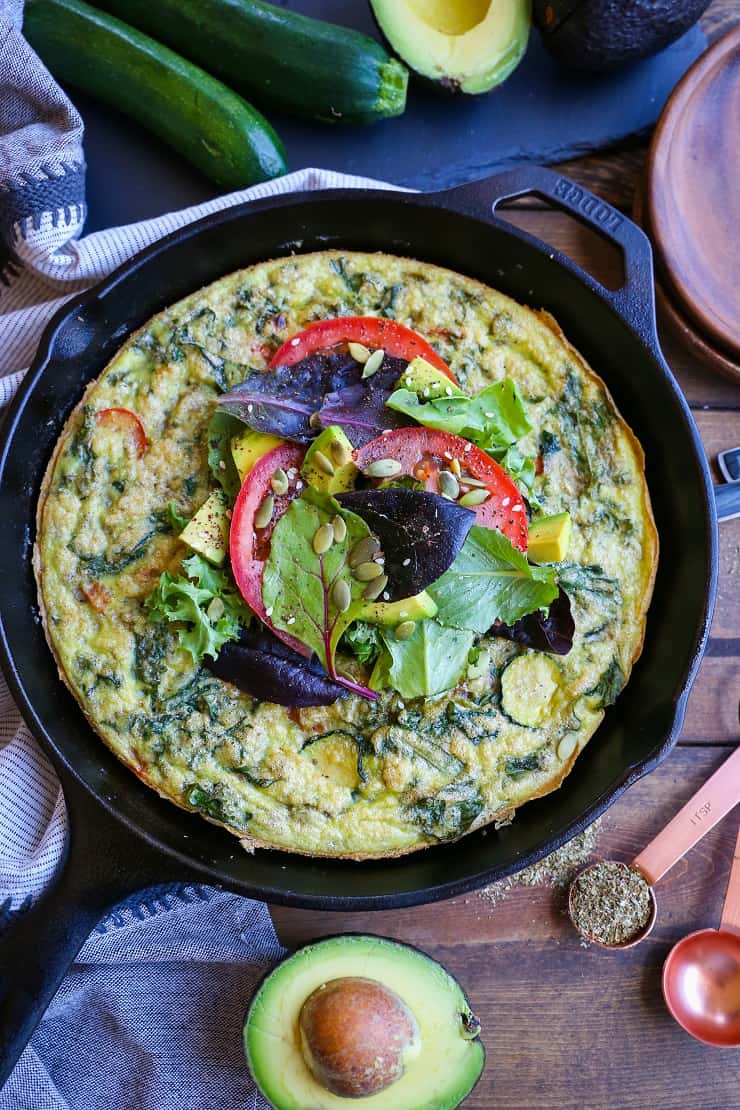 While frittata recipes typically call for cream and cheese, we're skipping the dairy to keep the dish fresh and light. Our replacement of choice? One ripe avocado. I know, crazy, right? Trust me, it works marvelously!
We blend an avocado with our eggs to achieve that creamy flavor and texture minus the dairy. Using avocado also boosts the healthy fat and makes the frittata friendly to those who are lactose intolerant.
Arguably the best part about this whole thing is you'll want to select an avocado that's on the riper end to ensure the flavor and texture of the frittata turns out nice and creamy. So for those times you have an over-ripe forgotten avocado in your refrigerator that's a little too far gone to eat raw, here's your chance to use that bad boy!
That said, you can still use an avocado that's perfectly ripe. I just like whipping up this frittata when I have avocados that are over-ripe to ensure they don't go to waste.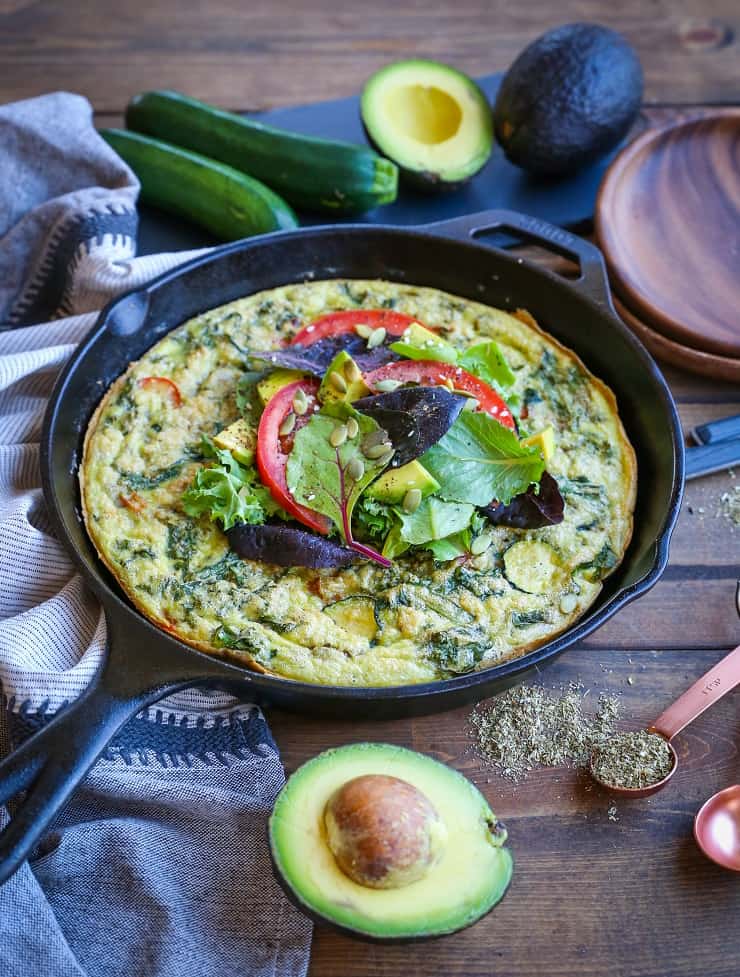 If you're a meal prepper, frittatas are a perfect breakfast for making ahead of time. You can simply slice off a piece and pack it up to take it to work as a grab-and-go situation, or simply enjoy it before leaving the house. I love the convenience of a healthy breakfast that saves well and makes enough for days on end. I'm also a big fan of frittatas for brunch, as they are perfect for sharing with friends and family and add a healthier spin to the gathering.
You can easily take this recipe concept and run with it using your favorite vegetables. For instance, consider incorporating broccoli, cauliflower, tomatoes, sweet potatoes (or regular potatoes), etc. And hey, if you still want to add cheese, go for it! Gruyere, gouda, and jack cheese are my top three favorite cheese varietals for frittatas.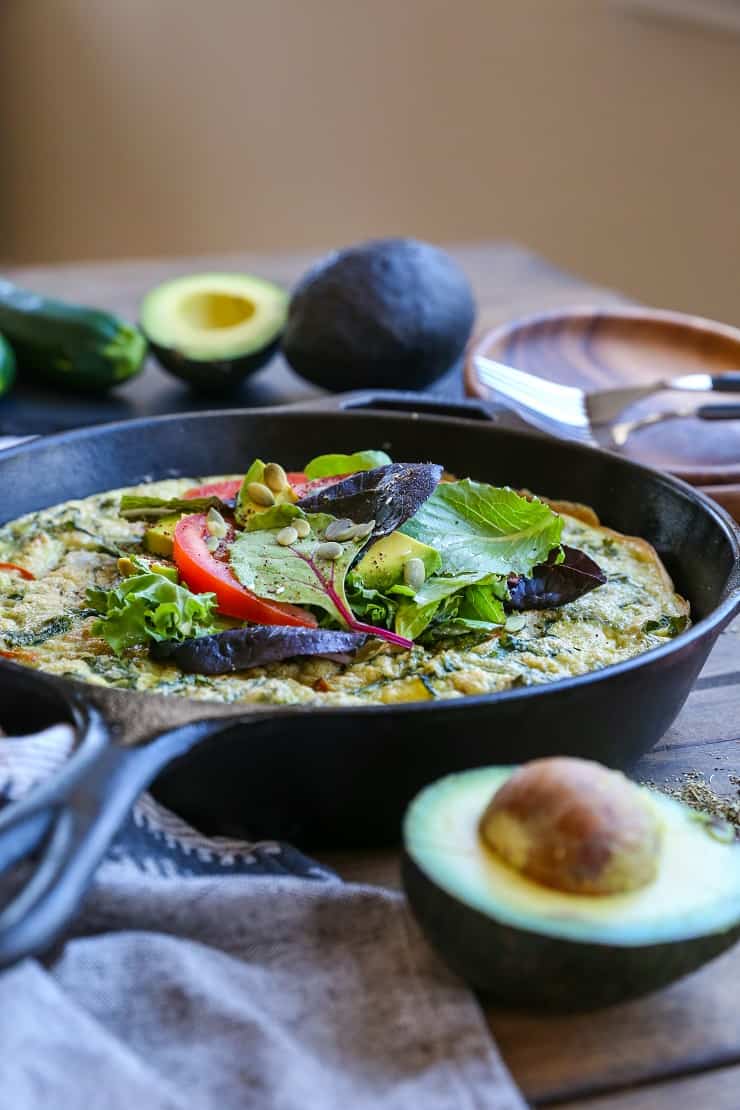 If I'm making the frittata for a relaxing weekend morning, I enjoy serving it with salad and roasted red potatoes or Sweet Potato Home Fries. You can also go the meat lover's route and serve with cooked bacon or breakfast sausage.
And that's it! An easy breakfast concept that can be prepared using any of your favorite produce, and of course, delicious avocado!
Summer Vegetable Avocado Frittata
Have you ever added avocado to your frittata! Try it! It's creamyyyy!
Ingredients
Instructions
Preheat the oven to 325 degrees F.

Heat the olive oil in a 10-inch cast iron skillet over medium-high heat. Add the zucchini, yellow squash, and bell pepper, and cook, stirring occasionally, until vegetables have softened but are still al dente, about 3 to 5 minutes.

Add the chopped kale, cover, and cook until kale leaves have wilted, about 1 to 2 minutes.

Add the basil and half of the sea salt. stir well. Remove skillet from heat.

Crack the eggs into a blender and add the diced avocado along with the remaining ½ teaspoon of sea salt. Blend until smooth.

Evenly pour the egg/avocado mixture over the vegetables in the skillet. Use a spoon or spatula to shift the vegetables around so that everything is evenly distributed, but avoid scrambling the eggs.

Place the frittata on the middle shelf of the preheated oven and bake for 30 minutes, or until frittata tests clean when poked in the center.

Allow frittata to cool at least 10 minutes. Cut wedges and serve with salad and home fries.
Nutrition
More Frittata Recipes: