A quick and easy-to-prepare frittata with fresh mozzarella, heirloom tomatoes, basil, and arugula. This fresh and beautiful breakfast (or dinner) comes together in less than 30 minutes!
How are we doing? Are we ready for another long weekend? Are we going to pretend we're still on holiday? Are we even capable of reading actual words? My weekend was filled with my favorite Independence Day amenities: trails, sun, wine + beer, grilled food, spectacular fireworks shows over Lake Tahoe…needless to say, this brain is operating with some serious holiday weekend lag time. The good news is, we have a whole week to catch up to our normal pace, and in the meantime? Small talk.
Have you guys been watching the show, The Path? It's a Hulu Original, and it is NUTS! I already know I'm going to get sucked in. I'm already sucked in. I'm trapped. Send help.
It's about a cult (well…the characters in the show call it a "movement," but let's call a spade a spade and a cult a cult).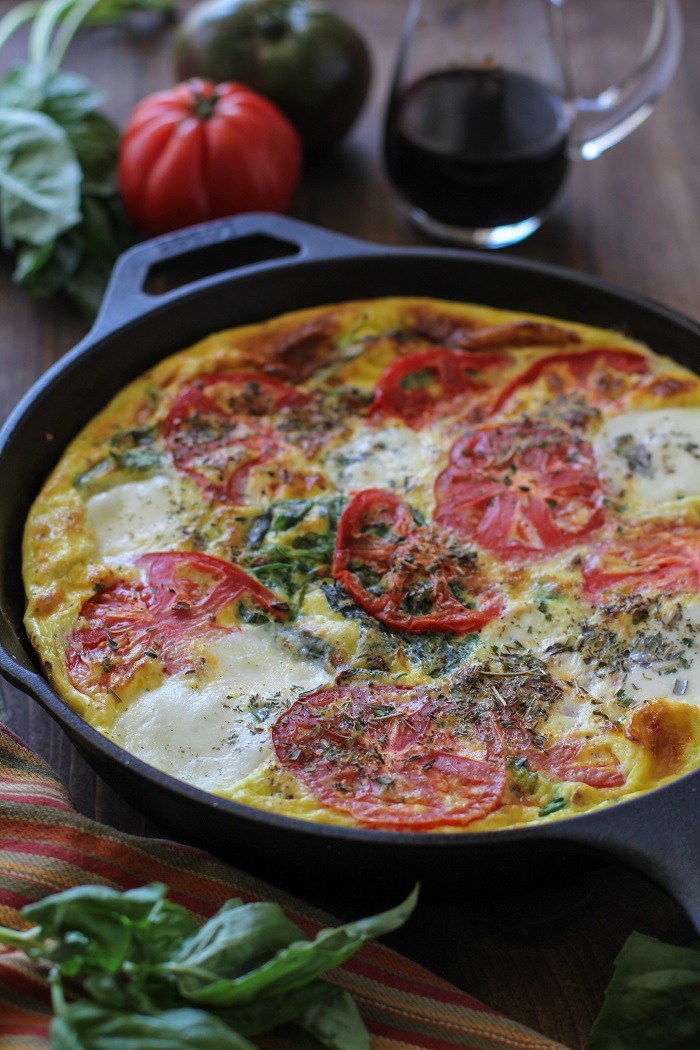 Imagine Unbreakable Kimmy Schmidt, but before she escaped from her mini cult, on a larger scale, and like, not funny because there's no Titus. So basically, imagine an entirely different show. I'll stop.
The character arrangement is one of those suck-you-in ordeals. There's the narcissist vying for power at any cost, the naive and controlling housewife you kinda want to side with but kinda can't, because there's the husband who's just trying to do the right thing while straddling between reality and cult-land so you side with him, all the while there's a coming-of-age son who's beginning to rebel and you're like "Get out, son, get out! Rebel, son, rebel!"
Plus there's the set of secondary main characters who are there to remind the main characters how to behave properly, while slowly unfolding the main tenants of the cult's religion/belief system, which doesn't sound alllll that bad on paper, but in practice? Disaster. All living in the same cult community. It makes your skin itch and your intestines twist. It may make sleeping at night difficult. You should watch it.
Thank you for letting me unburden (<- show reference, 10 points!). We can talk about food now.
Caprese. Always the rage.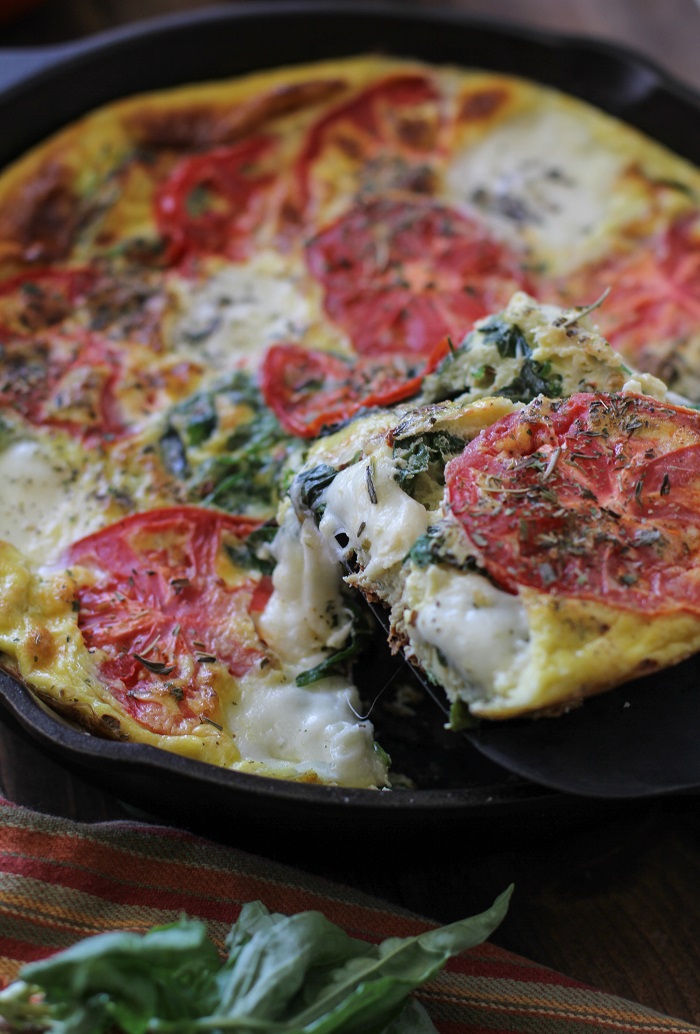 How do you like to caprese? Original-style with the heirloom tomato, mozzarella, and basil all laid out on a plate with the balsamic reduction drizzle? Changed up with fruit and nuts? Chopped up and tossed into a green salad? Made into a Caprese Pizza? Caprese enchiladas/tacos/some other thing I don't even know about? There is no wrong answer, you can tell me.
Caprese frittatas are a MUST! I just discovered them in my kitchen, and you guys? WOW. It's like pizza in your egg breakfast. Like, a Margherita Pizza Frittata. Deep dish-style. I have hereby made it my current frittata crush.
The idea behind this is simple. You saute some garlic in a cast iron (or oven-safe) skillet, along with fresh arugula and basil. Pour in your egg mixture, let it sit for a hot minute, then lay your heirloom tomato slices and mozarella on top. From here, you only need to cook the frittata for 10 to 14 minutes more, then broil it in the oven should you choose.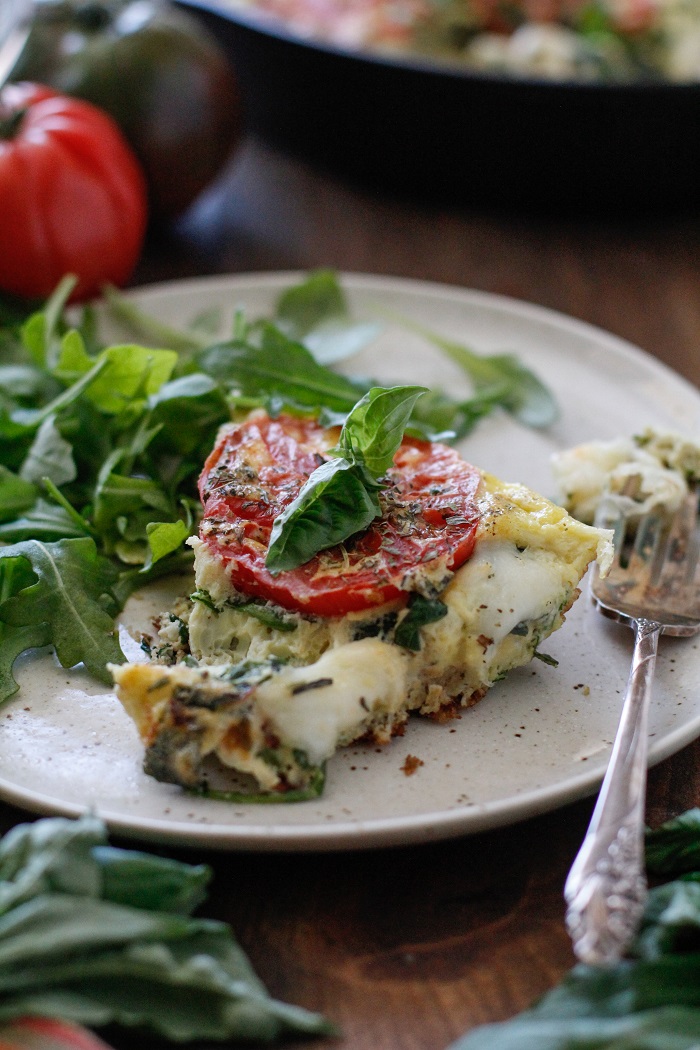 The cheese? Melty. The eggs? Herby. The tomato slices? So pizza-like, it's not even funny. To balsamic drizzle or not to balsamic drizzle? That is the question. Balsamic drizzle.
I don't even want to tell you about adaptations to this recipe, because it's just so great as is.
Uno, dos, CAPRESE! <- I dunno.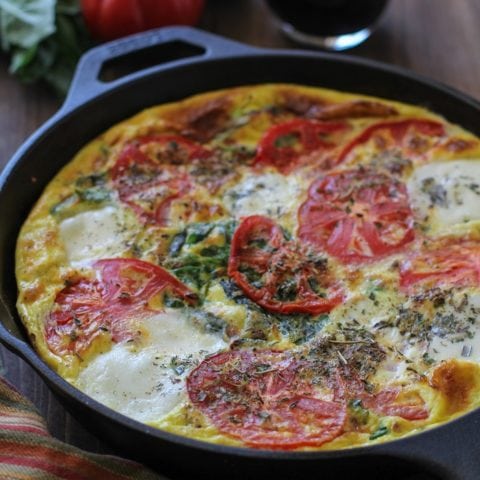 Caprese Frittata with Arugula
A delicious breakfast frittata made caprese style with fresh mozzarella cheese, tomatoes, and basil.
Ingredients
10 large eggs, well beaten
1/3 cup half & half*
½ teaspoon sea salt
½ teaspoon Herbs de Provence or Italian Seasoning
¼ teaspoon red pepper flakes, optional
3 cloves large garlic, minced
2 heaping handfuls arugula, or baby spinach
½ cup fresh basil leaves, thinly sliced
2 medium heirloom tomatoes, thinly sliced
2 ounces mozzarella balls, sliced into ¼-inch thick rounds, about 4
Balsamic reduction for serving
Instructions
Lightly oil a 10-inch cast iron skillet with olive oil (I pour a dollop of oil in the center and use a paper towel to smear it over the full surface). Beat the eggs, half & half, sea salt, and red pepper flakes together in a mixing bowl until smooth and very well combined. Set aside until ready to use.
Add 2 tablespoons of olive oil to the oiled skillet and heat over medium. Once hot, add the garlic and saute until fragrant, about 2 to 3 minutes. Add the arugula and basil and continue cooking, stirring frequently, until wilted, about 2 minutes.
Pour the egg mixture into the skillet and gently stir to distribute the greens. Allow this mixture to cook untouched for 3 minutes.
Arrange the heirloom tomato and mozarella slices on the surface of the eggs (Note: it's fine if the slices sink a bit). Continue cooking until the edges of the frittata have set up, about 12 to 16 minutes.
Turn your oven on the high broil setting and move one of the racks to the shelf that's second closest to the top. Place the frittata under the broil and cook until mozarella is golden-brown, about 1 to 2 minutes.
Remove the frittata from the oven and allow it to cool at least 15 minutes before cutting into slices and serving.
Serve with arugula salad and a drizzle of reduced balsamic vinegar.
Notes
*You can also use whole milk, non-dairy milk, or skip the milk entirely.
Nutrition Information
Serving Size

1 grams
Amount Per Serving
Unsaturated Fat

0g