Raindrops on roses and whiskers on kittens…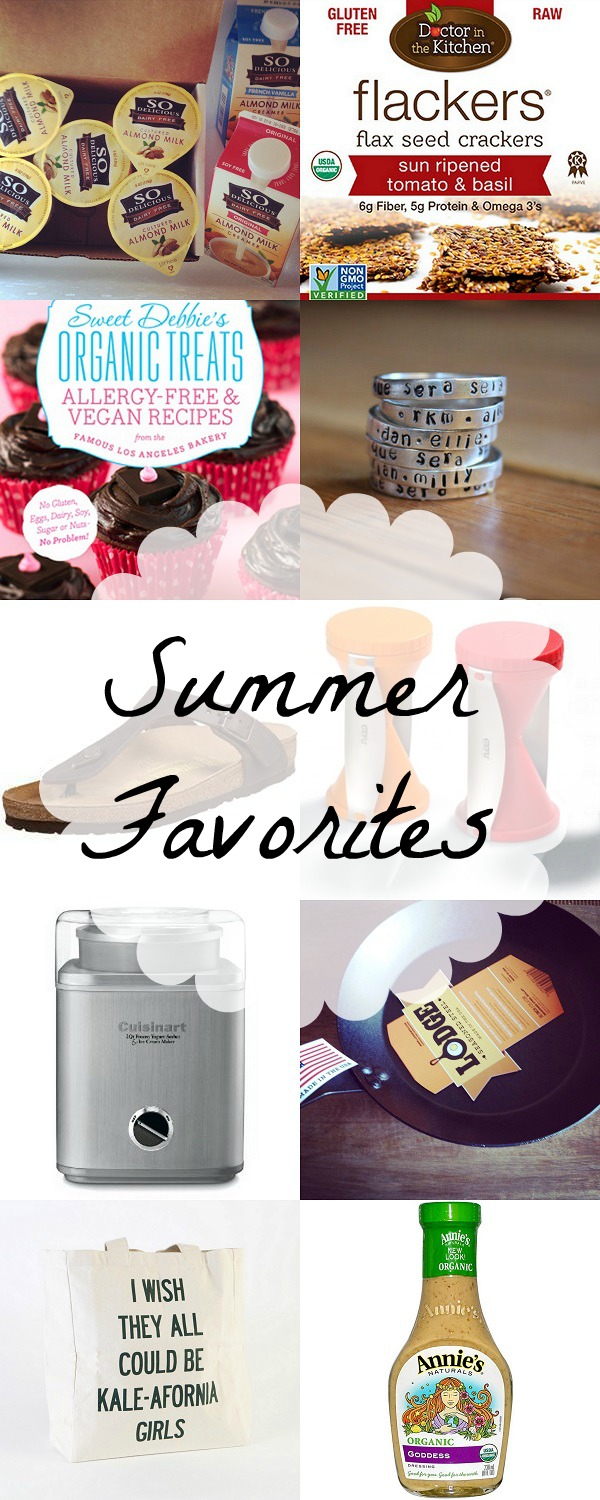 Juuuust kidding.
But seriously, these are a few of my favorite things.
I've been meaning to show you my summer favorites for quite some time, but the summer has straight-up gotten away from me. All of these things are things I've been using, enjoying, and recommending. Ready for a list? Let's do this!
Kitchen
Cuisinart Ice Cream Maker // I'm a big believer in making ice cream at home because…well…because I'm a control freak. It gives me ultimate control of all the ingredients that go in. I like the real booze in my ice cream, and I make my ice cream with coconut milk and agave, as opposed to cream and sugar. I introduced you to my new Cuisinart ice cream maker when I showed you roasted cherry ice cream last week. You can still enter my giveaway for a chance to win of your own!
OXO Good Grips Lemon Zester // When I zested lemons and limes in the past, I always used a cheese grater (womp womp). Cheese graters do get the job done, but lately, I've been all about the long strands of zest for flavor, for garnish, for cocktails. This is definitely a wonderful tool to have in the summer for all your zesty eats.
GEFU Spirelli Spiral Slicer // I probably don't need to explain this one. It goes without saying that this is my number one favorite summer kitchen tool. I use it on the reg to get all them vegetables noodled. Since I love eating in the raw when it's too hot to cook, my spirelli makes quick and easy raw meals a cinch.
Lodge Cast Iron Seasoned Steel Skillet // Obsession doesn't begin to describe the way I feel about this skillet. This bad dog can take high heat and be used on/in any heat source except for the microwave. That means you can take it camping with you and cook all the burgers on the campfire. Like a straight-up cowboy. And all Lodge products are born in the USA, true story.
Wusthof 4183-7 Wusthof Classic 7-Inch Santoku Knife
// I use Wusthof knives for all my chopping needs. I especially love their classic 7-inch Santoku Knife, which is amazing for chopping vegetables. Since I cook with a lot of root vegetables, I need sharp, steady knives for cutting through the hard flesh, and this knife certainly does the trick. Plus, any time it gets even the slightest bit dull, I can just sharpen it with my trusty diamond sharpener.
Meyer's Basil Liquid Dish Soap // Eco-friendly cleaning products are my jam, and I love all of Meyer's brand soaps, from their laundry detergent to their hand soap. Their basil-scented dish soap is my favorite and makes my kitchen smell like summer-y bliss.
Food
Flackers // Oh hello, best cracker ever. Being as it is I'm not big on gluten, my options are limited when it comes to crackers. I love the fact that these crackers are made with quality ingredients, like flax seeds, which are high in omega-3s and soluable fiber. They are organic, gluten-free, raw, vegan, non-GMO, kosher, nut-free, low in sodium and carbs, and have no freaky deeky additives. Plus they come in a variety of flavors and absolutely satisfy your crunch cravings.
So Delicious Almond Milk Yogurt // The only thing better than enjoying a nice fruit and yogurt parfait is getting yogurt in the mail. So Delicious let me try their almond milk yogurt and almond milk creamers, and I've been enjoying each flavor. Yogurt is not easy to make out of almond milk, but So Delicious has perfected their recipe and their Greek-style almond milk yogurts are definitely worth a go!
Bob's Red Mill Gluten-Free 1 to 1 Baking Flour // I can't tell you how excited I am about this baking flour! It's a gluten-free all-purpose flour that doesn't include bean flour. A lot of gluten-free all-purpose flours do include the bean, which is not really my favorite (nor is it my belly's favorite). This 1 to 1 baking flour is made primarily of rice flours and can be used to replace regular wheat all-purpose flour in recipes using a 1 to 1 ratio. It has been used for all the GF summer treats
Annie's Goddess Dressing // When I'm too busy or lazy to make salad dressing, this is my go-to each and every time. Can't get enough of this stuff for my summer salads!
Navitas Naturals Hemp Seeds
// You got a taste of my love for hemp seeds in my Chocolate Hemp Seed Smoothie post. I've been adding them to all of my smoothies for some omega-3 infusion and also extra protein. I'll be adding them to salads for the rest of the summer, too!
Girly Things
Birkenstock Birko Flips // Because every woman needs a beautiful pair of flips.
Ellie Rose Custom Jewelry // Okay, this isn't just a summertime favorite, it's an all the time favorite. But I just adore Megan Greco's work at Ellie Rose Custom Jewelry. I'm currently the proud owner of a hand-stamped necklace, ring, bracelet, and spoon. I shall own all the Ellie Rose Jewelries.
Kale-Afornia Tote Bag // Vijay from NoshOn.It sent me an email attentioning me to this bag and I immediately purchased it. I'm totes gonna tote around all the toteables in this tote bag.
Books
The Power of Now by Eckhart Tolle // Let's all get our egos in check this summer. For reals.
Roots: The Definitive Compendium with more than 225 Recipes
By Diane Morgan // Probably the coolest cookbook ever made. Diane Morgan gives you all the information you could possibly need about each and every root vegetable, along with 225 recipes all involving roots. OBSESSED.
Game of Thrones by George R.R. Martin // I started reading this series when I was in the Dominican Republic (because nothing says, "relaxation" like betrayal and murder), and got completely hooked. Whodda thunk it?
Fifty Shades of Grey // I know. I'm about seventy thousand years late to this series, and it's a liiiittle cliché that I'm reading it, but I just couldn't not. Meaning I had to. Also love this series. Mr. Grey? Ugh. I can't even.
Sweet Debbie's Organic Treats: Allergy-Free & Vegan Recipes by Debbie Adler // I got my hands on this cookbook by Debbie Adler, (who owns Sweet Debbie's in Los Angeles) and was instantly drawn to the Yam Jam Soda Bread Muffins, Krispy Kale n' Cheese Soft Pretzel Rods, Lemon Parsnipannies, Gourmet Dark Chocolate Mesquite Brownies. Like whaaaaaa?! Not only are all of the treats in this book gluten-free, vegan, and sugar-free, but Debbie uses fresh ingredients like root vegetables and kale. Plus all the chocolate. YUM!
That's all for now, folks! Tell me: what are some of your summer faves?