Spring green pasta with asparagus, peas, leek, pumpkin seeds, and homemade vegan pesto sauce. This incredibly quick and easy meal is fresh and healthful and perfect for spring!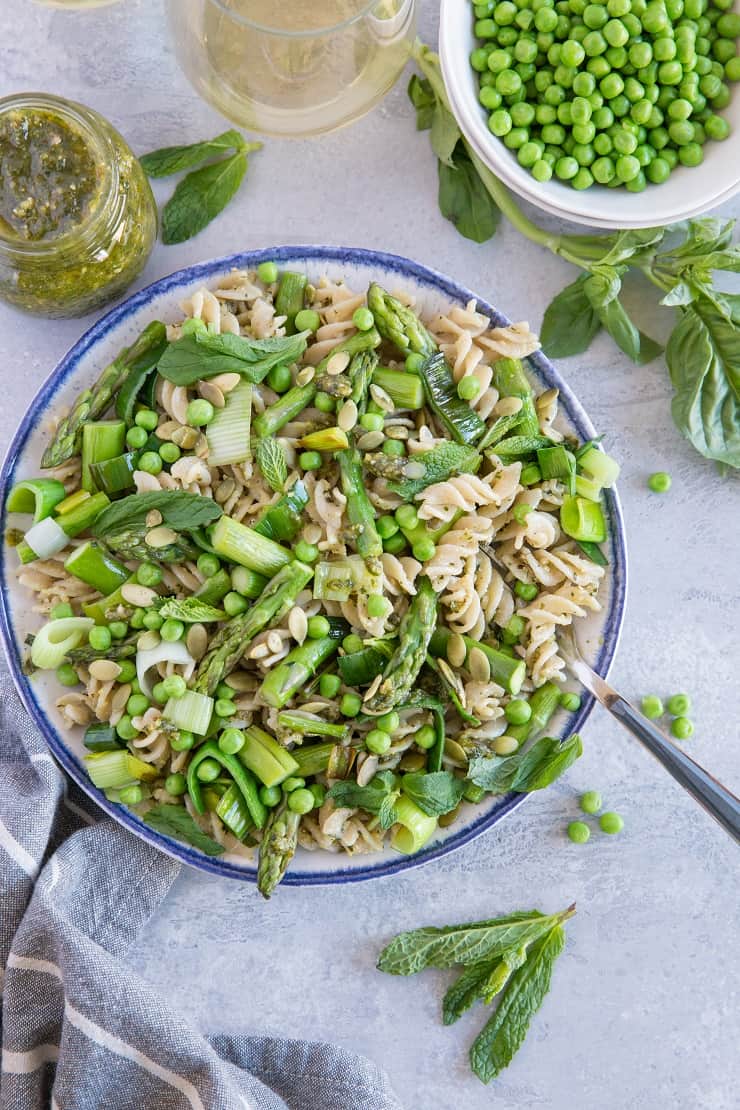 Helloooooooo, nurse!
Vibrant, snappy spring vegetables meet pasta, meet basil-mint pesto, meet pumpkin seeds, meet yo mouf!
This super easy approach to pasta is everything. It's fresh and light while still filling. It's packed with flavor, it's beautiful to look at, it's quick to make, it requires very little effort or time, it's fun for the whole family, it's…I'll stop.
You guys, it's been over a year since I posted my last pasta recipe. Truthfully, I haven't been eating pasta all that much over the last year since I've been learning about my various food intolerances (read more about that here). I've known for a long time wheat was an issue, but I've also come to realize corn and potatoes can wreak havoc too, both of which are often used in store-bought gluten-free pasta. I was recently introduced to a pasta company that uses nothing but rice in their formula, which is so very welcome by my digestive system.
Case in point: it's high time for noodles, and it's high time for fresh spring veggies and herby homemade pesto.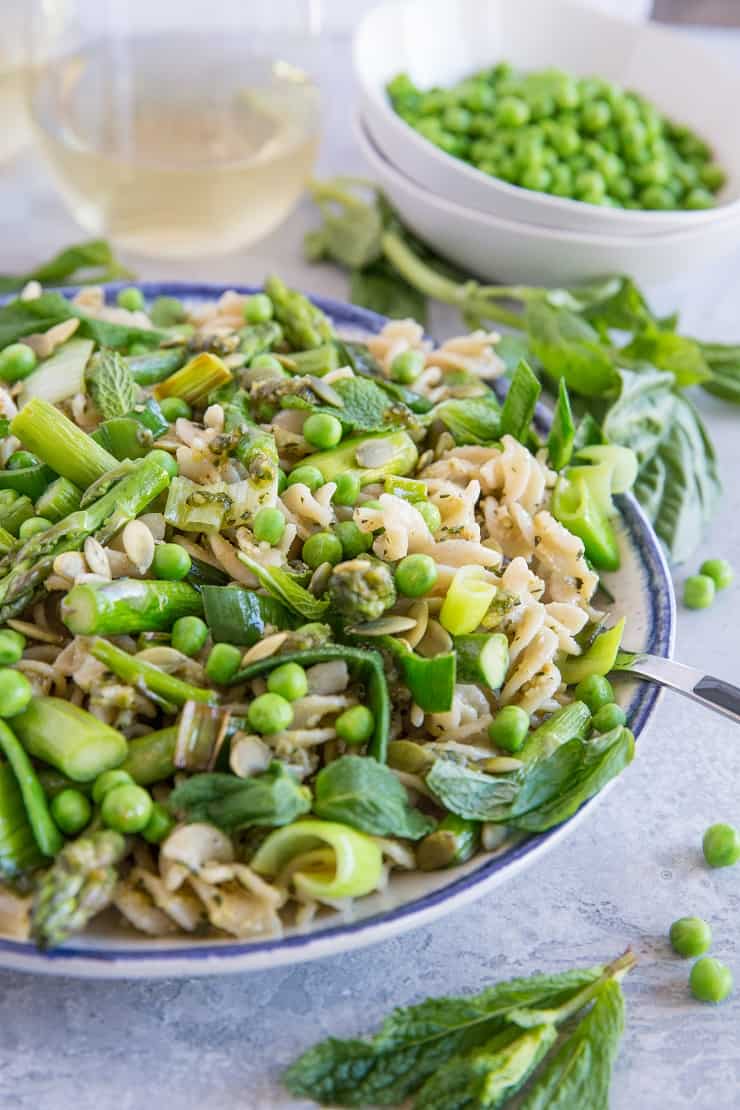 I whipped up the pesto sauce using both basil and mint to give it that je ne sais quois and burst of freshness. I kept the pesto sauce vegan by leaving out the parmesan, and I added some nutritional yeast to give it that "cheesy" essence. The combination of quality oil, nuts (or seeds), fresh herbs, and nutritional yeast has been my formula for delicious pesto sauce that is both low-FODMAP (perfect for those of us with IBS) and also dairy-free.
Lettuce discuss onions for a hot second. As I confessed to you a while back, onions and garlic are both rough on my digestive system, but I've found I can tolerate leeks pretty well. For those of you who have trouble with onions, if you haven't tried cooking with leeks yet, it may be worth a shot (I'd start with a small amount and wait a couple days to see if you tolerate it). Leeks have that amazing onion flavor with an added creaminess, which lends an incredible amount of flavor while being more subtle than regular onion.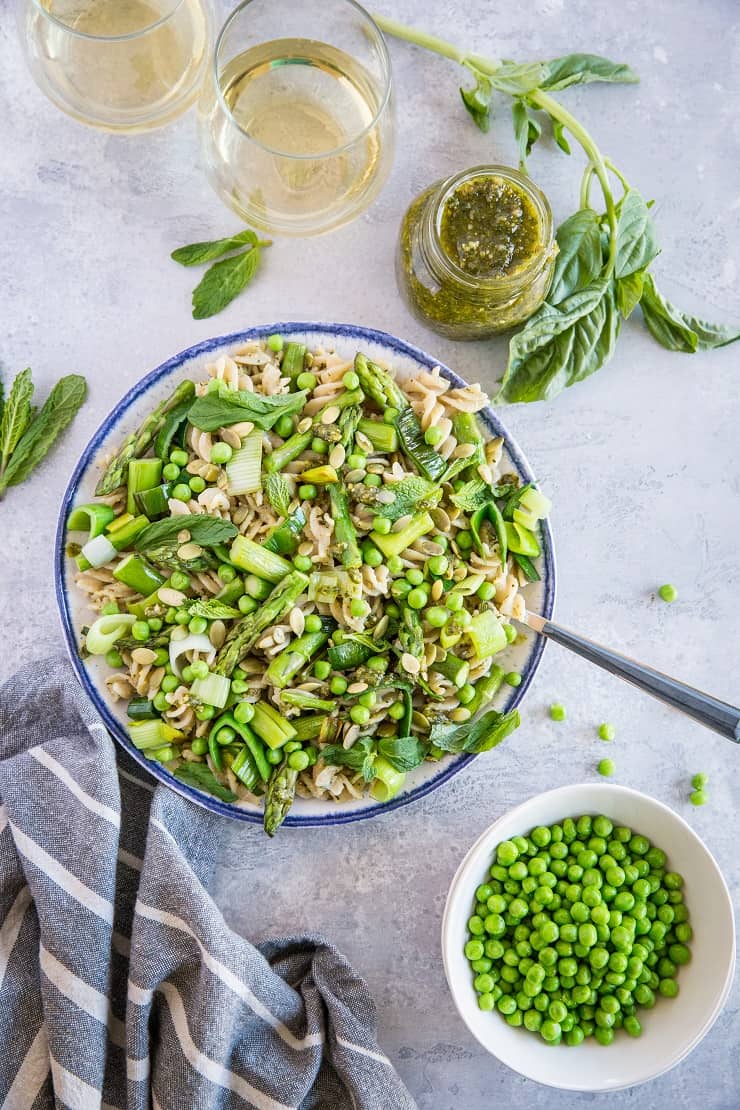 If you're reading this post like, "I've got zero qualms with onions and garlic," by all means, please do make this your own adventure! I used to add a minimum of 5 cloves of garlic to my pasta dishes (I truly LOVE me some garlic), so if you're a fan, feel free to add to your heart's delight.
Need some protein?! I dig. If you're looking to keep this vegan, you can add chickpeas or your favorite vegan source of protein. If you're a carnivore like me, you can easily chop up a chicken breast and add it to the mix.
Meal Prep Tips? You can make the pesto sauce up to 3 days ahead of time. Cooking the vegetables and the noodles can be done simultaneously and neither take very much time, so if you're looking to break the recipe into parts, I would just make the pesto in advance and do the rest all at the same time for best results.
Recipe Adaptations?:
Use any of your favorite noodles.
Mix and match your spring vegetables.
Substitute your favorite herbs for the basil and mint in the pesto sauce.
Replace the avocado oil with grapeseed or olive oil.
Feel free to serve with feta, parmesan or asiago cheese if you aren't vegan.
And without further ado, here's your newest pasta addiction!
Spring Green Pasta with Vegan Basil-Mint Pesto
Nutritious, fresh and flavorful pasta with all sorts of spring produce. A tasty meatless meal or side dish!
Instructions
Prepare the Pesto Sauce:
Place walnuts in a food processor and pulse a few times. Add the basil, mint, nutritional yeast, lemon juice, and sea salt and pulse another few times. Leave the food processor on and slowly stream the oil through the opening at the top until all of it is combined. Continue processing to desired consistency (I leave my pesto a bit chunky). Refrigerate until ready to use.
Make the Pasta:
Cook pasta in a large pot according to package instructions (note: I always cook the pasta 3 to 5 minutes less than the package suggests, especially when it comes to gluten-free pasta). Set aside until ready to use.

Heat the avocado oil in a large skillet over medium heat. Add the leek and asparagus and cook, stirring occasionally, until vegetables have softened but are still al dente, about 3 to 5 minutes. Add the peas, lemon zest, and sea salt and continue cooking 1 minute.

Transfer pasta back to the pot you used to cook it, along with the vegetables. Add desired amount of pasta sauce and gently stir everything together (if you're using gluten-free pasta, be extra careful in your stirring or else the pasta will break). Season with sea salt to taste and serve with pumpkin seeds on top.
Nutrition
Serving:
1
Serving (of 6)
|
Calories:
465
kcal
|
Carbohydrates:
72
g
|
Protein:
14
g
|
Fat:
14
g
|
Saturated Fat:
1
g
|
Polyunsaturated Fat:
1
g
|
Monounsaturated Fat:
2
g
|
Cholesterol:
8
mg
|
Sodium:
556
mg
|
Fiber:
6
g
|
Sugar:
2
g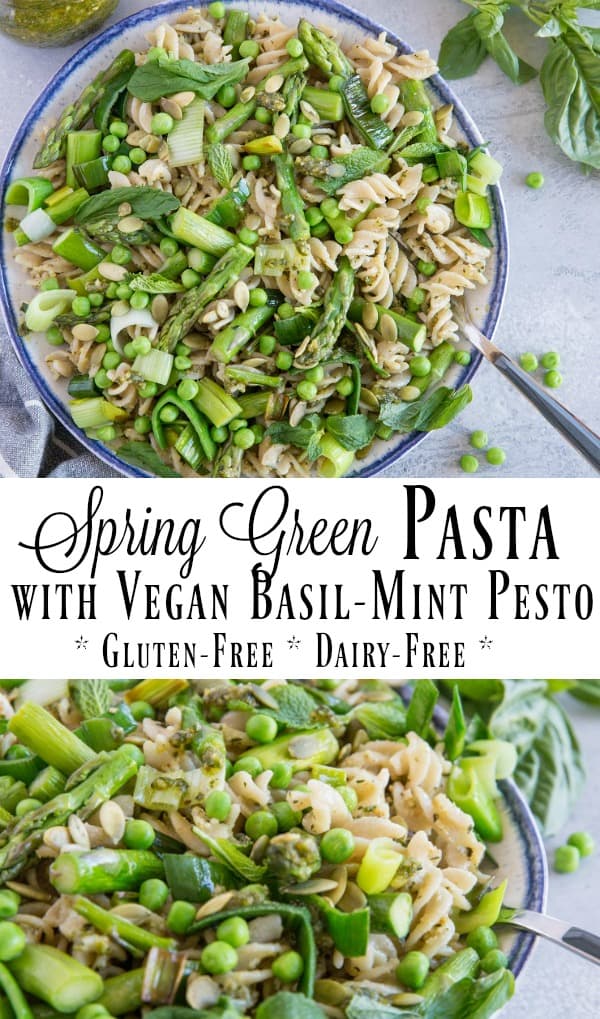 More Delicious Pasta Recipes from The Roasted Root: