Quick, easy, and comforting sausage pasta with butternut squash and spinach. This one-pot meal requires only a few straight-forward ingredients and takes less than an hour to make!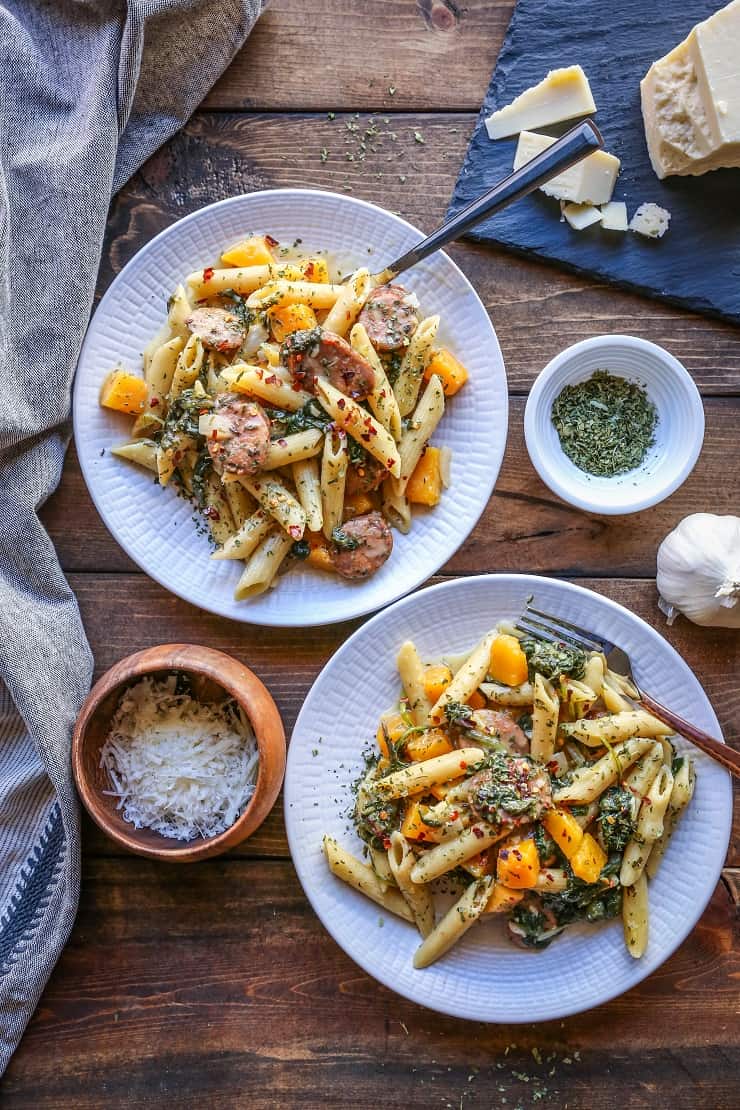 Every time I go to Wyoming, all the little piddly things that typically cloud my mind disappear and my priorities and needs re-route themselves to those of actual importance. Does this happen to you when you spend a lot of time in nature? It's one of the reasons I love it so. It reminds me I'm an animal before a human.
The priority of fire-building replaces the priority of hair-straightening. The priority of keeping warm and dry replaces the priority of cute outfit assemblage. The need of keeping up with the boys all day replaces the need for an hour at the gym. The need of having my ego massaged regularly is eliminated entirely by the unbreakable connection with nature.
In this regard, discussing food can be difficult for me during these times away from society. Not to say we're roughing it in the wilderness (I'm connected to wifi in a well-heated home, and I still check my Instagram way more frequently than I think I should), but being without cell reception for most of the day and feeling almost deafened by the silence of the mountains makes my profession seem pretty insignificant. In a positive continued growth and self-discovery store of way, not a depressed what-am-I-doing-with-my-life sort of way.
This isn't me telling you I quit, this is me admitting that on the grand hierarchy of animalistic needs, this blog ranks pretty low. But I'm okay with that. I still accept it like I always have. I still love what I do. We're still cool. Putting the emotion into words makes me feel a deeper connection with you. We are, after all, just animals.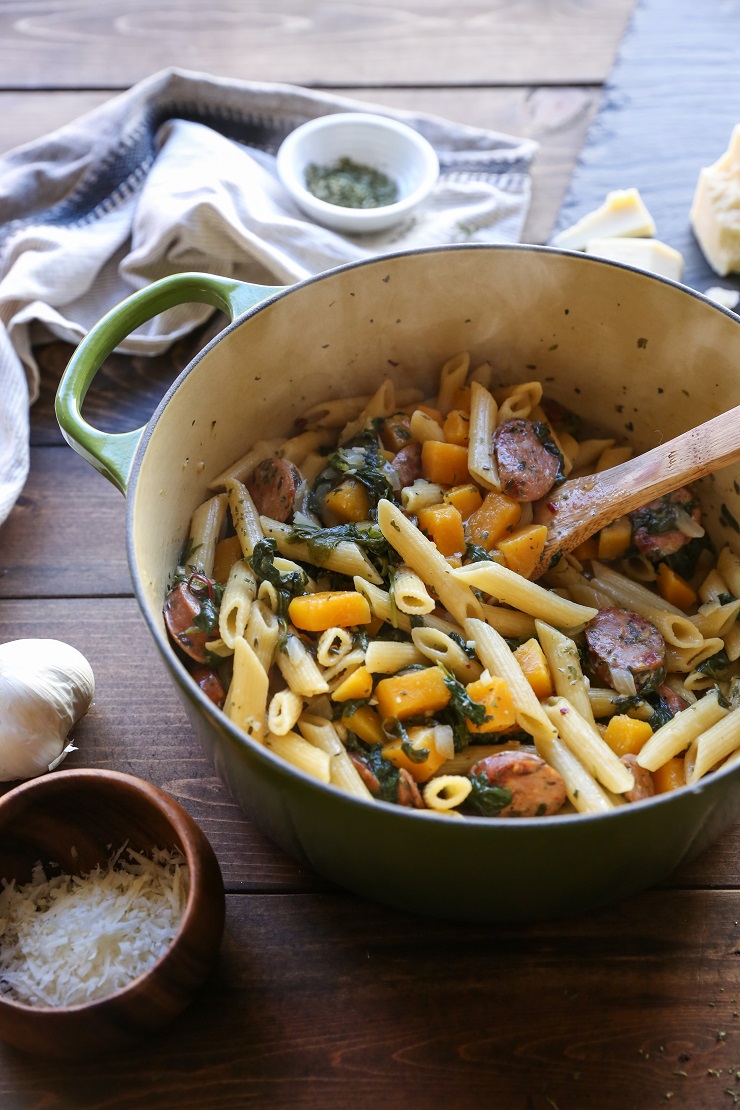 Before we embark on tomorrow's romantic holiday, I dare us to power off our egos, if only for a day, in order to strip love down to its bare bones – to see its intention and meaning even if it doesn't come in the exact form we want, and to absorb it in the way it's freely given to us. You are loved.
Let's remember to love ourselves, to forgive ourselves for not being perfect, and to see beauty in our imperfections. Let's connect with each other in a real way, not in a forced way. Let's do what animals do. Hell, let's eat.
This one pot sausage pasta situation is just the easiest. Everything happens in (you guessed it) one pot. We saute our vegetables first, then add the liquid and pasta noodles. As the pasta cooks, we can slice up our sausage (I always use pre-cooked chicken sausage because it makes life super easy and is lighter than pork sausage) and grate our cheese. These two ingredients, along with the spinach, will be added in at the very end.
Here's where the fun part comes into play: you'll notice there will still be some liquid in the pot after the noodles are fully cooked. It's cool, smalls. We simply add in grated cheese in order to turn that liquid into a creamy sauce. So what we end up with is a pot of hearty sausage pasta studded with butternut squash and spinach, all wrapped in a creamy sauce, making for a comforting pasta dinner that is still on the fairly light end. Ish.
A note about the pasta noodles: This recipe is tricky with gluten-free noodles. While it still works with gluten-free noodles, the stirring required to combine the sausage, spinach, and cheese in with the rest of the recipe tends to cause the gluten-free noodles to break. If you're okay with this, proceed as normal. If you prefer your gluten-free penne noodles to remain whole, I recommend turning this one-pot pasta recipe into a two-pot pasta recipe and cook the noodles separately.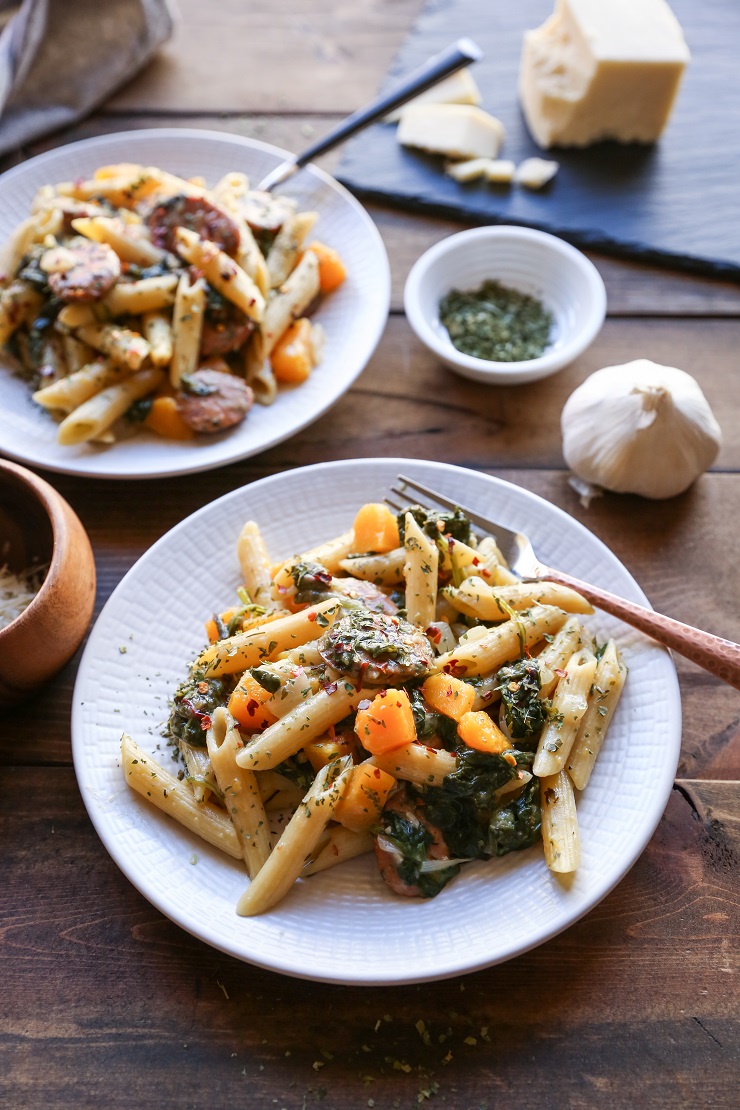 xo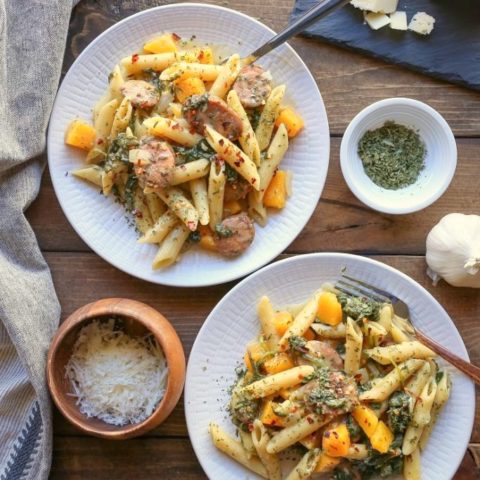 One Pot Butternut Squash and Sausage Pasta
An easy one-pot pasta recipe with sausage and butternut squash.
Ingredients
3 tablespoons olive oil
1/2 medium yellow onion, , finely chopped
6 cloves garlic, , minced
1/2 small butternut squash, , peeled and chopped (3 cups)
4-1/2 cups low-sodium chicken broth
1/4 cup dry white wine
1 12-ounce package gluten-free penne noodles
1 tablespoon Herbs de Provence, (or Italian seasoning)
2 teaspoons lemon zest
1 12-ounce package pre-cooked chicken sausage, (see note)*
4 cups baby spinach, or kale
1-1/2 cups gruyere cheese, , grated (see note)**
Instructions
Heat the olive oil in a large saucepan or stockpot over medium-high. Add the onion and sauté, stirring occasionally until onion begins to turn translucent, about 3-5 minutes.
Add the garlic and chopped butternut squash and cook, stirring occasionally for 2 minutes.
Add the chicken broth and white wine, and bring to a full boil. Add the penne noodles, Herbs de Provence (or Italian seasoning) and sea salt, and return to a boil. Reduce heat to a simmer and cook at a gentle boil, stirring occasionally, for 12 to 14 minutes.
Add the sliced sausage and greens and stir. Cook and stir until most of the liquid has evaporated, about another 2-5 minutes.
Once much of the liquid has cooked off, add the Gruyere (or Parmesan) cheese, and lemon zest. Gently stir to avoid breaking the noodles. Serve with additional grated Gruyere or Parmesan cheese.
Notes
*I like using Aidell's Chicken Sausage - the Italian or the Chicken & Apple goes great in this recipe! **You can also use Parmesan cheese or Pecorino Romano.
Nutrition Information
Yield

4
Serving Size

1 grams
Amount Per Serving
Unsaturated Fat

0g
Looking for more pasta recipes? Check these out: