Gluten-free pasta with sausage, cherry tomatoes, fresh basil, and homemade sun-dried tomato pesto sauce. An easy and healthful meal that comes together in less than 30 minutes.
Did I ever tell you about the Era o' Pasta, circa 2000 through 2008? The gist of it is simple: pasta encompassed roughly 80% of the food I made (the other 20% being just-add-water oatmeal and just-add-milk cereal).
I had a system down pat. Years 2000 through 2004, my "homemade pasta" included angel hair and store-bought marinara sauce…that is all, folks. AND I lived to tell the tale.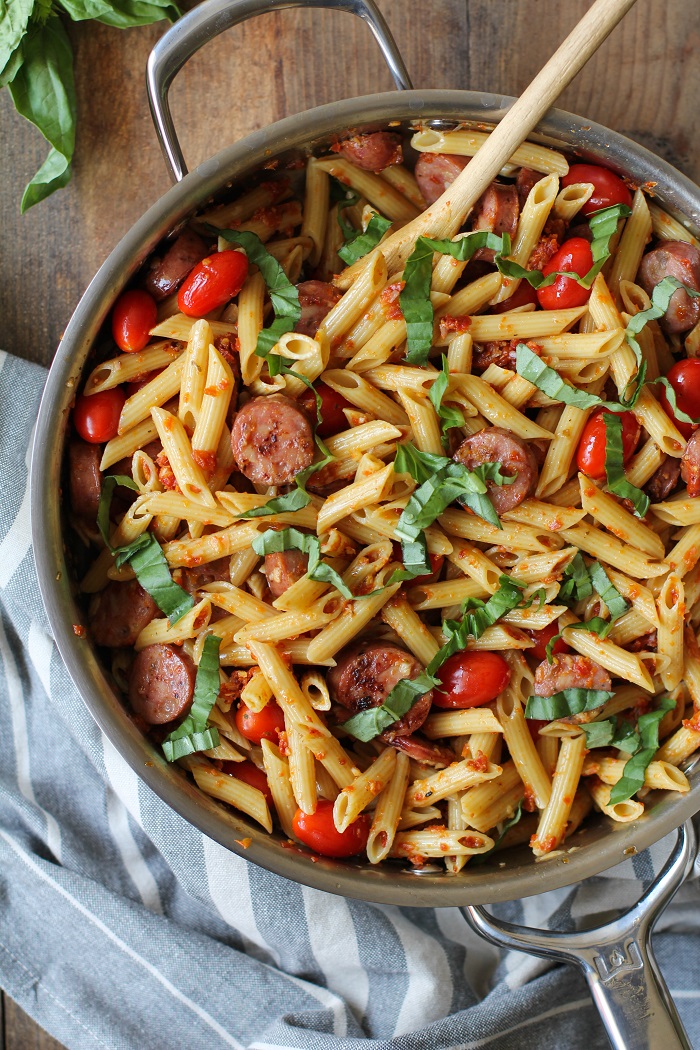 Roughly '04 through '06 was all about lasagna – I made both a meaty beef version with like 8 different types of cheeses, and a Southwest-style vegetarian version with corn, black beans, and zucchini.
I put my fancy pants on circas '06 through '08 – I went for the bow tie pasta, and whipped up a chicken, sun-dried tomato, garlic, and spinach rigamarole, which lemme just tell you, NEVER got old.
Two things happened to end the mega Era o' Pasta: 1.) I learned how to make other meals, and 2.) I transitioned to eating less gluten, then stopped eating gluten altogether, then took my sweet time locating a pasta brand that met all my pasta criteria.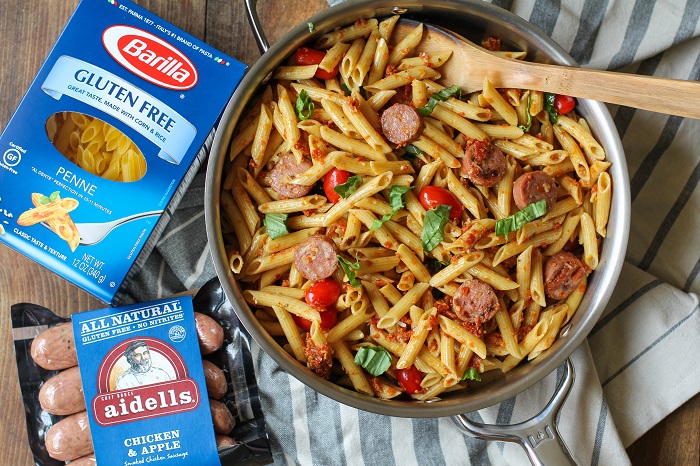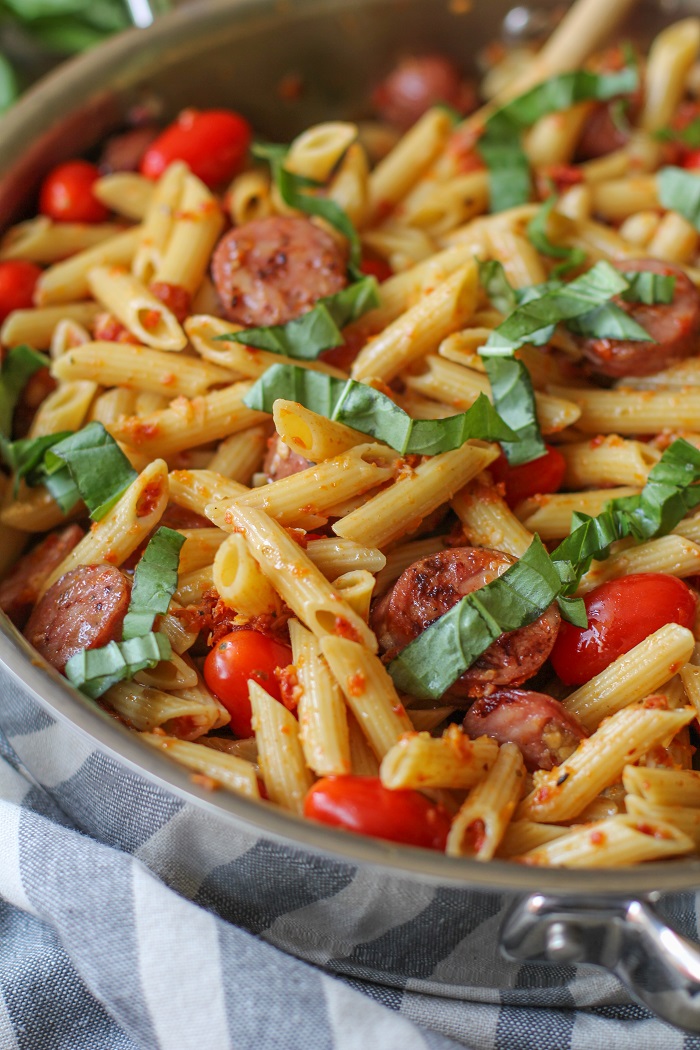 For me, a pasta dinner is not only comforting and filling, but it can be one of the easiest types of meals to prepare. The key is to making pasta a healthful rather than indulgent experience is to select fresh, quality ingredients from brands you trust. In order to prepare this recipe, I used Barilla® Gluten Free Penne Pasta and Aidells® Chicken & Apple Sausage, both of which I purchased at Target.
Barilla® is currently the leading brand for Gluten-Free pastas, is made from non-GMO rice and corn, and contains the same classic flavor and texture as regular pasta. Prior to going gluten-free, pasta was my go-to dinner, so I was psyched when I recently learned Barilla® has a huge line of gluten-free options. I've also been a mega fan of Aidells® sausage for a number of years. All varieties are gluten-free, nitrate-free, contain no added hormones, and are crafted in small batches.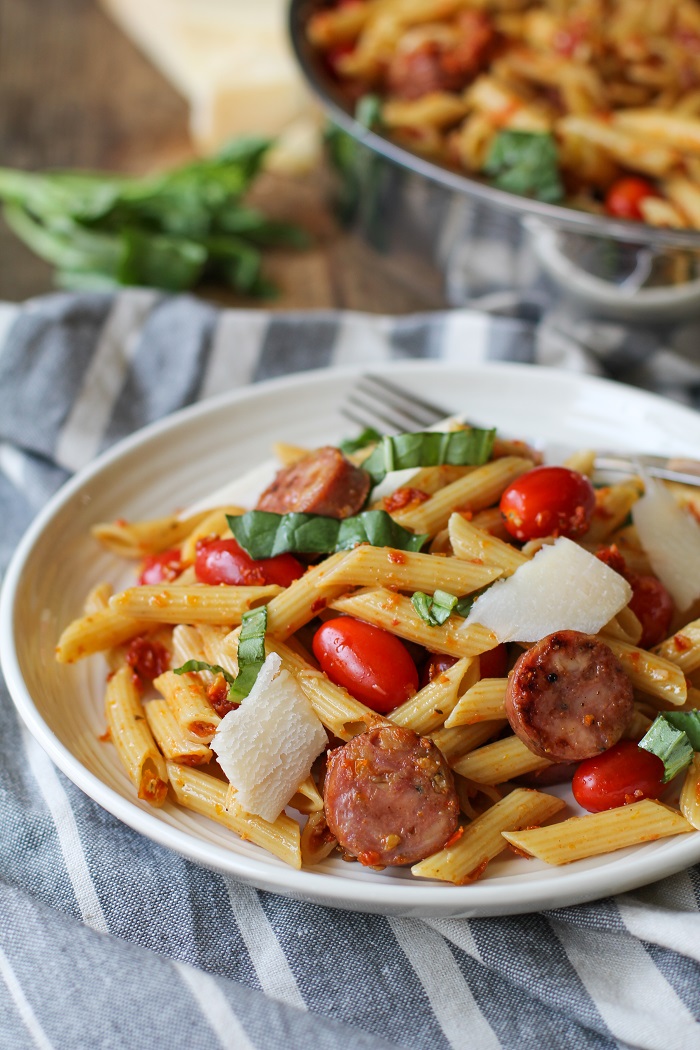 Other than the fact that this pasta dish is a marvelous share-able meal, the best part about it is it comes together in just 30 minutes. The pasta only takes about 10 minutes to cook, as does the sausage, so I simply cook them at the same time in separate pans. Since boiling pasta and heating sausage is super low-maintenance cooking, I prepare the sun-dried tomato pesto by tossing all of the ingredients in the food processor and pulsing it up. Once the sauce, pasta, and sausage are ready, simply toss it all together in a big serving bowl along with fresh cherry tomatoes and chopped basil. Give 'er a sprinkle of sea salt, and you're good to go!
The tangy, flavorful sun-dried tomato pesto really makes this meal something special. And all it requires is a few ingredients and a couple of minutes to prepare! If you're a fan of basil pesto, kale pesto, or even beet pesto, you can substitute the sauce of your choosing, but I will say the sun-dried tomato sauce goes marvelously with the chicken sausage. I also enjoy the pop of the fresh cherry tomatoes and the herby flavor of the basil. Sprinkle heavily with parmesan cheese and you're looking at a straight-up fun fest.
Get that carb load!
Tools I used to prepare this recipe: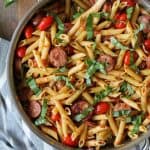 30-Minute Sausage Pasta with Sun-Dried Tomato Pesto
Print
Ingredients
Sun-Dried Tomato Pesto:
1

ounce

jar julienne cut sun-dried tomatoes in olive oil

8-

2

cloves

garlic

roughly chopped

¼

teaspoon

red pepper flakes

½

cup

parmesan cheese

grated
Sausage Pasta:
1

ounce

package Aidells® Chicken & Apple Sausage

sliced into rounds, 12-

1

ounce

package Barilla® Gluten Free Penne Pasta

12-

1-½

cups

fresh cherry tomatoes

½

cup

fresh basil

chopped
Instructions
Prepare the Sun-Dried Tomato Pesto:
Add all of the ingredients for the pesto sauce except for the parmesan cheese to a food processor. Process until tomatoes are chopped into small bits. Transfer to a bowl and stir in the parmesan cheese. Add sea salt to taste.
Prepare the Pasta:
Cook the pasta according to package instructions. While pasta is cooking, slice the sausage links into rounds. Heat about 1 to 2 tablespoons of olive oil in a skillet over medium-high and add the sausage rounds. Cook sausage until browned, about 8 to 10 minutes flipping half-way through.

Once pasta and sausage is cooked, transfer both to a large serving bowl and add in the sun-dried tomato pasta sauce, cherry tomatoes, and basil. Toss everything together until well-combined and coated in sauce. Taste for flavor and add sea salt and parmesan cheese to taste.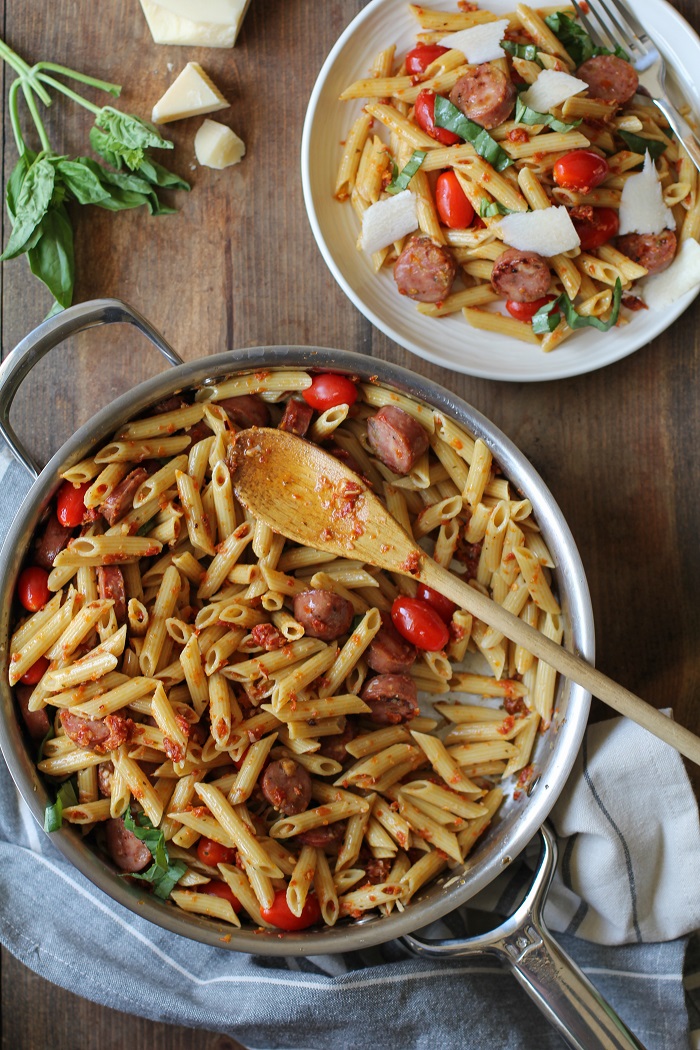 This is a sponsored conversation written by me on behalf of Barilla® & Aidells®. The opinions and text are all mine.