30-Minute Chicken and Zucchini Orecchiette Pasta with a simple lemon-butter sauce. This filling yet healthful dinner comes together quickly and is the perfect summer meal.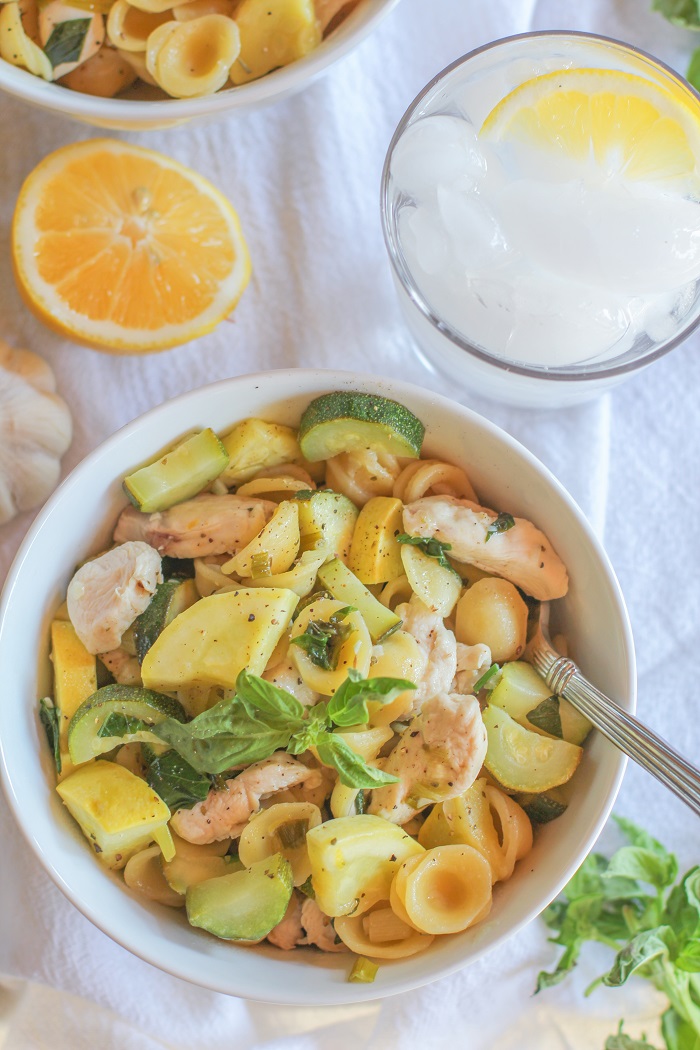 Also known as the pasta I can't pronounce by any stretch of the imagination.
Seriously, I look at the word, say it in my head, open my mouth to practice, and nothing. Just nothing.
If I were ever in a situation where I was being forced to say, "orecchiette," I'd do one of those mouth-cover moves, turn my head to the side, start with an "or," fade to a "shh," then stop speaking altogether to make it appear as though I had said the full word while I just so happened to be distracted by a vision of beauty from across the room whilst simultaneously relieving a mouth itch.
Oreshetty?
Or-uh-shet-uh?
Or-eh-shet?
It kills me.
I don't even want to talk about it.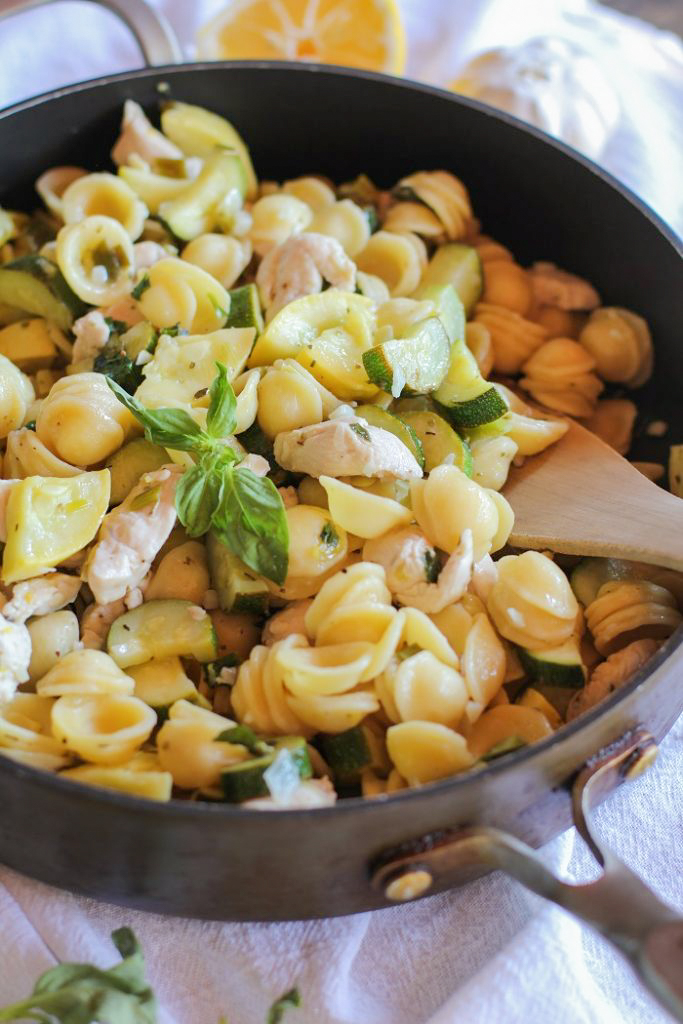 But you guys, have you had orecchiette? It's basically my favorite of the pasta shapes. Curvy, voluptuous, stupendous at soaking up and holding in sauce, button-like and adorable, yet boob-like and sexy.
It's just the greatest most unpronounceable thing that ever did exist.
Public service announcement: I used gluten-free orecchiette. If you aren't GF, feel free to use regular. Or substitute for any noodle you'd like.
Thought I'd toss that in before we became any more involved.
This super easy 30-minute chicken and zucchini orecchiette pasta dish. Wow with a capital YUM. It's easy. It's buttery. It's summery. It's sexy. It's a date night you want to be a part of.
Plus, it takes no time at all to prepare.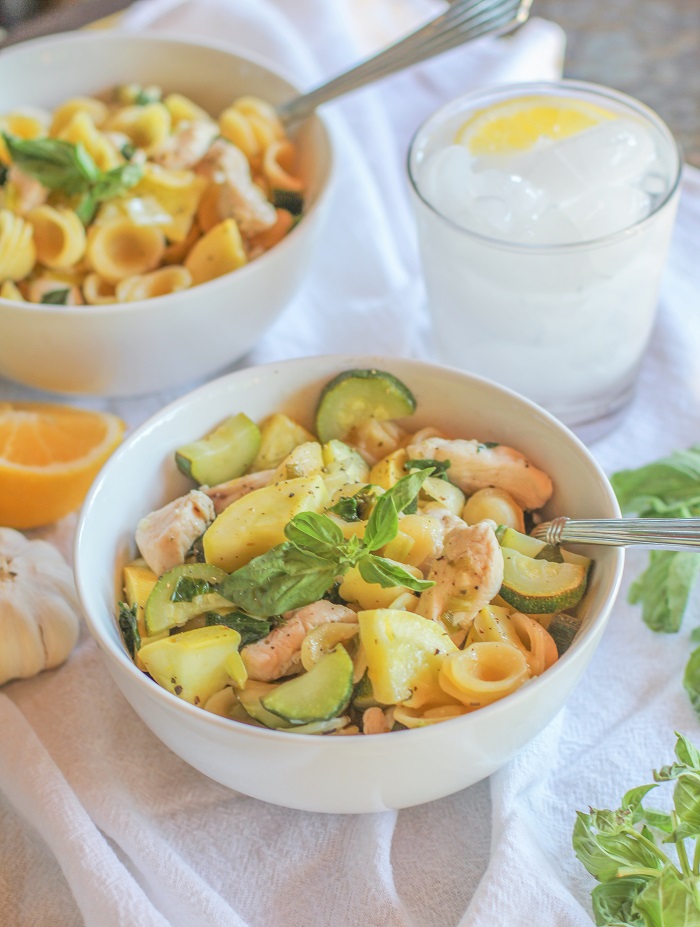 How to Make 30-Minute Chicken and Zucchini Orecchiette Pasta:
Melt some butter, sauté some garlic, brown some chicken, toss in the veg, PRESTO there're your pasta add ins. Toss it all together with the cooked orecchiette, and you have yourself a meal, my friends.
I went full-tilt butter flavor on this, but if you like tang, you can add some sun-dried tomatoes, or even some sort of kalamata olive situation. You'd be surprised by the things you can do to make this your own jamboree.
My cookbook,
Paleo Power Bowls
, is now available! CLICK HERE to check it out. Thank you for your support!
If you make this Chicken and Zucchini Orecchiette Pasta, please feel free to share a photo and tag @The.Roasted.Root on Instagram!
Chicken and Zucchini Orecchiette Pasta
Chicken and Zucchini Orecchiette Pasta with Lemon-Butter Sauce is a simple, flavorful pasta recipe.
Ingredients
1 12-

ounce

package Orecchiette pasta

I used gluten-free

4

tablespoons

unsalted butter

1

tablespoon

olive oil

5

cloves

garlic

minced

3

tablespoons

fresh lemon juice

to taste

1

medium yellow squash

chopped

2

medium zucchini squash

chopped

1

bunch green onion

chopped

2

tsp

lemon zest

2

tsp

Italian seasoning

1

pound

boneless skinless chicken breasts

thinly sliced

1/3

cup

fresh basil

chopped

½

teaspoon

sea salt

or to taste

Parmesan cheese for serving
Instructions
Cook the pasta according to package instructions (Note: I tend to cook gluten-free pasta for 2 minutes less than the package calls for because I like my pasta al dente). Once cooked, drain the pasta and place it back in the pot. Toss in 1 to 2 tablespoons of olive oil and a sprinkle of salt. Set aside until ready to use.

While pasta is cooking, heat the butter, oil, garlic and lemon juice in a large skillet over medium-high heat. Cook for 2 minutes, or until garlic is very fragrant.

Add the yellow squash, zucchini, green onion, lemon zest and Italian seasoning. Cook for 3-5 minutes, stirring occasionally, just until veggies begin to soften. Move the vegetables over to one side of the skillet and add the sliced raw chicken. Allow chicken to brown for 2 to 3 minutes before stirring everything together. Cook, stirring occasionally, until veggies and chicken are cooked through, about 3 to 5 minutes. (Note: If there is excess liquid at the bottom of the skillet, continue cooking a couple of minutes longer until it cooks off).

Add the pasta to the skillet with the vegetables and chicken and toss everything together. Add the chopped basil and salt and stir well. Taste pasta for flavor, and add more lemon juice or salt to taste. Serve the pasta with freshly grated parmesan cheese.
Nutrition
Serving:
1
Serving
|
Calories:
563
kcal
|
Carbohydrates:
71
g
|
Protein:
32
g
|
Fat:
16
g
|
Fiber:
4
g
|
Sugar:
3
g