Creamy scalloped sweet potatoes made lactose-free with a cauliflower sauce. This fresh, comforting side dish is great for sharing with loved ones over the holiday season.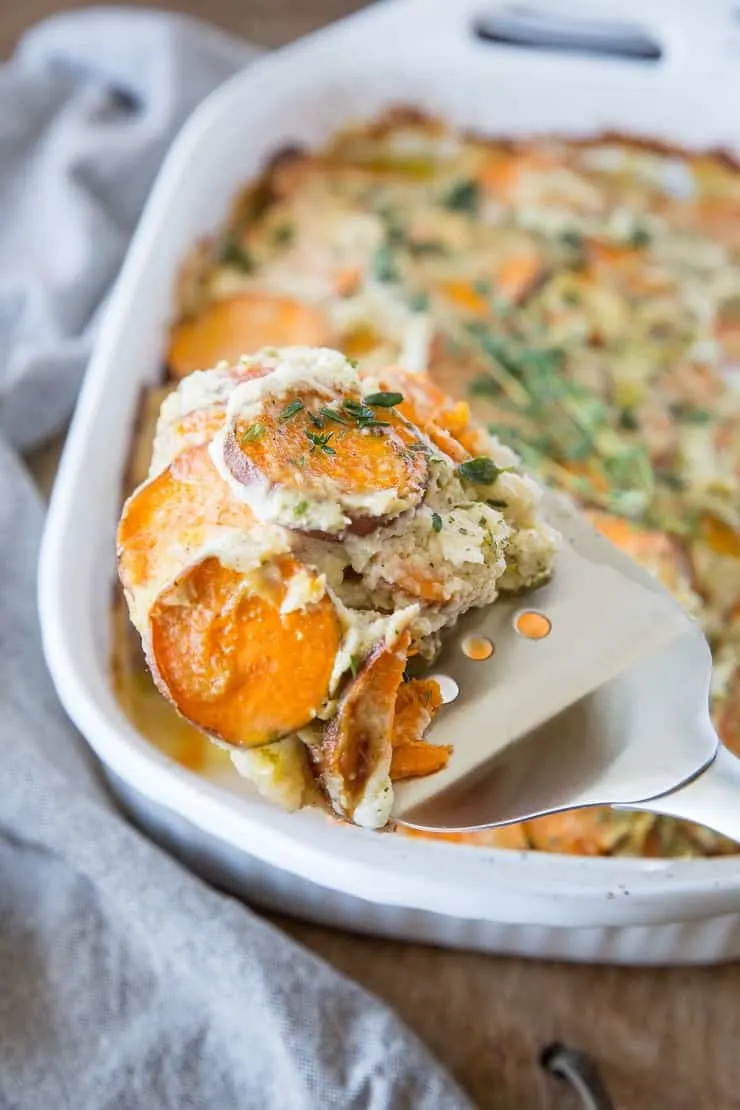 You've heard me say this in the past, but my favorite part about holiday season is all the side dishes. They are fun recipes to develop, eat, and photograph.
Plus, I absolutely love eating a lot of variety. Side dishes gift me the ability to eat tons of variety and take in all the flavors and textures in one sitting…it's just a pleasing experience for Julia!
I grew up with all the standard Thanksgiving side dishes – you know, the ones that are partially fresh, but also call for packaged ingredients?
Things like green bean casserole with canned mushroom soup, sweet potato casserole with brown sugar and the marshmallows on top, butter and cream laiden mashed potatoes, stuffing out of the box, etc.
While my mouth is watering just thinking about it, I think it's important to be choosy around the holidays with where you're indulging…or else the three months surrounding the holidays become a big indulge fest and you're left with some epic blood sugar highs and lows come the new year.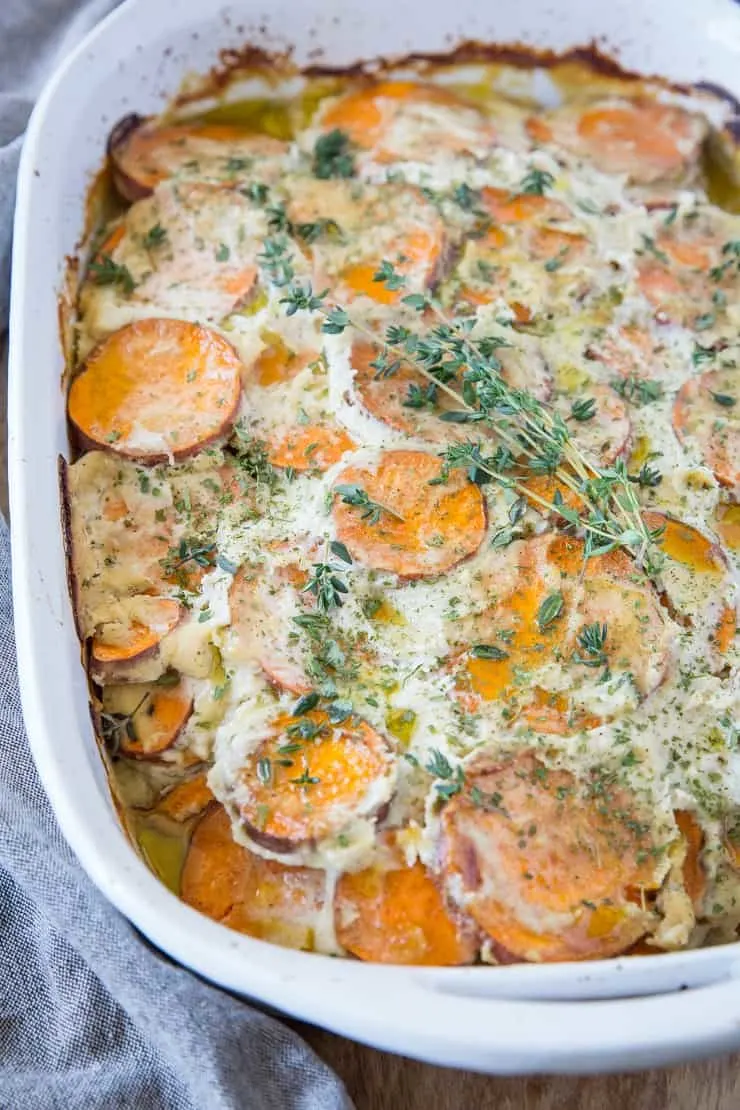 Case in point: I try to keep all the comfort of a classic Thanksgiving meal while selecting fresher, better-for-you ingredients.
These scalloped sweet potatoes are just that: They're ultra comforting, but they require zero cream, cheese, or funny business. In fact, the sauce is made out of cauliflower. (Queue record scratch) Yes, cauliflower!
The cauliflower sauce is nice and creamy and replaces the need for gobs of dairy. You're then left with a side dish that is filling and carby without giving yourself or guests a food coma.
How to Make Paleo Scalloped Sweet Potatoes:
We start by slicing our sweet potatoes into thin rounds (about ⅛-inch thick).
Steam 1 large head of cauliflower for 8 minutes, or until tender. Drain it, then transfer it to a blender.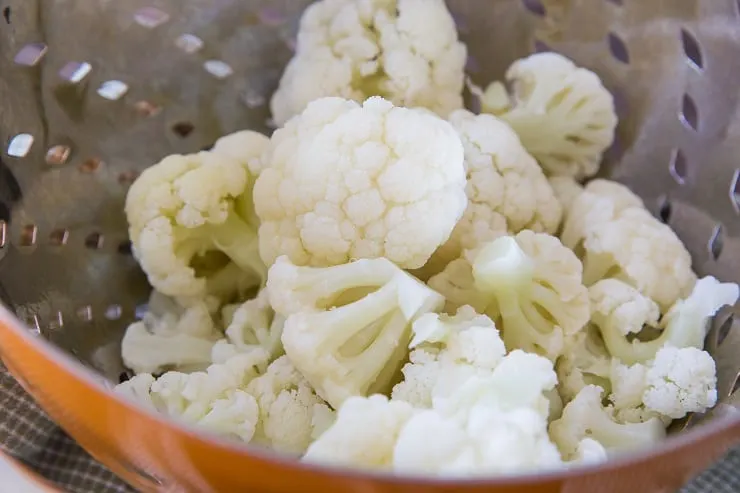 Saute the onion and garlic while the cauliflower is steaming, then transfer this to the blender too, along with the rest of the ingredients for the sauce. Blend until super creamy!
Next, we make some layers. Lightly oil a large casserole dish (mine is 9.3 x 13.3), then lay down ⅓ of the sweet potato slices – it's perfectly fine if they overlap! Add ⅓ of the sauce and spread it around into an even layer.
Repeat this process with the remaining sweet potato slices and sauce.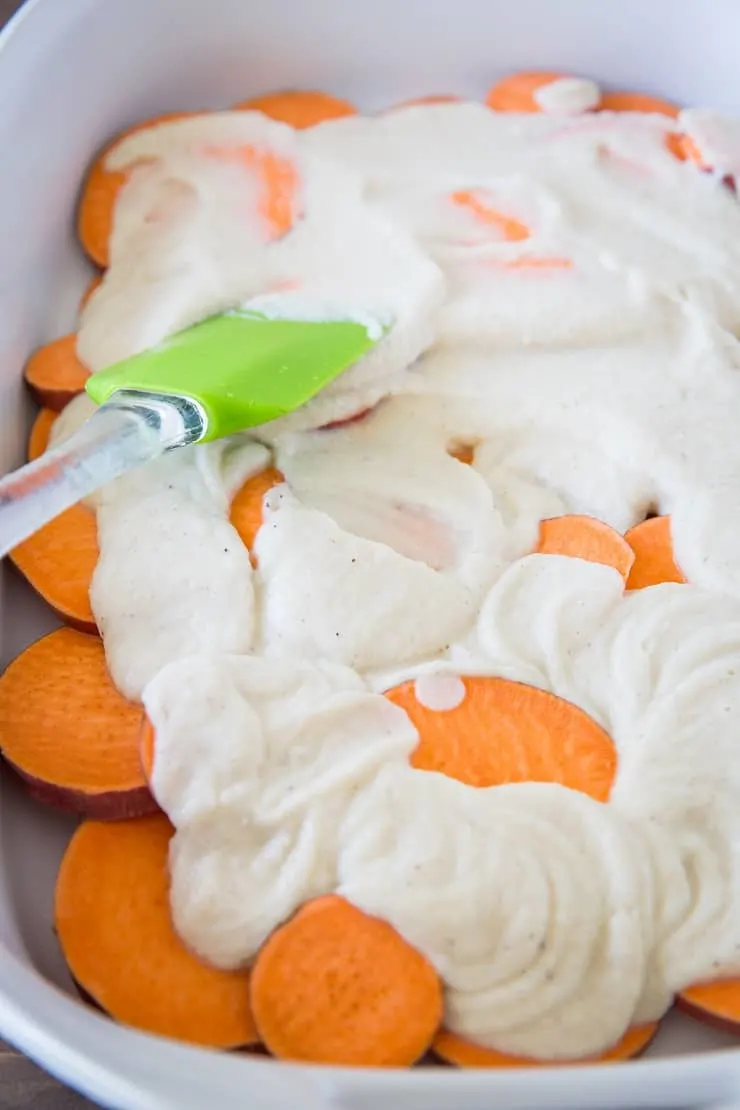 Bake this concoction in the oven until the sweet potatoes are nice and cooked through (alert: this takes quite a while! About an hour and twenty minutes total). Once it's out of the oven, allow the casserole to cool at least 15 minutes before serving.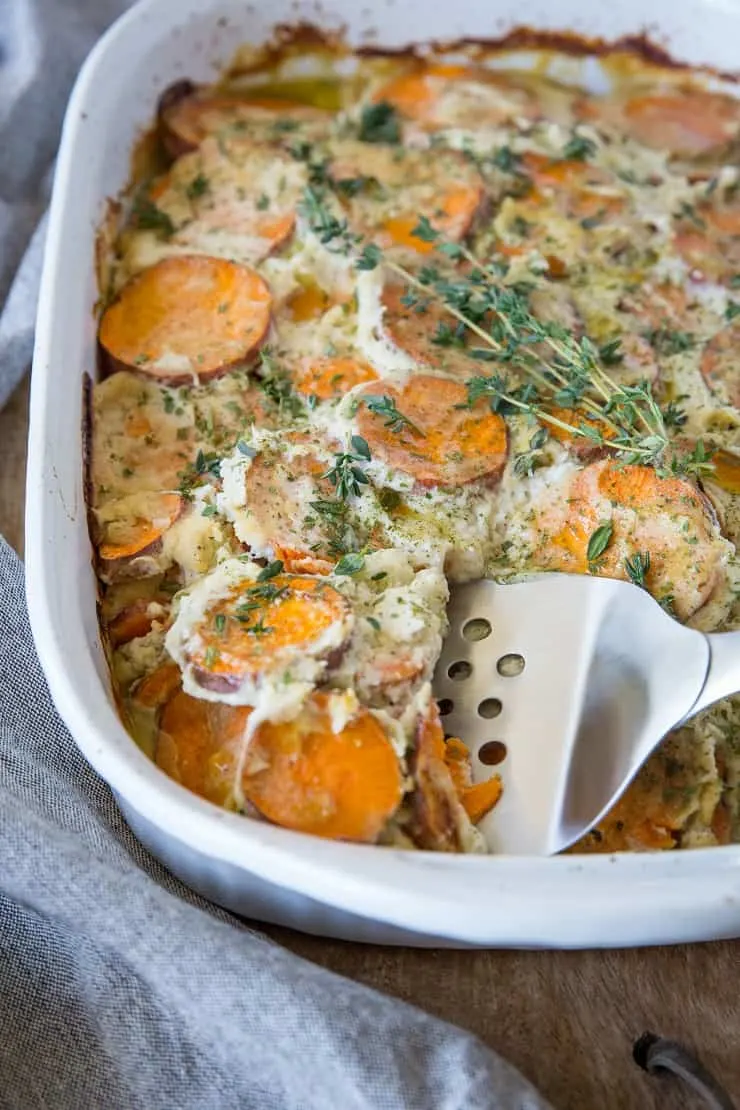 In summary: this recipe is simple, clean, and fun to make, but it does require some time. If you're planning your holiday menu and trying to avoid the stress of preparing everything the day of your gathering, this is a great one to make ahead of time.
In fact, if you make the whole thing up to three days ahead of time and reheat it the day of, you'll be sitting pretty.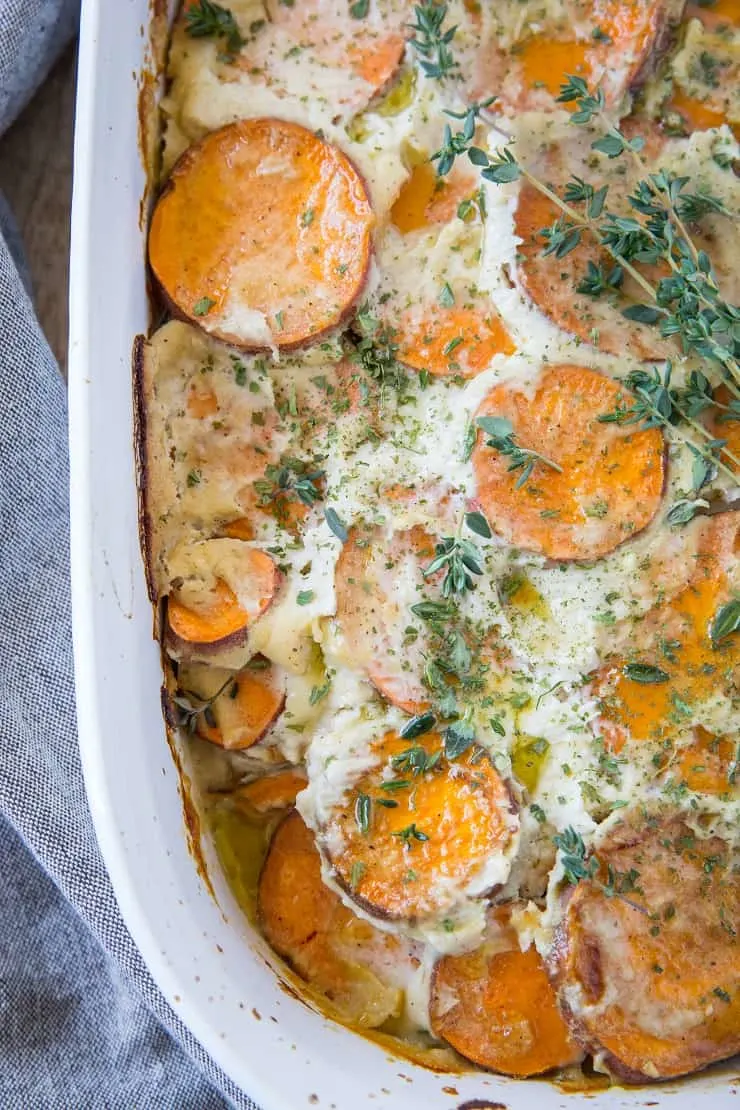 Recipe Adaptations:
Although these scalloped sweet potatoes are already super creamy, you can absolutely sprinkle the top with cheese (I recommend gruyere) to give them that ultra comforting/goo factor.

Replace the chicken broth with vegetable broth or almond milk, and replace the ghee with avocado oil or vegan "butter" spread to make recipe vegan.

Use jewel yams or purple yams in place of regular sweet potatoes.

Add more herbs, garlic, etc. to your heart's delight.
More Healthy Holiday Side Dishes:
What side dishes do you make over the holidays?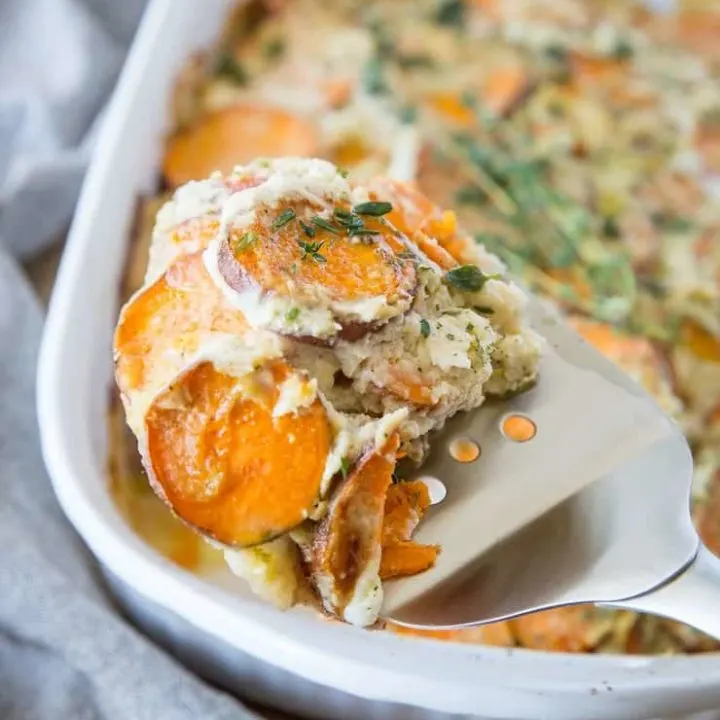 Paleo Scalloped Sweet Potatoes
Cook Time:
1 hour
20 minutes
Total Time:
1 hour
40 minutes
Paleo Scalloped Sweet Potatoes made lactose-free and vegetarian. A healthy holiday side dish for any type of feast
Ingredients
1 medium onion, chopped*
5 cloves garlic, minced*
1 large head cauliflower, chopped into florets
1 cup vegetable broth, or chicken broth
3 sprigs fresh thyme
3 large sweet potatoes, about 3.25 pounds
Instructions
Heat the oil in a medium-sized skillet over medium heat. Add the chopped onion and saute, stirring occasionally, until onion is transluscent, about 8 minutes. Add the chopped garlic and continue sauteing another 3 minutes.
While the onion is sauteeing, steam the cauliflower for 8 minutes, or until it's nice and tender. Drain the cauliflower and transfer it to a blender along with the sauteed onion and garlic.
Add the broth, ghee, nutmeg, sea salt, and thyme to the blender and blend until completely creamy.
Preheat the oven to 400 degrees F and lightly oil a large (9" x 13") casserole dish.
Slice the sweet potatoes into thin rounds (about 1/8-inch thick).
Layer 1/3 of the sweet potato slices in the casserole dish and pour in 1/3 of the sauce. Spread the sauce evenly over the sweet potato slices. Repeat for remaining sweet potatoes and sauce.
Cover casserole dish with foil. Place casserole dish on the center rack of the preheated oven and bake for 40 minutes. Remove foil and bake another 30 to 40 minutes, or until sauce is bubbly and sweet potatoes are cooked through.
Allow casserole to rest 15 minutes before slicing and serving.
Notes
*Omit the onion and garlic for Low-FODMAP and add 2 Tbsp cider vinegar
**Replace chicken broth with vegetable broth and replace ghee with avocado oil or vegan butter spread to make recipe vegan.to make recipe vegan
Nutrition Information
Yield

12
Serving Size

1 of 12
Amount Per Serving
Calories

174
Total Fat

6g
Unsaturated Fat

0g
Carbohydrates

27g
Fiber

6g
Sugar

6g
Protein

3g