Sauteed green beans and beets with bacon, pecans, goat cheese, and balsamic reduction. Chitty chitty bang bang!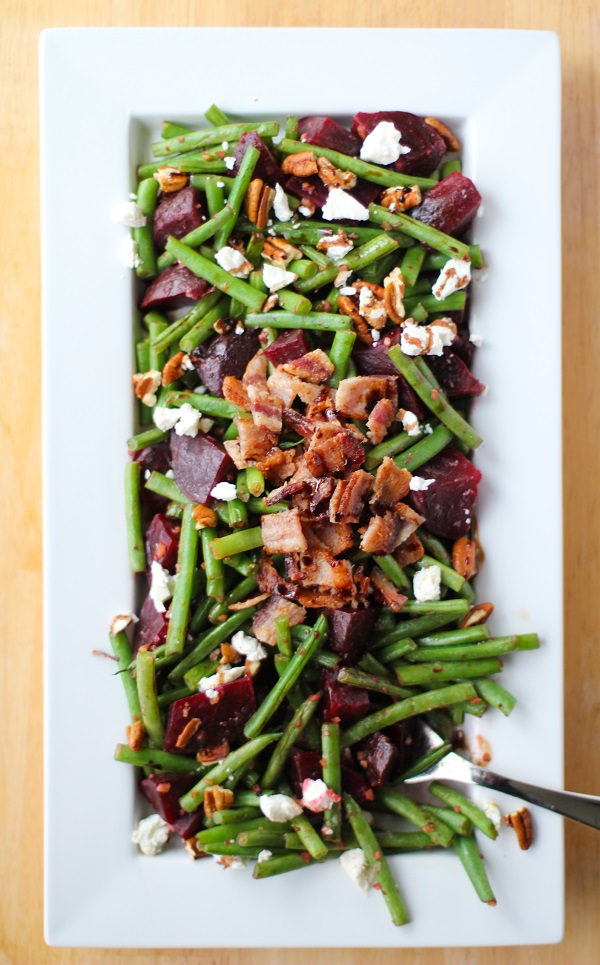 I've been tapping the side dishes like Fred Astaire. Except my version of "tapping" is more of a swift scooping…of foods…into my mouth. If I could give you a synopsis of my eating habits lately, it would go a little sumzing like-uh-zis: carbs, carbs, fatty meat, carbs, maple syrup, wine, carbs, super fatty meat, bourbon, wine, chocolate, carbs, carbs, kale, carbs, wine, carbs, beets. That just about summarizes it. And I gotta tell you: my.thighs.are.loving.it.
Side dishes have become such a near and dear part of my life that I shudder to think of what will happen once the holidays are over and it will no longer be the norm to have a big meaty entree with 17 sides. You mean I have to revert back to one meaty entree and two sides? Shutthefrontdoor.
Personal question: Are you a sectioner or a shmoosher? Like, when you dish up your plate o' holiday feast, do you section your sides so that they don't touch one another or do you shmoosh them up in one big mosaic of color and texture? Me? I'm the kind that would lead you to believe I'm a shmoosher when in reality, I'd prefer it if all my foods had their own separate plates. It's just.that.bad.
Guess what?
T minus ONE DAY until Thanksgiving!
I've been up to my eyeballs in side dishes. I know, I know…#firstworldproblems
Green beans are awesome even without condensed cream of mushroom soup.
Balsamic reduction makes food real.
Bacon.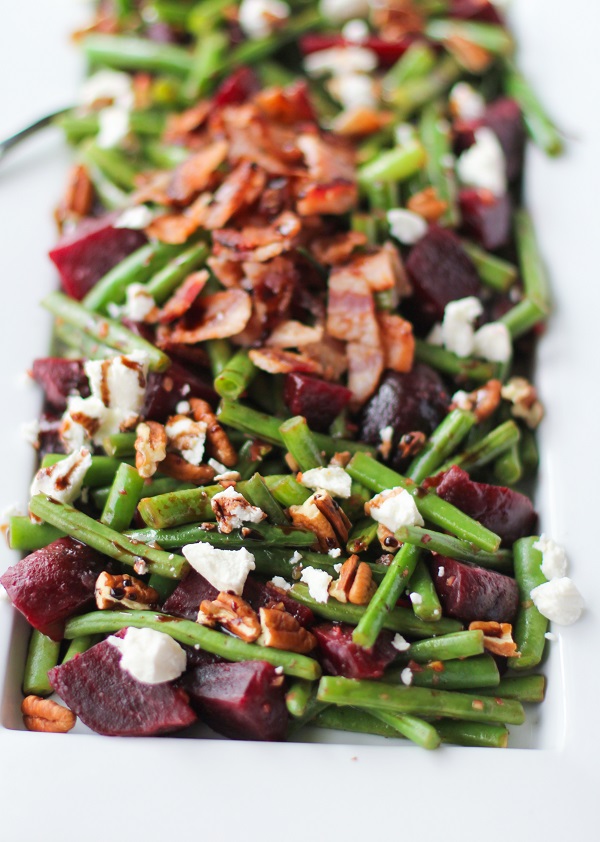 Exciting news, folks! I recently began developing recipes for Love Beets! If you've never heard of Love Beets, they're a real cool company. They make your beet experience super easy by packaging up high quality organic beets that are already roasted for your munching convenience, PLUS they're all about healthy recipes. You'll be seeing some of the recipes (such as this one) I've created for them from time to time right here on my blog.
These green beanages. Easy. You can totally make them last minute, you procrastinator, you.  Simply chuck some bacon in a skillet, cook the green beans in bacon drippings, add your pre-roasted beets, and serve the veggies with the crispy bacon, goat cheese, and pecans. While the beans are sauteeing, you reduce balsamic vinegar for a hot minute in order to make a balsamic reduction, which gets drizzled over your veggie dish. Trust me, it's worth the three minutes to reduce balsamic vinegar! Real game changer, folks! Real game changer!
This recipe for Balsamic Green Beans and Beets with Pecans, Bacon, and Goat Cheese was originally published on Love Beets
Have a fabulous Thanksgiving!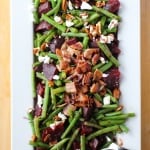 Green Beans and Beets with Balsamic Reduction
Print
Ingredients
3

strips thick-cut bacon

16

ounces

green beans

trimmed and chopped into 2-inch pieces

3

cloves

garlic

minced

2

medium-sized beets

roasted and chopped (or 1 8.8-ounce package Love Beets cooked beets, chopped)*

1/2

teaspoon

kosher salt

or to taste

1/3

cup

raw pecans

chopped

1/3

cup

goat chèvre

1/3

cup

balsamic vinegar
Instructions
In a large skillet, cook bacon over medium heat until crispy (about 3-4 minutes).

Place the strips of bacon on a cutting board, leaving the bacon drippings in the pan.

Add the green beans and minced garlic to the pan with the bacon drippings and sauté stirring frequently until green beans have softened but are still al dente (about 8 minutes).

Add the chopped beets and salt and continue to sauté until beets are hot (about 2 minutes).

While the vegetables are sautéing, pour the balsamic vinegar into a small skillet and bring to a full boil. Allow vinegar to boil until reduced by half (about 3 minutes). Remove from heat and set aside until ready to serve.

Once the vegetables have finished cooking, transfer them to a large serving platter or serving bowl.

Chop the strips of bacon and sprinkle on top of the green beans and beets.

Add the pecans and goat cheese. Drizzle the balsamic reduction over everything and serve.
Recipe Notes
*To roast raw beets, wrap them in foil, place on a cookie sheet, and roast in the oven at 375F for 60 to 90 minutes (until soft and juicy). Alternatively, chop the beets and wrap in foil. Place on cookie sheet and roast at 375 degrees F for 40 to 50 minutes.