Spinach pesto sauce made dairy-free and low-FODMAP. This easy pesto sauce recipe is vegan, and can also be adapted to include parmesan and garlic for a more classic approach.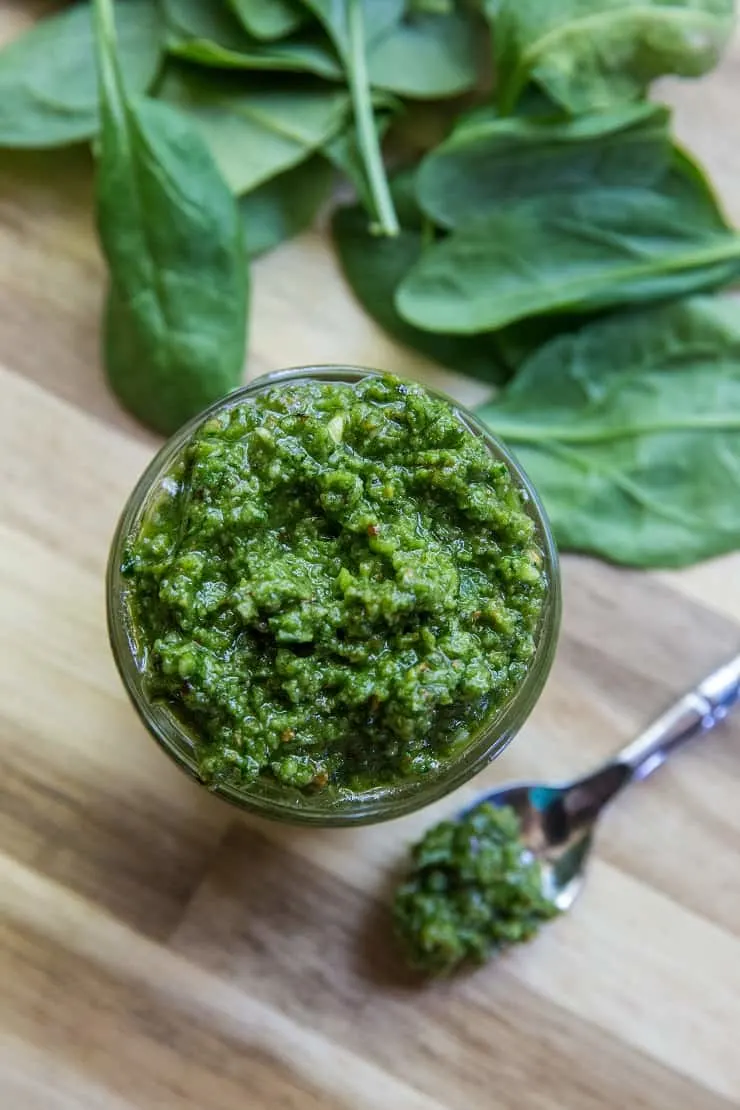 Hypothetical situation: You have a massive hankering for something pesto-y, but don't have any pesto on hand, nor do you have basil to make your own pesto. But you do have spinach!
Hypothetical situation #2: You have kids who love pesto sauce but don't enjoy eating leafy greens. In walks: spinach pesto.
Case in point: I wanted to make pesto salmon a couple weeks ago, but found the basil in my refrigerator had gone bad, and I didn't have any pesto sauce on hand; however, I did have a huge tub of spinach.
So I gathered up some nuts from the pantry and tossed them in my food processor with spinach, dill, and oregano – essentially whatever I could find that was pesto-appropriate.
The end result? Absolutely marvelous! Earthy, herby, flavorful, uniquely pesto-y.
To summarize: You can make pesto sauce using spinach, carrot tops, beet greens, turnip greens, chard, kale, you name it. If it's hearty, leafy, or herby, it can almost assuredly be used for pesto sauce.
How to Make Spinach Pesto:
Place 2 cups baby spinach in your food processor, along with ⅔ cup nuts or seeds of your choosing. I like using almonds, pistachios, and/or walnuts, but you can go with classic pine nuts as well.
Also add a clove of garlic (if you don't follow a Low-FODMAP diet) and either 2 tablespoons of cider vinegar or ½ cup aged parmesan cheese. I make my pesto sauce dairy-free, so I make it with cider vinegar to replace the tang.
Seal up the food processor and process until everything is well-chopped.
Leaving the food processor on, slowly pour the oil through the mouth and allow the sauce to process until it reaches your desired consistency. For thinner sauce, add more oil!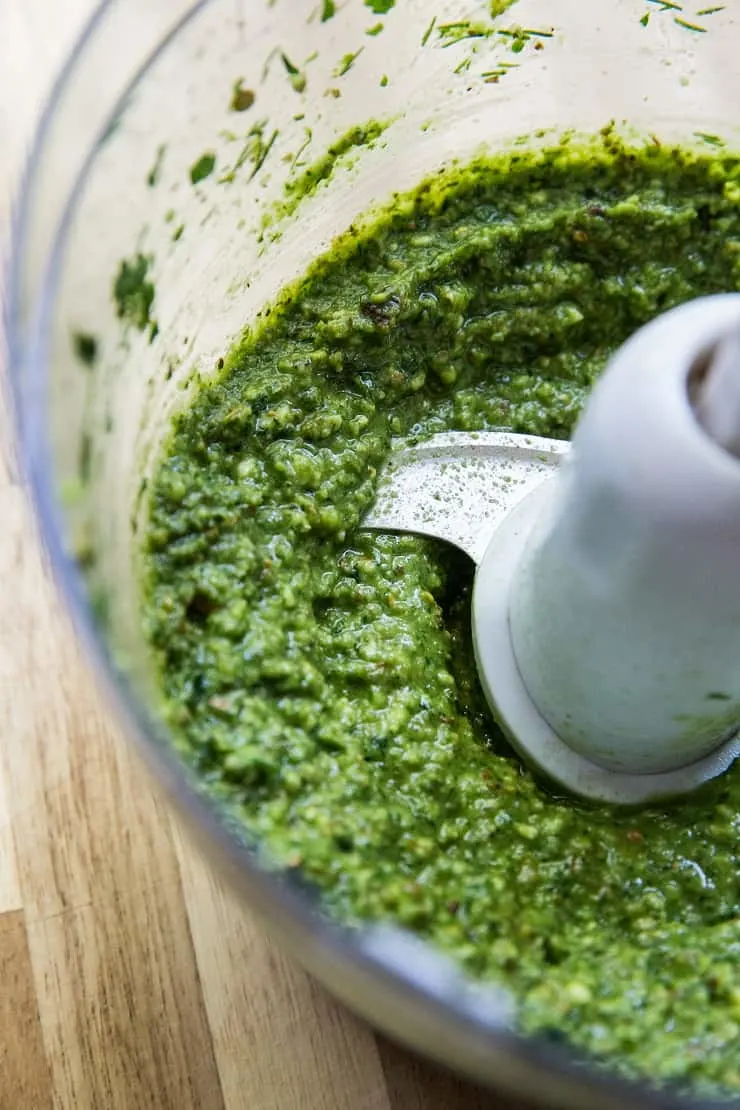 Use the sauce immediately or store it in a sealed jar in the refrigerator or freezer.
Ways to Use Spinach Pesto:
Here are some recipes on this site to which you can apply this delicious pesto:
Recipe Adaptations:
I like using avocado oil or algae oil for my pesto sauce because I love the subtle flavor of both. I also like that they both have a high smoke point which means I can use the pesto in my cooking and baking without worrying about it burning. If you're an olive oil fanatic, feel free to use olive oil.

Replace some of the spinach with fresh basil or herbs of choice.

Use walnuts, pecans, pumpkin seeds, pine nuts, pistachios, or almonds for the nut/seed portion of the recipe.

Add ½ cup parmesan cheese and omit the cider vinegar if you do dairy.

Scale the garlic up if you love super garlicky pesto.

Omit the garlic for Low-FODMAP.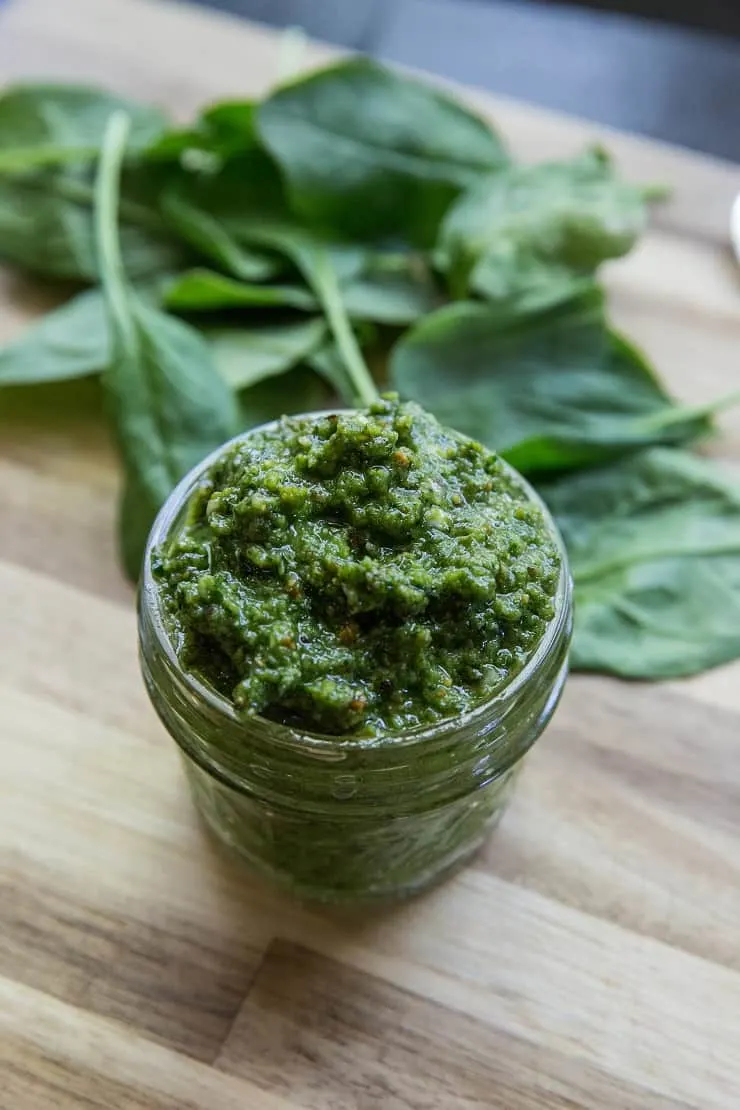 What are your favorite pesto applications?
My cookbook,
Paleo Power Bowls
, is now available! CLICK HERE to check it out. Thank you for your support!
If you make this Spinach Pesto Sauce, please feel free to share a photo and tag @The.Roasted.Root on Instagram!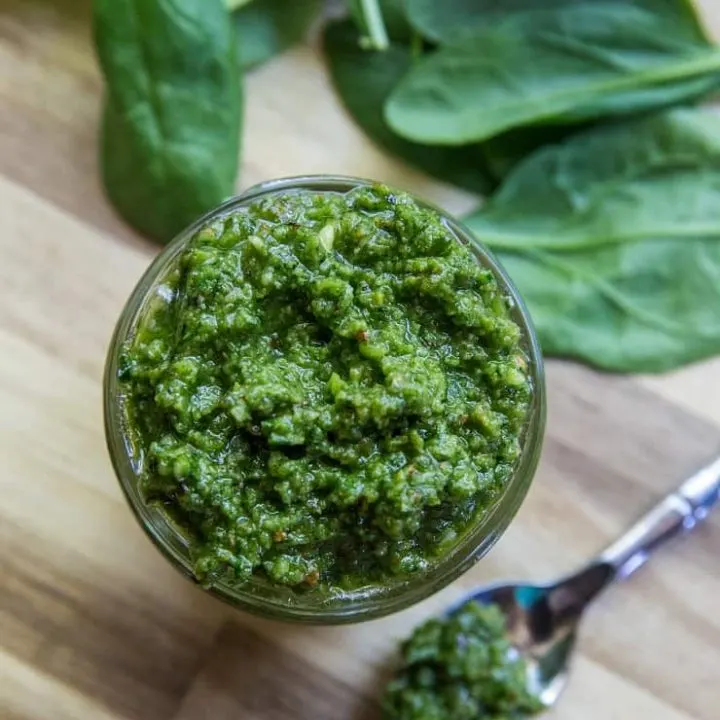 Spinach Pesto Sauce
An easy recipe for spinach pesto that is paleo, low-FODMAP, and whole30
Ingredients
2 cups baby spinach
1 cup basil, or more spinach
2/3 cup raw almonds, see note**
1 clove garlic, omit for Low-FODMAP
2 Tbsp apple cider vinegar
Instructions
Add all ingredients except the oil to a food processor. Pulse until ingredients are well chopped.
Leave the food processor running and stream the avocado oil through the opening at the top and continue processing until sauce reaches desired consistency. For thinner sauce, add more oil.
Taste pesto for flavor and add more sea salt to taste. Use immediately or store in an air-tight container in the refrigerator for up to 1 week.
Notes
**You can also use pistachios, pine nuts, or pecans
Add 1/2 cup parmesan cheese if you're tolerant to dairy.
Nutrition Information
Yield

5
Serving Size

1 of 5
Amount Per Serving
Calories

331
Total Fat

31g
Unsaturated Fat

0g
Carbohydrates

9g
Fiber

5g
Sugar

2g
Protein

9g