Guys! Guys, guys, guys, guys, guys! UGH! (And gals!) Chimichurri sauce.
Seriously. Seriously. Let's slow this down for maximum absorption.
C H I M I C H U R R I
S A A A A A A A A A A A A A U S E – UHHHH
You're like, yeah, so what. And I'm like, CHIMICHURRI SAAAAAAAAAAAUCE! Say you get me! Say you really do!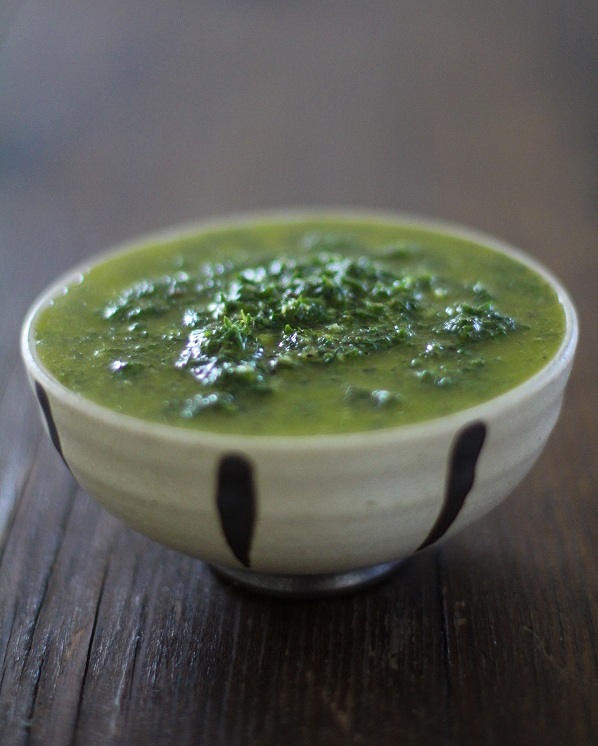 Basically, what all this nonsense boils down to is chimuchurri sauce is CHA-mazing!
It's awesome on burgers (that's really what we're here to talk about today…burgers of the mini varietal), and equally awesome as salad dressing! Chimichurri sauce originates from Argentina and a lot of folks put it on steak, which is bangarang, Rufio; however, I like to use it as salad dressing. Because I eat a lot of salad. And my salad needs itself some dressing.
I had no clue what chimichurri sauce was but I kept seeing pictures of the green beauty on pinterest, so given my love for sauces and all things green, I did a little shoulder shrug and said, "chimichurri sauce? Don't mind if I do!"
Chimichurri sauce is traditionally made with flat leaf parsley, oregano, olive oil, garlic and vinegar, but there's a million different renditions of it. Some people add peppers, spices, lime juice, cilantro, white onion, and on and on and on. All I did was blend up all of the ingredients in my Vitamix Blender
and my sauce was ready in seconds.
And we put it on BEEF! Beef…I mean…Brief aside: this is the first time I have posted a beef recipe on The Roasted Root. Ever. Not because I'm against it. I just tend to eat about 1,000 times more turkey and salmon than beef. Let's throw me a big beefy party right now. End aside.
I don't know why sliders make me giggle, but they do, they really do.
These beef sliders have chimichurri sauce mixed in the meat (glooooory!) plus chimichurri sauce on top (baaaangarang!), plus pepper jack cheese, plus avocado. I except Visa, MasterCard, AMEX, and tasteful compliments, thankyouverymuch. Winky face.
Make your day a chimichurri day.
Chimichurri Beef Sliders
A delicious burger scaled down for the perfect bite! These Chimichurri Beef Sliders are easy to make and are loaded with flavor.
Ingredients
For the Chimichurri Sauce
2

cups

tightly packed flat leaf parsley

1/3

cup

loosely packed fresh oregano leaves

5

cloves

garlic

roughly chopped

Zest of 1 lime

2

tablespoons

fresh lime juice

1

tablespoon

white vinegar

¾

teaspoon

salt

¼

teaspoon

black pepper

¼

teaspoon

red pepper flakes

optional

3/4

cup

olive oil
For the beef sliders
1

pound

ground beef

2

tablespoons

chimichuri sauce + more for serving

Pepper jack cheese

Avocado

leaves

Mixed greens

or baby kale

6 to 8

slider buns

toasted
Instructions
To Prepare the Chimichuri Sauce
Add all ingredients except for oil to a blender or food processor.

Turn blender/processor on a low speed to chop the ingredients.

Slowly add the oil while the machine is on.

Pour chimichuri sauce into a jar and seal to use for up to 1 week or use immediately on a big beefy burger.
To Make the Chimichuri Beef Sliders
Place the ground beef in a mixing bowl and add 2 tablespoons of chimichuri sauce. Use your hands to massage the sauce into the beef, making sure it is well distributed.

Heat a cast iron skillet to medium-high. Form small patties out of the beef and place them on the skillet.

Allow sliders to cook until juices seep out and the bottom firms up and appears crispy.

Flip to the other side and cook an additional 30 seconds to 1 minute before adding the pepper jack cheese. Continue to cook to desired done-ness or until cheese is melted.

Toast the slider buns in the oven cut-side up on the broil setting just until toasted.

Make sliders by compiling the mixed greens, slider patties, and avocado and drizzle chimichuri sauce on top!
Notes
For my gluten-free friends, choose gluten-free buns or go bun-less, which is what I do 🙂
Nutrition
More delicious sliders:
White Cheddar Chipotle Chicken Sliders from Simply Scratch
Avocado and Crab Sliders with Lemon Aioli from Climbing Grier Mountain
Brie Crab Cake Pretzel Slider Melts with Strawberry Pineapple Salsa from Half Baked Harvest
Crispy Buffalo Style Salmon Sliders from Half Baked Harvest
Kalua Pork Sliders with Pineapple Mango Salsa from Our Best Bite