These pan fried green beans with pomegranate seeds and bacon make for an easy and delicious side dish, requiring only three ingredients!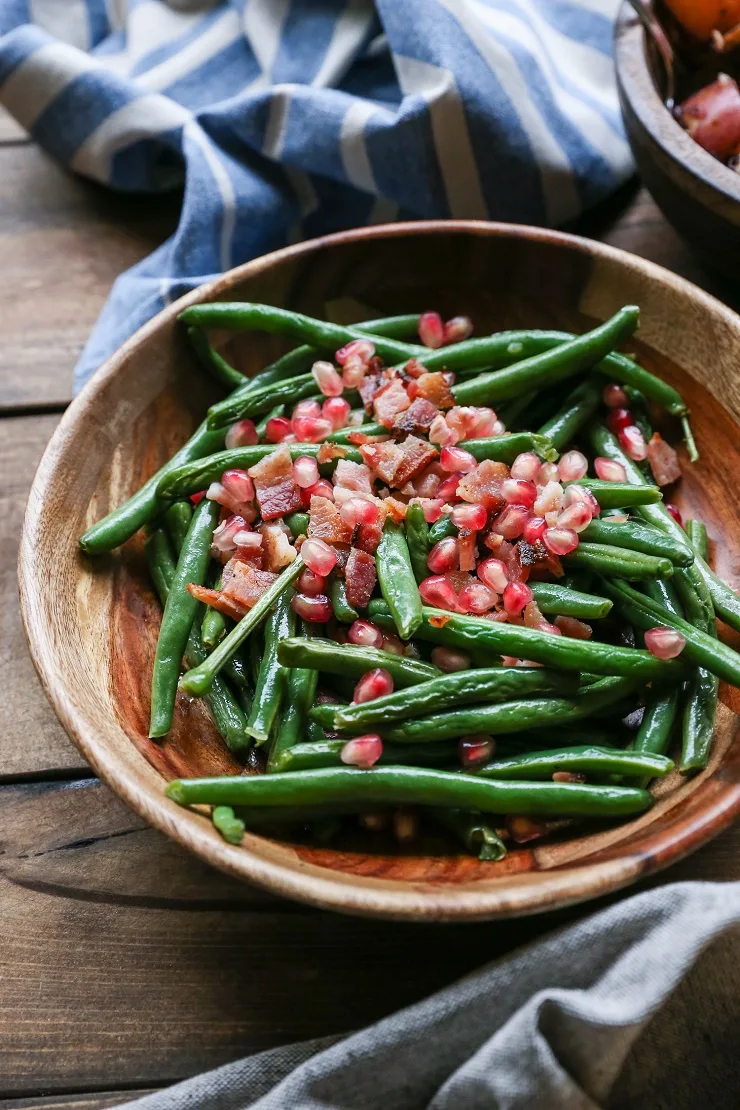 Every autumn, I find myself locked into a tractor beam-like side dish obsession, and this fall has been no exception.
As I alluded to in my Maple-Cinnamon Glazed Acorn Squash and Brussels Sprouts post last week, real life meals lately have been looking like one mega side dish (or a combination of multiple sides), and given the strength of the side dish stronghold, I can safely say this habit will likely carry well past the holidays.
Lately, I've been on a winter squash kick, but I was able to pull my mind space out of the carb load long enough to allow green beans to enter.
Also, spoiler alert: I hope you're as ready for fall and winter-inspired side dishes as much as I, because I have a lot in the pipeline.
I made this simple pan fried bacon green beans dish as part of the turkey feast I prepared on Sunday.
Initially, I made the dish for photograph purposes (green makes everything prettier), but it ended up being such a tasty and easy side dish that I figured I had better share it with you all so you can enjoy it over the holidays as well.
Truly, the recipe is just the easiest thing to whip up – you only need three ingredients, not including salt and 10 to 15 minutes of time. If you're serving more than 4, you can scale the recipe up to fit your entertaining needs.
There are plenty of additions you can make to this dish. Love garlic? Go wild with those cloves. Pecans, walnuts, or sliced almonds would yield additional texture and flavor, and you could even add cheese, such as goat cheese or feta. If you're feeling real fancy, you can zest up an orange and add the zest as well.
How to Make Pan-Fried Green Beans:
Simply cook the bacon in a skillet until it reaches desired done-ness, then transfer the bacon to a cutting board and chop it once it's cool enough to handle. From there, we cook the green beans in the bacon fat for 5 to 8 minutes (or to desired done-ness) and salt them to taste.
Serve the green beans with the chopped bacon bits and fresh pomegranate seeds. When it comes to my bacon selection, I go with thick-cut peppered bacon all the way.
You can use any type of bacon, but my recommendation is go thick.
..And if you have little or no experience retrieving pomegranate arils (seeds) out of the fruit, OR if you've tried and failed like me on many-an-occasion at the water method, you can simply follow my tutorial on How to De-Seed a Pomegranate Without Water.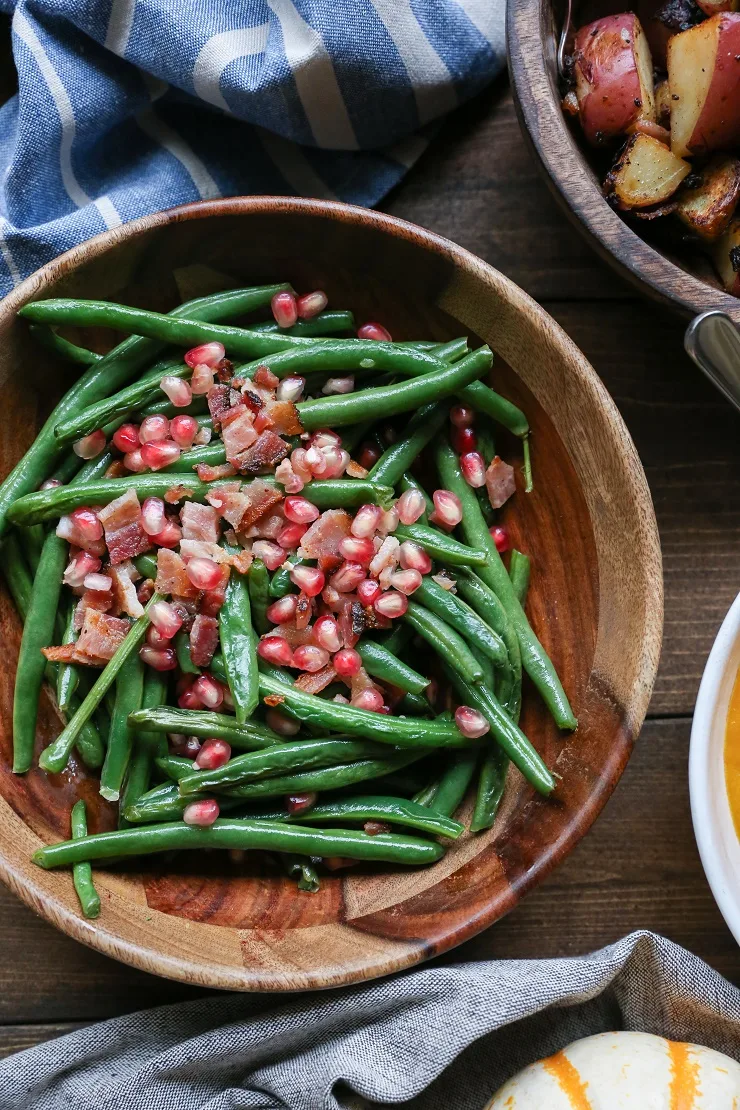 More Delicious Side Dishes:
Make it for Thanksgiving, for Christmas, for life.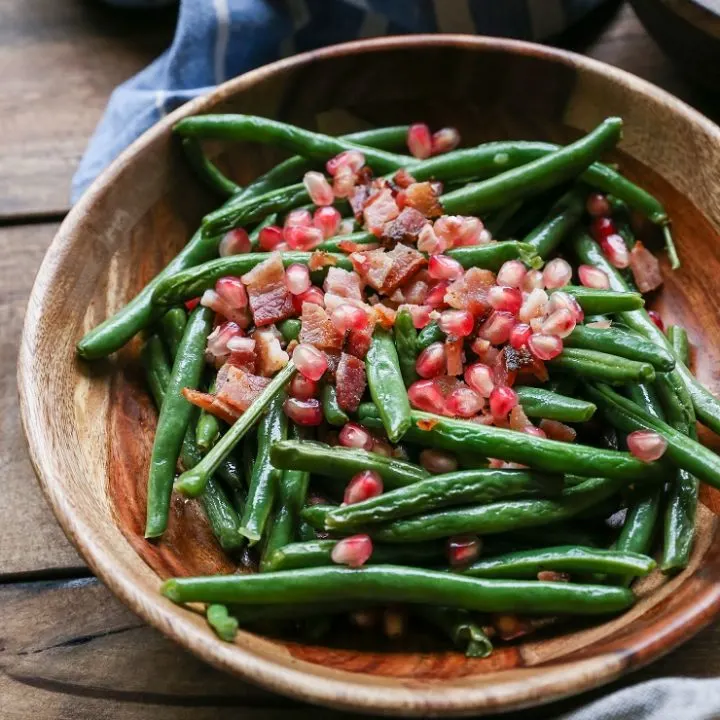 Pan Fried Green Beans with Bacon and Pomegranate Seeds
Easy pan-fried green beans with bacon and pomegranate seeds is a fun side dish.
Ingredients
3 strips thick-cut bacon, I used peppered bacon
12 ounces fresh green beans
¼ teaspoon sea salt, to taste
1/3 cup pomegranate arils
Instructions
Heat a cast iron (or regular non-stick) skillet to medium-high and place the strips of bacon on the hot surface. Cook, turning every couple of minutes, until bacon has reached desired level of crisp. Transfer bacon to a cutting board (leaving the fat drippings in the skillet), and chop the bacon.
Reduce the heat to medium and add the green beans to the skillet with the bacon drippings, stir well, and season with sea salt. Cover and cook 5 to 8 minutes, stirring occasionally, or until green beans have reached desired done-ness.
Transfer green beans to a serving dish and sprinkle the chopped bacon and pomegranate seeds on top. Serve alongside your favorite entrees.
Nutrition Information
Yield

3
Serving Size

1 Serving
Amount Per Serving
Calories

111
Total Fat

6g
Unsaturated Fat

0g
Carbohydrates

11g
Fiber

4g
Sugar

5g
Protein

7g