Roasted sweet potato rounds with goat cheese and roasted cranberries make a delightful festive healthy appetizer!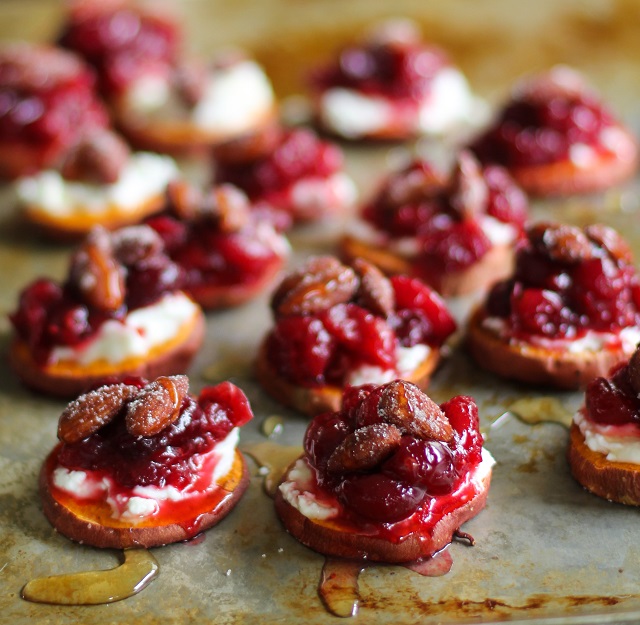 It's an open-face holiday cheer sammie with all the right goods in all the right places.
For those of you who are entertaining this holiday season and need a last-minute appetizer that is equal parts fun//festive//healthy//easy to prepare…
If you made the Sweet Potato Rounds with Guacamole and Bacon and/or the Sweet Potato Rounds with Herbed Ricotta and Walnuts I showed you last year a main squeeze in your life's food menu…
For those of you who could eat dinner-sized portion of appetizers as a full-tilt meal and call it good…
These sweet potato rounds are your jamboree.
Let's discuss how the whole thing plays out, because in the words of Mackelemore, there's layers to this ish, player.
How to Make Roasted Sweet Potato Rounds:
Layer 1.) Roasted slices of sweet potato (the best gluten-free cracker evah!)
Layer 2.) Herbed goat cheese (I used store-bought)
Layer 3.) Balsamic-roasted cranberries sweetened with honey (super tangy, lots of spunk)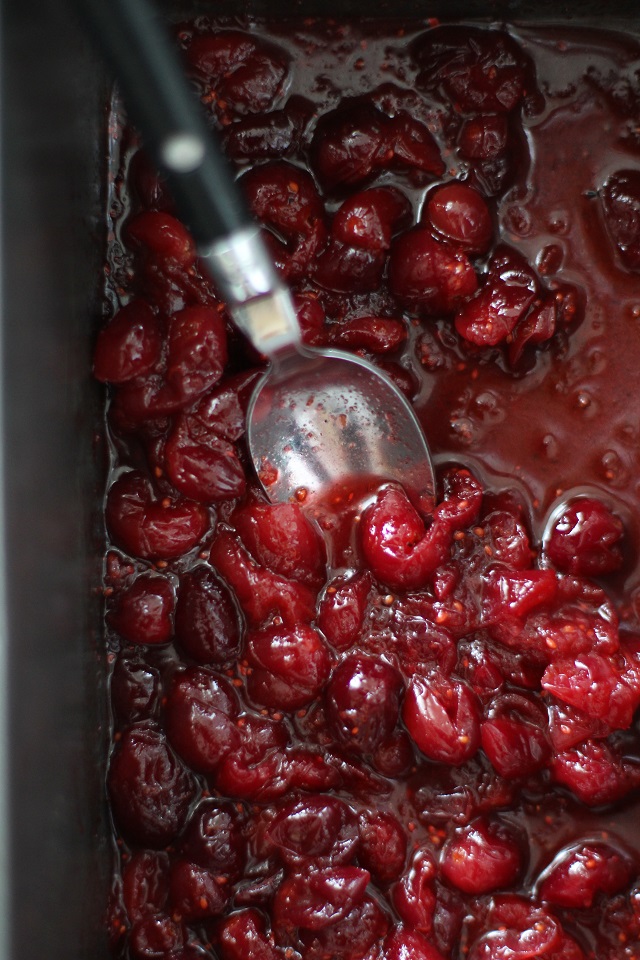 Layer 4.) Honey Roasted Almonds
Layer 5.) Drizzle of Honey (why not?)
Little bites of holiday splooge right there for that face-head of yourn.
The way I see it, this super flavorful healthy appetizer is perfect for serving to guests of all kinds during the holidays, particularly those who eat a restricted diet. They're gluten-free, dairy-free (we're using goat cheese, remember), and are naturally sweetened for a sweet and savory luscious bite. I'm envisioning these as a great last-minute part treat for Christmas and New Years' Eve.
I used Blue Diamond's Honey Roasted Almonds, which gave the rounds a nice crunchy finish to balance out the soft toppings, and made preparing these rounds a cinch. Instead of roasting my own almonds, a little sprinkle of these honey roasted delights made for the perfect accompaniment. Whatever remaining almonds you don't use for the rounds you can share with your guests as a snack.
The balsamic-roasted cranberries are just so simple to prepare. Simply stir the ingredients in a small casserole dish (I used a bread loaf pan as you saw above), cover with foil, and allow those things to soften up in the oven. Out comes a magical mixture that you could call chutney//relish//jam//compote – whatever name you want to give it, it's wildly tasty!
Let thy sweet potato be thy appetizer and thy appetizer be thy dinner.
My cookbook,
Paleo Power Bowls
, is now available! CLICK HERE to check it out. Thank you for your support!
If you make this recipe, please feel free to share a photo and tag @TheRoastedRoot on Instagram!
Sweet Potato Rounds with Goat Cheese and Roasted Cranberries
Sweet Potato Rounds with Goat Cheese and Roasted Cranberries are a flavorful festive appetizer or side dish for fall, winter, and the holidays!
Ingredients
For the Roasted Cranberries
1-½

cups

fresh or frozen cranberries

2

tablespoons

balsamic vinegar

1

teaspoon

orange zest

¼

cup

fresh-squeezed orange juice

1

tablespoon

olive oil

1/8

teaspoon

ground cinnamon

pinch

sea salt

¼

cup

honey
Instructions
Prepare the Balsamic Roasted Cranberries:
Preheat the oven or oven to 425 degrees F.

In a small bowl, whisk together the balsamic vinegar, orange zest, orange juice, olive oil, sea salt and cinnamon.

Add the cranberries to a small casserole dish, pour the balsamic mixture over the cranberries, and stir to combine. Cover with foil and bake for 15 minutes, or until softened. Remove foil, add honey, and stir well. Let stand 10 minutes then stir again. At this point, the cranberries should lose their form, the juices should thicken, and mixture should look like chutney/jam. Set aside until ready to use. Decrease oven heat to 400 degrees F to roast the sweet potato slices.
Roast the Sweet Potato Rounds:
Lightly coat the slices of sweet potato with olive oil and place them on a baking sheet. Sprinkle with salt and roast 15 to 18 minutes, until golden. Carefully flip and roast another 10 to 15 minutes, or until rounds reach desired done-ness or crisp. Remove from the oven and assemble the appetizer.
Make the Appetizer:
Turn off the oven but leave the door closed so that it stays hot.

Spread between ½ and 1 tablespoon of goat cheese on each sweet potato round, then top with a spoonful of roasted cranberries. Place in the still-warm oven for 5 to 10 minutes, until heated through.

Top with honey-roasted almonds and a drizzle of honey.
Nutrition
This post is sponsored by Blue Diamond Almonds. Per usual, all thoughts, feelings, and opinions are my own. Thank you for supporting the brands that help make this site possible!