Paleo Pumpkin Pie recipe made refined sugar free, grain-free, gluten-free, and dairy-free. This easy healthy pumpkin pie recipe is always a hit among all who try it!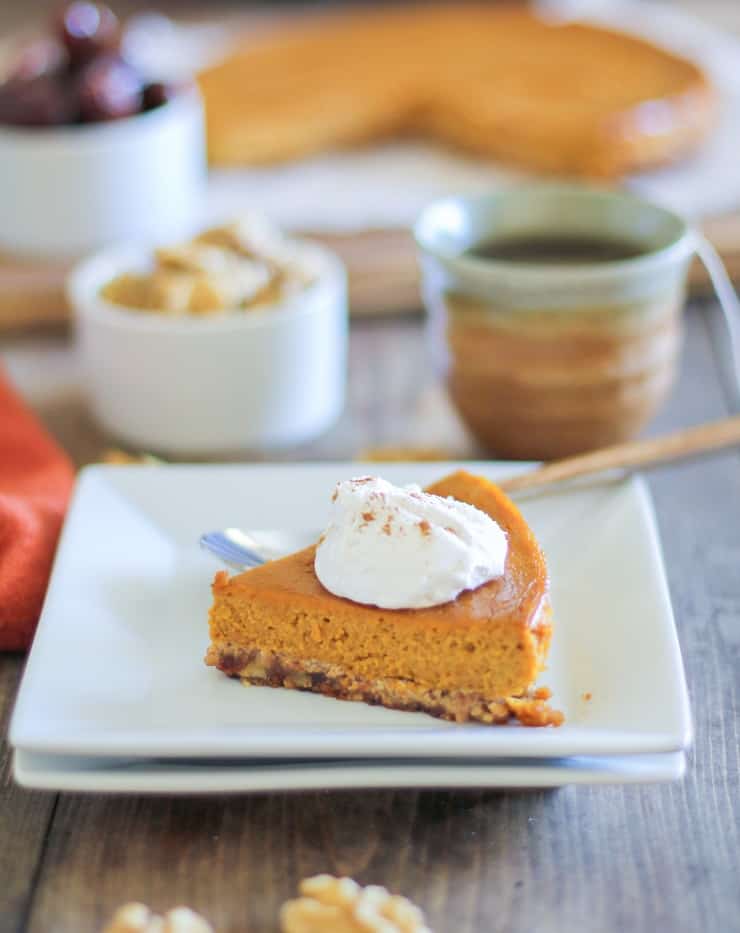 This time of year, everybody goes wild for pumpkin, and understandably so. Pumpkin is – in a word – irresistible.
While I'm a huge proponent for eating your body weight in pumpkin throughout the fall and winter months, I tend to saunter down the optimal path of gut happiness by making treats on the healthful end.
And in this way, we can make our pie and eat the whole dang thing, too.
Not that I'm telling you to eat an entire pie…but if you were going to, it should be this one.
Paleo Pumpkin Pie Ingredients:
Made dairy-free with coconut milk, sugar-free with maple syrup, the pumpkin portion of this recipe is squeaky clean and easy to prepare in a blender.
The grain-free walnut crust not only takes seconds to make (versus a great deal of time and effort for regular all-purpose flour pie crust), but it is mouth-wateringly tasty! In fact, it tastes very similarly to a graham cracker crust (magic, I know!). I almost feel like the crust is where it's at in this slice of heaven.
How to Make Paleo Pumpkin Pie:
Begin by preparing the walnut crust. Simply add the ingredients for the crust to a food processor and process until a thick sticky dough-like substance forms. Press the crust mixture into the bottom of a parchment-lined spring form pie pan until you have an even layer.
Similarly, blend all of the ingredients for the pumpkin filling in a blender until well combined. Pour the pumpkin filling mixture over the crust and bake in your preheated oven!
To summarize: we blend, we bake, we conquer!
Serving suggestion: with a dollop of homemade coconut whipped cream for a little something special.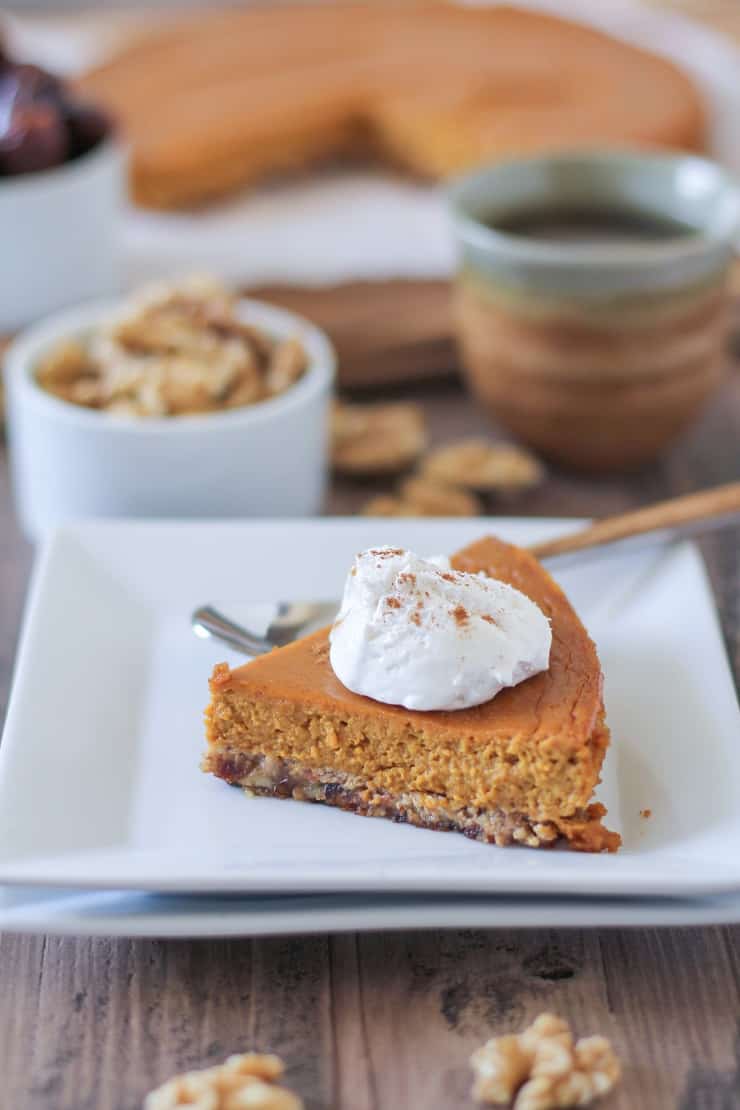 Recipe Adaptations:
Replace the walnuts in the crust with almonds or pecans.
Swap the pure maple syrup for honey. Just note if you use honey, you must keep an eye on the pie as honey burns at a lower temperature than pure maple syrup.
Use either canned or freshly roasted pumpkin!
Replace the individual spices with 2 tablespoons pumpkin pie spice.
You May Also Love:
My cookbook,
Paleo Power Bowls
, is now available! CLICK HERE to check it out. Thank you for your support!
Paleo Pumpkin Pie
Paleo Pumpkin Pie made dairy-free and refined sugar-free with a grain-free crust is marvelously creamy and flavorful! A healthy pumpkin pie recipe that is always a crowd-pleaser.
Servings:
1
(9-inch) pumpkin pie
Ingredients
Paleo Pumpkin Pie Filling
Instructions
Preheat the oven to 350 degrees F
Prepare the Crust:
Add the ingredients for the crust to a high-powered blender or food processor. Process until a thick, dough-like mixture forms.

Press the crust mixture into a 9-inch springform pan or pie dish and press firmly to make an even layer. If desired, use a piece of parchment paper to press down the crust to even it out. Refrigerate crust until ready to use.
Prepare the Pumpkin Pie Filling:
Add all of the ingredients for the pumpkin pie filling to a blender. Blend until smooth.

Pour the filling mixture over the crust. Place on the center rack of the oven and bake for 45 minutes to 1 hour (Mine took 52 minutes), or until the filling has set up and edges are golden-brown.

Allow pie to cool for 30 minutes, then cover and chill for 2 hours before serving. Once pie is chilled, remove the outer form of the pie pan (if using a spring form pan).

Cut thick slices of pumpkin pie and serve with coconut whipped cream.
Nutrition
Serving:
1
slice (of 9)
|
Calories:
496
kcal
|
Carbohydrates:
41
g
|
Protein:
9
g
|
Fat:
37
g
|
Fiber:
4
g
|
Sugar:
31
g