Rich and creamy Vegan Chocolate Silk Pie made with avocado, coconut milk, raw cacao powder, and pure maple syrup. This healthier take on the classic dessert is just as dreamy, while being dairy-free and paleo friendly!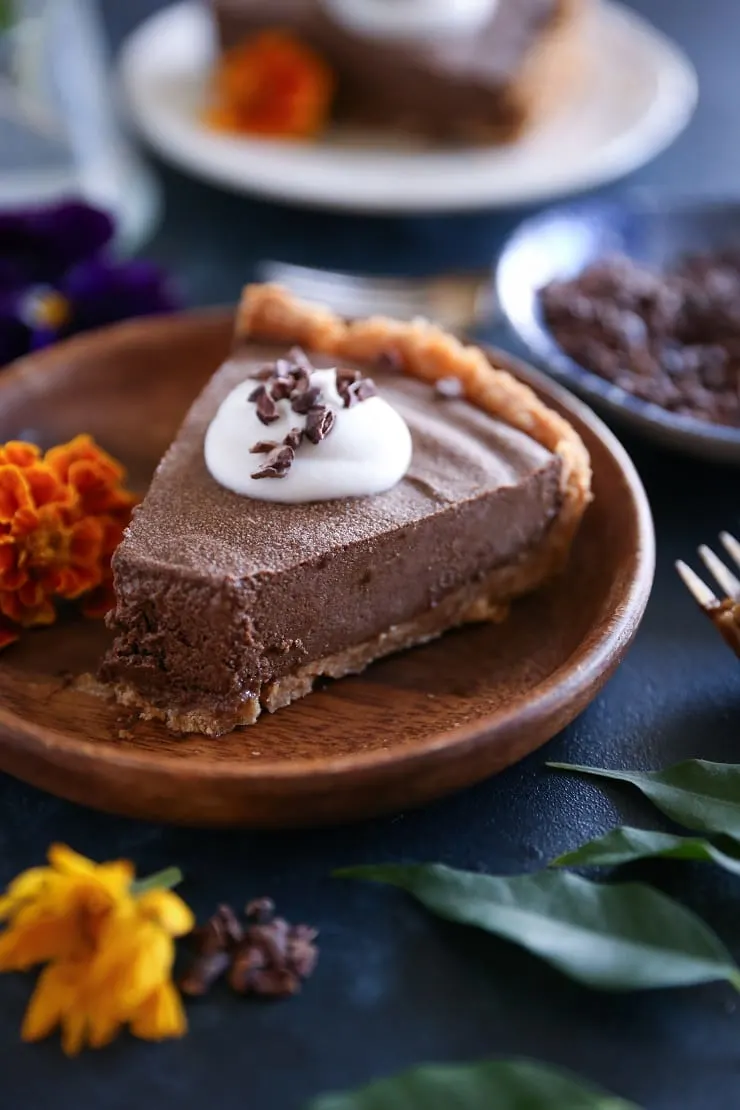 When I was growing up, my family frequented a restaurant in Lake Tahoe that has the best silk pie on the planet.
I always loved when we went out to dinner there, because I knew my chocolate-obsessed father was sure to order us all a couple slices of silk pie to share.
I still go to Jason's, still order the silk pie, and still go to heaven every time.
Because I love recreating desserts at home, I've had a healthier version of silk pie on my to do list for years!
I finally got around to making it a couple of months ago, and viola! Here she be!
If you've never had silk pie, it's exactly how it sounds – silky-smooth and creamy with deep chocolate flavor, a nice crunchy crust, served with whipped cream and often chocolate sauce.
It's kind of like your tongue is being gifted the most relaxing and satisfying massage, but in food form…don't make it weird.
Only thing is, it's jam-packed with cane sugar and dairy, making it a pretty big gut bomb, so the authentic version remains an every-once-in-a-while sort of affair.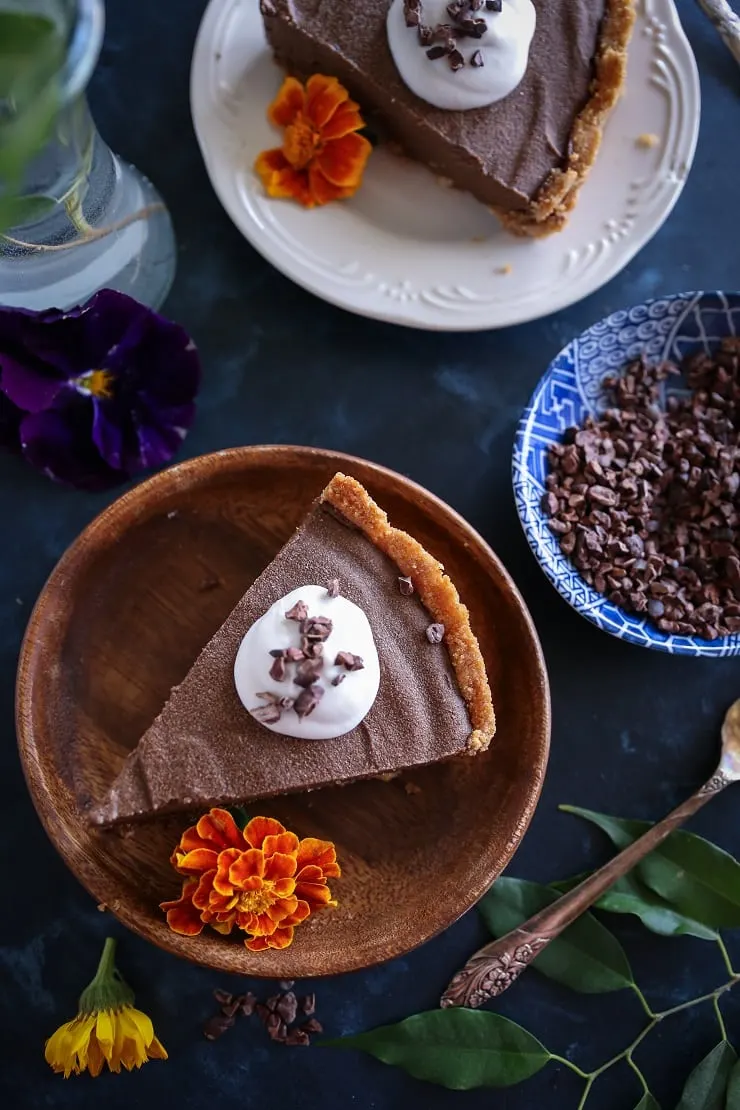 How to Make Dairy-Free Silk Pie
Using avocados, coconut milk, raw cacao powder, and pure maple syrup, this lovely lightened up dairy-free version of silk pie was born.
All you do is blend up the ingredients in a blender or food processor and pour it into your pie crust of choice.
The only thing difficult about the recipe is waiting for it to set up in the freezer.
Pie Crust Options:
You can use my Coconut Flour Pie Crust or my Almond Flour Pie Crust for easy options here! You can also use your favorite store-bought pie crust.
My crust preference is the same concept as the nut-based paleo-friendly crusts I used in my No-Bake Banana Cream Pie or Vegan Strawberry Cheesecake.
The filling portion of this recipe is dairy-free, refined sugar-free, vegan, and paleo, so depending on your dietary needs, you can choose the crust accordingly.
So there you have it…a no-bake dessert recipe to quench your chocolate craving all summer long!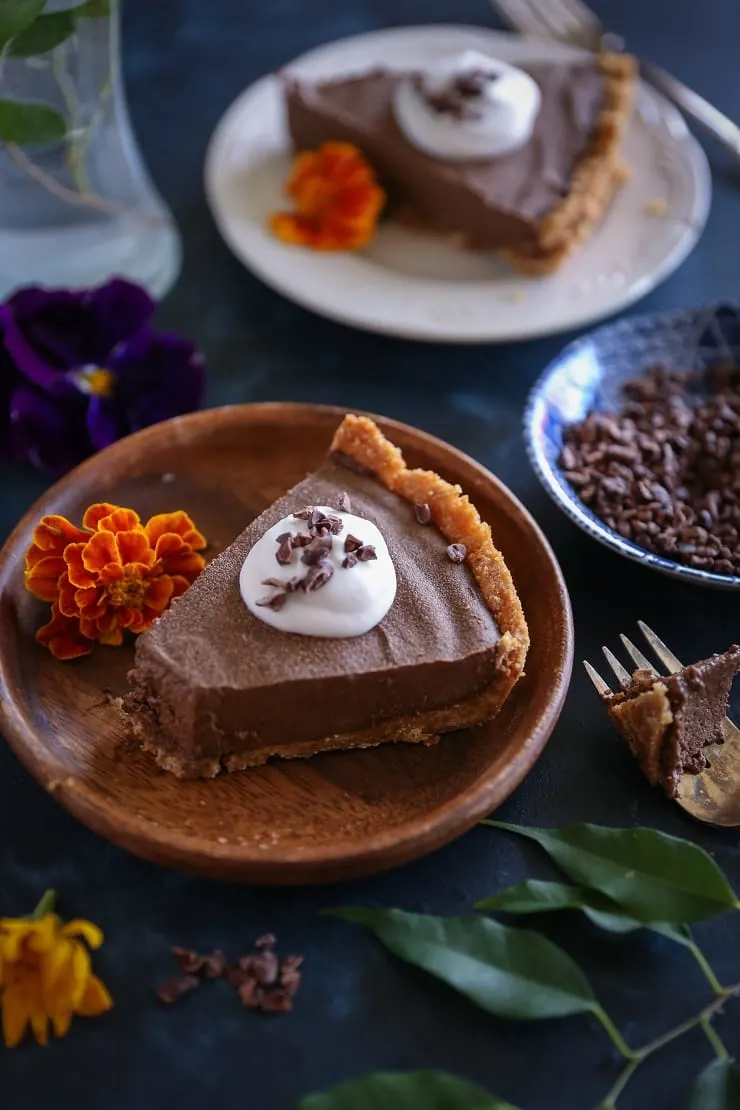 Git that tongue massage!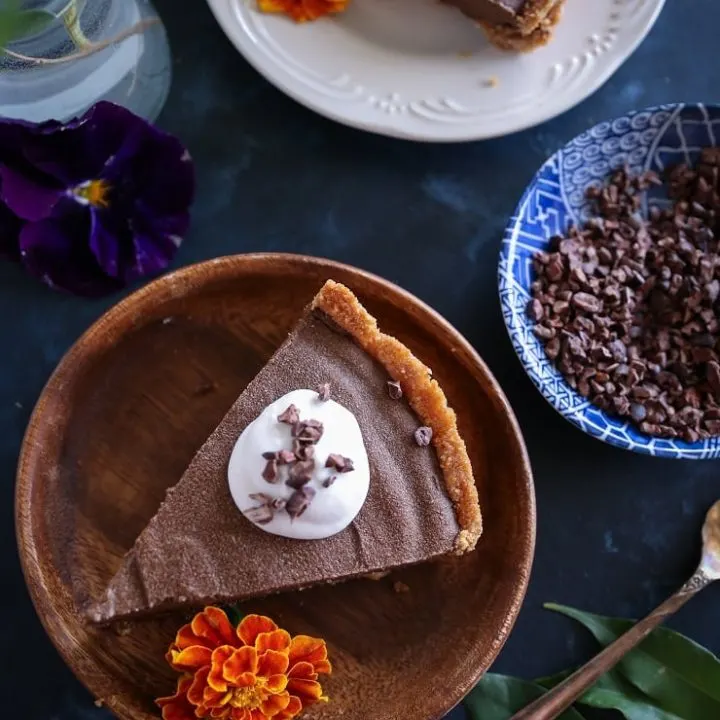 Vegan Chocolate Silk Pie
A healthier recipe for silk pie using avocados and a walnut crust. An easy no-bake pie that will knock your socks off!
Ingredients
2 large ripe avocados, peeled and diced
Pie Crust:
2 cups raw walnuts
7 pitted medjool dates
Instructions
Make the Crust:
Add the crust ingredients to a food processor and process until a thick dough forms. This substance should be sticky, oily, and should pinch together easily. If the crust seems too dry, add a little additional pure maple syrup.
Line the bottom of an 8-inch spring form pie pan with parchment paper and press the crust mixture into the bottom of the pan until you have an even layer.
Prepare the Chocolate Filling:
Add the ingredients for the silk pie filling to a blender and blend until completely smooth. Taste mixture for flavor and add more pure maple syrup to taste.
Pour the silk pie filling into your prepared crust, and freeze for 3 hours to set up. When ready to serve, thaw silk pie and serve with a dollop of coconut whipped cream. Store any leftovers in the freezer or refrigerator.
Notes
*Use any liquid sweetener of choice, such as honey, agave, or coconut palm nectar
**Use your favorite crust recipe.
Nutrition Information
Yield

8
Serving Size

1 of 8
Amount Per Serving
Calories

299
Total Fat

21g
Unsaturated Fat

0g
Carbohydrates

27g
Fiber

1g
Sugar

16g
Protein

4g