Silky-smooth Vegan Bourbon Orange Sweet Potato Pie is a unique take on the classic dessert. Dairy-free, refined sugar-free, and grain-free, this healthier dessert is vegan and almost paleo!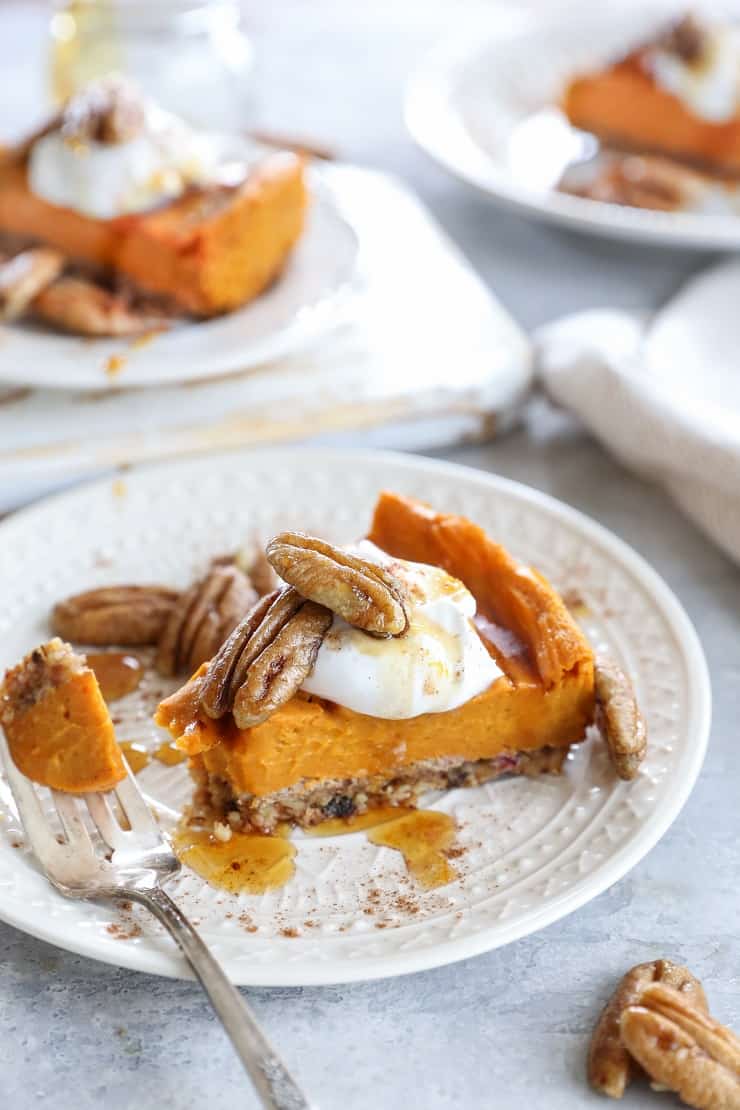 You know what goes really well with sweet potatoes?
Bourbon. And orange.
Evidence?
I made this discovery a few years ago when I randomly added booze to my mashed potatoes in this Maple Bourbon Mashed Sweet Potatoes Recipe and I have been pairing the three ever since.
For the life of me, I couldn't tell you why it has taken me so long to connect the dots between the three ingredients and PIE.
But the dots hath been connected, and what we have here is an prolifically intriguing take on the sweet po' pie. Remember that Chai-Spiced Vegan Sweet Potato Pie recipe I posted last year?
I mean, that recipe is great, but I feel like we next-level-ed the pie scene with this one.
It tastes rich. And creamy. Silky smooth.
With a beautiful zesty orange essence and a booze backer.
Don't worry, you can't get drunk off this pie. Believe me, I've tried.
Oh hey, do you want to know how to make your sweet potato pie EXTRA Silky??
After cooking the sweet potatoes, remove the peel and the first layer of potato – the first layer of potato should come off really easily right with the peel.
This way, you're left with the softest, moistest part of the sweet potatoes, yielding the silkiest most delectable pie.
How to Make Bourbon Orange Sweet Potato Pie:
This pie really isn't a big deal to assemble.
We zip the ingredients for the crust through the food processor, blend the sweet potato filling mixture in a blender, assemble the most beautiful display of bourbon…errr…I mean pie you've ever encountered, and BOOM! We have ourselves a fabulous, festive holiday dessert that is (ready for this?…) grain-free, dairy-free, refined sugar-free, vegan, and almost paleo (almost on account of the bourbon).
That crust, though…
If there's one thing about pie I've always loved the most, it's the crust.
Pro tip: Cook the sweet potatoes up to 3 days ahead of time (I steam mine…you can also roast) for ease of preparation. It just helps having that step done and done before you start the pie bakeage.
Pro tip numero dos: Make the pie itself up to 3 days before Thanksgiving to allow it to marinate in its own flavors.
Neither of these tips is crucial, but if you're serving the pie cold, it's best to give it plenty of time to chill in the refrigerator…and to allow the flavor fairies to visit.
What else do you need to know?
We've got bourbon, we've got orange, we've got sweet potato, who could ask for anything more?
Speaking of bourbon and orange…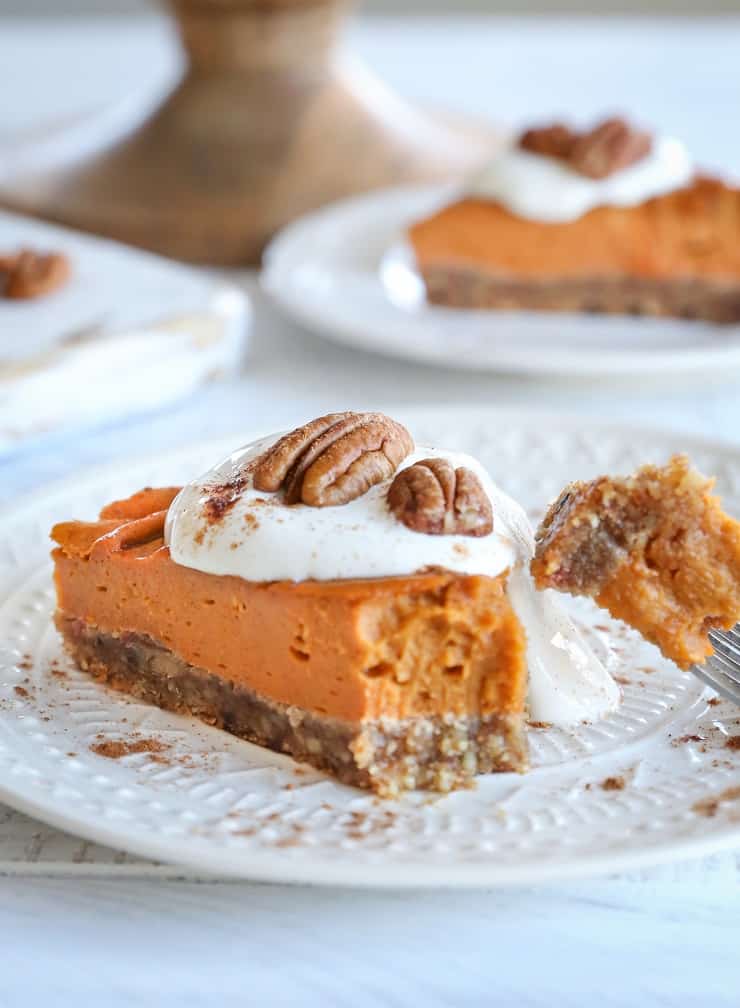 Optional Bourbon-Orange Drizzle:
I made a bourbon-orange maple syrup to drizzle on top of this sonofagun.
I didn't add it to the actual recipe card because it just looked like too big of a recipe already and I didn't want you to shy away from it.
If you'd like to follow suit, simply heat 3 tbl pure maple syrup, 1 tbl bourbon, and 1/2 tsp orange zest in a small skillet over medium-low heat.
Bring it to a gentle boil and cook, stirring frequently until it reduces half its volume, about 2 to 3 minutes. Remove from heat and set aside until ready to use.
Believe you me, it's worth the 5 minutes it takes to make the syrup!
It's just that icing on the…pie…factor.
I also topped the pie with maple-toasted pecans and coconut milk yogurt, but you can also make homemade coconut milk whipped cream.
You can skip all the accoutrements and serve the pie as is and still get nods of approval.
You can eat this for breakfast, for snack, post-workout refuel…stick it in a blender and make a smoothie out of it, I mean, the options are endless here, folks.
You can also check out my Paleo Sweet Potato Pie recipe and my Healthy Pumpkin Pie.
Have a great weekend, and enjoy your holiday menu planning! Just remember:
Worrying is like paying a debt you don't owe.
Deep breaths. We've got this holiday season thing.
Vegan Bourbon-Orange Sweet Potato Pie
Take your sweet potato pie to the next level with this bourbon-orange infused recipe! It's vegan, dairy-free, and delicious!
Instructions
Prepare the crust:
Add the crust ingredients to a food processor and process until a thick dough forms. This substance should be sticky, oily, and should pinch together easily. If the crust seems too dry, add a little additional pure maple syrup.

Line the bottom of an 8-inch spring form pie pan with parchment paper and press the crust mixture into the bottom of the pan until you have an even layer.
Make the Filling:
Preheat the oven to 350 degrees F.

Add the filling ingredients to a high-powered blender and blend until completely smooth. The filling mixture should be very thick. You can add a small amount of additional coconut milk if your blender is having a difficult time blending the ingredients.

Pour the filling into the prepared pie dish and smooth into an even layer. Bake 45 to 50 minutes, until the pie appears golden. Turn off the oven and allow the pie to sit in the warm oven an additional 10 minutes.

Remove pie from the oven and allow it to cool. Cover with plastic wrap and chill in the refrigerator at least 2 hours before cutting and serving. Note: you can also put the pie in your freezer to speed up the process.
Notes
*You can replace the walnuts with raw almonds or pecans or do a combination of nuts. If you use only raw almonds, you may need to add a little additional coconut oil to get the crust to bind.
**You can either boil, steam, or roast the sweet potatoes. Just be sure to allow them to cool before you peel the skin off 😉 When mashed, 2 medium to large sweet potatoes amounts to 2.5 to 3 cups when mashed.
***You only need the zest from the orange - you can save the flesh/juice for a snack
Nutrition
Serving:
1
of 8
|
Calories:
411
kcal
|
Carbohydrates:
34
g
|
Protein:
6
g
|
Fat:
30
g
|
Fiber:
3
g
|
Sugar:
21
g