A Paleo Meal Plan complete with six dinner recipes and one dessert PLUS a printable grocery list to make meal prep easy for the week. This meal plan features seasonal ingredients and includes whole30 and low-carb / keto options.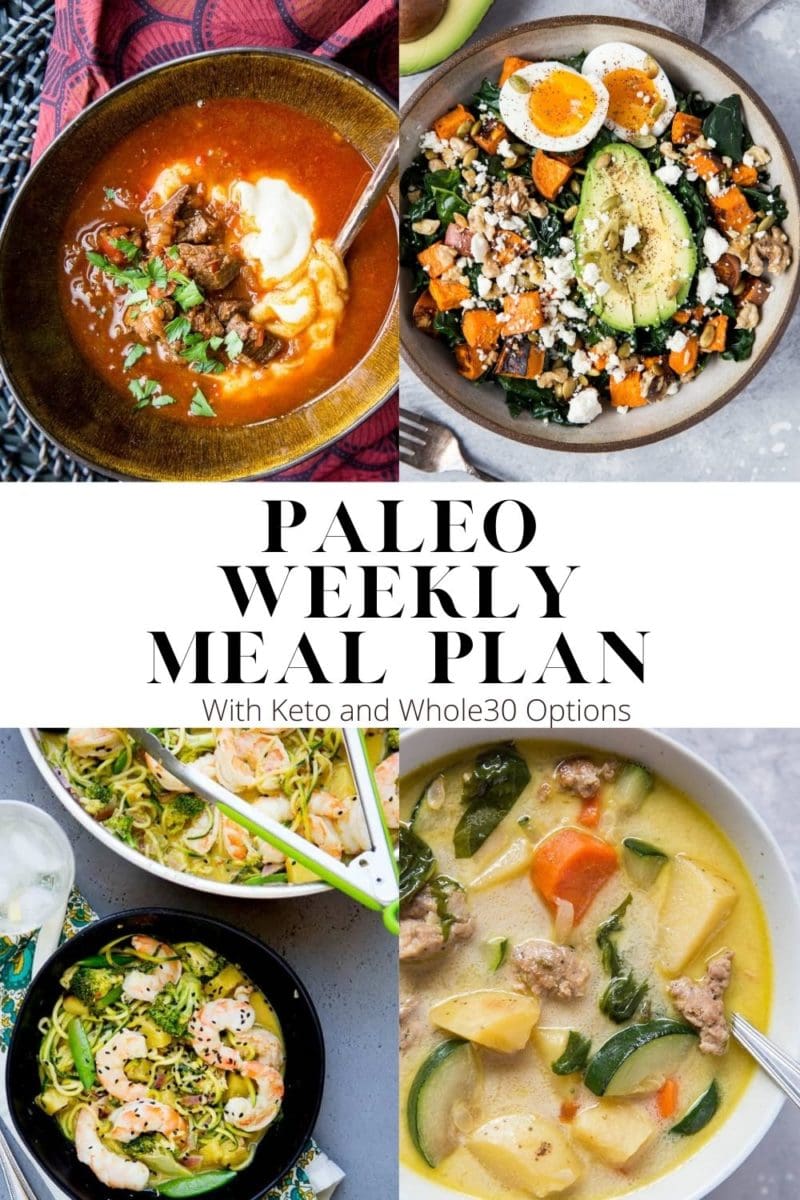 SURPRISE!
If you've followed along for a while, you know I've been posting Vegetarian Meal Plans every Saturday for quite a long time.
Well, I'm so psyched to introduce you to a brand new meal plan that has been a long-time coming!
Why Paleo?
After giving it much thought, I decided I wanted to stick to meal plans that are closer to the way I actually eat.
I have a great deal of vegetarian and vegan followers, but the reality is, I am nowhere near plant-based. I wanted to provide a valuable resource for that sector of my audience, and I'm so happy I could for so long.
While I absolutely eat a ton of vegetables (like 6 lbs per day) and sometimes meatless meals, the majority of what I eat includes animal protein and is closer to a paleolithic diet.
Put simply, meat, vegetables, and rice is where I thrive, and because the majority of my recipes reflect that, I can only assume the majority of my audience eats similarly to me.
Authenticity and transparency are very important to me, so while I loved those plant-based meal plans, I felt the right thing to do was to stick with my own style of eating.
If you loved the Vegetarian Meal Plans, you can still access old ones in my archives (I'm certainly not deleting them! You have PLENTY to choose from). The other ladies I made the meal plans with are still doing them, so you can still get new veggie meal plans if you go to their blogs.
About These Paleo Meal Plans:
I'm collaborating with my friend Natalie Perry, who writes the blog, Perry's Plate, to make these plans. You may recognize Natalie's site and name, as I've spoken about her a number of times on this site throughout the years. She's my bud!
Natalie is a two-time cookbook author, mother of four, lives in Idaho with her husband and kids, and creates AMAZING whole food-centric recipes. We share the same food philosophy and lean toward all-natural whole food meals.
Each meal plan will consist of six dinner recipes and one dessert. We will provide a printable grocery list so that you can easily shop for your meals for the week. We'll be posting a meal plan every other Saturday, and it will be up at midnight pacific time.
If you use Sunday as your meal prep day, simply print out the grocery list on Saturday for your run to the store, and get to prepping for the week!
Additional Notes:
For each recipe, we include prep ahead suggestions (if applicable) as well as call out the special diets it fits, and any possible substitutions.
Because Natalie and I both believe in the importance of eating seasonally, every meal plan will include seasonally-appropriate meals.
Our goal is to make these weekly meal plans as simple and useful to you as possible. Feel free to give us suggestions on what would make your experience better! We are here to provide value to your life and ideally make nourishing your body easier.
That's it! If you have any questions, feel free to get in touch with Natalie or I! I hope you love these plans!
Without further adieu, here is week 1's meal plan!
Enjoy!
Sunday
Instant Pot Hungarian Goulash – Authentic Hungarian goulash stew with a fiery-colored paprika sauce. This recipe includes slow cooker instructions too!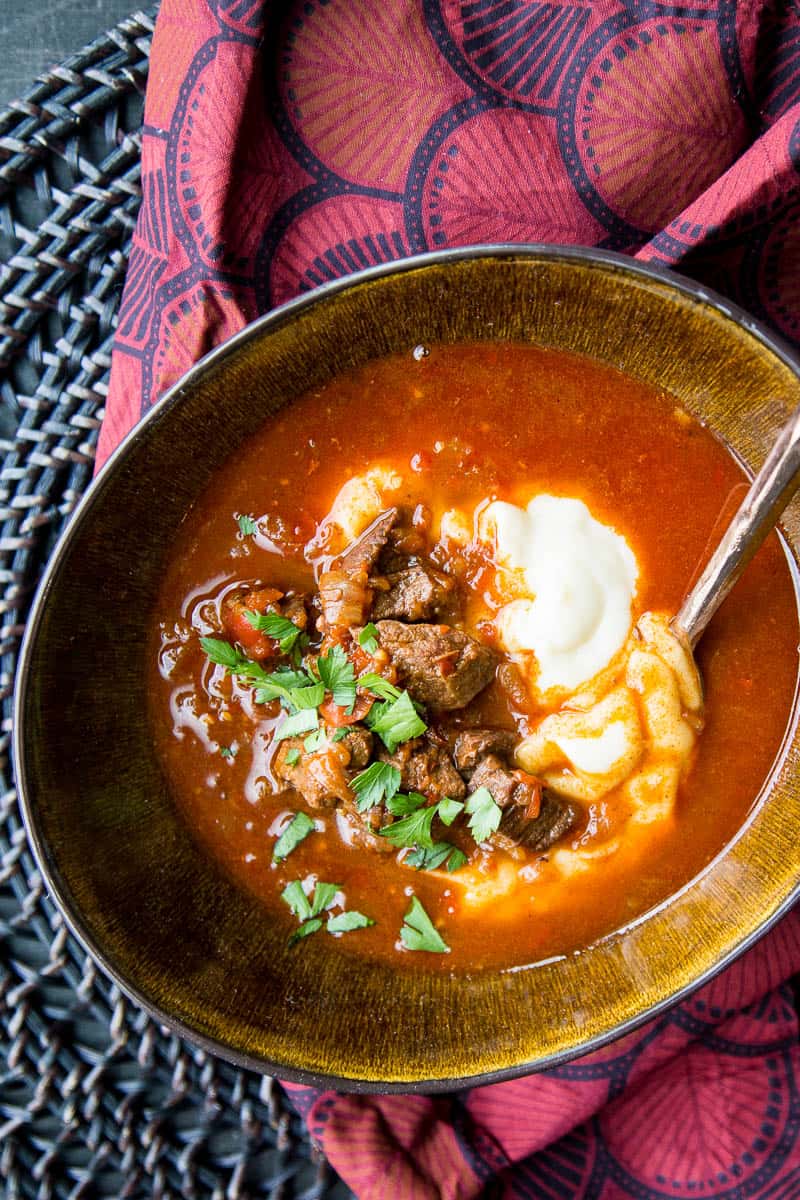 Special Diet Notes: Recipe is paleo and whole30 and can be made low-carb if you serve it with cauliflower rice or puree.
Prep Ahead: The recipe is easy to prepare in the Instant Pot or slow cooker and comes together quickly…no advance prep is necessary!
Substitutions/Notes: Serve with choice of side dish (cauli puree, cauli rice, roasted potatoes)
Monday
Hearty Ground Turkey Soup with Vegetables – This is a curl-up-on-the-couch-in-your-fuzzy-socks-when-it's-snowing-outside kind of soup.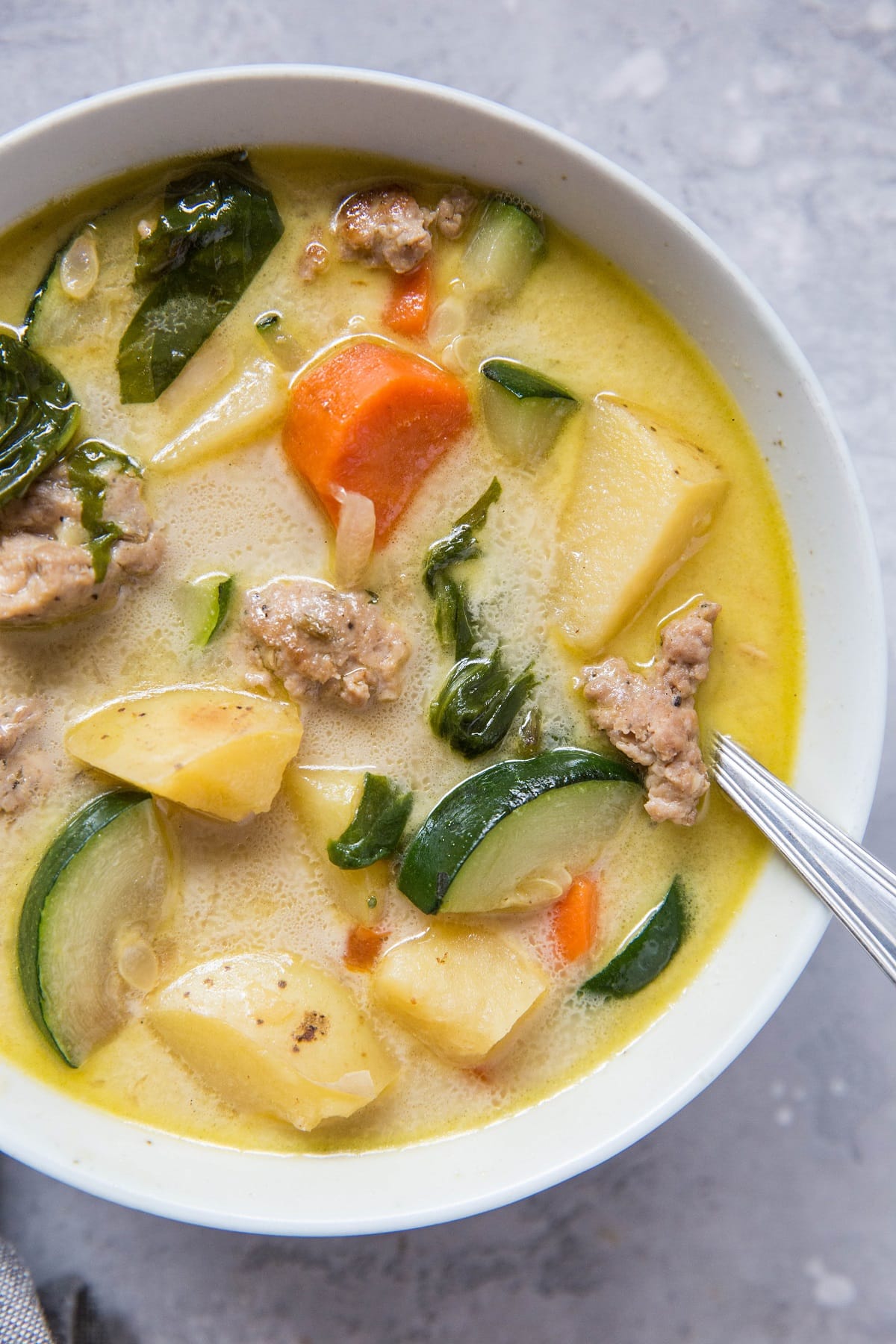 Special Diet Notes: Recipe is paleo and whole30. It can be made low-carb/keto and nightshade-free by omitting the potatoes and substituting for a different vegetable, such as broccoli, turnips or parsnips
Prep Ahead: This soup recipe comes together ultra quickly, so no advance prep is necessary!
Substitutions/Notes: Use ground beef or chicken instead of ground turkey
Tuesday
Thai Green Curry Zoodles with Shrimp & Broccoli – Easy Thai-inspired Green Curry with zucchini noodles, shrimp, snap peas, and more! A quick, easy, and healthy way of getting your Thai takeout fix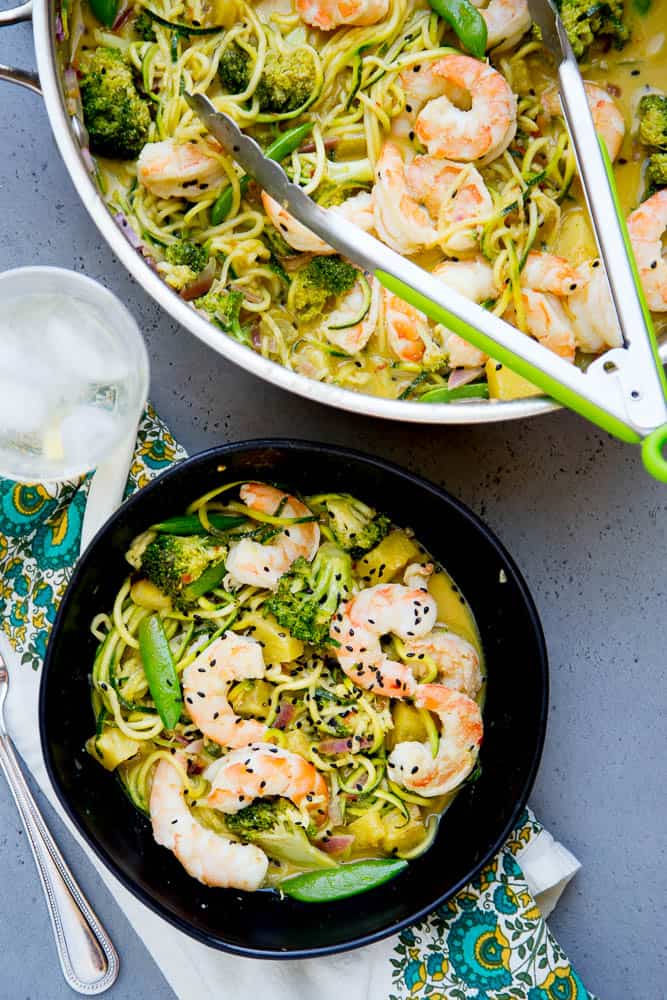 Special Diet Notes: Recipe is paleo. It can be lower carb if you reduce or omit the pineapple.
Prep Ahead: Zoodles can be made a day or two in advance.
Substitutions/Notes: Swap out the green curry paste for red if you like.
Wednesday
Chicken Pesto Spaghetti Squash – A paleo version of your favorite pesto pasta with chicken and homemade pesto sauce!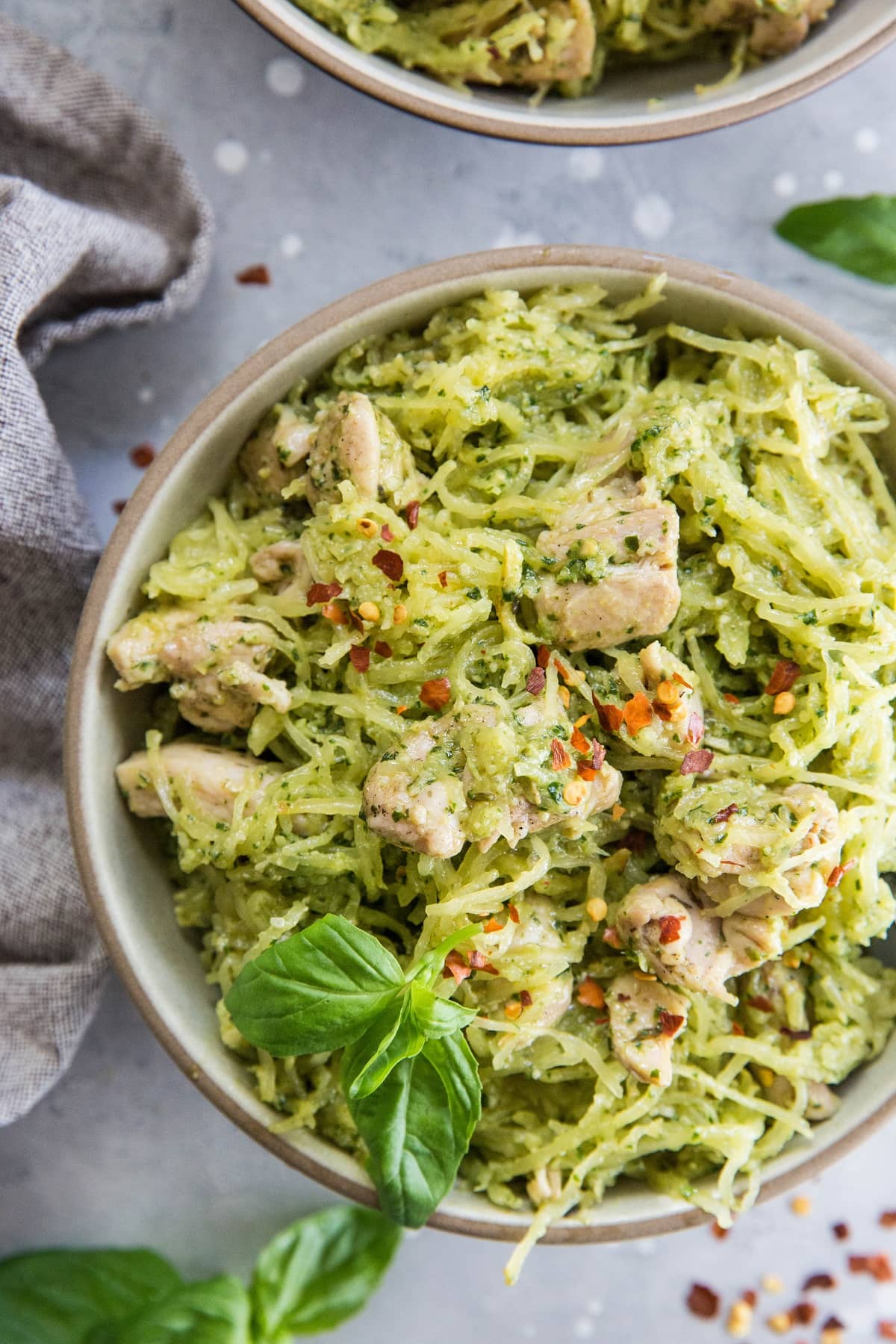 Special Diet Notes: Recipe is primal (paleo if using raw milk cheese) and keto/low
-carb. It can be made whole30 by omitting the parmesan cheese.
Prep Ahead: The spaghetti squash can be roasted up to 4 days in advance, and the pesto sauce can be made up to 4 days in advance.
Substitutions/Notes: Use store-bought pesto sauce, or pesto sauce recipe of choice instead of following the pesto recipe if desired.
Thursday
Vegan Paleo Chili – A Paleo AND Vegetarian Whole30 Chili recipe. (Which means your gluten free friends can also eat this.)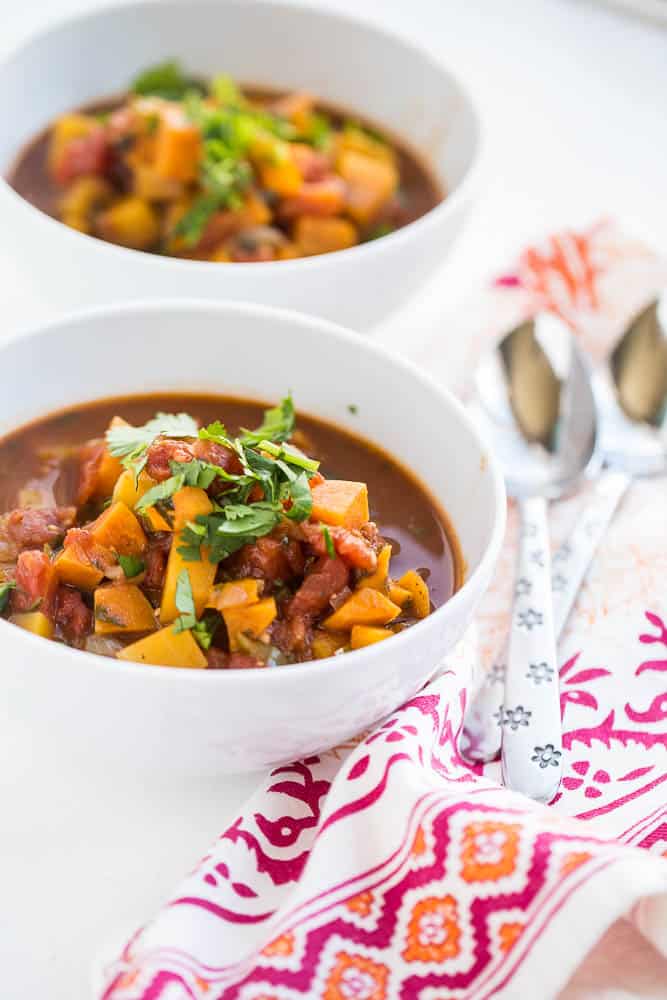 Special Diet Notes: Recipe is paleo, vegetarian, & Whole30 friendly
Prep Ahead: Most of the vegetables in the chili can be chopped a few days in advance.
Substitutions/Notes: Add a fried egg on top for some extra protein, if desired
Friday
Roasted Sweet Potato Kale Salad – Nutritious, filling roasted sweet potato kale salad with avocado, pumpkin seeds, walnuts, and a 6-minute egg. This delicious salad makes for a satisfying complete meal.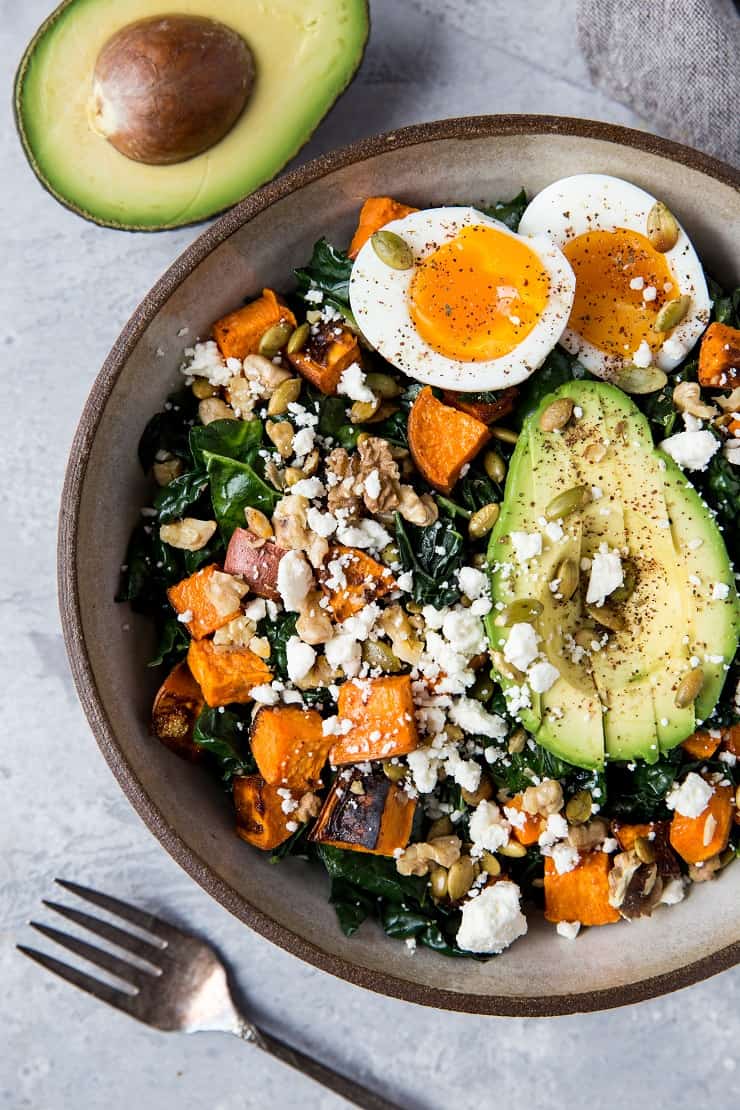 Special Diet/Notes: Recipe is primal (paleo if using raw milk feta). It can be made whole30 by omitting the cheese. Make it low-carb/keto by roasting cauliflower instead of sweet potato
Prep Ahead: The sweet potato can be roasted up to 4 days ahead of time, and the dressing can be made up to 5 days in advance
Substitutions/Notes: Omit the feta for paleo/whole30. Use your favorite homemade or store-bought salad dressing instead of the dressing in the recipe.
Dessert
Paleo Orange Cranberry Bars – Delicious Cranberry Orange Bars that are healthy, paleo, grain-free, refined sugar-free and easy to prepare using leftover cranberry sauce.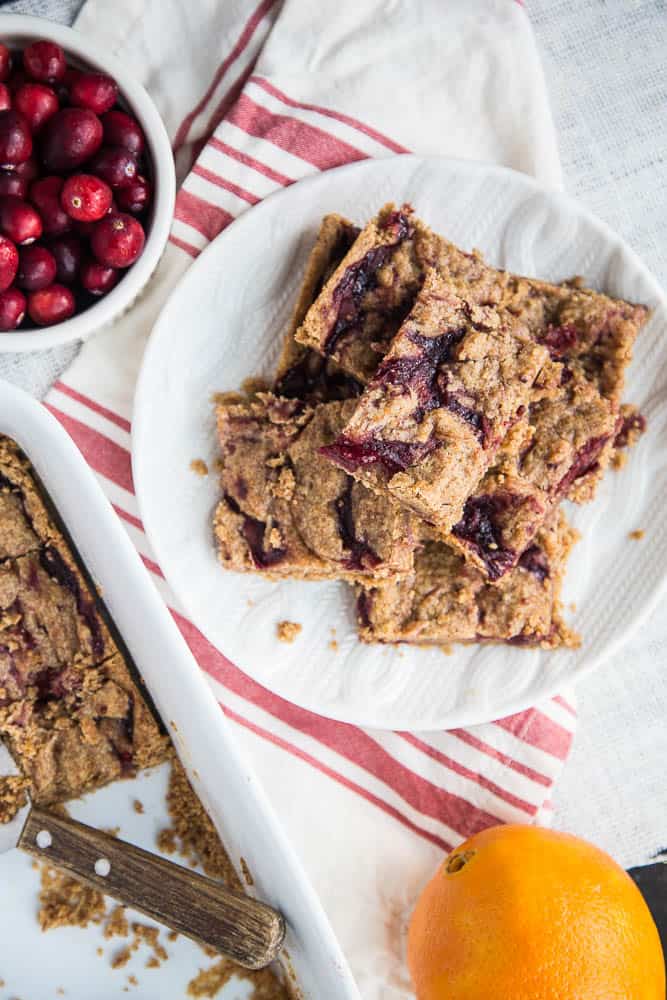 Special Diet/Notes: Recipe is paleo (if cranberry sauce is paleo)
Substitutions/Notes: If you don't have leftover cranberry sauce, use chia jam or cook down some frozen berries until they're a jam-like consistency and add some natural sweetener.)
Grocery List
Click HERE to print out the grocery list for the week to make shopping easy!