Grain-free, dairy-free paleo vegan lemon poppy seed scones made with almond flour, pure maple syrup, and algae oil! This simple vegan scone recipe is so easy to make and turns out so zesty and flavorful! This recipe also includes a low-carb keto option!
This post is sponsored by Thrive Culinary Algae Oil.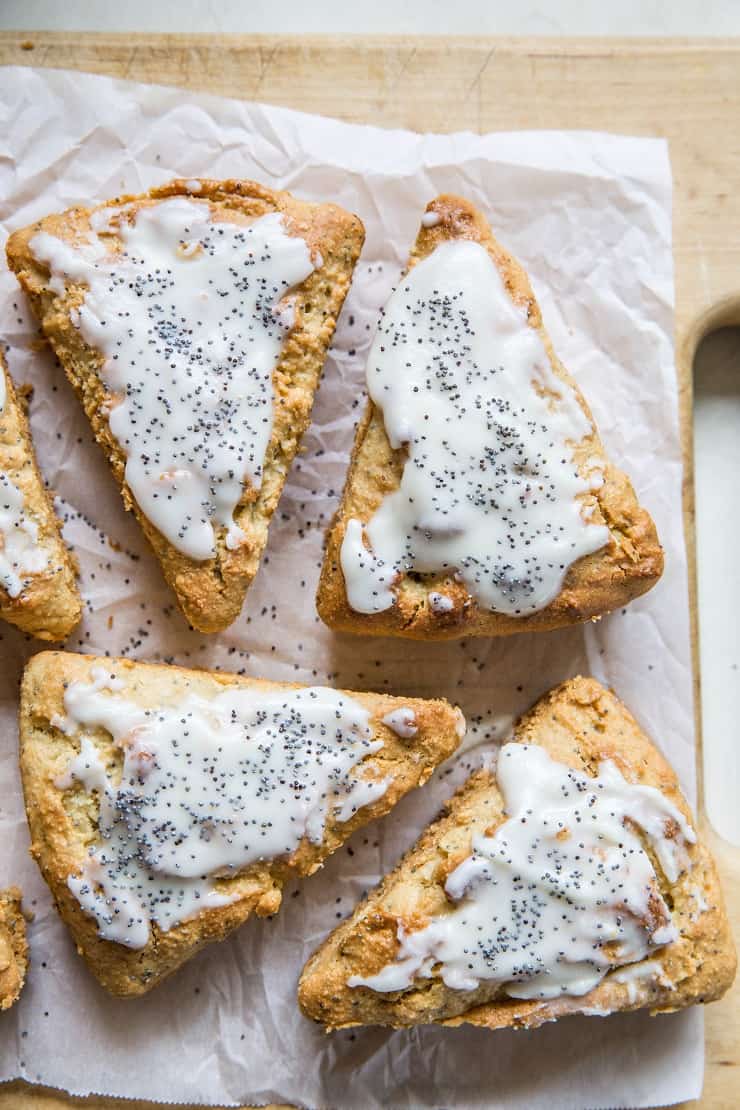 It's brunch season!
Because Easter and Mother's Day are approaching, I figured it is high time we whip up a highly brunchable lemon poppy seed scone that is both paleo and vegan. When entertaining others, you're bound to end up with a guest or twelve who eats dairy-free, egg-free, gluten-free, grain-free or some combination thereof.
It has been ages since I've made scones, and recently I've been on a lemon poppy seed kick. Did you check out my Vegan Lemon Poppy Seed Pancakes? They're mouth-wateringly fluffy and moist.
Similarly, these vegan paleo lemon poppy seed scones are incredible crowd pleasers! PLUS, they cover so many dietary restrictions (hello, Pegan! <- paleo/vegan).
These scones are basically a modern marvel. They turn out flaky with a crispy outside yet are still nice and moist on the inside. I find them to be perfectly sweet – not too sweet yet not lacking in sweetness. They are so nice and zesty in all their lemon poppy seed glory – a perfect brunch recipe for sharing with friends and family. I made them for friends I was visiting and they went absolutely berserk over them!
Made with almond flour and arrowroot flour and sweetened with pure maple syrup, these scones are grain-free and paleo-friendly. I use Thrive Algae Oil instead of butter to keep the scones dairy-free.
Because Thrive has the highest level of monounsaturated fat of any cooking oil, it lends heat-stable healthy fat to the scones, which is awesome for those of us who pay attention to our fat sources and limit saturated fat! Replacing saturated fat with monounsaturated fat by switching to oils like Thrive has been shown to yield heart-healthy results – always a win!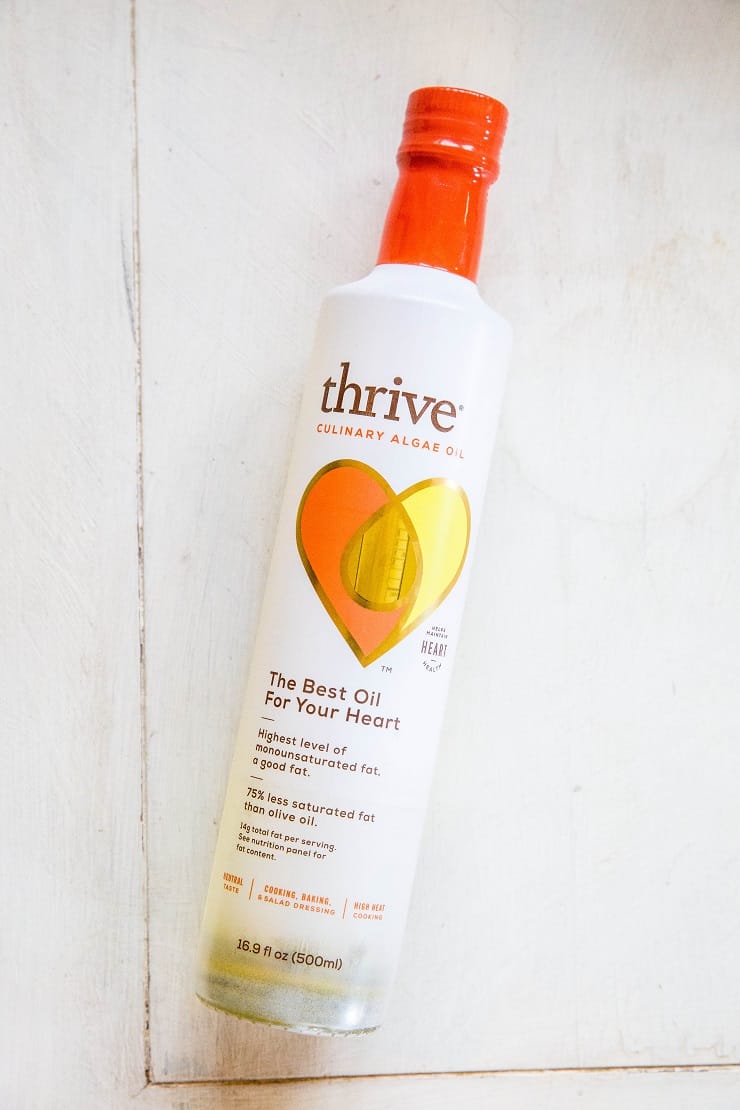 If you've never tried baking with algae oil, I highly suggest it! Because its smoke point is up to 485 degrees F, there is so much versatility for baking an array of goods without being concerned about burning.
How to Bake with Algae Oil:
Algae oil works just like avocado oil, olive oil, or canola oil in baking. You can use it as a 1:1 substitute in any recipe calling for oil! Because algae oil has nearly undetectable flavor, you don't need to worry about what it will do to the flavor in any recipe! I love using it in baking in place of butter or any other oil because it is a healthier alternative to most fat options, and it's super light, which keeps baked goods fluffy!
You may have already seen algae oil pop up on grocery shelves. You can check Thrive's Store Locator or find it on Amazon!
How to Make Paleo Vegan Lemon Poppy Seed Scones:
Start by making two flax "eggs." To do so, whisk together 2 tablespoons ground flax seed with 6 tablespoons of water in a small bowl. Allow this mixture to sit for 15 minutes and stir it occasionally. The mixture should be thick and goopy, the same consistency as beaten eggs.
Transfer the flax eggs to a mixing bowl along with the algae oil, lemon zest, lemon juice, pure maple syrup, and vanilla extract. Whisk these ingredients together until they're well combined.
In a separate bowl, stir together the dry ingredients: almond flour, arrowroot flour, baking powder, sea salt, and poppy seeds.
Pour the dry mixture into the mixing bowl with the wet mixture and stir well.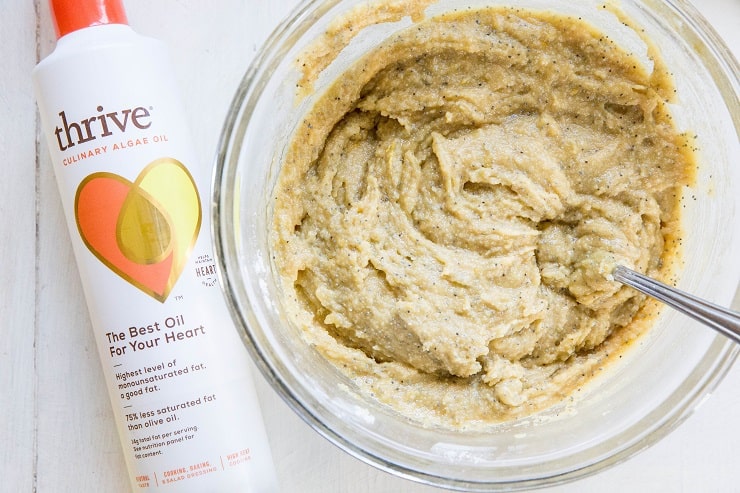 Once the scone dough is prepared, you have a few options on how to form the scones. You can use a scone pan, which is what I did, make circular drop scones, or form triangular scones with your hands. If you decide to form the scones with your hands, I recommend refrigerating the dough for a couple hours so that it is less sticky and easier to work with.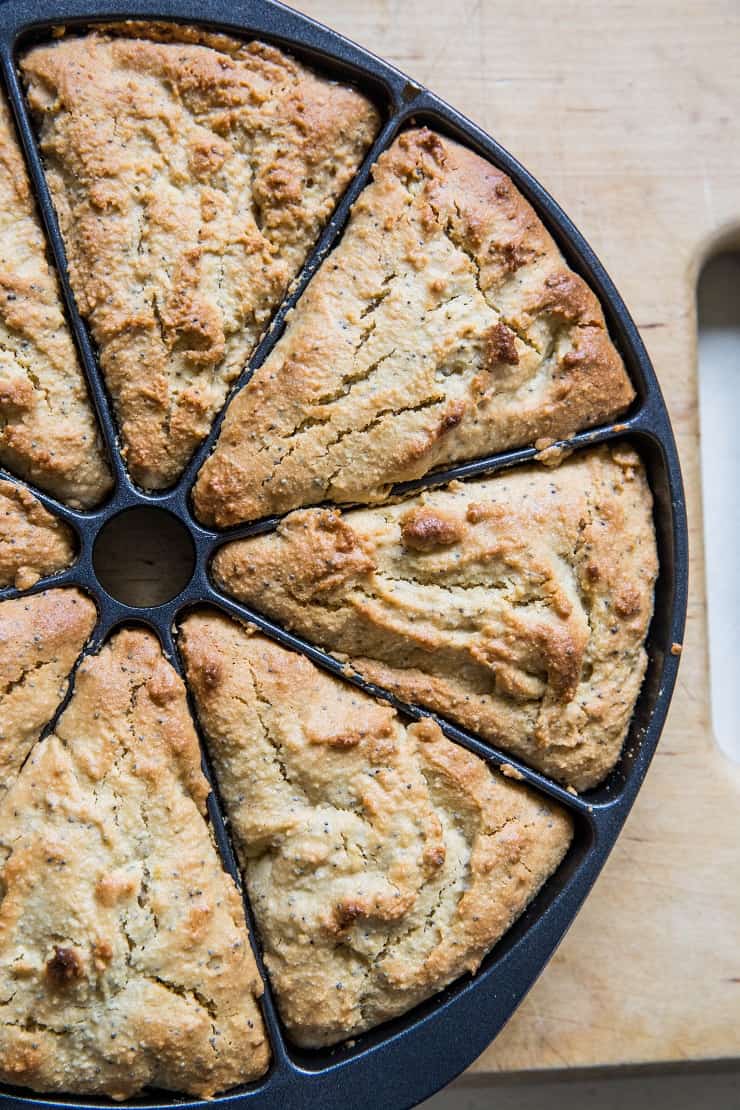 Bake in the oven until they're golden-brown! You can drizzle them with warm coconut butter for a sugar-free glaze or leave them as is. Serve with raspberry chia jam? That would be brilliant!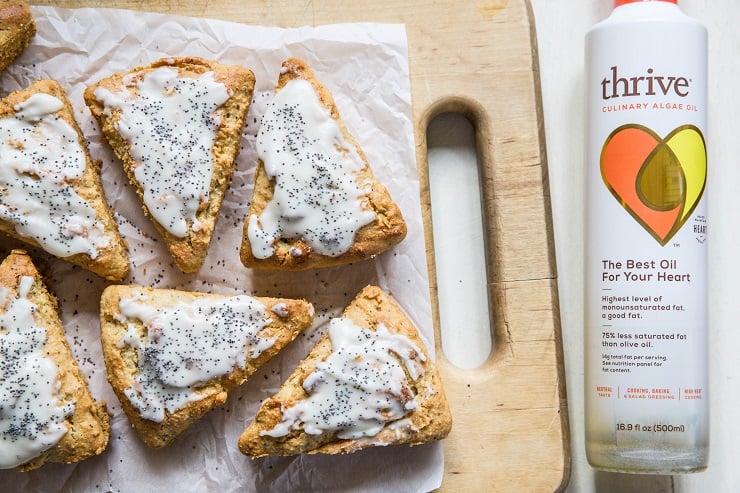 These Vegan Lemon Poppy Seed Scones Are:
Paleo
Grain-free, gluten-free
Dairy-free
Full of healthy fat
Carry a nice little boost of protein
Super flavorful
Buttery in flavor, yet butter-less
Refined sugar-free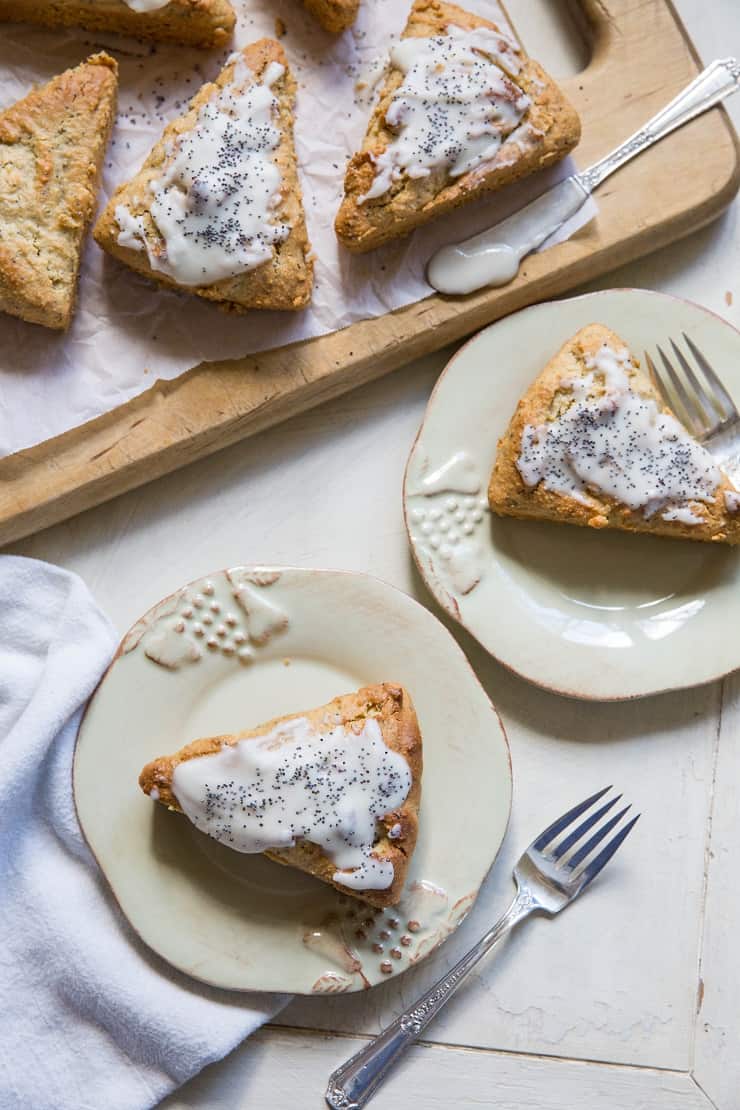 As is the case with most of my baked goods, there is plenty of room to improvisation based on what you already have on hand in your pantry. Here are some of the things you can do to change up the recipe:
Recipe Adaptations:
Replace almond flour with hazelnut flour
If you aren't vegan or allergic to eggs, replace the flax eggs with regular eggs
Substitute tapioca flour for arrowroot flour
You can absolutely use this as a base scone recipe by omitting the lemon zest and poppy seeds and changing up the flavors according to what you're feeling.
Use orange zest and juice instead of lemon
Add chopped nuts, dried fruit, and/or chocolate chips
Make the scones keto by following the instructions below
How to Make Keto Lemon Poppy Seed Scones:
Omit the arrowroot flour and add an additional 1 cup of almond flour. Omit the pure maple syrup and add ½ cup full-fat canned coconut milk and ½ cup Swerve sweetener.
How to Make Dairy-Free Glaze:
The glaze you see on these scones is nothing more than melted coconut butter. I simply put some coconut butter in a ramekin and heated it up in the oven for a few minutes while the scones were baking. If you want added sweetness or zest, you can add 2 teaspoons of pure maple syrup and/or a teaspoon of lemon zest. The scones definitely do not need a glaze, but I always think glazes are fun 😀
That covers all the lemon poppy seed scone bases! I hope you and your loved ones enjoy them as much as my family does!
My cookbook,
Paleo Power Bowls
, is now available! CLICK HERE to check it out. Thank you for your all your support!
If you make these Vegan Lemon Poppy Seed Scones, please feel free to share a photo and tag @TheRoastedRoot on Instagram!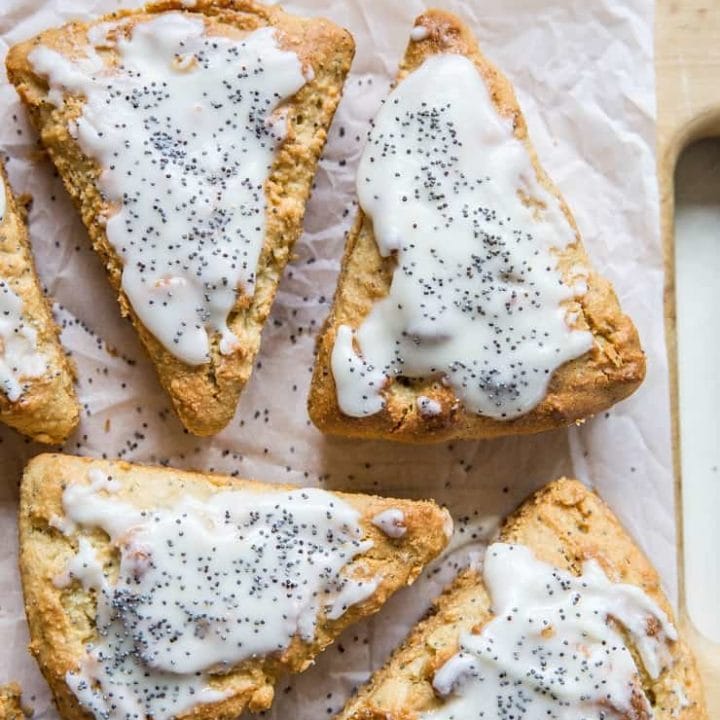 Paleo Vegan Lemon Poppy Seed Scones
Grain-free, dairy-free paleo vegan lemon poppy seed scones are so easy to make and perfect for sharing for brunch!
Ingredients
2 tablespoons ground flax seed
6 Tbsp water
2 lemons zested
2 Tbsp lemon juice
1 cup arrowroot flour, or tapioca flour*
Glaze:
Instructions
Preheat the oven to 375 degrees F.
Stir together the flax seed and water in a small bowl to form flax "eggs." Allow this mixture to sit for 15 minutes to thicken. Stir occasionally. The mixture should be the consistency of beaten eggs.
In a mixing bowl, whisk together the flax "eggs," algae oil, lemon zest, lemon juice, vanilla extract, and pure maple syrup.
In a separate mixing bowl, stir together the remaining dry ingredients. Add the dry ingredients to the mixing bowl with the wet ingredients and stir well until a sticky dough forms.
Transfer the scone dough to a lightly-oiled scone pan or line a baking sheet with parchment paper and form drop scones (you can make them any shape you would like).
Bake on the center rack of the oven for 14 to 22 minutes (depending on size of scones), until scones are golden-brown around the edges. If making drop scones, bake for 14 to 18 minutes. If using a scone pan, bake 20 to 22 minutes.
Allow scones to cool 15 minutes before using a spatula to remove them from the scone pan or baking sheet.
If making the glaze, heat the coconut butter in a ramekin in the warm oven or microwave until melted. Drizzle scones with coconut butter and serve.
Notes
*You may use tapioca flour instead of arrowroot flour, or replace it with more almond flour. For a keto version of this recipe, use all almond flour.
Nutrition Information
Yield

8
Serving Size

1 of 8
Amount Per Serving
Calories

353
Total Fat

23g
Saturated Fat

1g
Unsaturated Fat

15g
Carbohydrates

38g
Fiber

3g
Sugar

20g
Protein

4g