This moist and sweet Almond Flour Fig Quick Bread is grain-free, refined sugar-free, dairy-free, and paleo. It makes for the perfect healthy breakfast or afternoon snack!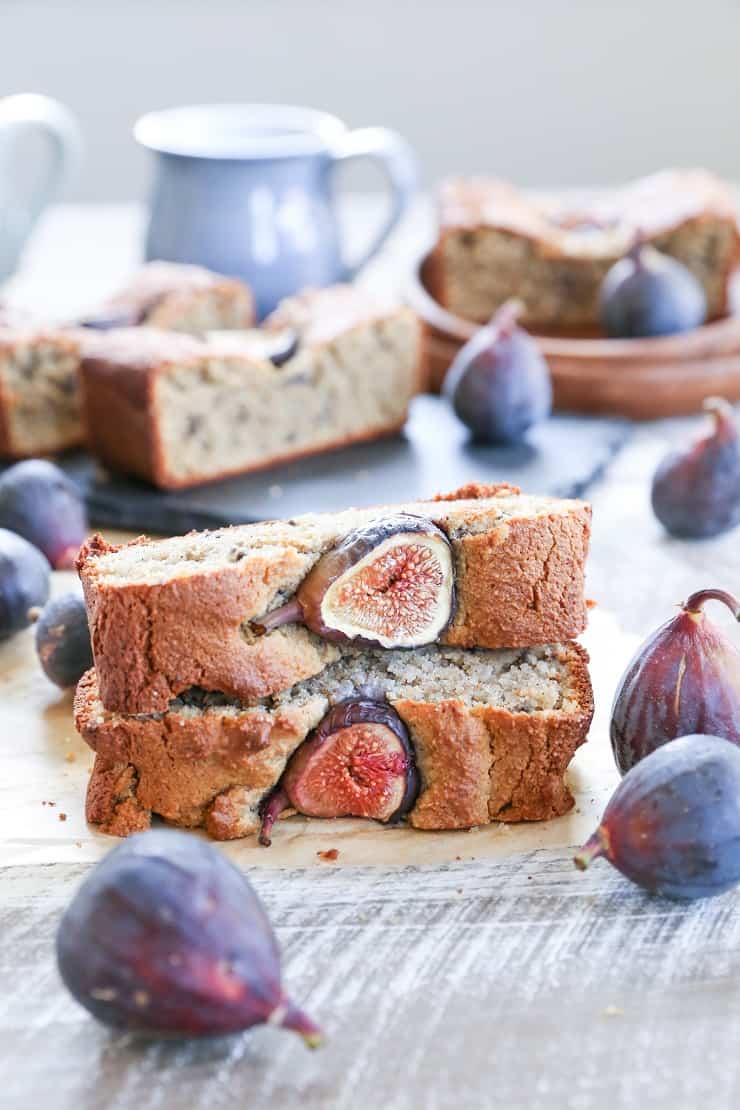 I know I JUST showed you two recipes using figs (the Vegan Poppy Seed Pancakes with Caramelized Figs and Roasted Sweet Potato & Fig Kale Salad ), but fig season is far too short to allow it to just pass by!
When life gives you figs, you FIG, am I right?? Every time I spot them in the store, I spring to action lest I miss them altogether.
There's something about the combination of figs and almond that I just adore.
I posted a recipe for Almond Flour Fig Cake last year and loved it so much, I've been thinking about it ever since. Because figs are back in season (hazaaaaah!), I decided to re-visit the concept, but make a quick bread out of it.
Grain-free, naturally sweetened, dairy-free, yet moist, sweet, and addictive, this bread is maaaahvelous for those with food restrictions or zero intolerances alike. It has a lovely almond flavor and a perfect level of sweetness without much pure maple syrup. PLUS, it's a delight to consume alongside a steamy mug of tea.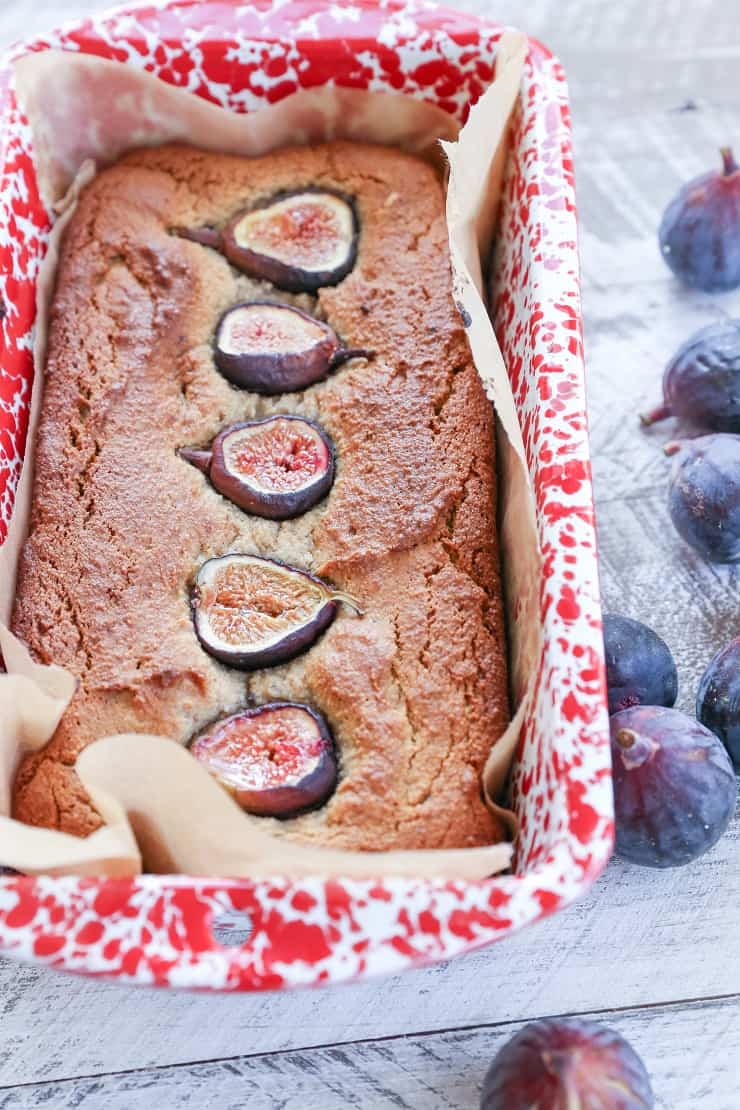 How to Make Fig Quick Bread:
You'll notice the recipe calls for 6 figs – 3 of them go in the blender to become batter, and 3 of them get sliced up for decorative topping.
Add all the ingredients (except for three of the figs) to a blender and blend until combined.
Transfer the batter to a loaf pan, and top with sliced figs. Bake the bread until it tests clean, then allow it to cool completely before slicing and serving.
If you'd like to replace the almond flour with hazelnut flour, you may certainly do so! For those of you with nut intolerances, I haven't tested this recipe using a different flour yet, so at the moment, we're limited to nut flour. I'll provide updates in this post when (and if 😉 ) that changes.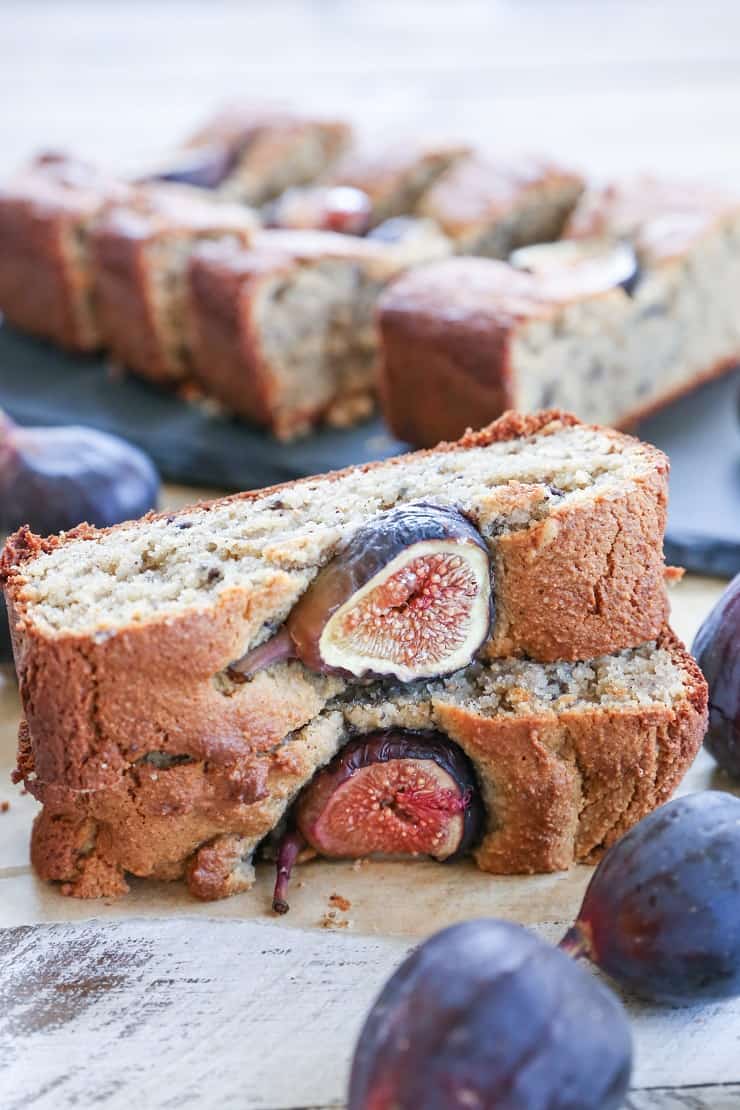 If you're having trouble finding figs (much of the country is!), you can omit them by replacing the 3 figs in the batter with 2 tablespoons of coconut oil.
In addition, you can always sprinkle some fresh blueberries on top.
May all the good figs be with you!
More Healthy Bread Recipes:
Fig bread for breakfast, let's go!
Paleo Almond Fig Quickbread
Grain-free paleo quick bread with fresh figs and almond flour
Instructions
Preheat the oven to 350 degrees F and line a 9" x 5" loaf pan with parchement paper.

Add all the ingredients to a blender except for 3 of the figs (you'll save those for topping). Blend until completely smooth.

Transfer the batter to the loaf pan and spread into an even layer. Arrange the remaining 3 sliced figs on top of the batter in any decorative manner you'd like.

Bake 30 to 40 minutes, until sides are golden-brown and center has set up. Turn off the oven and allow bread to stay in the hot oven another 10 to 20 minutes, until the bread feels firm in the center when gently poked and tests clean. Allow bread to cool 1 hour before lifting it out of the loaf pan and slicing.
Notes
The moisture content of figs varies greatly. Depending on how juicy your figs are, you may need to add more almond flour. If the consistency of the bread batter appears thin, add 1/2 cup of additional almond flour and increase the amount from there as needed. The consistency should be thick, similar to a banana bread batter.
Nutrition
This post contains affiliate links, which means I make a small commission off items you purchase at no additional cost to you.