Fermented pancakes! Get on board!
Have you ever made pancakes using yeast? Spoiler alert: it's madness!
My favorite scent on the planet is Pancakes Cooking on the Griddle.
I know…shocker.
After announcing on Monday that I'm writing a gluten-free pancakes e-cookbook, you can imagine if there were a Pancakes Cooking on the Griddle air freshener I'd be all over it.
I bet you're wondering what my second favorite smell is. Well, I'll just tell you: it's that of Yeasty Dough Rising. Combine Pancakes Cooking on the Griddle and Yeast Dough Rising, and we're talking nirvana.
Making these pancakes brought back fond memories from childhood. My family was big on weekend pancake breakfasts, plus my mom used to bake homemade bread regularly. For me, these overnight yeast pancakes are a hybrid of the two. They smell (and taste) just like homemade bread, but with a super moist and spongy texture. I think this may just be the most comforting breakfast I have ever made.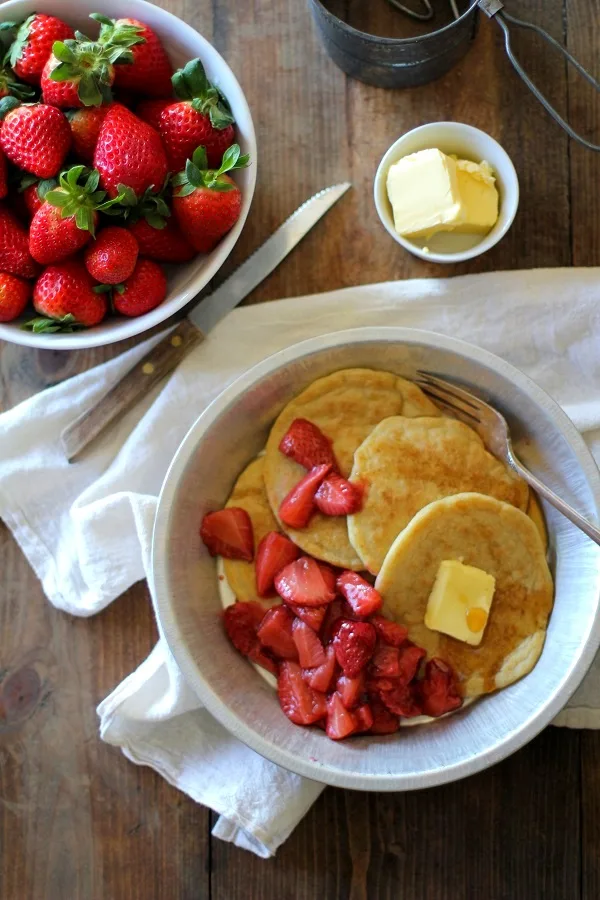 In spite of my long history with the breakfast food, you're looking at my first go at yeasted pancakes. And you guys, this was the best first fermented pancake experience a girl could ask for!
Asyouknow, I love the process of fermentation, so these pancakes were a pleasure to make. You can smell the yeast come alive as it activates in water, and while it's flourishing in the batter. Just be sure to use a large mixing bowl when whipping up this recipe, because the batter just.keeps.growing!
I used a gluten-free all-purpose flour blend for these pancakes, and the yeast still worked like a dream! Those of us who eat a gluten-free diet can still use yeast in our pizza dough, breads, and pancake batter. As long as the yeast has something to feed off of (sugar/starch, water), it will happily do its job.
If you're intimidated by cooking with yeast, don't be! All you have to do is allow the yeast to sit in lukewarm (105 to 110 degrees F) water for a few minutes prior to adding your other ingredients, and you're good to go.
I used Red Star Active Dry Yeast for the pancake batter. I prepared the batter at night, allowed it to sit covered on the counter until morning, and was amazed to wake up and see my batter was full of little air bubbles and it had tripled in volume. Eureka! She works! Once the batter is ready, you crack a couple of eggs into it, heat the griddle, and get your pancake on.
While there are options galore for serving these bad boys, I went the strawberry topping route. Please don't skip the strawberry topping! You heat fresh chopped strawberries with pure maple syrup in a saucepan and allowed them to stew and soften for 10ish minutes. Sinking your teeth into the buttery pancakes with strawberry topping is a real mind meld of a perfect bite. It pretty much tastes like cloud nine melting all over your tastebuds.
Put yeast in your pancakes and feast!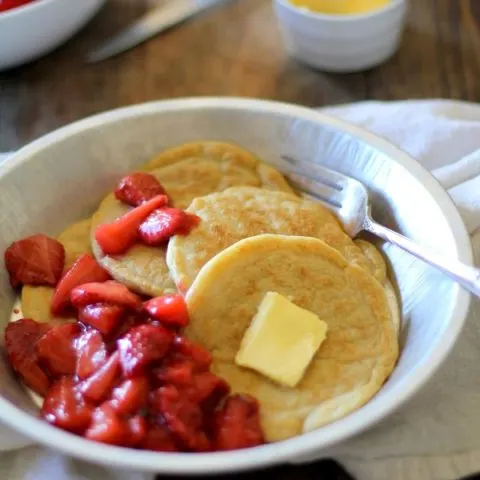 Overnight Yeast Pancakes with Strawberry Topping (gluten free)
Yield:
15 medium-sized pancakes
Total Time:
4 hours
20 minutes
An amazingly unique and delicious pancake recipe, these Overnight Yeast Pancakes with Strawberry Topping have incredible flavor!
Ingredients
Overnight Yeast Pancakes:
1/2 cup warm water
1 package Red Star Active Dry Yeast
2 cups almond milk
1/2 cup unsalted butter, melted and cooled
2 cups gluten-free all-purpose flour
2 teaspoons coconut sugar
1/2 teaspoon sea salt
2 eggs
1/4 teaspoon baking soda
For the Strawberry Topping
16 ounces strawberries
3 tablespoons pure maple syrup
pinch sea salt
Instructions
In a large mixing bowl, combine the warm water and yeast. Stir together and allow mixture to sit 5 to 10 minutes. Add the melted butter and almond milk and stir to combine.
In a separate bowl, combine the flour, sugar, and sea salt. Pour the flour mixture into the bowl with the yeast/almond milk mixture and mix until all clumps are out. Cover bowl with plastic wrap and allow it to sit at room temperature overnight (or at least 4 hours)
Add the eggs and baking soda to the pancake batter and mix until combined.
Heat a non-stick skillet to medium and add enough oil or butter to coat the surface. Measure out a scant ¼ cup of pancake batter and pour onto the skillet. Allow batter to cook until many air bubble rise to the surface, and the sides firm up, about 1 to 2 minutes. Carefully flip pancake and allow the other side to cook an additional 1 to 2 minutes. Repeat for remaining batter
Prepare the Strawberry Topping:
Add all ingredients for the strawberry topping to a medium-sized saucepan. Cover and bring mixture to a boil. Reduce heat and continue cooking, covered, until strawberries have softened, but are still al dente, about 8 to 10 minutes.
Serve pancakes with butter, strawberry topping and/or pure maple syrup.
Nutrition Information
Yield

15
Serving Size

1 grams
Amount Per Serving
Unsaturated Fat

0g
This post is sponsored by Red Star Yeast, and all thoughts, feelings, and opinions are my own. Thank you for supporting the brand that make this site possible.