Gluten free morning glory muffins made with oat flour. This refined sugar-free muffin recipe is naturally sweetened, and you'd never know the muffins are gluten-free!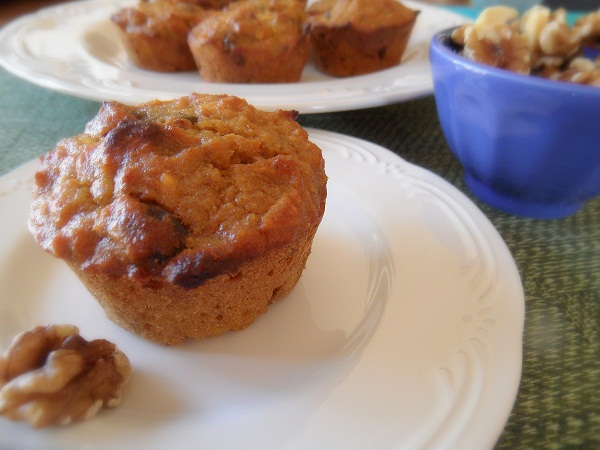 Does life ever feel like a massive game of 52 Card Pickup? You take all of your ideas, goals, fears, limitations, aspirations, feelings, hopes, put some upward force on them in order to see where and how they fall? Maybe for you, 52 Card Pickup is daily…maybe quarterly or annually…maybe once every ten years.
If you're charging through your quarter-life crisis, you may be able to relate to the constant 52 Card Toss, where sometimes your cards plummet with the momentum of an 18 wheeler and sometimes they descend casually, gradually, elegantly like the tiniest down feather that keeps getting swooped up by an airstream. Sometimes your cards fall the way normal cards would: with gravity. And periodically no amount of searching will end in a complete 52-card deck. You may find a card in the refrigerator months later.
There are rounds of 52 that are fun and inspiring, where some rounds are nerve wracking. No matter where or when the 52 land, the result is the same: they land. The key is in the toss. No tossing means no change. No rearrangement. No 18 wheelers crashing; no teeny down feathers tickling your nose on the way down. The toss is where the magic happens – no matter how cruel, gut wrenching, or tiring it can be….it can be amazing.
The morning glory muffin is how you want to start the day when the day also begins with 18 wheelers. It contains all your favorite subtle flavors and this one's not average. This one scrapes semi trucks off your living room floor. It is made with oat flour instead of wheat. Applesauce instead of oil. Honey instead of sugar. It's good for you and it's down for a game of 52.
Oat Flour Morning Glory Muffins
Delicious gluten-free morning glory muffins made with oat flour and sweetened with honey are an amazing breakfast or snack.
Ingredients
3

eggs

3/4

cup

unsweetened applesauce

¼

cup

whole milk plain yogurt

2

teaspoons

pure vanilla extract

2

cups

oat flour

Bob's Red Mill

½

cup

rolled oats

2-1/2

teaspoons

baking powder

½

teaspoon

salt

2

teaspoons

ground cinnamon

1

teaspoon

ground ginger

optional

Zest of one lemon

½

cup

raisins

1

cup

shredded carrot

½

cup

chopped walnuts

½

cup

honey
Instructions
Preheat the oven to 375 degrees F. Lightly oil a muffin pan with grapeseed or olive oil.

In a mixer or mixing bowl, add eggs, applesauce, yogurt and vanilla extract. Mix until combined.

In a separate bowl, stir together oat flour, oats, baking powder, salt, cinnamon, ginger, and lemon zest.

Add the flour mixture to the egg mixture and mix until combined. Add the remaining ingredients (raisins, shredded carrot, walnuts, shredded coconut, honey) and mix until combined.

Fill the muffin holes to the top (oat flour does not rise as much as wheat flour) and bake for 13 to 15 minutes or until the muffins test clean.
Nutrition
Serving:
1
of 12
|
Calories:
261
kcal
|
Carbohydrates:
41
g
|
Protein:
3
g
|
Fat:
7
g
|
Fiber:
2
g
|
Sugar:
17
g