No-Bake Raw Vegan Cheesecake made with raw cashews and pure maple syrup. This easy "cheesecake" recipe is grain-free, dairy-free and paleo friendly.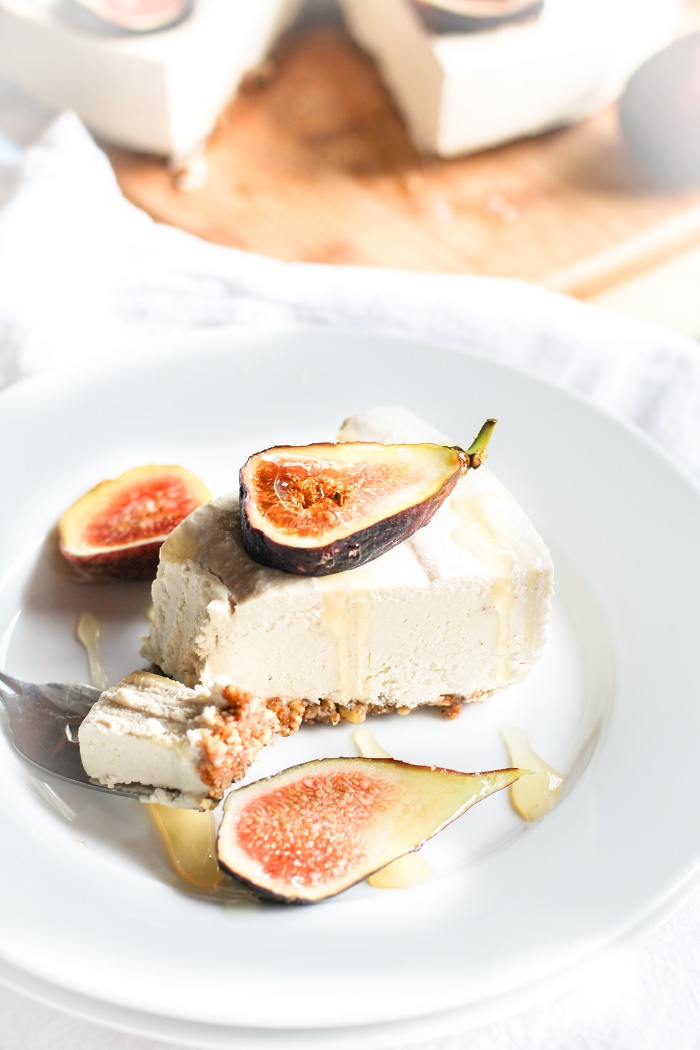 Here we have a basic dairy-free "cheesecake" recipe that can serve as your base camp to all of your cheesecake adventures!
Once you try this classic Vegan Cashew Cheesecake, you can do all sorts of cool things, like add fresh pureed fruit, a vanilla bean or two, peanut butter, instant coffee, chocolate, caramel, etc etc to really whet your whistle.
OR simply keep it plain Jane, straight-forward, classic, and simple. So many options for your no-bake bliss.
Recipe Highlights:
Vegan
No-cook, no-bake, no heat needed whatsoever
Easily adaptable to incorporate most fresh seasonal fruits, and other fun ingredients
Gluten-free and grain-free
Cane sugar-free
Dairy-free AND soy-free
High in protein and fat
Flipping delicioso
Ingredients for No-Bake Vegan Cheesecake:
The crust is made mostly of ground up raw pecans and dates, and the "cheesecake" filling is made with soaked raw cashews, pure maple syrup, lemon juice, coconut milk, and coconut oil.
A note about the sweetener: I like using a combination of honey and maple syrup (1/3 cup of each) for sweetening the cheesecake (although this method is not vegan due to the honey).
Honey lends tanginess to the "cheesecake" flavor, and the maple syrup helps to soften it out so that the honey flavor isn't too apparent. To keep this recipe vegan, use pure maple syrup, coconut nectar, or agave nectar for sweetening.

What Does Vegan Cheesecake Taste Like?
This cashew cheesecake melts on your tongue in creamy delight – I have a difficult time stopping at just one slice. It is thick and creamy, perfectly sweet, and has a definite cheesecake essence to it – many people won't be able to distinguish it from regular cheesecake!
This doesn't have to be a weekend/special occasion/holiday dessert – it can be your all-the-time healthful treat to be enjoyed guilt-free on any dang day.
How to Store Vegan Cheesecake:
This cashew cheesecake recipe keeps in the refrigerator for up to 2 weeks in a sealed container. You can also wrap it in plastic wrap, place it in a zip lock bag, and freeze it. It doesn't take long to thaw, so I tend to keep my cheesecake in the freezer and break it out when I want a slice.
I'm gonna call a spade a spade: this cheesecake is still super high in fat and is jam packed with calories from the cashews.
Now that we've pegged this thing as a fat bomb from the heavens, we can proceed forth…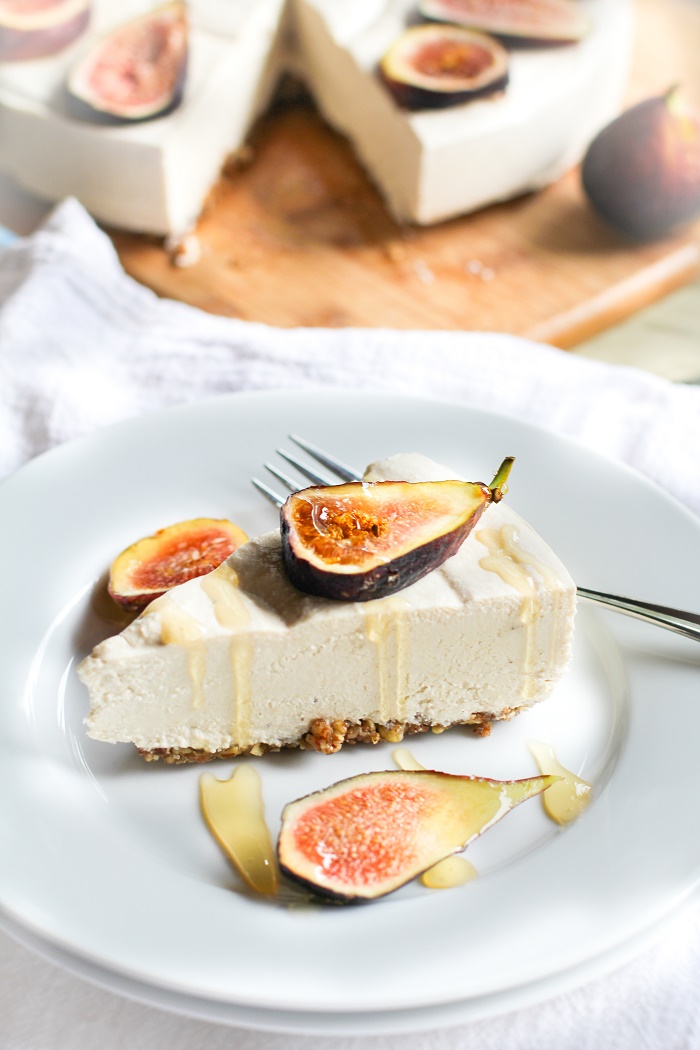 More No-Bake Dessert Recipes:
My cookbook,
Paleo Power Bowls
, is now available! CLICK HERE to check it out. Thank you for your support!
If you make this recipe, please feel free to share a photo and tag @TheRoastedRoot on Instagram!
No-Bake Vegan Cheesecake (grain-free and paleo)
Raw vegan cheesecake made dairy-free and grain-free with raw cashews.
Servings:
1
10-inch cheesecake
Ingredients
For the Vegan "Cheesecake" Filling:
Instructions
Place the raw cashews in a bowl and cover them with a couple inches of water. Allow them to soak overnight (at least 8 hours). Drain and rinse.
Prepare the Crust:
Add the ingredients for the crust to a food processor (or blender) and process until a thick, sticky dough forms. You may need to stop the food processor a couple of times and scrape the sides with a rubber spatula.

Transfer the crust mixture to a 10-inch springform pan and press it into the bottom, forming an even layer. Refrigerate the crust while you're preparing the filling.
Prepare the "Cheesecake" filling:
Add all of the ingredients for the filling to a high-powered blender and blend until completely smooth. This will require several rounds of blending. If the mixture is too thick, add water a couple of tablespoons at a time and continue blending until smooth.
Prepare the "Cheesecake":
Pour the "cheesecake" filling into the springform pan and smooth evenly over the crust. Freeze for 1 hour, then place in the refrigerator and refrigerate until completely firm, about another hour.

Remove the outside mold from the springform pan and cut slices. Serve with fresh fruit and a drizzle of agave or maple syrup (or honey if not vegan)
Notes
*I like using 1/3 cup pure maple syrup and 1/3 cup honey (note that this version is not vegan). You may also use agave nectar.
Nutrition
Serving:
1
of 12
|
Calories:
494
kcal
|
Carbohydrates:
36
g
|
Protein:
9
g
|
Fat:
35
g
|
Fiber:
4
g
|
Sugar:
25
g