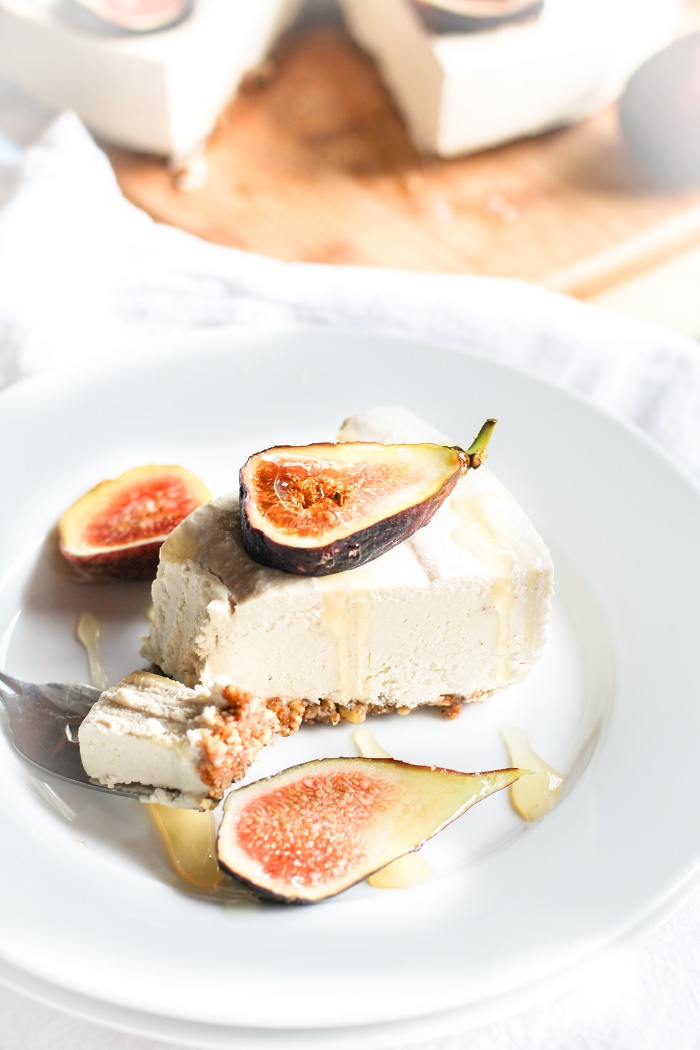 Monday, Tuesday, Thursday, Wednesday, Saturday, Saturday <- Godfather reference anyone?
Junior year of high school, I ate a slice of cheesecake almost every single day after school, and for a good reason:
I wanted to be sexy.
I was this teeny little thing, desperate to gain weight so that my hips indicated some semblance of womanhood, like most of the other flowering young women in my school. Can you blame a girl for wanting a date?
You're still stuck on the fact that I used the word, "flowering," aren't you?
Point is, I was convinced I could appear voluptuous through the constant consumption (and enjoyment) of no other dessert than: cheesecake. Mmmmm cheesecake…sweet, creamy, preferably nestled atop crumbled graham crackers…the dessert that's a meal in and of itself…the dessert some people looooooathe and some people luuuuurve…le sigh…le cheesecake. High-glycemic, high-fat, high-straight-to-the-ass pie cheesecake. The cake that's not a cake, but a pie…the pie that is made with cheese…the gateway to a womanly figure.
Needless to say, my slice-a-day habit did not a woman make. There was just no slowing my wolverine-like metabolism for the next eight years or so, and my lamppost of a body processed through those slices with lightning speed. Alsoneedlesstosay: As Dr. Wayne Dyer would tell you: keep envisioning what you want in your mind's eye, and you'll eventually get it. Those hips crash landed upon this body one fine day, and lemme tell ya, they don't require cheesecake to maintain their girly shape.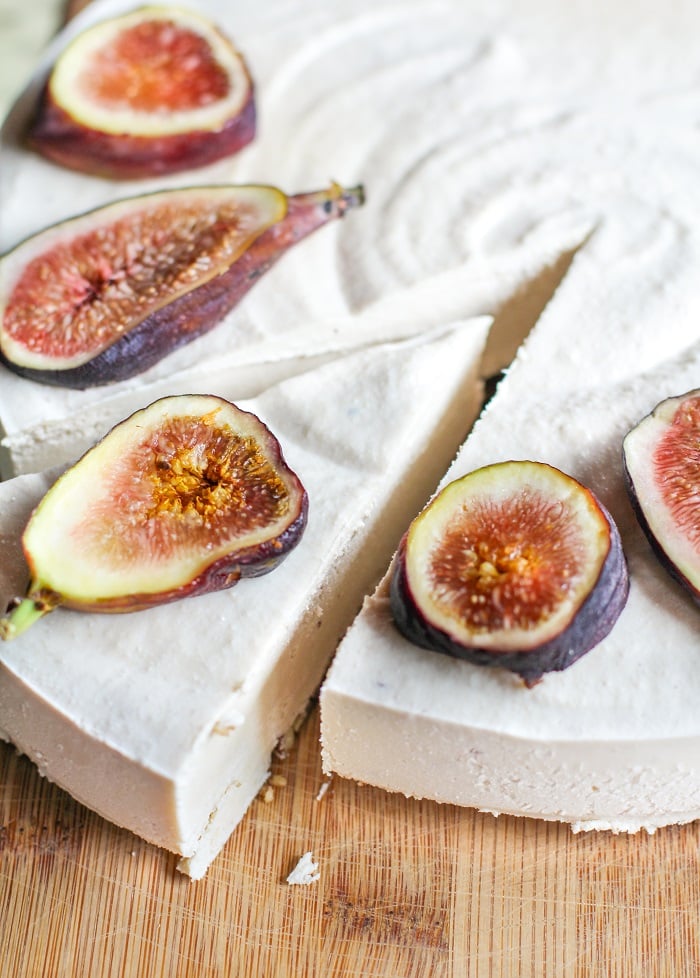 Now that I a.) no longer have the metabolism of a crazed animal, b.) keep my dairy intake to a minimum, and c.) pay attention to the amount protein and healthy fats I consume d.) yearn for the days of lamppost yore, I tend to avoid the cream, cream cheese, and cane sugar of the standard cheesecake. Now that I've found a healthful alternative, I've transferred my latter day cheesecake obsession to…a current-day cheesecake obsession. Of the cashew varietal.
I'm gonna call a spade a spade: this cheesecake is still super high in fat and is jam packed with calories from the cashews and coconut oil; however, as we all know, not all fats are created equally. The monounsaturated fat in cashews is the healthiest kind you can consume (along with polyunsaturated). The unsaturated fat in coconut oil is on the healthierish end, albeit not as great as monounsaturated.  If nothing else, you know that the fat you're getting in this treat is a higher quality than the fat you'd get in a standard dairy cheesecake (learn more about fat here) and is processed much easier in the ol' digestive tract.
Now that we've pegged this thing as a fat bomb from the heavens, we can proceed forth…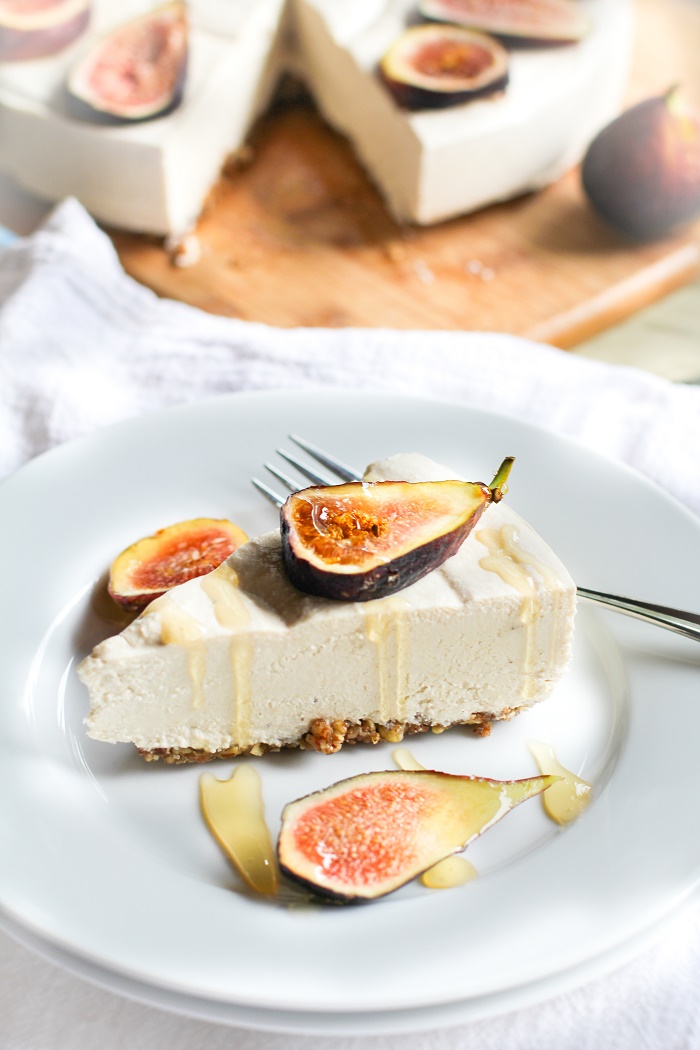 After showing you the Vegan Cheesecake-Stuffed Strawberries last month, I've been whipping up dairy-free cheesecakes left and right. Sure, they take a little more forethought and prep than some standard cheesecake recipes, since you need to soak cashews overnight, but once you get the hang of them, they're a breeze to put together.
I wanted to show you all a basic dairy-free "cheesecake" recipe, that can serve as your base camp to all of your cheesecake adventures. Once you try this baseline version, you can do all sorts of cool things, like add fresh pureed fruit, a vanilla bean or two, peanut butter, instant coffee, chocolate, caramel, etc etc to really whet your whistle. OR simply keep it plain Jane, straight-forward, classic, and simple. So many options for your no-bake bliss.
If we break it all down, you're getting a dessert that is:
No-cook, no-bake, no heat needed whatsoever
Easily adaptable to incorporate most fresh seasonal fruits, and other fun ingredients
Gluten-free and grain-free
Cane sugar-free
Dairy-free
Vegan
High in protein
High in unsaturated (healthy) fat
Flipping delicioso
The crust is made mostly of ground up raw pecans and dates, and the "cheesecake" filling is made with cashews, maple syrup, lemon juice, coconut milk, and coconut oil. I like using both honey and maple syrup (1/3 cup of each) for sweetening the cheesecake (although this method is not vegan due to the honey). The honey lends tanginess to the "cheesecake" flavor, and the maple syrup helps to soften it out so that the honey flavor isn't too apparent. To keep this recipe vegan, use either pure maple syrup or agave nectar for sweetening.
This "cheesecake" melts on your tongue in creamy delight – I have a difficult time stopping at just one slice. This doesn't have to be a weekend/special occasion/holiday dessert – it can be your all-the-time healthful treat to be enjoyed guilt-free on any dang day. It keeps in the refrigerator for aaaaages, and you can also wrap it up and freeze it. It doesn't take long to thaw, so I tend to keep my cheesecake in the freezer and break it out when I want a slice.
Get those hips…er…I mean…cheesecakes.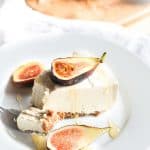 No-Bake Vegan Cheesecake (grain-free and paleo)
Print
Ingredients
For the Vegan "Cheesecake" Filling:
Instructions
Place the raw cashews in a bowl and cover them with a couple inches of water. Allow them to soak overnight (at least 8 hours). Drain and rinse.
Prepare the Crust:
Add the ingredients for the crust to a food processor (or blender) and process until a thick, sticky dough forms. You may need to stop the food processor a couple of times and scrape the sides with a rubber spatula.

Transfer the crust mixture to a 10-inch springform pan and press it into the bottom, forming an even layer. Refrigerate the crust while you're preparing the filling.
Prepare the "Cheesecake" filling:
Add all of the ingredients for the filling to a high-powered blender and blend until completely smooth. This will require several rounds of blending. If the mixture is too thick, add water a couple of tablespoons at a time and continue blending until smooth.
Prepare the "Cheesecake":
Pour the "cheesecake" filling into the springform pan and smooth evenly over the crust. Freeze for 1 hour, then place in the refrigerator and refrigerate until completely firm, about another hour.

Remove the outside mold from the springform pan and cut slices. Serve with fresh fruit and a drizzle of agave or maple syrup (or honey if not vegan)
Recipe Notes
*I like using 1/3 cup pure maple syrup and 1/3 cup honey (note that this version is not vegan). You may also use agave nectar.
Also have a looksy at my No-Bake Blueberry Beet Cheesecake recipe I whipped up for Love Beets. YIIIIIIIP, there are legit beets in the cheesecake, my friendlies.