Creamy 3-ingredient low-carb peanut butter fudge requires only a few minutes to prepare! This simple freezer fudge recipe is perfect for the peanut butter obsessed and for those looking to keep their sugar intake low.
This post is sponsored by Vital Proteins.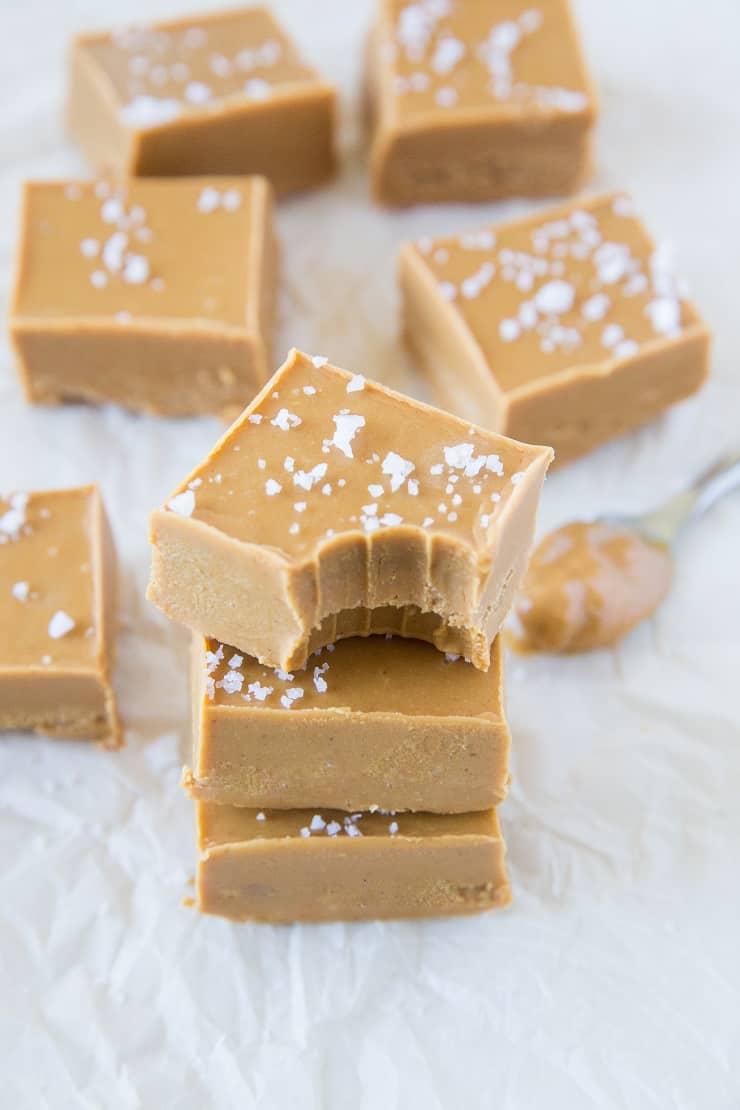 Oh hey peanut butter lovers, do I have a treat for you?!!
This easy freezer low-carb peanut butter fudge recipe is so silly simple to make (let's call it goof-proof!), and only requires a few super basic ingredients.
If you a.) love peanut butter, b.) adore fudge, and/or c.) are looking for sugar-free, low-carb desserts to please your sweet tooth but keep your blood sugar under control, this peanut butter fudge recipe is a great fit!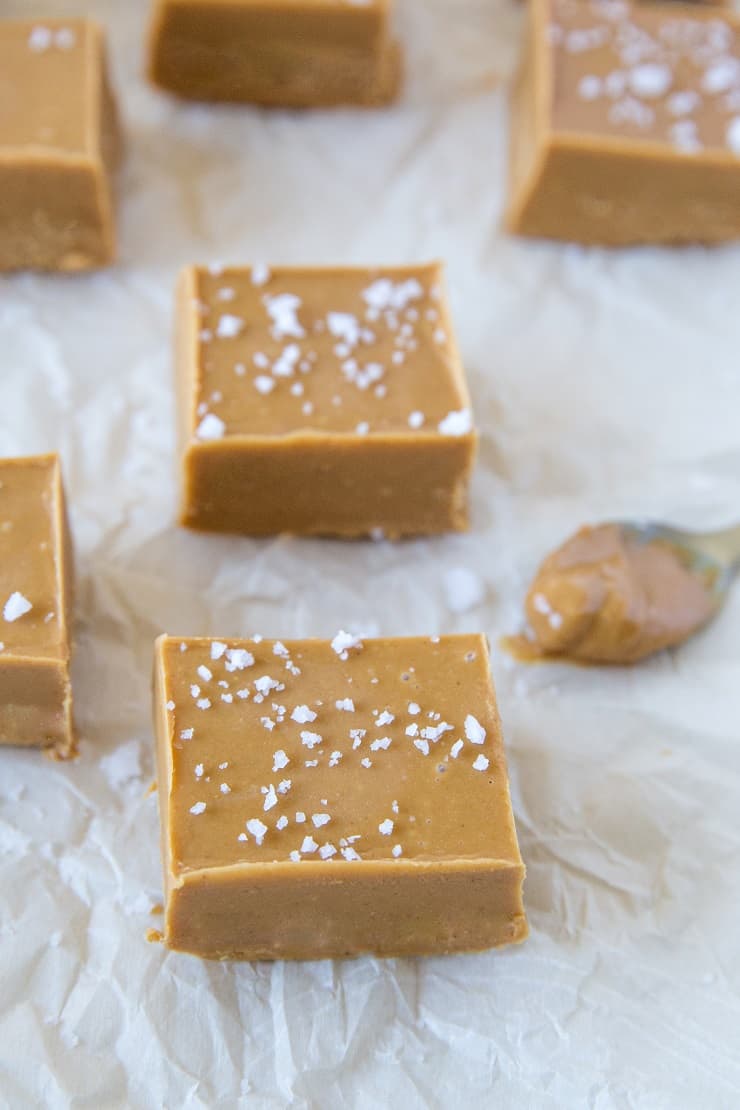 I used Vital Proteins Marine Collagen to boost the fudge with some additional health benefits, including. Collagen is the most abundant protein in the human body and is necessary for maintaining digestive, bone, joint, and ligament health, as well as strong, elastic skin and strong hair and nails.
I've mentioned this several times in the past on social media and on my blog, but I add Vital Proteins Marine Collagen and Beef Gelatin to my bulletproof coffee every single morning as part of my gut health maintenance routine. Collagen helps rebuild your intestinal lining, so for those of have sustained damage to their gut through food and lifestyle (which is almost everyone), collagen can be an incredibly healing tool.
Since adding collagen to my diet a few years ago, I have also noticed my hair and nails grow super quickly. ..and they're STRONG to boot! My nails used to break after reaching a certain length and now they just keep growing and growing (so I cut them more often, obvi).
My hair used to get split ends after reaching a certain length as well, and it doesn't anymore. For a low-maintenance human like me, this just tickles me because it means I don't need to get my hair trimmed as frequently, saving me some time and money. Major win in my book.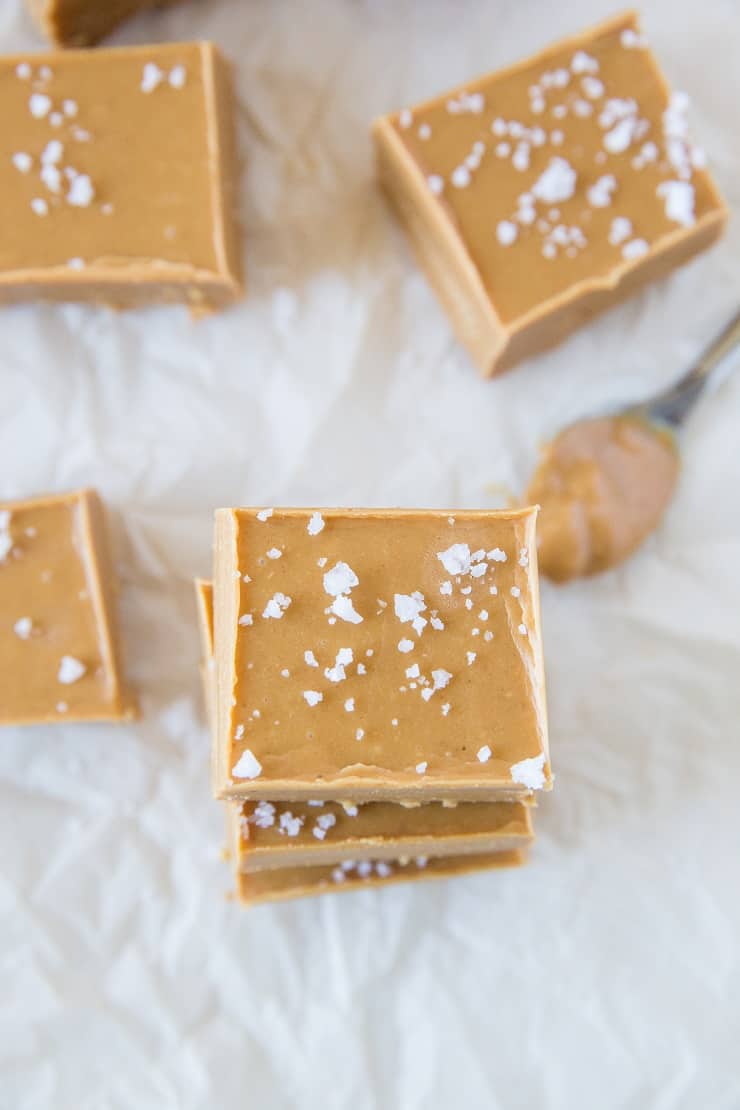 How to Make Low-Carb Peanut Butter Fudge
You guys are going to be so pleased when you realize how easy it is to make this fudge recipe.
Gather up your unsweetened creamy peanut butter, ghee (or coconut butter to keep it vegan), powdered sugar-free sweetener of choice (I use Swerve confectioner's sweetener), marine collagen, and sea salt.
Note: you can absolutely use pure vanilla extract and ground cinnamon for added je ne s'ais quois, but neither are mandatory.
Simply add all of the ingredients to a small saucepan and heat over medium-low, stirring constantly. Heat just until all ingredients are melted, well-combined, and creamy.
Pour the fudge mixture into a parchment-lined pan (use a 9" x 5" loaf pan for thicker pieces of fudge, or an 8" x 8" cake pan for medium thickness) and freeze for at least 2 hours.
Once the fudge sets up in the freezer, you can pull it out of the pan by tugging on the parchment paper. Set it on a cutting board, cut into desired sized pieces, and enjoy!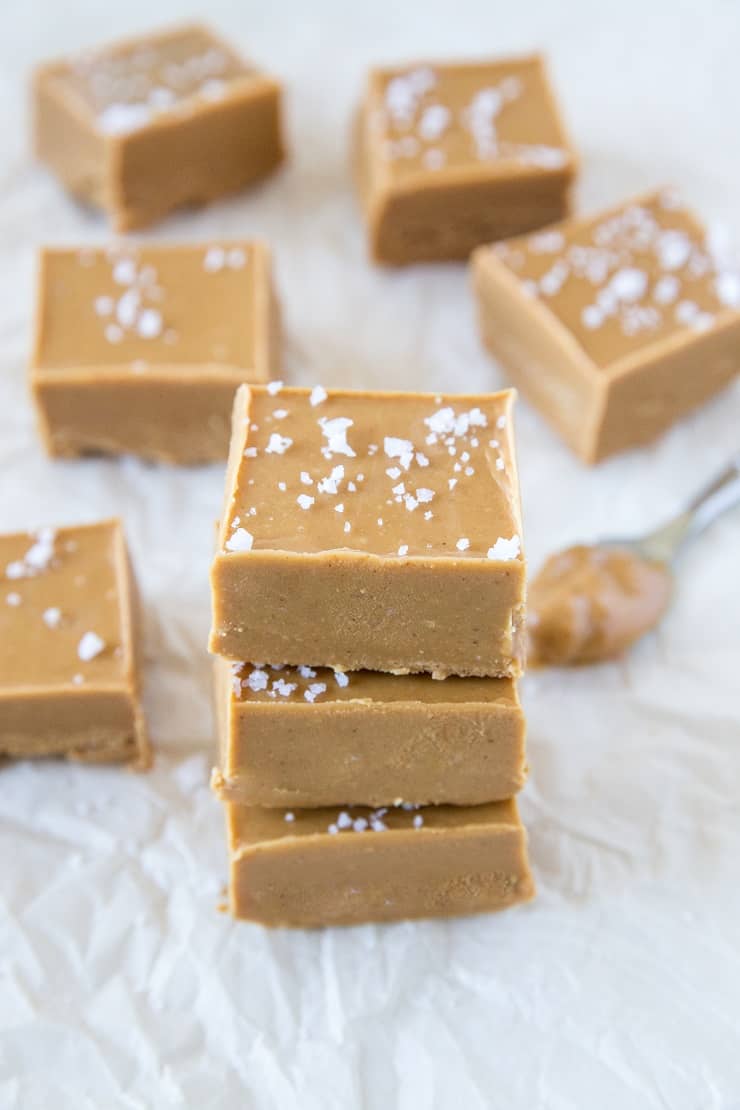 Important Notes:
This fudge does not stay solid at room temperature – it needs to remain in the freezer or refrigerator to maintain its form. I simply cut the fudge then store it in a zip lock bag in my freezer so that I can just snag a piece when the craving hits. It only takes a few minutes to thaw!
The collagen is not imperative to this recipe, but I love including it because it's an easy way of boosting your treat with benefits. If collagen is not a part of your protocol, you can leave it out, but I do recommend it as an incredibly useful tool in your health arsenal.
Recipe Adaptations:
If you prefer using a cane sugar sweetener over a zero-sugar sweetener, substitute regular powdered sugar for the powdered erythritol.

Swap coconut butter or coconut oil for the ghee to keep the recipe vegan and dairy-free. My preference is coconut butter because it yields a more substantial consistency and richer flavor.

You can add ⅓ cup raw cacao powder for a chocolate infusion. If you go this route, add an additional 3 Tbsp sweetener and 4 Tbsp ghee (or coconut butter).
Also try my Easy Low-Carb Chocolate Fudge for a chocolate version!
If you're looking for more no-bake dessert ideas, try my Keto Cheesecake, Low-Carb Lemon Cheesecake Bars, or my Keto Key Lime Pie Bars.
My cookbook,
Paleo Power Bowls
, is now available! CLICK HERE to check it out. Thank you for your support!
If you make this recipe, please feel free to share a photo and tag me at @The.Roasted.Root on Instagram!
Low-Carb Peanut Butter Fudge
Easy 3-Ingredient Peanut Butter Fudge - a dairy-free no-bake sugar-free dessert recipe
Instructions
Line a 9" x 5" loaf pan or a 8" x 8" cake pan with parchment paper.

Heat all ingredients in a small saucepan over medium-low heat. Stir constantly and heat just until all ingredients are melted and well combined together in a creamy substance.

Pour the peanut butter fudge mixture into the prepared pan and smooth into an even layer. If desired, sprinkle with coarse sea salt.

Freeze for at least 2 hours, or until fudge is firm and set up.

Remove from freezer and lift the fudge out of the pan by tugging on the parchment paper. Transfer to a cutting board. Cut into squares, serve, and enjoy!

Store leftovers in a zip lock bag in the freezer.
Notes
*I use Swerve Confectioner's Sweetener, but you can also use your favorite powdered Stevia, truvia, or monk fruit sweetener. Just be sure to use a powdered sweetener rather than granulated, as a granulated sweetener will make the fudge grainy.
Nutrition
Serving:
1
(of 20(
|
Calories:
180
kcal
|
Carbohydrates:
12
g
|
Protein:
7
g
|
Fat:
14
g
|
Sugar:
2
g