Creamy dreamy paleo lemon bars with a walnut crust. These mouth-watering zesty bars are sweetened with pure maple syrup and are packed with the most delicious lemony flavor!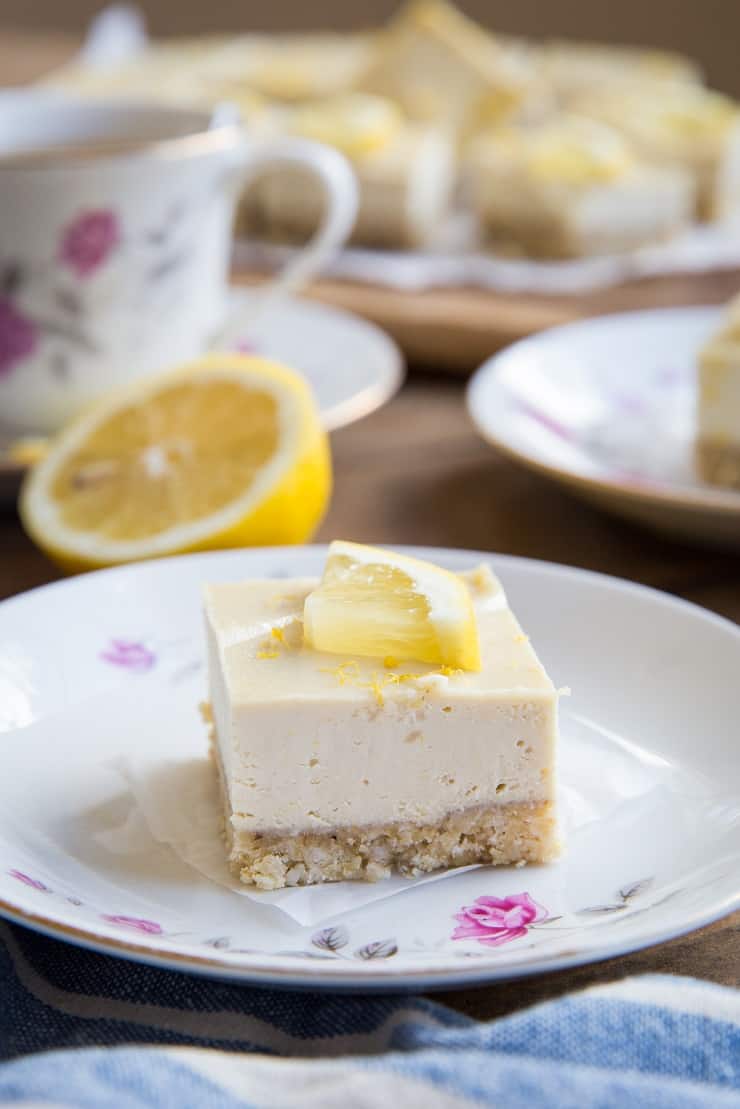 I remember vividly my first experience with lemon bars – it was love at first bite and set the stage for a life-long love affair with the beautifully tangy, sweet treat.
I confess, I have missed lemon bars ever since I started eating gluten-free and refined sugar-free almost 8 years ago…that is, until I recently developed a recipe that could service both my craving for zesty lemon bar perfection as well as my dietary restrictions.
This beautiful discovery now takes the limelight (or should I say lemonlight (buhdumching)?) in my dessert world.
These lemon bars are different from your traditional lemon bar because they are creamy instead of gelatinous.
Paleo Lemon Bars Ingredients:
The creaminess of the lemon bars comes from soaked cashews blended with coconut milk, lemon zest, lemon juice, and pure maple syrup.
This combination yields the most delicious creamy lemony filling.
The bars turn out tasting like lemon cheesecake, which for me is the most marvelous mouth-watering experience.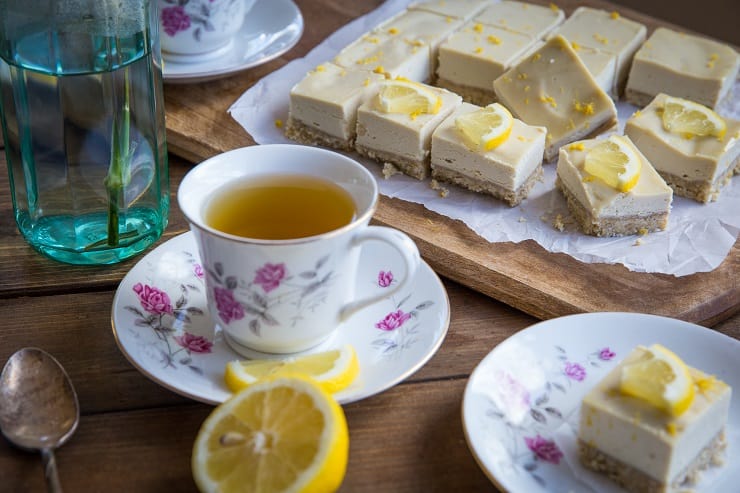 The crust for these paleo lemon bars is the easiest thing to make ever.
Simply pulse the ingredients (walnuts, shredded coconut, pure maple syrup, and coconut oil) well in a food processor and press it firmly into a parchment-lined pan.
THAT'S IT!
If you're like me and you used to agonize over pastry crusts for years, this easy approach to grain-free crust will give you a huge sigh of relief.
Which brings me to my next point.
Feel free to use the crust recipe as a base for all your no-bake bar, pie, and treat adventures.
You can also use any nut you would like – cashews, almonds, and pecans work great!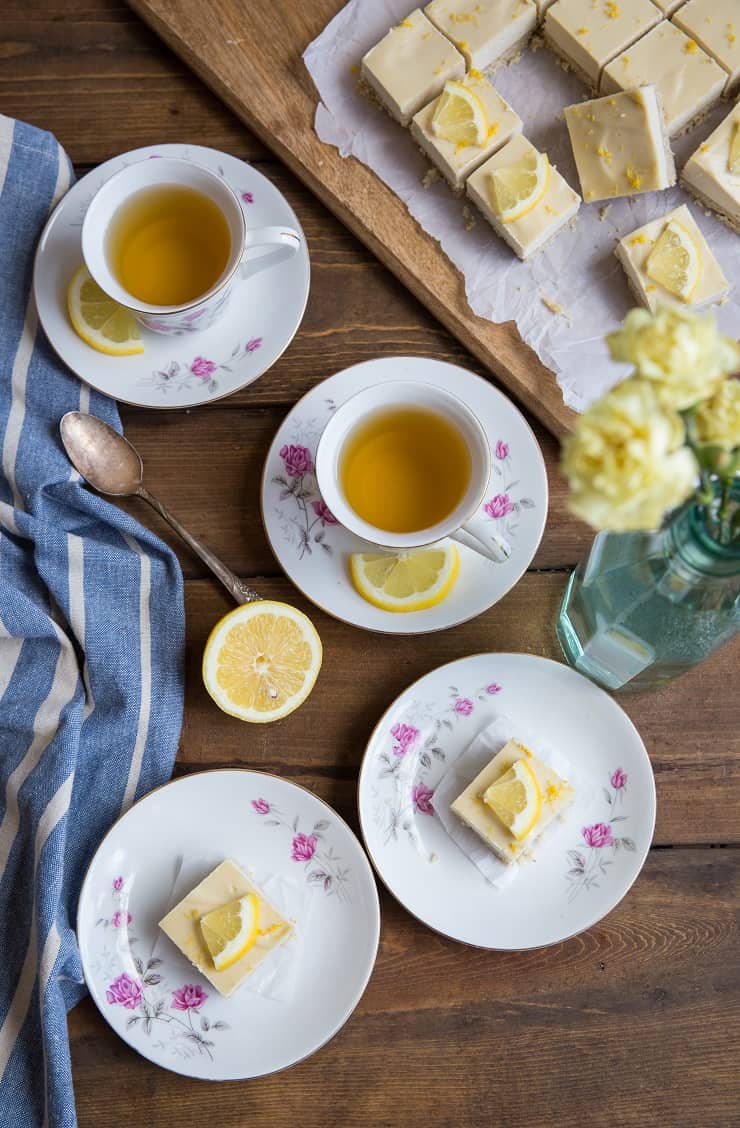 How to Make Paleo Lemon Bars:
Soak cashews in water overnight to soften them up.
Drain the cashews then transfer them to a high-powered blender or food processor along with the rest of the ingredients for the filling. Blend until completely creamy. You may have to stop the blender a few times to scrape the sides to help it blend.
Prepare the easiest walnut-based crust by processing the ingredients in a food processor until a thick dough forms. Press the crust into the bottom of a 9″ x 9″ square pan, creating an even layer.
Pour the lemon filling over the crust, then place it in the freezer for at least two hours to set up.
After the bars freeze, it's fine to transfer them to the refrigerator, but the freezing process helps thicken and bind the bars.
Once they have set up and have thawed, cut them into squares and enjoy!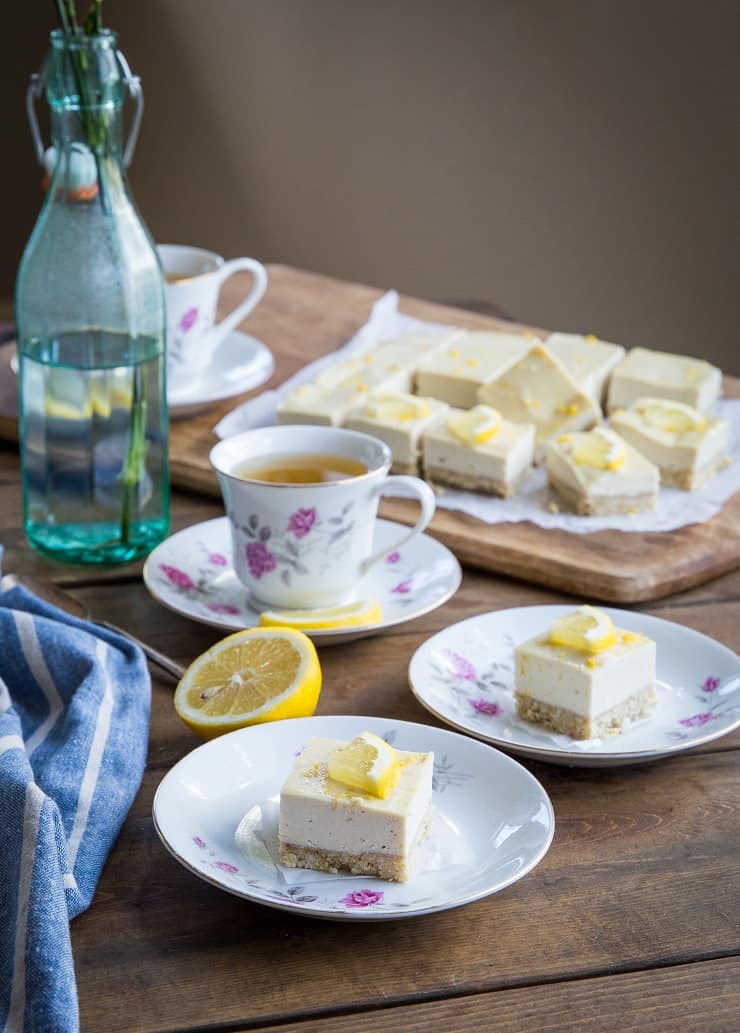 I love that these paleo lemon bars don't require any baking, which to me makes them ideal for summer when I try to avoid heating up the kitchen.
In fact, no-bake vegan dessert recipes tend to be my jam as soon as the weather heats up.
Take for instance, the No-Bake Vegan Cheesecake, No-Bake Vegan Key Lime Tarts, Vegan Strawberry Cheesecake, and the No Bake Vegan Banana Cream Pie recipes from summers past.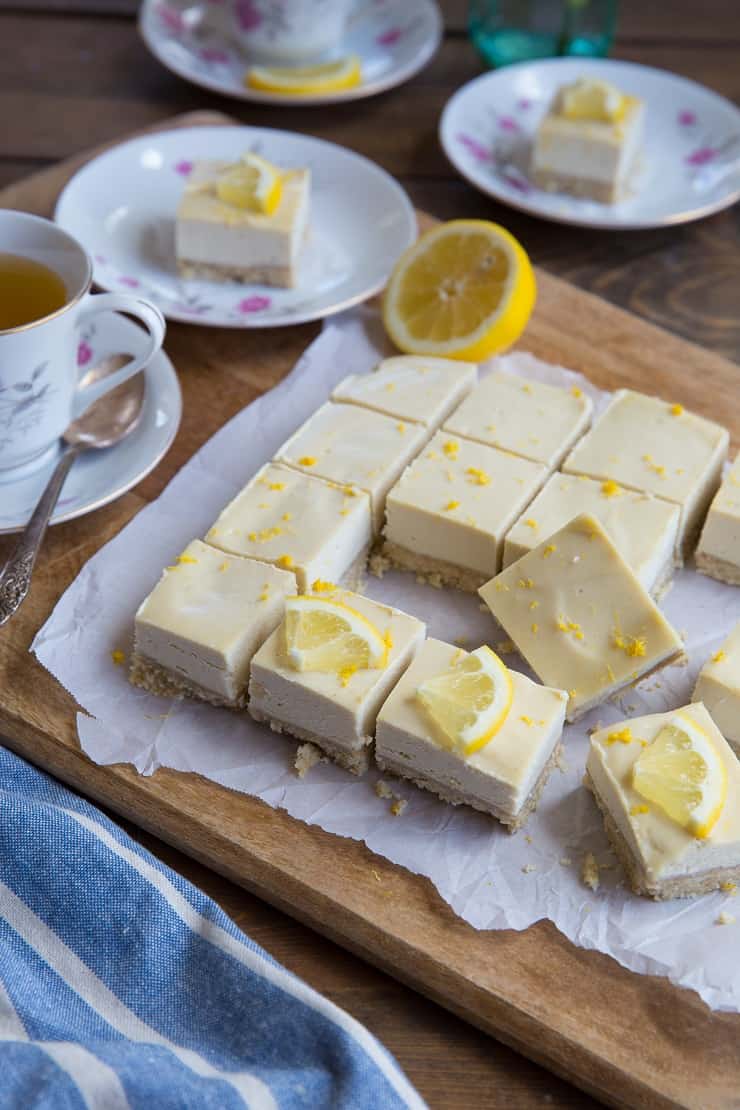 How to Store Lemon Bars:
I store leftovers in a sealed container in the refrigerator or in a ziplock bag in the freezer.
If you're into summer brunching, tea partying, girl's night-ing, baby showering, or anything revolving around shareable treats, this is the perfect dessert for the job.
My cookbook,
Paleo Power Bowls
, is now available! CLICK HERE to check it out. Thank you for your support!
If you make these Paleo Lemon Bars, please feel free to share a photo and tag me at @The.Roasted.Root on Instagram!
No-Bake Paleo Lemon Bars (Vegan)
Creamy paleo lemon bars that are also vegan and gluten-free
Instructions
Prepare the Lemon Filling:
Place the raw cashews in a bowl and fill with water, making sure the cashews are completely submerged. Soak at least 1 hour, up to 12 (note: you can prepare the crust while the cashews are soaking). Drain the water from the cashews.

Transfer cashews to a food processor or blender along with the remaining ingredients for the filling. Blend on high until completely smooth (this may require a minute or so).
Prepare the Crust:
Add all ingredients to a food processor and process until thick and cookie dough-like. You will need to stop the food processor a couple of times to scrape the sides with w rubber spatula to help the process along.

Press the crust firmly into a parchment-lined 8" x 8" pan, forming an even layer. Refrigerate crust until ready to use.
Prepare the Lemon Bars:
Pour the lemon filling into the pan with the crust. Smooth into an even layer, cover with plastic wrap, and freeze at least 2 hours. When ready to serve, thaw the bars at room temperature (or transfer to the refrigerator to allow them to thaw completely).

Release the bars from the pan by pulling on the parchment paper, and transfer to a cutting board. Use a sharp knife to cut lemon bars into desired sizes, and serve.
Notes
*You can soak the cashews for up to 12 hours if you'd like.
**You can replace the walnuts with cashews, almonds, or pecans
Nutrition
Serving:
1
of 15
|
Calories:
271
kcal
|
Carbohydrates:
17
g
|
Protein:
6
g
|
Fat:
22
g
|
Sugar:
11
g