Mixed Berry Mini Pavlovas for two people! This easy romantic dessert is impressive and so fun to share!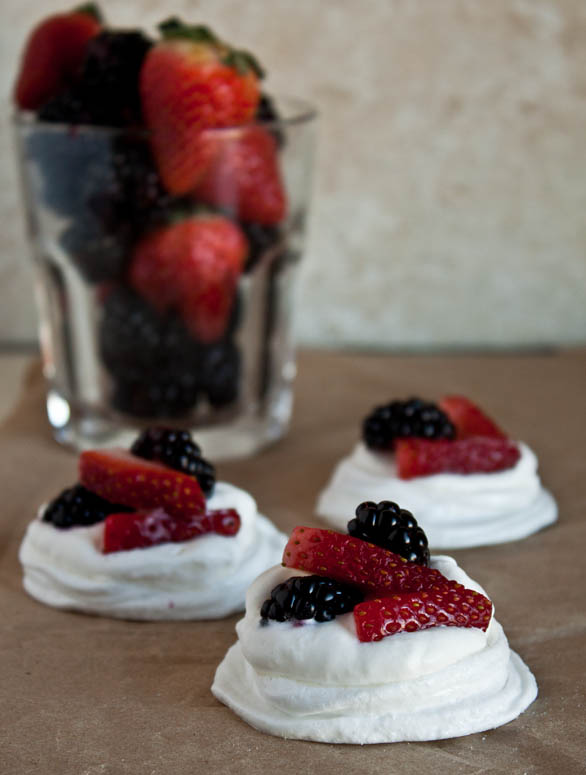 My friend, Christina from Dessert for Two is here to show you Mixed Berry Mini Pavlovas! Like Christina, I enjoy myself a tasty treat, but if I make a full recipe of brownies, it's Sunny with a 90% chance I'm eating a full recipe of brownies. In the span of an hour.
When Christina and I found each other, I was instantly drawn to the genius of her site: desserts for TWO people, not 12. Making a scaled-down recipe is my only hope for not hovering over a pyrex dish with a spoon at 10pm. I'm also smitten by Christina's supercalifragilisticness…she whips out a mean moonshine cocktail, is a badass yogi, and also makes tasty Dinners for Two.
I'll let the expert do the talking now. Welcome, Christina, and thanks for joining us!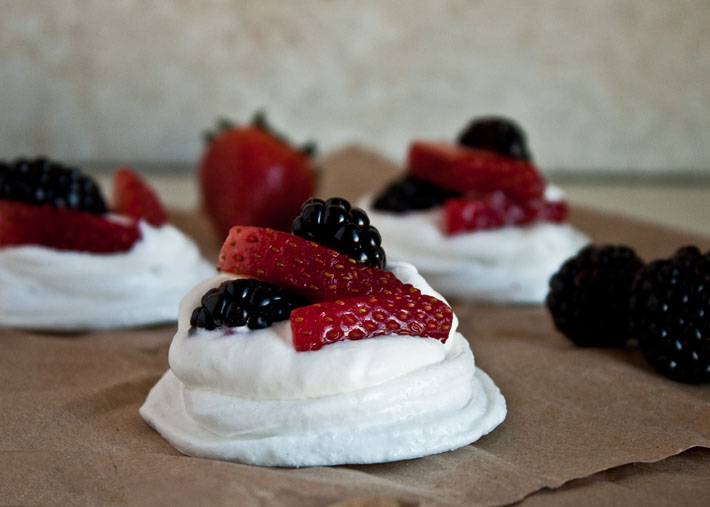 – – –
Well well well, what do we have here? It looks like Ms. Julia let a dessert-crazed lady take over her site today. And that crazy lady is me, Christina of the blog Dessert for Two! It's so nice to be here, friends. I've been a fan of Julia's delicious recipes and beautiful food photos for quite some time. Plus, I'm in awe of her because she's from one of my favorite places on earth, Lake Tahoe. I want to shred the gnar on the mountain with her someday. (Did I use that phrase right, Julia? Heavens, send help.) < – – – Julia's Note: yes, yes you did, my dear. Let's go huck the pallisades.
While most of my dessert creations are pumped with sugar, butter and flour, I took it easy this time around. I piped these cute meringue shells out (but you could also use two spoons instead of a piping bag), and baked them until crispy on the outside and chewy on the inside. Then, I filled these beauties with whipped cream. Alternately, you could use my recipe for coconut whipped cream). I piled that whipped cream high with fresh berries. I used blackberries and strawberries because they're my favorite, but feel free to use pomegranate arils, raspberries, cherries, whatever your heart desires!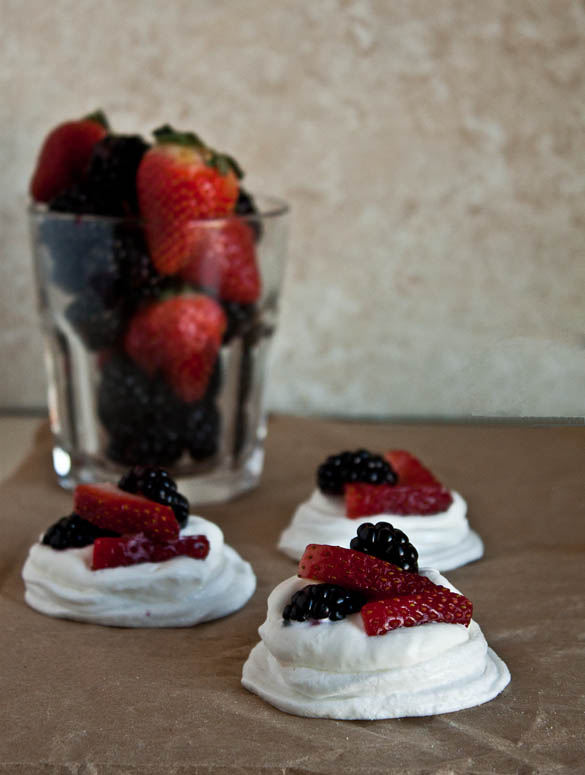 This recipe makes four mini tarts. If you remember my blog name, desserts that serve two is kinda my bag. But, if you have lots of pavlova eaters to serve, just scale up the recipe. So easy! One egg white makes four two-bite tarts. Scale up accordingly.
Mixed Berry Mini Pavlovas
Mixed Berry Mini Pavlovas are a simple, fresh dessert recipe perfect for entertaining guests!
Ingredients
1

cold egg white

1/8

teaspoon

cream of tartar

1/4

cup

granulated sugar

1/4

cup

cold heavy cream

2

tablespoons

powdered sugar

splash of vanilla extract

1

cup

mixed berries

washed and chopped
Instructions
First, make the meringues. Preheat the oven to 200° and have ready a parchment-lined baking sheet.

In a medium bowl, add the cold egg white and cream of tartar. Beat with an electric mixer until foamy and soft peaks start to form. Then, slowly stream in the granulated sugar while continuing to beat on medium speed. When it has stiff peaks, stop mixing. At this point, you can scrape it into a piping bag. If you're not using a piping bag, have two spoons ready. Use two spoons (or the piping bag) to make four circles of meringue on the baking sheet. Use a spoon to make a slight divot in each circle to hold the fillings later.

Bake for 45 minutes, and then turn off oven and let cool for 1 hour. Do not open the oven during the cooling process. The meringues should not appear sticky to the touch, though the insides may be.

After cooling the meringues, move them to serving platter. Make the whipped cream by beating together the heavy cream and powdered sugar. Add a splash of vanilla when the cream has soft peaks. Divide the whipped cream between the meringue shells. Top with the mixed berries and serve.
Nutrition
Serving:
1
Serving
|
Calories:
1
kcal
|
Carbohydrates:
42
g
|
Protein:
3
g
|
Fiber:
2
g
|
Sugar:
39
g