Thick, creamy, filling Peanut Butter & Jelly Baked Oatmeal is a nutritious breakfast for two! Bake it each morning to start the day off right.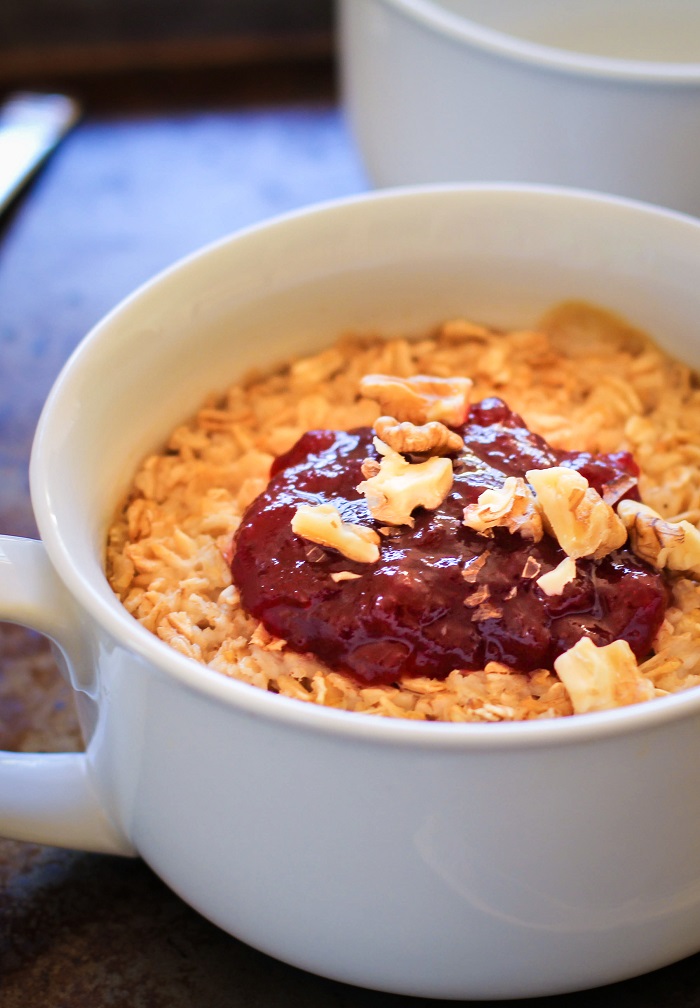 If giggling like a school kid over PB & J oatmeal first thing in the morning keeps you young, then I'm back in the 2nd grade. "It's like a peanut butter and jelly sandwich all mashed up in a bowl" (giggle giggle), was the boyfriend's comment. We're serious food people.
Hey, PB pal, take a dive into my oatmeal and meeeeeelt away! My love for peanut butter is no mystery and I've thought about adding it to oatmeal for quite some time, but couldn't bring myself to do it until. now. What would happen to my beloved oats? More importantly, what would happen to my darling peanut butter?
Awesomeness is the answer. Pure awesomeness. On account of the peanut butter, this oatmeal turns out with a creamy texture (thanks PB, you never do me wrong) and you know what the jam does. The jam just. does. The fact that it's baked makes it even better…baked oatmeal is booooonkers!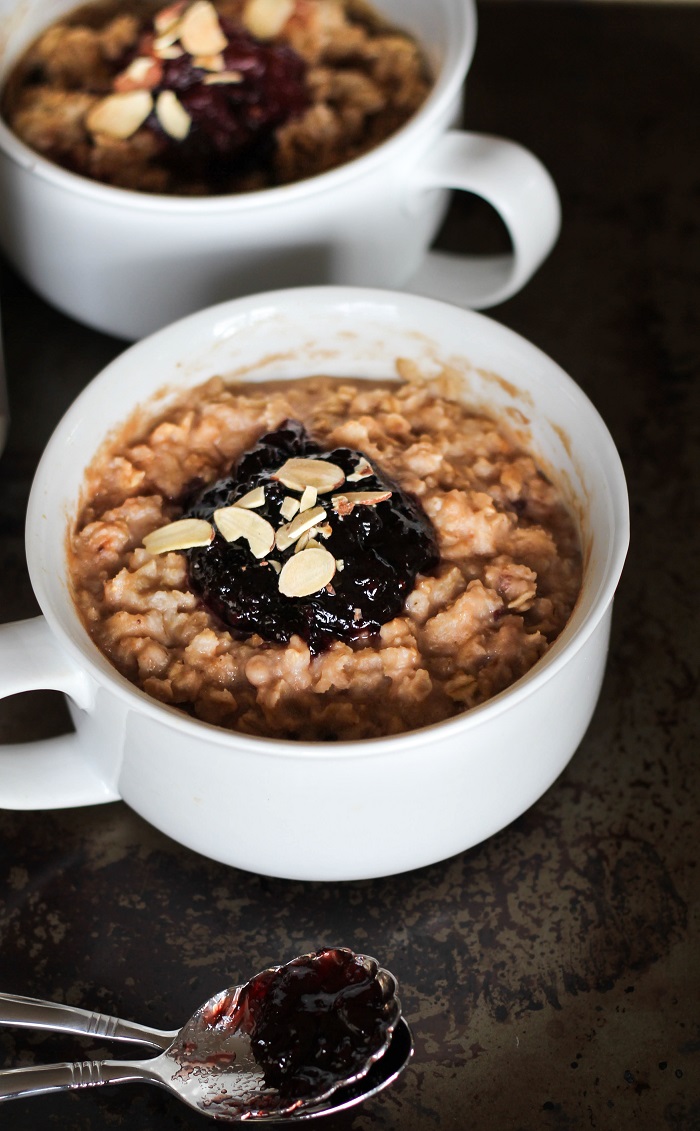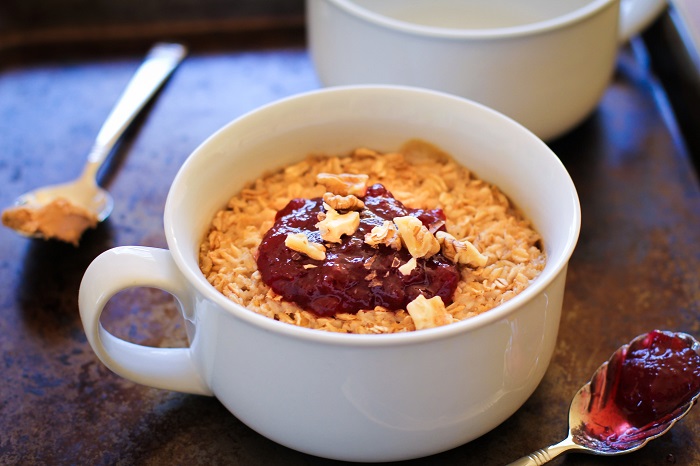 Dear PB&J Baked Oatmeal, when I look at you, I feel as though I'm looking in the mirror.
If you want to have a schoolyard kid moment with your significant other, make PB&J Baked Oatmeal for breakfast. You'll giggle. The only thing you'll talk about is what type of jam to use. It's the only thing that will matter and the matter is serious, so tread lightly. The reality of being an adult won't phase you the whole time you eat this. So make a big portion; that'd be smart.
Peanut Butter & Jelly Baked Oatmeal
The funnest baked oatmeal in town!
Ingredients
2

cups

old fashioned rolled oats

3

tablespoons

unsalted

unsweetened peanut butter

4

tablespoons

your favorite jam/preserves*

2

cups

boiling water

½

cup

to 3/4 milk of choice

adjust to desired creaminess
Instructions
Heat a tea kettle and bring water to a boil.

Preheat the oven to 350 degrees.

Add all ingredients to a mixing bowl and pour in the 2 cups of boiling water. Stir until there are no chunks of peanut butter.

Divvy up the oatmeal mixture between two to four ramekins (or oven-safe bowls) and bake in the oven for 10 to 12 minutes. Oatmeal is done when the liquid is absorbed and the oatmeal is fragrant.

Enjoy with more jam (or fresh fruit) and chopped nuts on top!
Notes
*cranberry or raspberry are my favorite preserves for thie breakfast. Adjust amount of jam/preserves according to your sweet tooth. You can also skip the jam/preserves and serve with fresh fruit.
Nutrition
Serving:
1
of 3
|
Calories:
370
kcal
|
Carbohydrates:
58
g
|
Protein:
10
g
|
Fat:
12
g
|
Fiber:
6
g
|
Sugar:
16
g