Cuban Shrimp Bowls with Mango Salsa, Coconut Rice and Fried Plantains. Because all Mondays should come with Cuban food.
I've got three words for you:
Cube
An
Food.
Can we all just take a breather from whatever it is we've got going on? Meet up under our chaise lounge-filled canopy in 20, and delight ourselves in something tropical?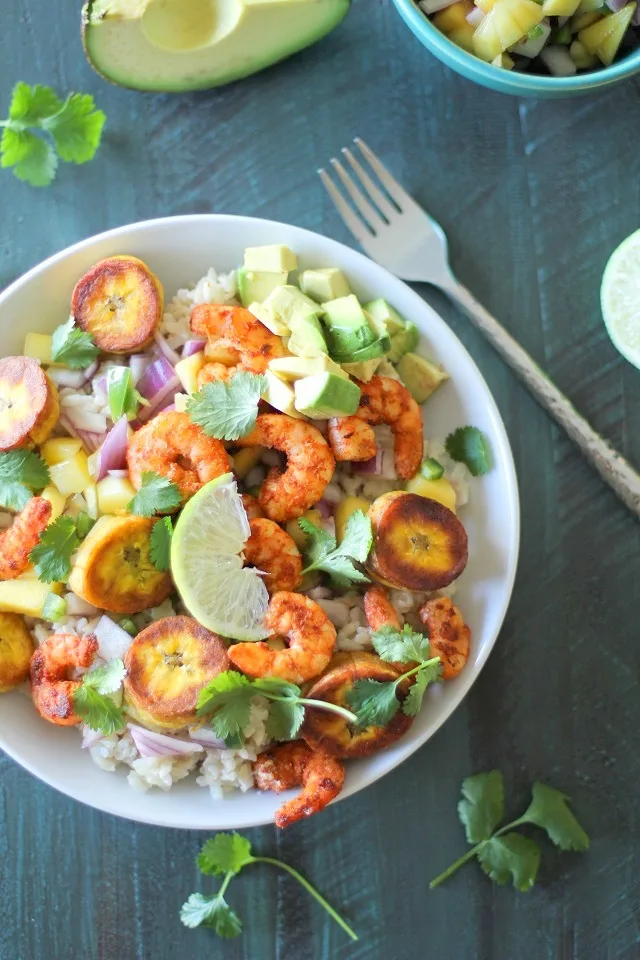 Last week, I got a uuuuge hankering for platanos (fried plantains) so I figured I had better make a big ol' deal out of it and whip up a Cuban fiesta (followed by siesta, because: food coma).
Normally, I'm all about a quick one-pot meal, but sometimes you need to get a little frisky with your food and dirty up all the dishes.
Maybe you're having a dinner party with friends and are looking for something funky fresh.
Maybe you're trying to impress a date, maybe you're having a date night with yourself, or perhaps you're using exotic food as a band-aid to patch your tattered soul or bruised ego, who knows?
Whatever the case may be, flinging pots and pans around the kitchen in a colorful display of flavor and texture always makes for fun and tasty eats, and these Cuban Shrimp Bowls are sure to please!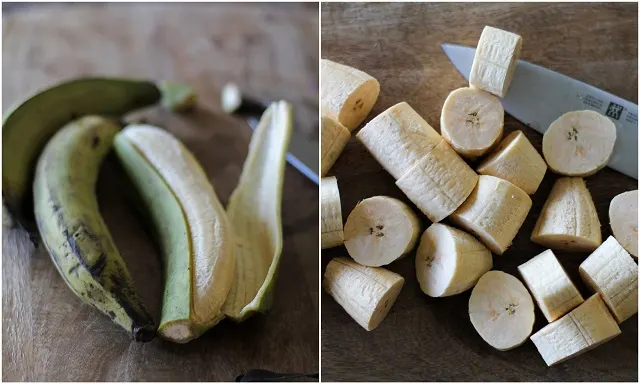 Have you ever had fried plantains?
They're like nothing else. One of my best friends from high school is Bolivian and I always loved when she prepared platanos.
She would slice the plantains length-wise, fry them until they were crispy, and sprinkle them with salt.
She explained platanos are served in Bolivia the way French fries are served in the U.S. Similarly, all the Cuban meals I've had have included platanos maduros, where the plantains are sliced into thick rounds and fried until they're deep brown and caramelized.
You can clearly see I had no such patience to get my plantains to the caramelized state, but so long as you get yours crispy on the outside and soft on the inside, you're slated for a real treat.
P.S. Platanos go excellently on ice cream. Not that I've tried. I totally have. With caramel.
Am I rambling? I'll Stop.
While this bowl has several different inputs, the separate components aren't complicated to prepare.
Toss some salsa together, cook rice, saute shrimp, fry plantaintains, checkity check check check.
That coconut rice? Bangarang. Whatever you do, don't skip it!
You know what I forgot to add to this bowl?
Cuban-style black beans. That would have been a display of pure genius. Bygones.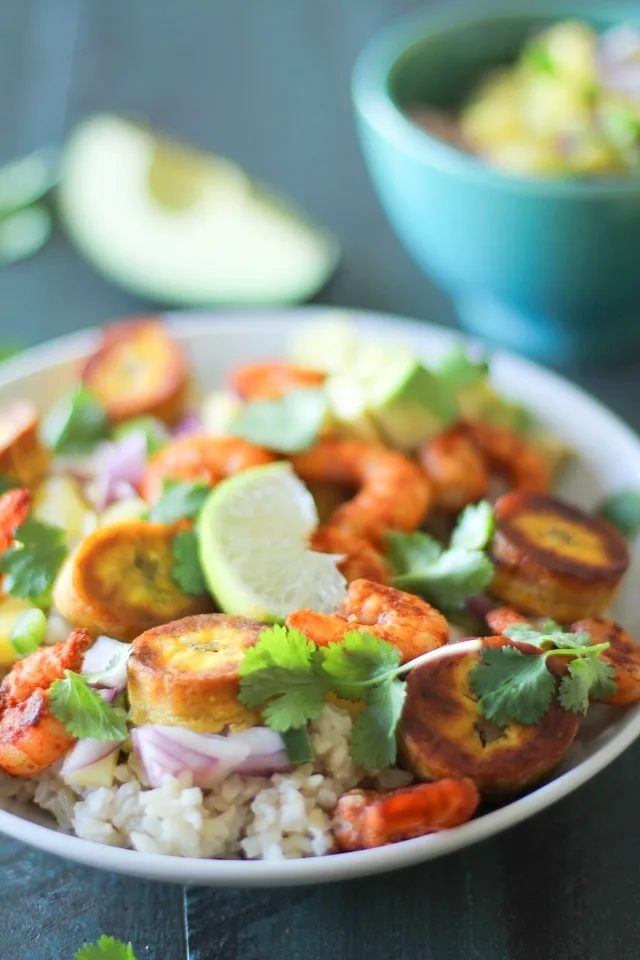 Do it for the coconut rice and fried plantains.
Eat this torrent of color and texture. And then take a nap.
My cookbook,
Paleo Power Bowls
, is now available! CLICK HERE to check it out. Thank you for your support!
If you make this recipe, please feel free to share a photo and tag @The.Roasted.Root on Instagram!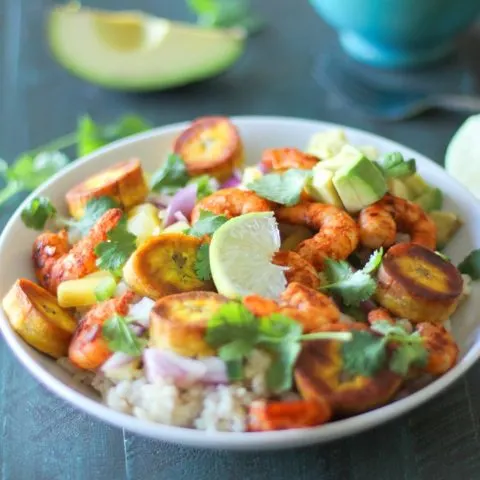 Cuban Shrimp Bowls with Coconut Rice, Mango Salsa, and Fried Plantains
Wildly colorful Cuban Shrimp Bowls with Coconut Rice, Mango Salsa, and Fried Plantains are a unique, fun dinner
Ingredients
Mango Salsa:
1 ripe mango, peeled and diced
¼ red onion, chopped
1 jalapeno, seeded and chopped
1 lime, juiced
sea salt
Cuban Sautéed Shrimp:
2 tablespoons coconut oil
3/4 pound raw shrimp, peeled and deveined
1 teaspoon ground cumin
1 teaspoon paprika
3 cloves garlic, minced
2 tablespoons fresh lemon juice, or lime juice
sea salt
Coconut Rice:
1 tablespoon coconut oil
1 cup brown rice
2 cups full-fat canned coconut milk
1 tablespoon agave nectar
zest of 1 lime
¼ teaspoon sea salt, or to taste
Fried Plantains:
2/3 cup coconut oil
3 inch large plantains, peeled and chopped into 1- rounds
For serving:
1 ripe avocado, diced
½ cup fresh cilantro, chopped
Instructions
Make the Mango Salsa:
Add all ingredients for the mango salsa to a bowl and toss everything together. Set aside until ready to use.
Make the Coconut Rice:
Add the coconut oil and rice to a medium-sized pot and heat to medium. Saute rice, stirring frequently, for 2 minutes.
Add the coconut milk, agave, lime zest, and salt. Bring to a full boil. Reduce the heat to medium-low, cover, and cook until most of the coconut milk has been absorbed, about 35 to 40 minutes. Taste rice for flavor and add more salt if desired.
Saute the Shrimp
Place the peeled raw shrimp in a mixing bowl along with the cumin, paprika, and garlic. Stir well to make sure all of the shrimp is coated with spice.
Add coconut oil to a skillet and heat to medium-high. Place shrimp on the hot skillet and cook until browned, about 2 to 3 minutes. Flip the shrimp, add the lemon juice, and cook until shrimp is cooked through, an additional 2 to 3 minutes.
Fry the plantains:
Heat the oil to medium high in an 8 to 10-inch skillet (I've found cast iron works great). Note: You want enough oil to allow the plantains to float while they're frying, but they don't need to be fully submerged.
Run a knife along the length of each plantain in order to peel them. Note: plantains are much more difficult to peel than bananas. I've found choosing ripe plantains and making a deep cut down the full length of the peel, cutting just as deep as the peel until you reach the flesh, is helpful in getting the peel off easily. Ripe plantains should be fairly easy to peel. The greener, less ripe plantains will be difficult and often the peel will be stuck to the flesh.
Cut the plantains into spears or rounds. The shape is just a matter of preference, as the end result will be the same.
Carefully place the plantain rounds in the hot oil and allow them to cook about 2 to 3 minutes, until browned. Carefully flip using a slotted spoon, and cook an additional 2 to 3 minutes. Continue cooking and flipping/rotating occasionally until plantains are soft and caramelized, about 4 to 6 minutes. Place on a plate lined with a paper towel and sprinkle with sea salt. Repeat for all of the plantain rounds.
Assemble Cuban Bowls:
Divide coconut rice, mango salsa, sauteed shrimp, and fried plantains among 4 bowls. Serve with avocado and fresh cilantro.
Nutrition Information
Yield

4
Serving Size

1 of 4
Amount Per Serving
Calories

540
Total Fat

38g
Unsaturated Fat

0g
Cholesterol

124mg
Carbohydrates

37g
Fiber

5g
Sugar

8g
Protein

17g