3-ingredient paleo shortbread is quick and easy to make, and can be made ahead of time and frozen. This healthy holiday cookie recipe is grain-free, vegan, and absolutely delicious!
This post is sponsored by FoodSaver.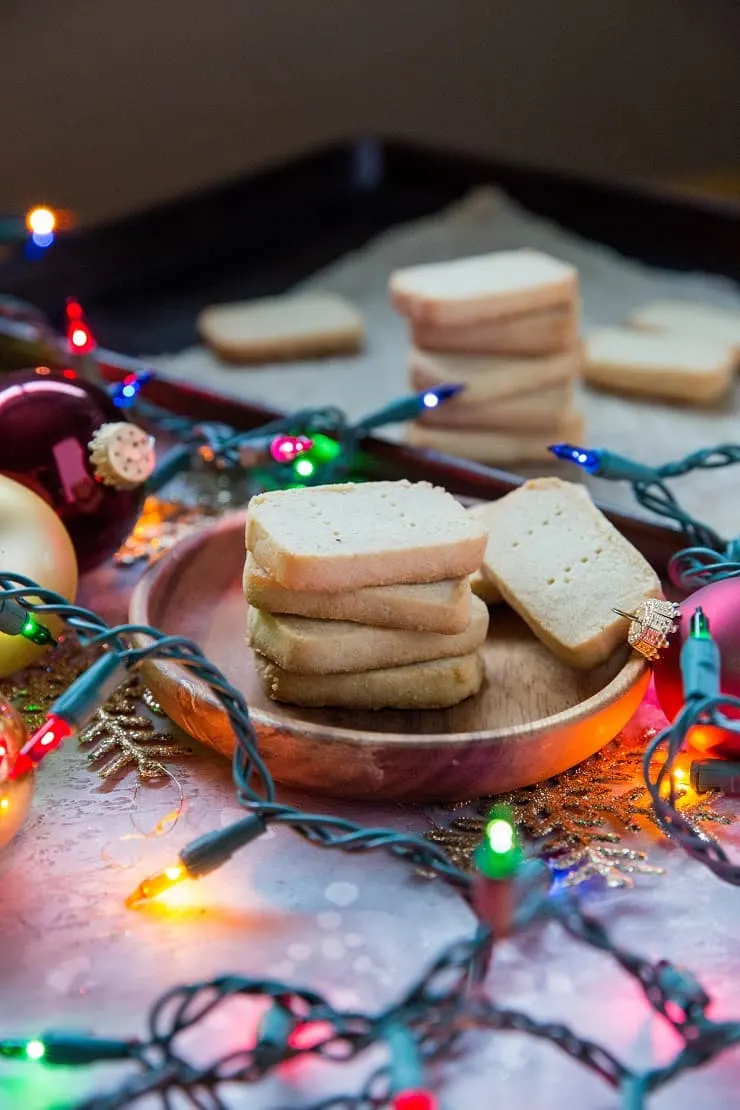 It's holiday baking season!
Do you already have your cookie recipes lined out? As simple as it sounds, one of my all-time favorite Christmas cookies is shortbread. Simple. Buttery. Sweet, but not too sweet.
Crispy. Melt-in-your-mouth DELICIOUS!
We're no stranger to shortbread on this site.
I've made Roasted Walnut Shortbread Cookies, Maple Pecan Gluten-Free Shortbread Cookies, Chocolate-Dipped Cardamom Orange Paleo Shortbread Cookies, Paleo Chocolate Shortbread Cookies, and Cranberry Pistachio Vegan Shortbread Cookies.
Suffice it to say, girl loves her shortbread.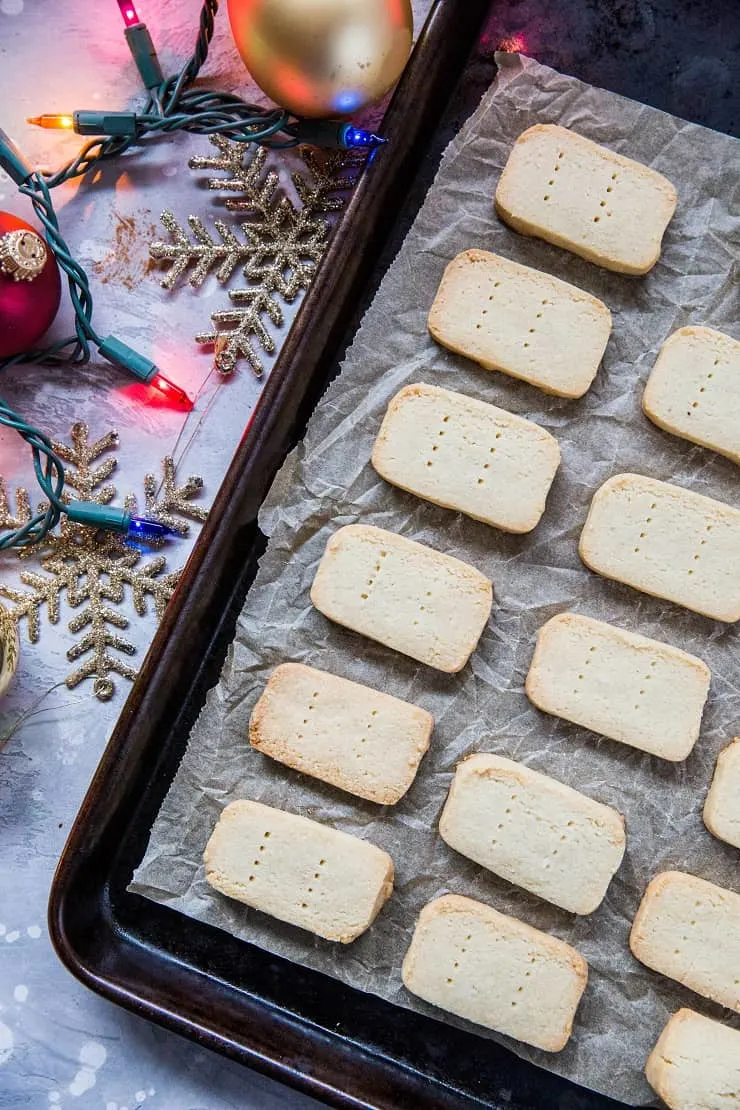 This year, I'm keeping my shortbread game super simple…like, crazy easy.
This paleo shortbread recipe requires just three basic ingredients: almond flour, coconut oil, and pure maple syrup. Four if you count sea salt.
The best part about this recipe, aside from the fact that it's super basic, is it can be made ahead of time.
When preparing shortbread cookie dough, you must chill the dough in either the refrigerator or freezer prior to baking it. With a little forethought, you can make the dough ahead of time and simply bake it when you're ready!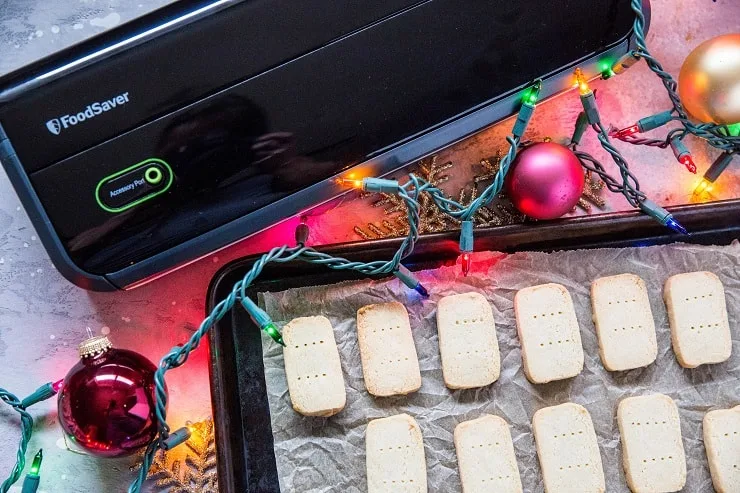 To make sure the dough stays fresh and results in the best mouth-watering cookies, I use my FoodSaver® FM2000 to vacuum seal the dough. This way, I can freeze the dough for weeks or even months ahead of time and then bake the cookies when the time comes.
Holiday season is busy and overwhelming, so anything that can be done ahead of time is very attractive to me. You can whip up all sorts of holiday side dishes, desserts, rolls, etc. in advance and refrigerate or freeze them until you're ready to heat and serve.
I'm a huge proponent of eliminating food waste as much as possible, so I find my FoodSaver to be an excellent tool in ensuring my leftovers stay fresh. You can simply vacuum seal them and store them in the refrigerator or freezer, depending on how quickly you think you will get to them.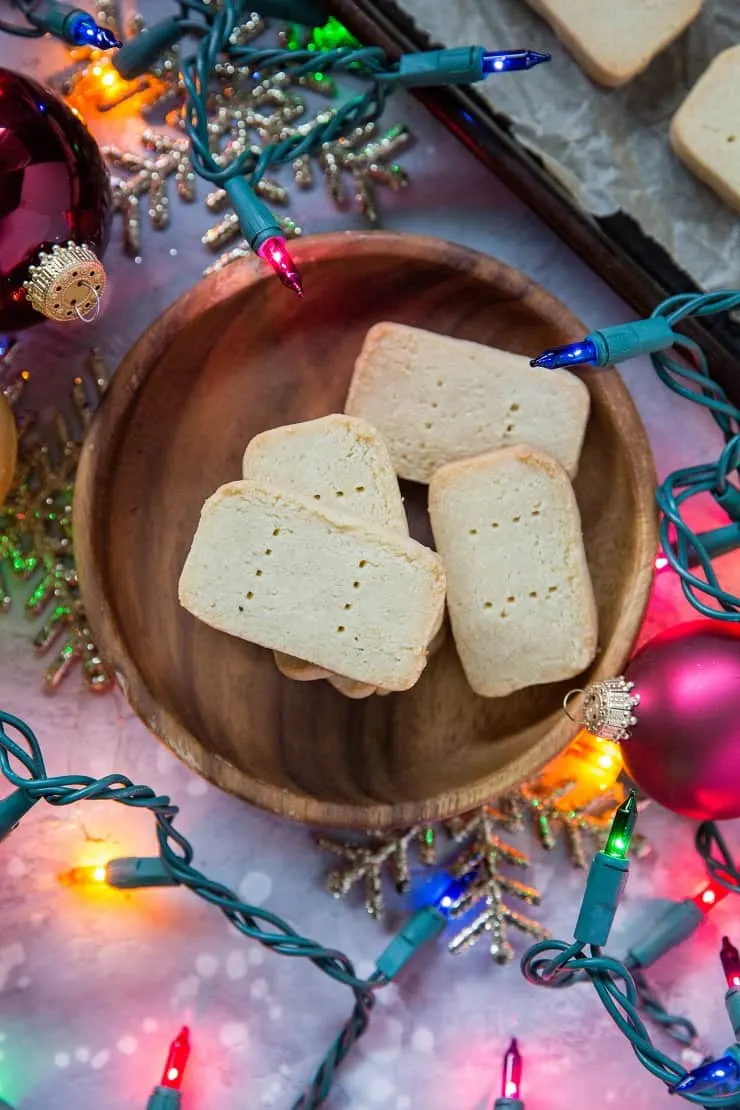 Let's make up some cookie dough, shall we??
How to Make 3-Ingredient Paleo Shortbread:
Add the ingredients to a mixing bowl and stir well until a thick, sticky dough has formed. Form the dough into a log (you can go with a cylinder or rectangle shape. I do both, but for the photographs, I made a rectangular log).
Wrap the log of cookie dough tightly in plastic wrap and freeze for at least 30 minutes.
If you're making the dough ahead of time and you have a FoodSaver, vacuum seal the dough and freeze or refrigerate (Note: you can keep the dough frozen for weeks or months and bake it when you're ready).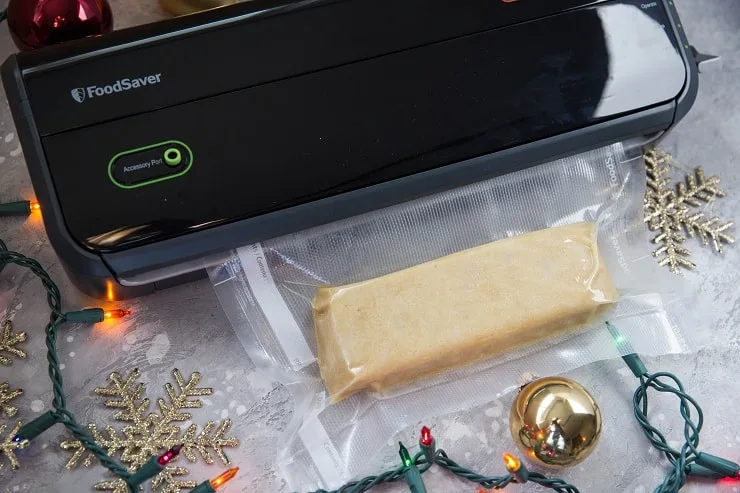 When you're ready to bake, thaw the dough, and preheat the oven to 350 degrees F.
Use a sharp knife to cut the dough into individual shortbread cookies.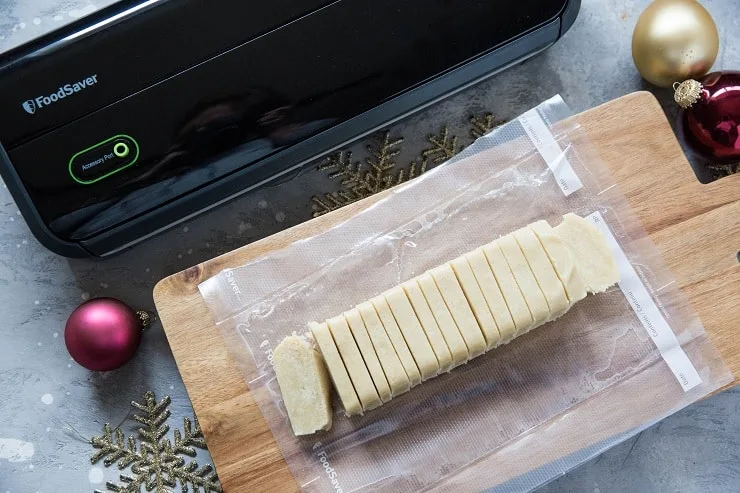 Poke each piece of shortbread using a fork. Bake on the center rack of the preheated oven for 12 to 18 minutes (depending on desired level of crisp. I go for 15 minutes).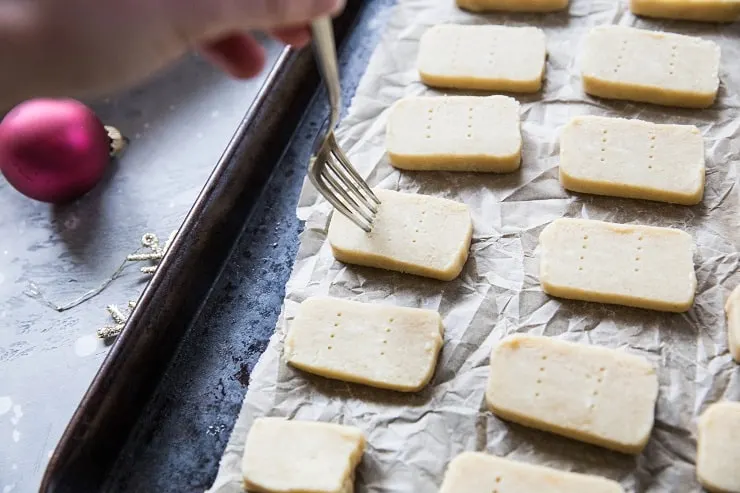 Remove cookies from the oven and allow them to cool completely on the baking sheet before touching them.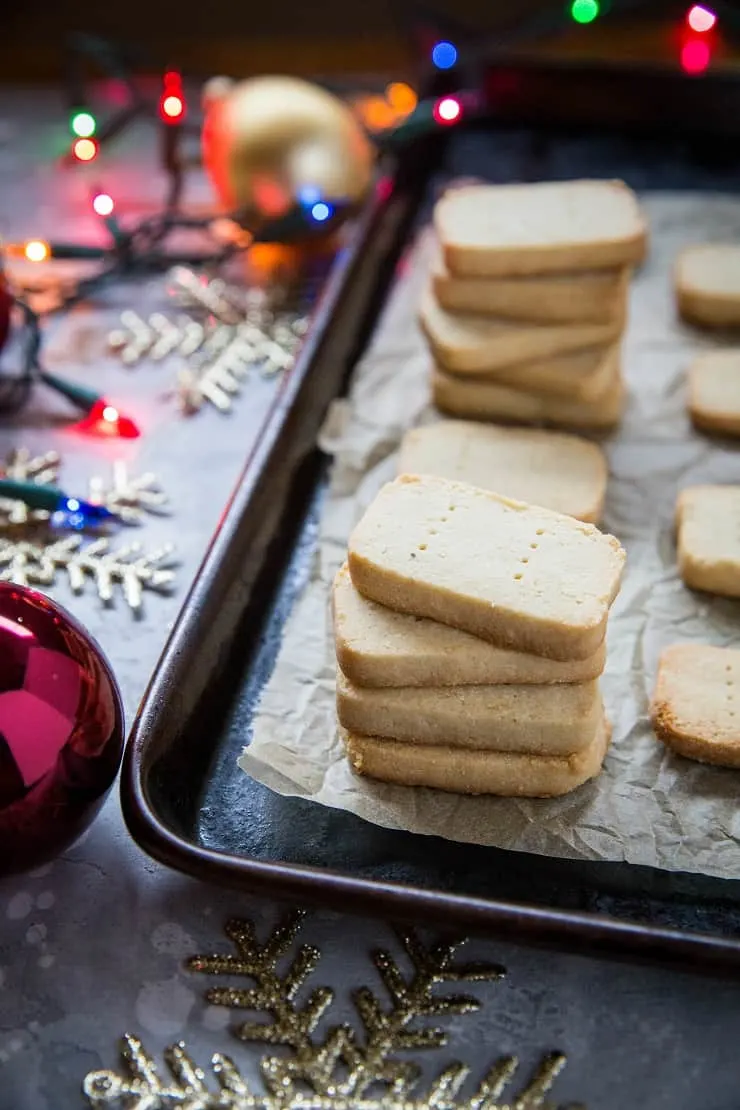 My cookbook,
Paleo Power Bowls
, is now available! CLICK HERE to check it out. Thank you for your support!
If you make this recipe, please feel free to share a photo and tag @The.Roasted.Root on Instagram!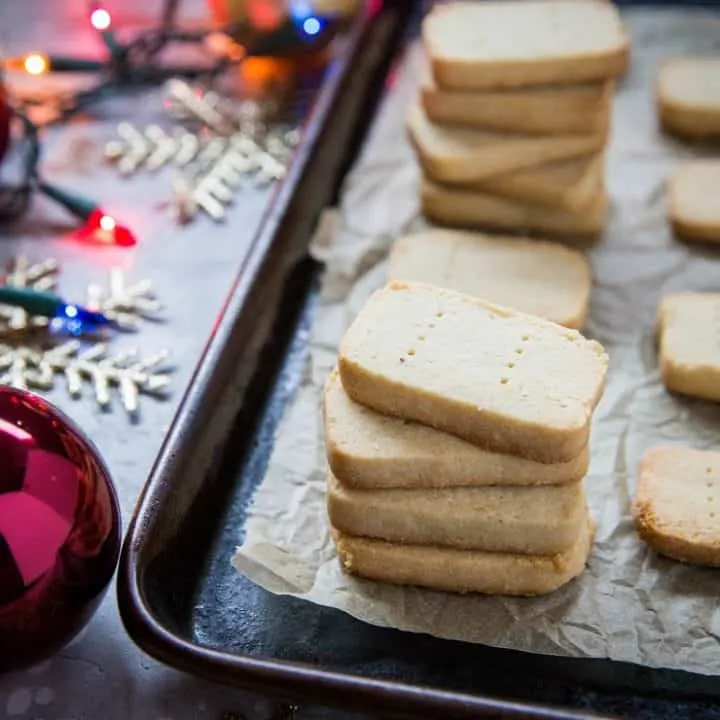 3-Ingredient Paleo Shortbread
A make-ahead Christmas cookie recipe using only 3 ingredients
Ingredients
2 1/2 cups superfine almond flour
Optional Add-Ins:
2 tsp lemon zest, or orange zest
Instructions
Add all ingredients for the shortbread cookies to a mixing bowl and stir well until a thick, sticky dough forms.
Form the dough into a log shape and vacuum seal or wrap tightly with plastic wrap. Chill in the refrigerator at least 2 hours, or freeze at least 15 minutes.
When ready to bake, preheat the oven to 350 degrees F and line a large baking sheet with parchment paper.
Unwrap the dough and place on a cutting board. Use a sharp knife to cut slices of dough.
Place dough slices on the parchment-lined baking sheet and bake 12 to 18 minutes, until cookies are slightly golden on the outside.
Remove cookies from the oven and allow them to cool on the baking sheet completely before serving.
Nutrition Information
Yield

16
Serving Size

1 of 16
Amount Per Serving
Calories

79
Total Fat

7g
Unsaturated Fat

0g
Carbohydrates

4g
Fiber

3g
Sugar

1g
Protein

0g