Maple Pecan Gluten Free Shortbread recipe! Gluten free shortbread cookies with chopped pecans and sweetened with pure maple syrup. Lads and ladies: these are paleo.
Here's one of the solutions to the "problem" I told you about yesterday.
You'll see the other solution tomorrow. In the meantime, shortbread!
I always thought of shortbread as the filler cookie that cookie manufacturers put in those holiday cookie tins in order to even out the cookie bliss.
Like, they wouldn't want to give you too many linzer, wafers, chocolate chip, or peppermint cookies because that would result in too much ecstasy.
And so they placed the less desirable lumps of shortbread in with the other much more desirable cookies in order to ensure you maintained some semblance of balance in life.
No joke, I totally thought this.
And apparently so did the rest of my family, because whenever we received one of those mixed cookie tins, we picked through all the cookies until there was nothing but shortbread remaining.
And then the tin sat. And sat. Until next Christmas rolled around.
It took me until my mid-twenties to realize not all shortbreads are created equal.
And if you've never made it homemade, I seriously recommend it! Whole 'nother ball of wax, I tell ya. I love shortbread made with almond meal and coconut oil because it has an inherently rich flavor, while being all sorts of magical for your body.

Which brings me to my next point: Xmas cookies made with almond meal and coconut oil are the peanut butter to my jelly.
I can't tell you how many cups of coconut oil and almond flour I've cycled through in the last week, but I can tell you this: it's been delicious.
And the two ingredients are marvelous for gluten free (and paleo) baking.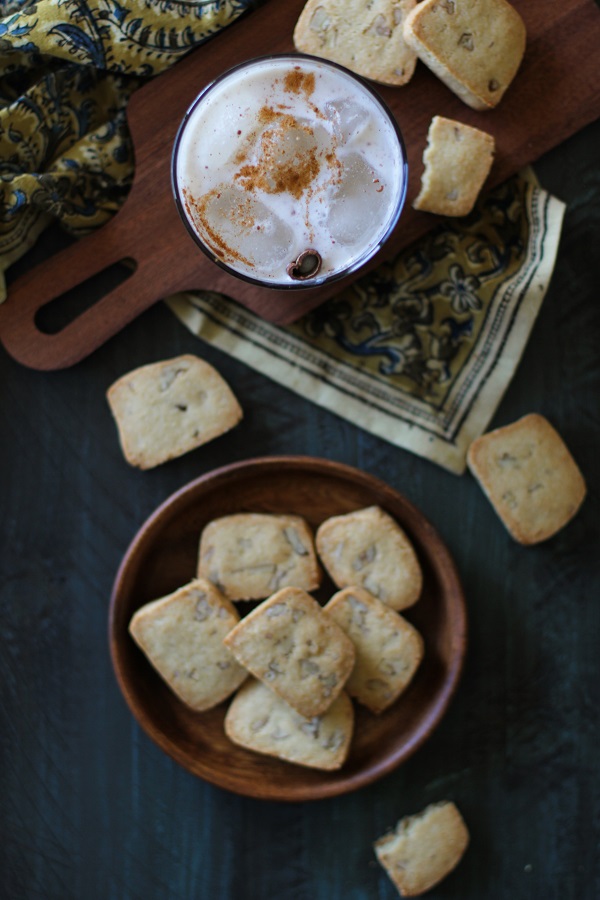 This is a pretty dern clean shortbread.
At a minimum, all you need is almond flour, pecans, pure maple syrup, and coconut oil! BOOM 4-ingredient vegan shortbread cookies!
No sugar, butter, or grains.
The first time I made shortbread, I tried to beat the system by omitting the step where you freeze or refrigerate the dough. This step omission did not a success make.
The cookies spread out to the far reaches of the cookie tray, and even though they tasted spectacularly, they were reduced to mere crumbs.
This is me advising you to not omit the refrigeration/freezing step, as doing so will botch your batter (dough…but "batter" just sounded better on account of the b's).
You've got this! We've got gluten-free shortbread to consume!
Also try my Chocolate Dipped Cardamom Orange Shortbread Cookies and my Cranberry Pistachio Vegan Shortbread Cookies.
Maple Pecan Gluten Free Shortbread (Paleo)
Maple Pecan Gluten Free Shortbread is a grain-free, vegan, dairy-free paleo shortbread recipe that is easy to make and so tasty!
Instructions
In a mixing bowl, add first four ingredients and stir together. Add the remaining (wet ingredients) and mix until a sticky dough forms.

Make a ball out of the dough, pressing it together, then place it on a sheet of plastic wrap and form a cylinder or a log (the log will be over a foot long, so if you'd like, you can cut it in two so that the logs are easier to manage/less deicate). Wrap the log tightly in the plastic wrap and place in the freezer for 30 minutes or in the refrigerator for 2 hours.

When ready to bake, preheat the oven to 350 degrees F. Unwrap the cookie dough, place it on a cutting board, and slice 1/4-inch thick slices to form cookie shapes. Place dough on a baking sheet and bake for 13 to 15 minutes, or until edges are golden brown.

Remove cookies from the oven, and allow them to sit 15 minutes before removing them from the baking sheet with a spatula.
Nutrition
Serving:
1
Cookie
|
Calories:
94
kcal
|
Carbohydrates:
4
g
|
Protein:
2
g
|
Fat:
8
g
|
Sugar:
3
g