Gluten-free oat flour shortbread cookies infused with roasted walnuts and dipped in chocolate. The perfect healthy cookie to share with friends and family!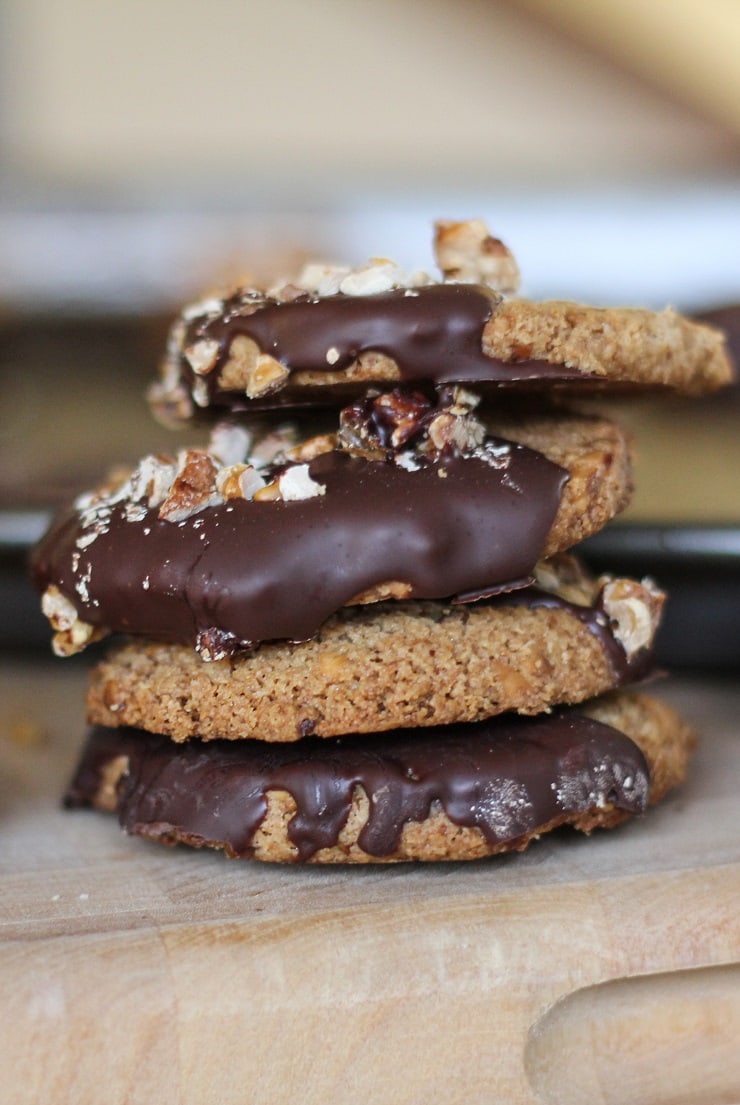 If your lack of preparedness personality bares any resemblance to mine, you were eyebrows deep in various flours, sugars and binding agents last night, licking butter off your fingers, wiping ingredients off your laptop, trying to crank out every ounce of baked holiday gifts in one fell swoop.
If you prioritize the "taste testing" step of the recipe, then just like me, you're sleeping off a sugar hangover and reaching for an invisible glass of water to quench your sugar hangover dry mouth.
It dawned on me that you may really, really need this recipe.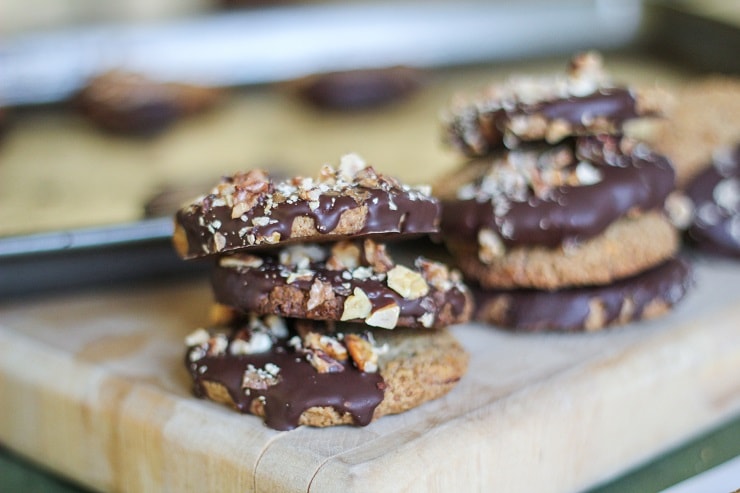 Keep in mind, not all oats are 100% gluten-free (often times, wheat is grown along-side oats which means it tends to end up in the oats you buy at the store).
If you follow a gluten-free diet, I would recommend buying Bob's Red Mill Gluten-Free Old Fashioned Oats and blending them up until you get oat flour.
I use Bob's Red Mill Oat Flour, which I assume is mostly gluten-free, but because it does not say gluten-free on the package, I don't want to endorse this recipe as celiac-friendly.
Feeling like your eyeballs need to gander at something unprocessed or not (why butter, whhhhhhhhhyyyyyy?), hiding from the holidays or not, celiac or not, this recipe is deep in flavor and unlike any other shortbread recipe on the planet. I guarantee that.
I hate to prance around tooting my own horn, but this oat flour shortbread recipe is one of those that I can lovingly glance at and say "you make-a-me proud, cookie, you make-a-me proud."
Another addition to the overly-insulined intraweb but a great holiday gift and certainly a cookie that's worth a little morning dry mouth.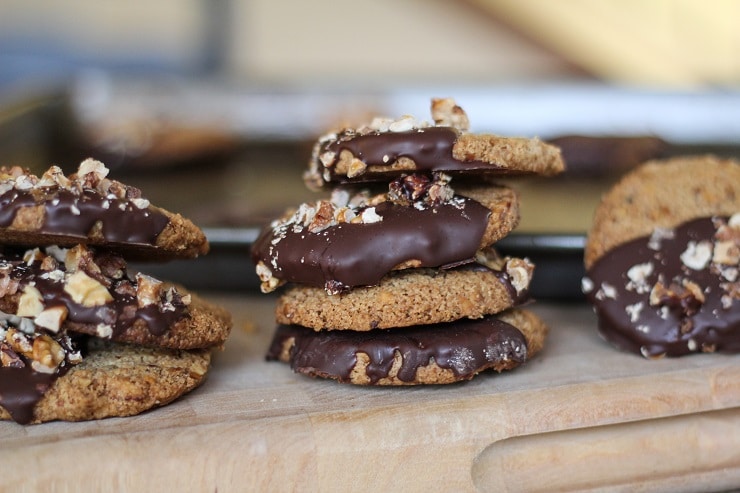 Check out more of my Shortbread Recipes here!
My cookbook,
Paleo Power Bowls
, is now available! CLICK HERE to check it out. Thank you for your support!
If you make this recipe, please feel free to share a photo and tag @The.Roasted.Root on Instagram!
Hope you love these Oat Flour Shortbread Cookies as much as I do!
Roasted Walnut Oat Flour Shortbread Cookies
Deliciously buttery perfectly crispy gluten-free shortbread cookies dipped in chocolate are a delightful treat!
Instructions
Heat the oven to 350 and spread the whole walnuts on a baking sheet. Roast in the oven until slightly fragrant and beginning to brown, about 3 to 5 minutes. Remove walnuts from oven, allow them to cool and then chop them up.

In a mixer, add all of the ingredients except for the butter and chocolate chips and stir just to combine.

Cut in the butter, a tablespoon at a time while the mixer is on medium to medium-high speed. It will take a few minutes of consistent mixing to get everything to combine.

Once all of the butter is incorporated, the dough should appear grainy and not very dough-like.

Using your hands, press all of the dough together and form a cylinder about 8 – 9" long and 2" thick. Wrap tightly with plastic wrap and refrigerate for at least 2 hours (up to 48 hours).

When ready to bake, heat the oven to 325 degrees.

Cut ¼" rounds using a sharp knife.

Space the rounds out on a parchment lined baking sheet. This shortbread does expand while baking, so give the rounds enough space to grow.

Bake for 18 - 20 minutes until edges begin to brown.

Allow cookies to cool a few minutes on the baking sheet before transferring them to a wire rack. Allow cookies to cool completely before fiddling around with them (since they're oat flour, they are a little more sensitive than typical shortbread cookies).

In a saucepan, heat the chocolate chips over medium low. Once the chips begin to melt, stir them consistently until smooth and completely melted. Do not let the chocolate get to a boiling point – medium low should melt the chocolate in about 3 minutes.

Using a spoon, drizzle the melted chocolate over the cookies and if desired, add additional chopped walnuts to the melted chocolate for garnish.
Nutrition
Serving:
1
of 12
|
Calories:
197
kcal
|
Carbohydrates:
25
g
|
Protein:
3
g
|
Fat:
11
g
|
Fiber:
1
g
|
Sugar:
15
g