Grain-free cranberry pistachio vegan shortbread cookies made with just 6 basic ingredients. These light and buttery cookies are packed with flavor without being too sweet.
This post is sponsored by Raley's.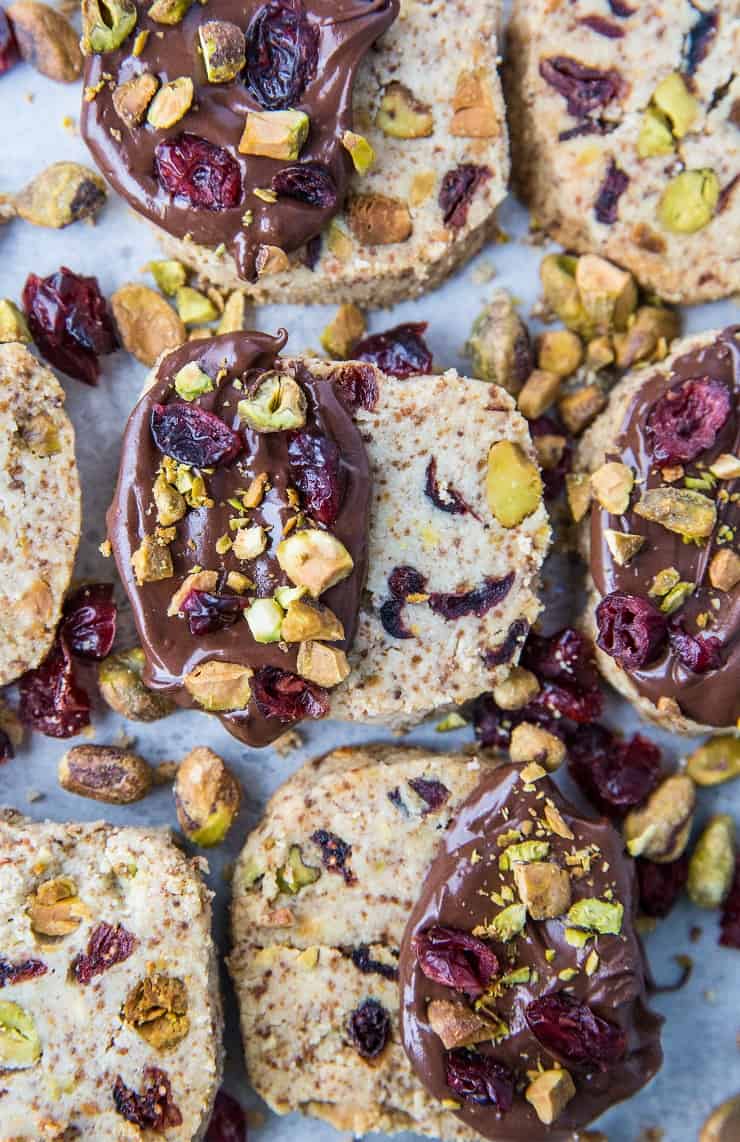 Shortbread cookies are my favorite holiday cookies to bake, because they're a little fancy but in the realm of Christmas cookies, they are pretty straightforward.
Plus, they don't require cookie cutters, icing bags, and frosting skills, all of which I don't possess, because I'm a basic minimalist by nature.
Just have a look at my Shortbread archive to get a full-frame image of my love for vegan paleo shortbread cookies recipes 😉
Well here we are with a new Cranberry Pistachio Vegan Shortbread Cookies recipe, that happens to be dipped in chocolate for an epic treat.
The flavor of this vegan shortbread is nice and buttery (even though there's no butter!) with that cranberry tang, a crunch from the pistachios, and the cookies are not overly sweet, which I LOVE!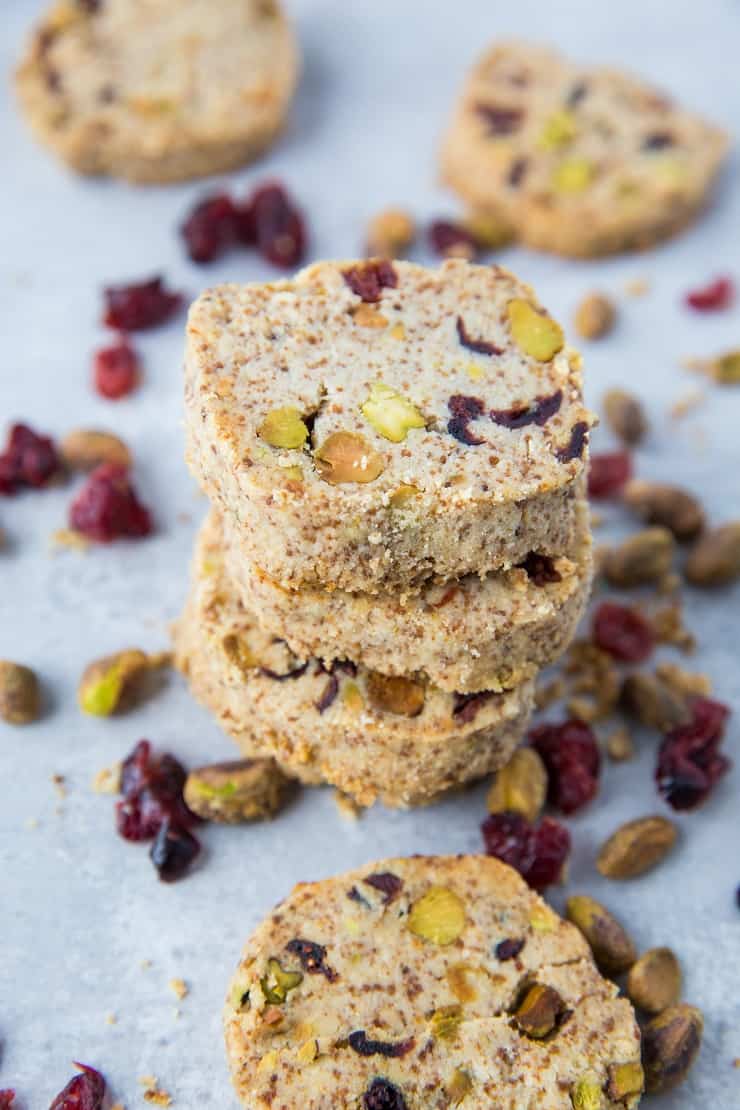 This slice-and-bake recipe is easy as can be.
Simply stir all the ingredients together in a mixing bowl, form the dough into a big ball, then work it into a cylinder. Wrap the cylinder of dough in plastic wrap, and then freeze or refrigerate.
The only difficult part here is resisting the temptation to eat all the dough before baking it. I may have consumed half the dough like this…guilty as charged.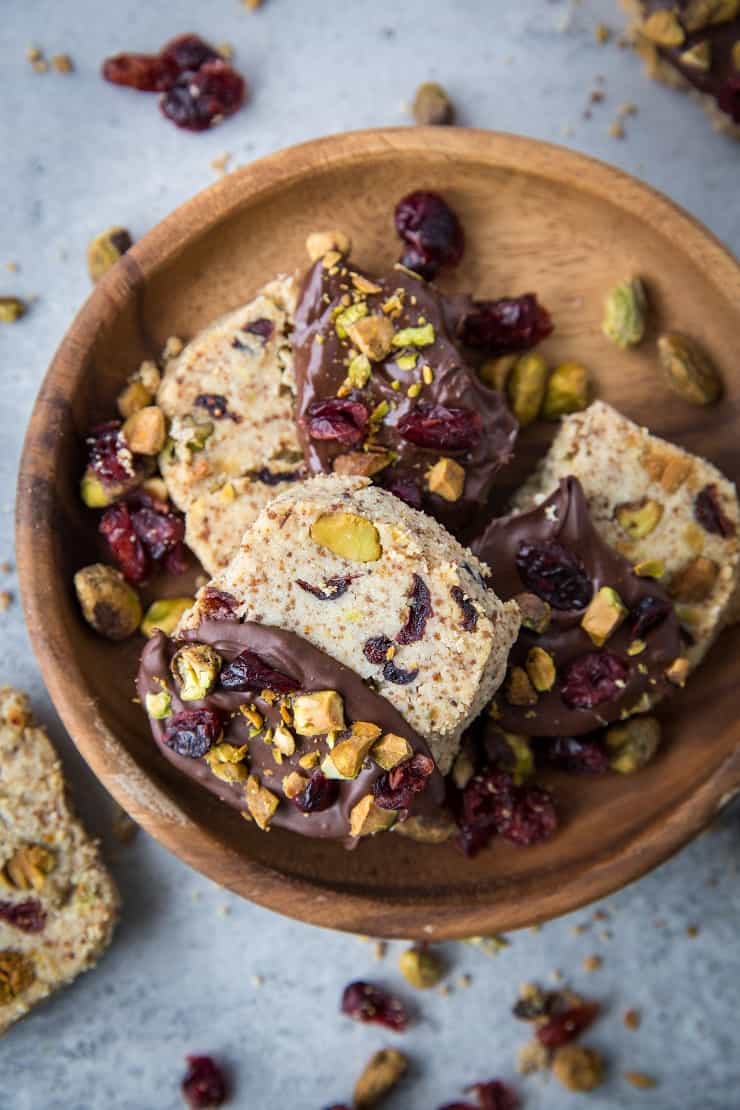 Baking Tips:
Be sure to either refrigerate or freeze the cookie dough prior to baking. I like to freeze the dough, then thaw it just until the point where it is easy to slice with a knife. This way, you get nice clean slices and the dough is set up.

You must, MUST allow the cookies to rest on the baking sheet once they are out of the oven, or else they will turn to dust, no joke. This process is essential for the shortbread to set up and harden. Give them at least 30 minutes of rest time on the baking sheet…I'll seriously leave them for hours and do other things while they hang out and become crispy.

Once the cookies have cooled and have sat on the tray for at least 30 minutes, use a spatula to remove them from the baking sheet. If you use your hands to try to take them off, they may crumble easily – they're delicate!

Spreading chocolate over one side of the shortbread will help them hold together!

Make the dough ahead of time and store it in the refrigerator or freezer until you need to bake them up. This is a great recipe for those who do a lot of holiday baking but need to spread it out.
If the Dough Looks Crumbly..
I've noticed different brands of almond flour have different absorbencies, so if you find your shortbread mixture is either too oily or too crumbly, you can easily adjust as necessary.
If it's too oily, add more almond flour (I'd recommend 3 to 4 tablespoons at a time) and be sure to beat the cookie dough very well in the mixer before adding more.
If the cookie dough is crumbly and isn't forming a ball easily, add more coconut oil. Try adding 1 to 2 tablespoons at a time, beating thoroughly between additions. It can be easy to over-add oil, so be sure you incorporate it well into the dough before adding more.
Chocolate-Dipped Shortbread?!:
To chocolate or not to chocolate? I mean, I'm a huge fan of the chocolate. You can melt your favorite chocolate chips (white chocolate would be amazing, let's be honest) and either use the melted chocolate for drizzling or dipping. I used dairy-free, sugar-free dark chocolate chips.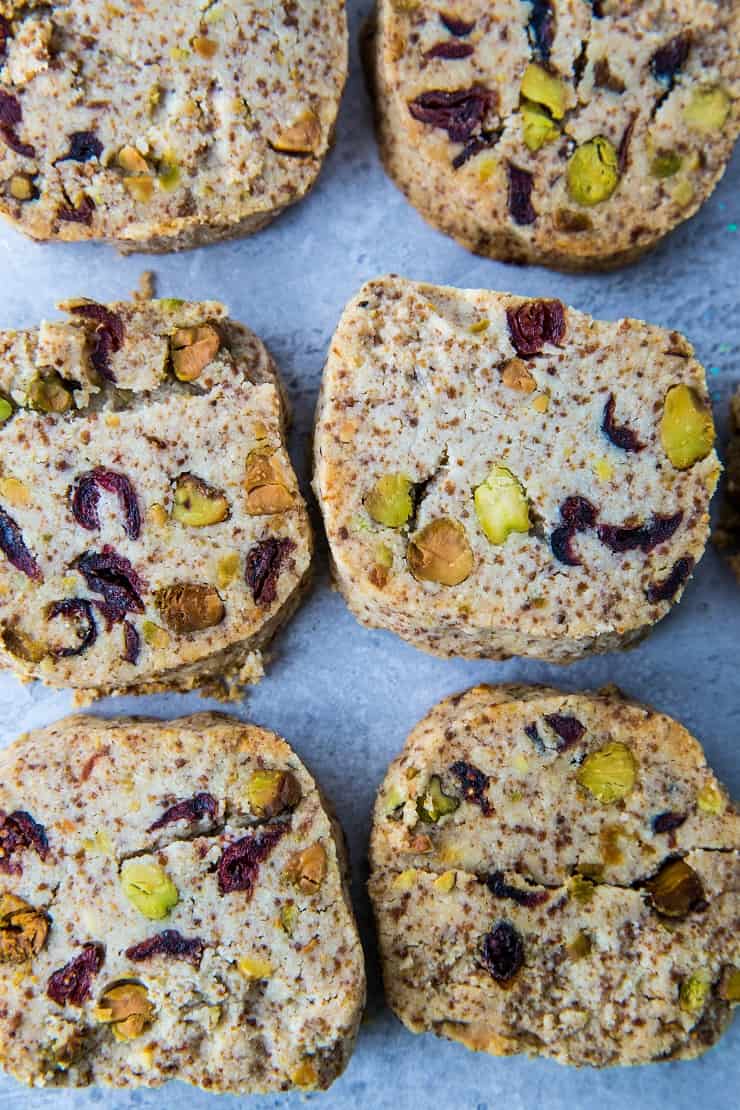 If you want to go all out, sprinkle the chocolate with chopped pistachios and dried cranberries while it is still melty. This gives the shortbread a fun festive look and also MORE flavor and crunch!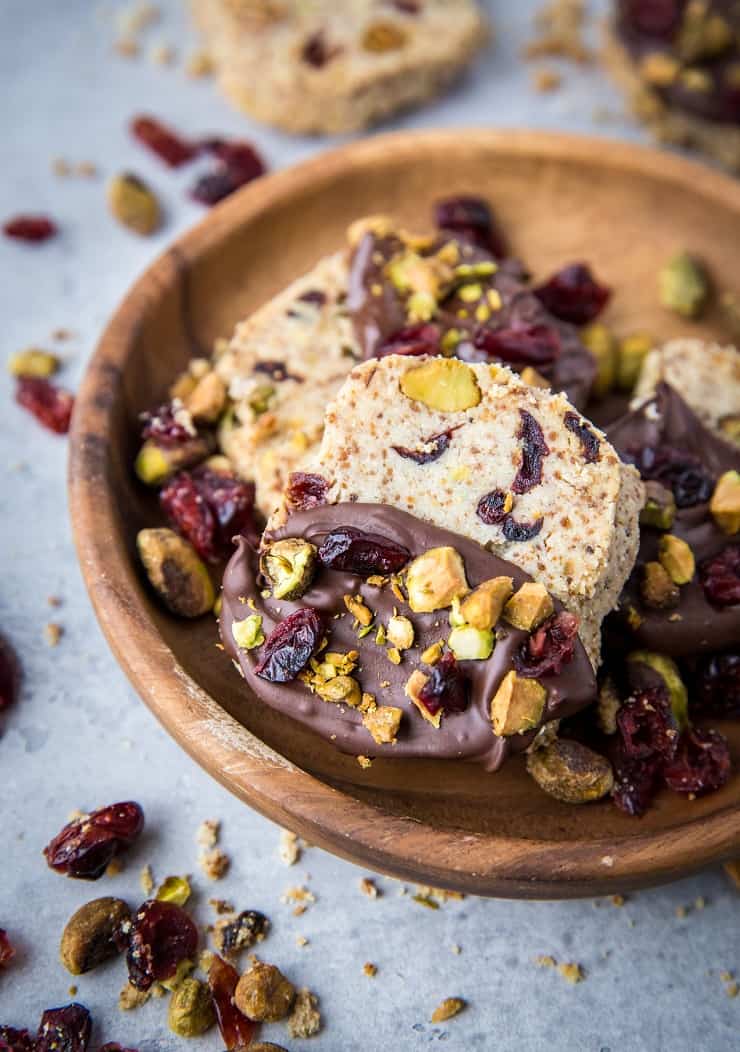 Recipe Adaptations:
Replace almond flour with rice flour, oat flour, or hazelnut flour.

Replace pistachios with pecans or walnuts

Swap the dried cranberries for dried fruit of choice, or omit altogether.

Use ghee or grass-fed butter (softened, not melted) instead of coconut oil if you aren't vegan.
Ready, set, vegan shortbread!
More Gluten-Free Cookie Recipes:
My cookbook,
Paleo Power Bowls
, is now available! CLICK HERE to check it out. Thank you for your support!
If you make this recipe, please feel free to share a photo and tag @The.Roasted.Root on Instagram!
Cranberry Pistachio Vegan Shortbread
Cranberry Pistachio Vegan Shortbread with almond flour is a divine treat during the holiday season and beyond! This simple recipe results in amazing texture and flavor!
Instructions
Add all ingredients for the shortbread to a stand mixer. Beat until a dough forms. Note: it's okay if the mixture is slightly crumbly – this is normal. You want the dough to press together easily but not be overly greasy. If your dough seems too dry, add more melted coconut oil (2 teaspoons at a time), until the dough resembles regular cookie dough.

Turn dough out onto a large piece of plastic wrap and use your hands to form it into a large ball. Work the dough into a cylinder. I use the plastic wrap to help keep the cylinder intact while shaping it.

Transfer cylinder of dough to the freezer and freeze at least 2 hours. When you're ready to bake, allow the dough to thaw so that it's easy to cut but is still chilled.

Preheat the oven to 350 degrees F and line a large baking sheet with parchment paper.

Slice dough into 1/4-inch to 1/2-inch rounds using a sharp knife. Place dough rounds on the parchment-lined baking sheet.

Bake 10 to 15 minutes, or until cookies are golden-brown around the edges. Remove form the oven and allow cookies to sit 30 minutes. Use a spatula to transfer cookies to a plate.

Melt chocolate chips in the microwave in a heat-safe bowl for 15-second intervals, stirring between, about 1.5 to 2 minutes total). Drizzle or spread the chocolate over the shortbread cookies. If desired, sprinkle the melted chocolate with more chopped pistachios and dried cranberries.
Notes
*Varying brands of almond flour have varying absorbencies. Depending on the almond flour you use, you may need to add more coconut oil. The goal is to get a cookie dough that presses together easily but is not overly greasy. Add coconut oil 2 to 3 teaspoons at a time until your dough comes together easily.
**Use vegan chocolate chips to keep the recipe vegan. You can also use sugar-free chocolate chips to keep the shortbread lower in sugar.
Nutrition
Serving:
1
Cookie
|
Calories:
186
kcal
|
Carbohydrates:
13
g
|
Protein:
3
g
|
Fat:
15
g
|
Fiber:
2
g
|
Sugar:
10
g
This post contains affiliate links, which means I make a small commission off items you purchase at no additional cost to you.