Keto Hot Chocolate Recipe with a paleo option. This dairy-free, vegan, sugar-free, low-carb hot cocoa is a healthier alternative to the classic recipe.
Rich and creamy, you can play with non-dairy milks and refined sugar-free sweeteners to find your own version of hot chocolate perfection!
This post includes three different recipes for hot cocoa – keto hot chocolate, bulletproof hot chocolate, and paleo hot chocolate.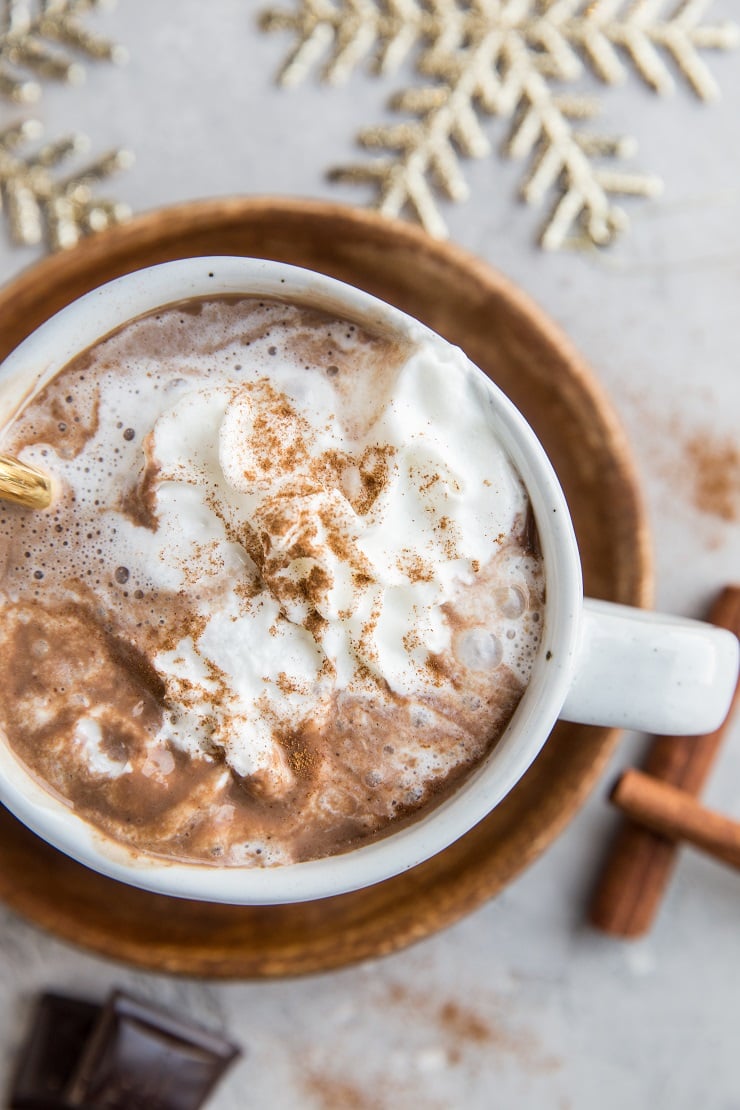 One of my fondest memories from childhood was waking up to my dad's homemade cocoa. He had a very specific way of making hot cocoa and the ritual was so special for me that I carried it into adulthood.
After I stopped drinking cow's milk and consuming refined sugar, I continued making dairy-free hot chocolate that was either paleo or keto.
I've tried just about every iteration of sweetener and non-dairy milk and after much experimentation I can safely say light canned coconut milk and pure maple syrup make my favorite homemade healthier hot chocolate recipe.
Serve it up with homemade coconut milk whipped cream and you're in for a decadent treat!
There is so much room for variation when making healthier hot chocolate.
Let's talk details!
Sweetener Options for Paleo Or Keto Hot Cocoa:
To may Keto hot chocolate, use your favorite sugar-free sweetener. My favorites are Swerve, Monk Fruit Sweetener or Truvia. You can also use Liquid Stevia Drops (I've tried this…it's not my preference).
If you don't do sugar-free sweetener, you can still make healthier hot chocolate using less refined sweeteners. Coconut sugar, pure maple syrup, maple sugar, or coconut nectar, there are plenty of options for making hot chocolate nice and sweet without needing cane sugar.
Pure maple syrup is my favorite sweetener for paleo hot chocolate.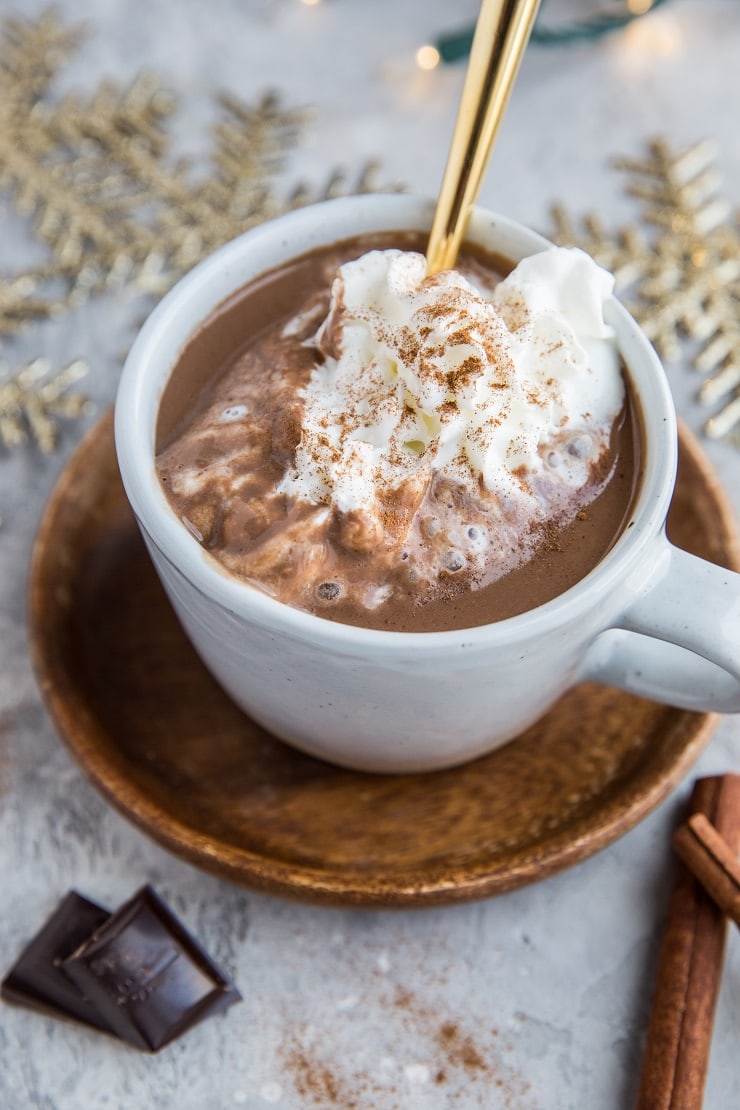 Dairy-Free Milk Options for Hot Chocolate:
In addition, with all of the non-dairy milks available, there are dairy-free options galore!
You can use any non-dairy milk that comes in a carton (almond, cashew, coconut, hemp, flax, rice, etc), or, my personal favorite: canned coconut milk.
The result is rich, thick and creamy and can easily be sweetened to taste.
Because I love the light canned coconut milk version so dearly, that's what I focus on in this post. If you prefer a different milk, simply swap it out!
Some people do a combination of almond milk and coconut milk and seem to enjoy it. If you would like to go this route to cut down on some calories, use 1 cup of unsweetened almond milk and 1 cup of light canned coconut milk.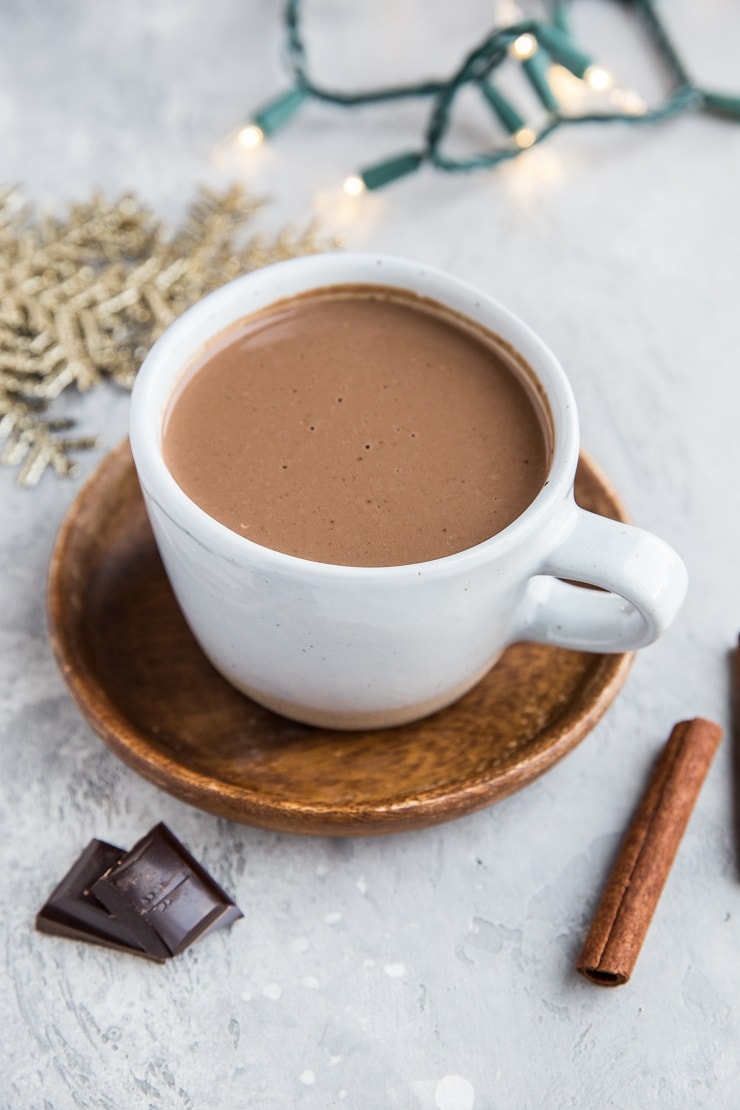 Pro Tip: If you don't have light canned coconut milk on hand, you can use full-fat coconut milk by mixing 1 part canned coconut milk with 2 parts water. BOOM! Light(ish) coconut milk!
What Type of Cocoa Powder To Use:
Not all cocoa powders are created equally! Some are richer and creamier in hot chocolate, whereas some are bitter. For baking, bitter cocoa powder is perfectly fine!
I personally prefer using raw cacao powder in my hot chocolate, because it yields a very rich and creamy cocoa without any bitter flavor.
Can I Make Unsweetened Hot Chocolate?:
In a word, yes. But not many people will like it. I happen to love it!
During the times I cut out all sugar, I leave all sweeteners (including sugar-free sweeteners) out! To someone who is accustomed to sweet treats, this method is unappealing (just ask my partner…he hates my unsweetened hot chocolate).
But for the dark chocoholic like me, looking to get her chocolate fix but not necessarily quench a sweet tooth, unsweetened hot chocolate is perfectly acceptable.
Here are a few of my favorite hot chocolate recipes. You can adjust the amounts of coconut milk, cacao powder and sweetener based on your personal taste.
Keto Hot Chocolate:
Heat all of the ingredients in a saucepan and bring to a gentle bubble, whisking constantly. Once the hot chocolate is steamy with a few bubbles, it is ready to serve!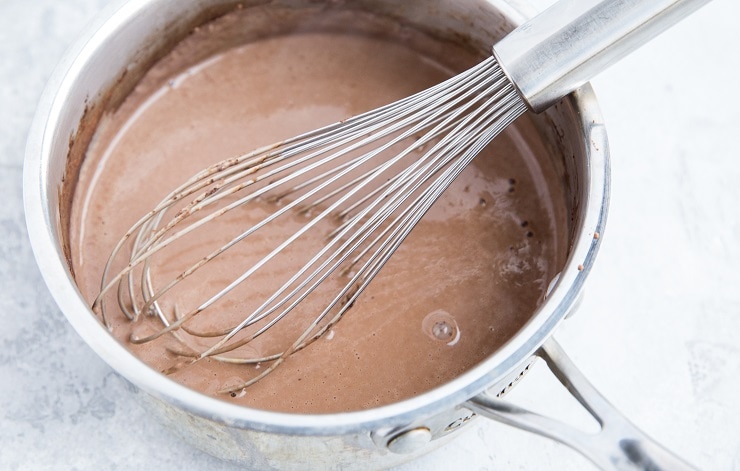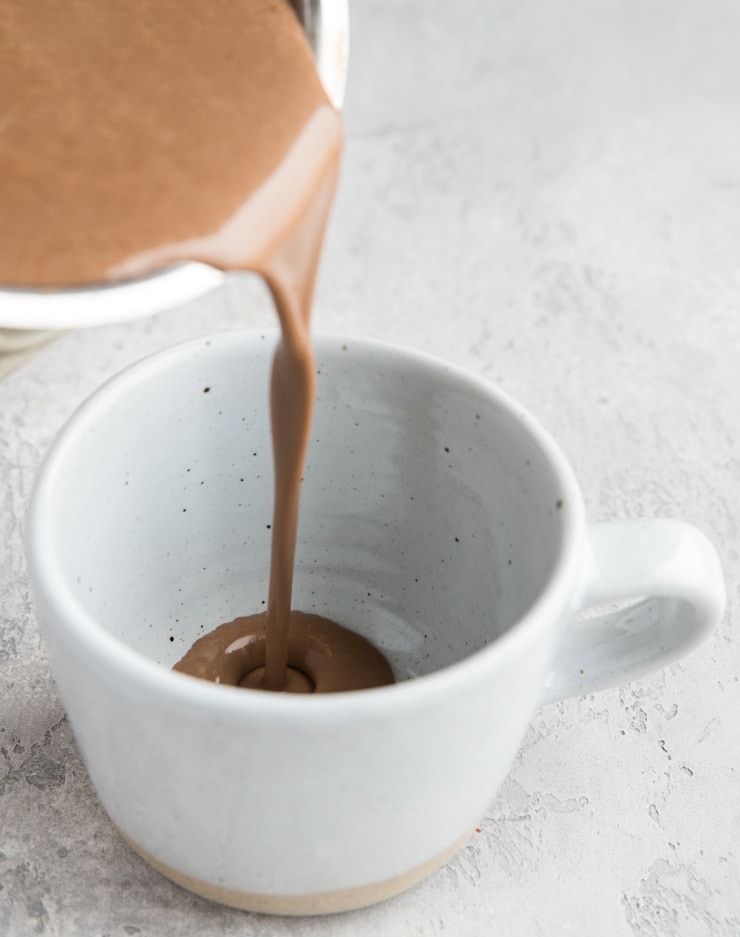 Bulletproof Hot Chocolate:
Heat all of the ingredients together in a saucepan over medium-high heat and whisk until mixture begins to steam and starts to bubble around the edges. Transfer the hot chocolate to a blender and blend until frothy and the ghee is completely incorporated, about 30 seconds to 1 minute.
Paleo Hot Chocolate:
Heat all of the ingredients in a saucepan and bring to a gentle bubble, whisking constantly. Once the hot chocolate is steamy with a few bubbles, it is ready to serve!
Optional Add Ins:
You can get fancy with your homemade hot chocolate recipes! Here are some options for ingredients you can add to make the hot cocoa extra special.
⅛ tsp ground cinnamon

⅛ tsp pure vanilla extract

Pinch sea salt

1 Tbsp peanut butter

⅛ tsp peppermint extract
As I mentioned above, when I'm going completely sweetener-free, I do only canned light coconut milk and cacao powder.
Let me know which combinations you try!
Enjoy! xo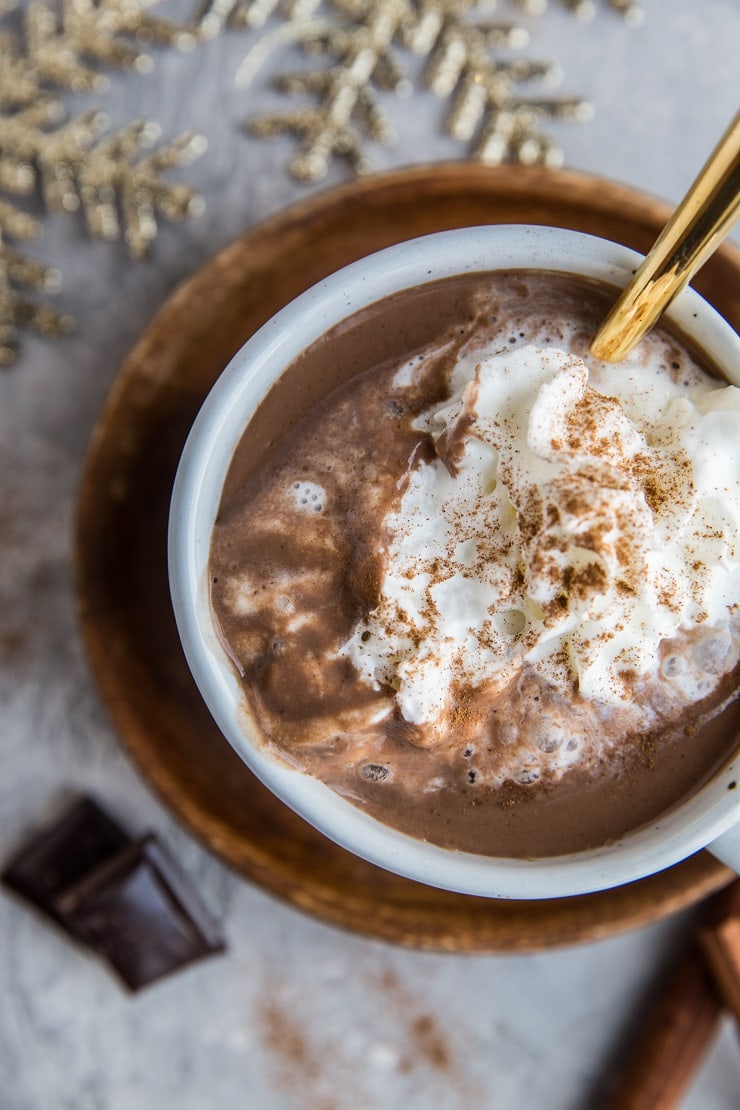 More Delicious Beverages:
My cookbook,
Paleo Power Bowls
, is now available! CLICK HERE to check it out. Thank you for your support!
If you make this recipe, please feel free to share a photo and tag @The.Roasted.Root on Instagram!
Keto Hot Chocolate
Low-carb dairy-free keto hot chocolate recipe
Servings:
1
large hot chocolate
Instructions
Add all ingredients for the keto hot chocolate to a saucepan and heat over medium-high. Whisk the mixture constantly until it begins to steam and small bubbles form around the sides.

Remove from heat, pour into a large mug and if desired, serve with coconut whipped cream.
Nutrition
Serving:
1
hot chocolate
|
Calories:
264
kcal
|
Carbohydrates:
7
g
|
Protein:
6
g
|
Fat:
25
g
|
Fiber:
2
g
|
Sugar:
4
g