These Grain-Free Southern-Style Biscuits are straight from Kelly Smith's new cookbook, Everyday Grain-Free Baking!
Exciting day, folks! We have a biscuit and a book to discuss!
Kelly Smith from The Nourishing Home recently published an amazing cookbook called, Everyday Grain-Free Baking. Just like the title promises, the book offers over 100 grain-free recipes. With plenty of options for dairy-free (and vegan), sugar-free, and paleo-friendly eats, this cookbook instantly became near and dear to my heartstrings. It includes every single thing you could possibly want to make grain-free and then some.
Everyday Grain-Free Baking is perfect for those who follow any type of grain-free diet, including Paleo, Primal, Gut and Psychology Syndrome (GAPS), and Specific Carbohydrate Diet (SCD). For those of you who do not have diet restrictions, don't let these fancy words deter you! I highly recommend the book to individuals who, like me, are not allergic to grains, but are interested in maintaining a low-inflammation whole food lifestyle.
There are chapters in the book for all of the following:
Breads & Rolls
Biscuits, Scones & Crackers
Muffins
Pancakes & Waffles
Pies, Tarts & Crisps
Cakes & Cupcakes
Classic Cookies
Brownies & Bars
Sweet Additions
Real talk: With so many options on the cookbook market for gluten-free, grain-free, and paleo cookbooks, how do we begin to choose which ones are worthy of praise? I select my favorite cooking resources based on how well they fit my cooking philosophy. And lemme tell you: this one fits like a glove. Other than the fact that Kelly's book is absolutely GORGEOUS and packed with mouth-watering recipes, I love it because it is authentic and practical. The instructions are easy to follow and all of the ingredients are straight-forward and easy to find at most grocery stores.
Here's a peek at more tasty eats from Kelly's book: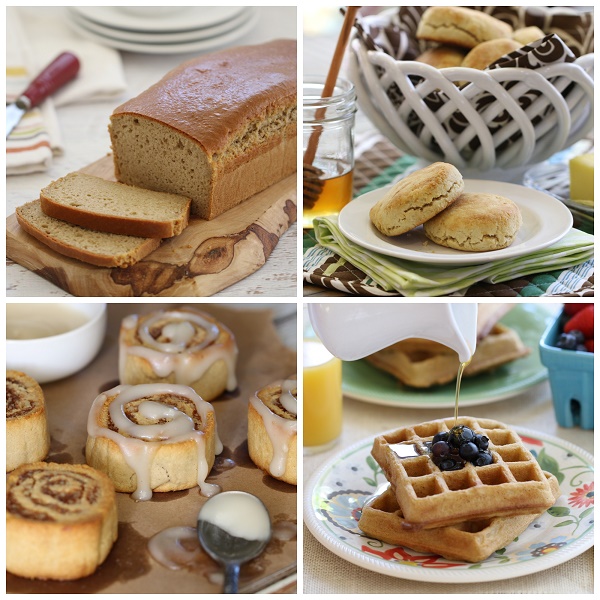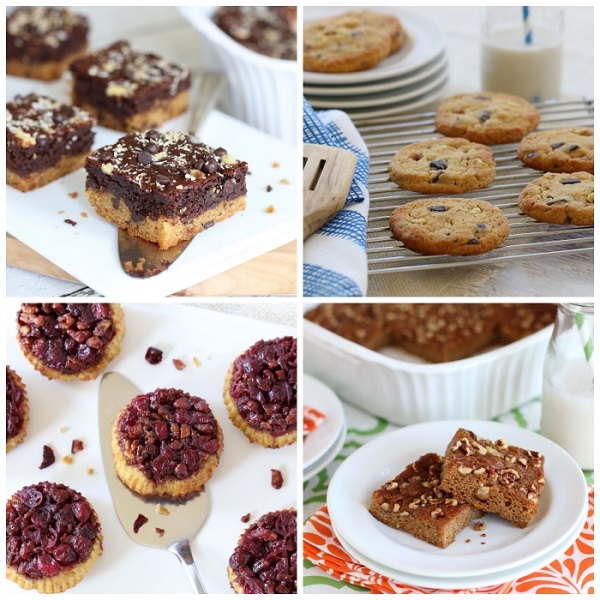 Photos above by Kelly Smith.
Kelly restricts her diet due to medical conditions (learn more about Kelly's history here), so the woman is an expert at preparing food that won't aggravate the digestive system. She is an expert at taking the recipes you would love to eat each and every day and makes them gut-friendly AND easy to make. I haven't spotted a single ingredient in the whole dang book that I haven't heard of. For me, this is the most practical grain-free book I have come across to date. And let's face it: I kinda want to date it. You guys, I love it. I just la-la-la-LOVE it!
Next up on my To Bake list is the grain-free Pizza Crust, followed by Cinnamon Swirl Bread, Morning Glory Muffins, and Lemon Blueberry Scones. I just want to make everything in the book!
Truthfully, I had never made a biscuit prior to these, so I wasn't sure if I'd be biscuit-ly challenged or not. The biscuits were so stinking easy, and required only 30 minutes of my time. That's a biscuit worth baking! Plus, they're super filling! I've been using the biscuits for breakfast sandwiches, and I'm telling you, one breakfast sando keeps me full for half the bloomin' day. The best part? The biscuits are packed with protein (because: almond flour), and are nothing but healthful. So eat every dang one of them.
In the recipe, Kelly mentions you can use either butter or coconut oil, so I used coconut oil. But get this: the flavor still turns out buttery! I know…it's a modern marvel.  Instead of making 8 biscuits per recipe instructions, I made 6 because I knew I wanted to make breakfast sandwiches out of them. Serving suggestions for these lumps of loving? Weeeeell, butter + honey. And/or avocado, bacon, and runny-yolk egg.
You can eat your way through the book, too! Buy Everyday Grain-Free Baking on Amazon and through other select retailers.
Keep Calm and Biscuit On.
Grain-Free Southern-Style Biscuits (Paleo) + A Cookbook Review
Print
Ingredients
2½

cups

almond flour/meal

½

teaspoon

baking soda

¼

teaspoon

sea salt

3

tablespoons

unsalted butter

melted*, or coconut oil

1

tablespoon

honey

2

tablespoons

coconut milk

2

large eggs

¼

teaspoon

apple cider vinegar
Instructions
Preheat oven to 350°F. Line a baking sheet with parchment paper; set aside.

In a small bowl, combine almond flour, baking soda, and salt.

In a medium bowl, whisk together melted butter and honey until smooth. Add the coconut milk, eggs, and apple cider vinegar, whisking together until well combined.

Using a spoon, stir the dry mixture into the wet mixture until thoroughly combined.

Scoop a large spoonful of batter into your hands and gently roll into a ball about the size of an apricot; repeat until you've made 8 (or 6 for larger biscuits). Place the dough balls on a parchment-lined baking sheet two inches apart and gently flatten using the palm of your hand. (If dough is too sticky, refrigerate for about 15 minutes before rolling into balls and flattening.)

Bake about 15 minutes, until golden brown on top and a toothpick inserted into center comes out clean. Serve warm with a drizzle of raw honey or homemade jam.
Recipe Notes
*I used coconut oil