…with blue cheese and walnuts!
I know. You were expecting another paleo cookie recipe, but party's over, folks – time for some vegetation.
Trust me, this is for my own good.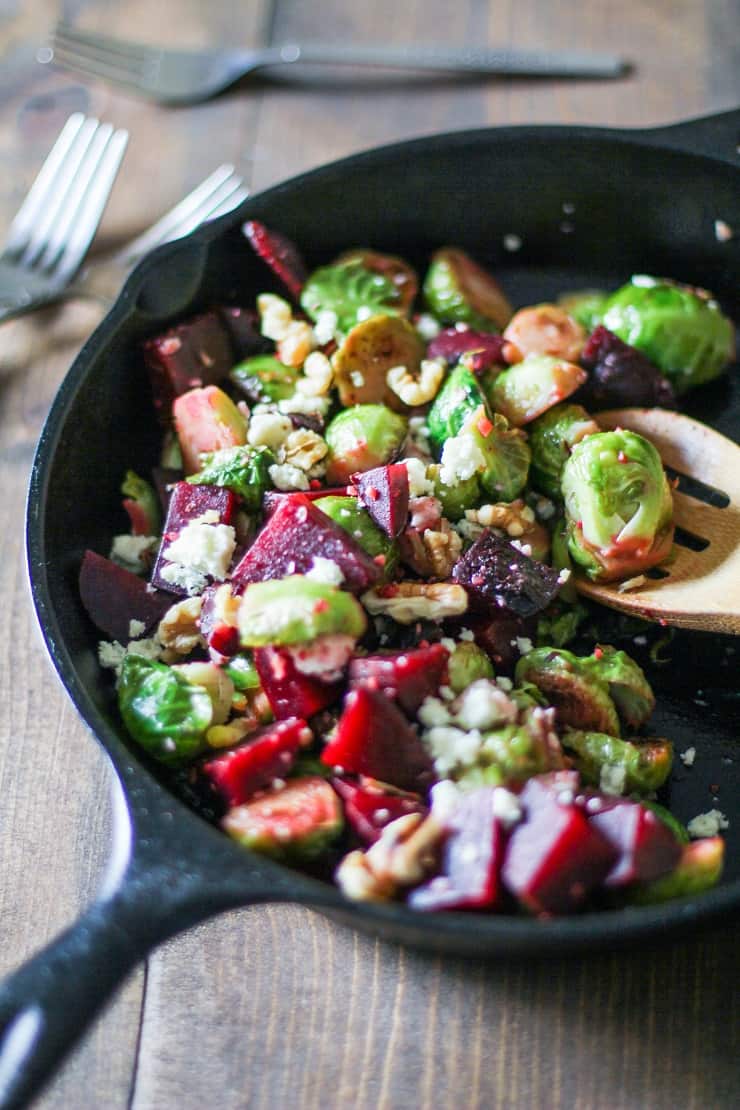 Between last week's Cardamom Almond Thumbprints, Maple Pecan Gluten Free Shortbread, Chocolate Dipped Coconut Macaroons, and testing and re-testing a quickbread recipe using my face as the "test" guage, my holy temple has not seen the light of fiber for many moons. The last seven days has been a whirlwind of mixing, preheating, and baking, so this weekend I decided to take some time to myself and…bake some more. And catch up on movies I didn't know existed, like Guardians of the Galaxy and Snowpiercer. < – Evidence I live under a rock.
I'll be showing you the result of the aforementioned "quickbread testing" later this week, but for now: vitamins. Get this holy temple some greeeeeen! Today, we take a brief hiatus from treat-ly things and talk side dishes.
Namely, you need side dishes for your Christmas feast.
That is all.
Good talk.
There's so much, yet so little going on in this brussels sprouts and beet skillet. The componentry is simple and straightforward, but the result is a bamboozle of flavors and textures. Side note: if you don't like brussels sprouts, beets, and/or blue cheese, you probably won't enjoy this dish. If you do fancy said componentry, this is your crack. End Aside.
I used Love Beets pre-cooked beets for the recipe by simply chopping them and adding them to the skillet once the brussels sprouts were cooked. If you choose to start with raw beets, you can chop them into bite-sized pieces, wrap the pieces into a foil packet, and roast them in the oven at 375F for 45 minutes (until soft and juicy). The reason I recommend roasting the beets rather than cooking them on the stove top, is it ends up being less hassle and the beets end up with a better taste and texture when roasted.
This recipe for Honey Glazed Brussels Sprouts and Beets with Blue Cheese and Walnuts was originally published on Love Beet's recipe page.
Honey Glazed Brussels Sprouts and Beets
Honey Glazed Brussels Sprouts and Beets is an easy go-to side dish for serving alongside any meal.
Ingredients
1 1/2

pounds

Brussels sprouts

trimmed and halved

2

tablespoons

olive oil

1

tablespoon

butter

3

cloves

garlic

minced

1/4

cup

water

1/4

teaspoon

kosher salt

2

tablespoons

honey

or pure maple syrup

2

small beets

roasted and chopped (or 1 (8.8-oz) package Love Beets cooked beets, chopped)*

1/4

cup

gorgonzola cheese crumbles

see note**

1/4

cup

raw walnuts

chopped
Instructions
In a large (12-inch) sauté pan, heat the oil and butter to medium heat.

Add the Brussels sprouts and allow them to cook cut-side down for 4-5 minutes, or until golden brown.

Add the garlic and the water and cook 3 minutes, uncovered, stirring occasionally.

Place a cover over the Brussels sprouts and cook for 5-8 minutes, or until all of the liquid is absorbed and Brussels sprouts have reached desired "done-ness."

Add the honey and chopped beets and heat just until the beets are hot (about 1-2 minutes).

Transfer the sautéed Brussels sprouts and beets to a serving dish and add the gorgonzola cheese crumbles and chopped walnuts. Toss everything together and serve.
Notes
*To roast raw beets, chop them up, wrap them in foil, place on a cookie sheet, and roast in the oven at 375F for 45 minutes (until soft and juicy).
**You can also use feta cheese
Nutrition