Grain-free, dairy-free, vegan, refined sugar-free Paleo Thumbprint Cookies warmly spiced with cardamom, and make excellent holiday gifts. Plus as far as I'm concerned, they're healthy. Eat Share them all!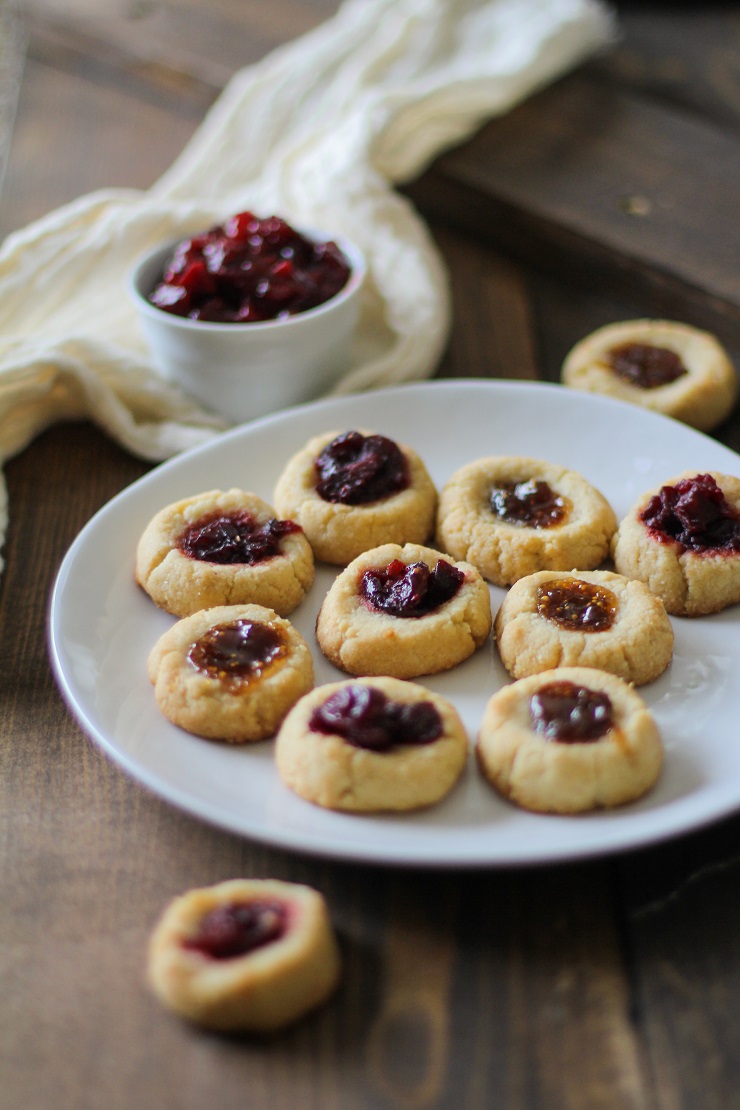 Over the weekend, I finally finished reading The Fault in Our Stars (took me 2+ months), so you can just imagine the hot mess of a situation that was happening on my couch, and how in need of cookies I was. Crockodile tears? Psssh! T. Rex tears. Emotion eating? Yes to the nth degree.
During the 18,000 stages of grief I was going through while finishing the book and ugly cry-texting my friends, I LIT-RALLY ate half of a batch of these Gluten Free Gingerbread Cookies, as well as a sizable portion of this batch of thumbprints. And amidst the ugly cry-texting, T. Rex tears and lone cookie fest-ing, I sobbed to myself, "I'm gonna have to bake more cookies," because: gifts.
I imagined handing my friends and families holiday "cookie" plates filled with nothing but good intentions. Like, "Here, friends, have a plate of air. What's that you ask? Yes, I read another tear-jerking teenage novel. I promise, I won't do it again…until I do."
The Fault in Our Stars: making air out of holiday cookie plates.
You don't need the excuse of a tearjerker to pop thumbprint after thumbprint in your mouth. And you don't get to feel guilty over these, because there's no sugar, dairy, or grains in the whole recipe.
The thumbprints taste SO buttery in spite of the fact that there's ZERO butter in them.
And they're the easiest things ever to make. You just stir every last ingredient together. No eggs, no creaming of butter and sugar. Just you, a bowl, and your good intentions.
I used my Cranberry Sauce with Ginger and Maple (<- paleo) and Dalmatia Fig Spread (<- not paleo, but delicious) for filling these thumbprints. You can use any jam or preserve you'd like – just note that using store-bought jams will make these thumbprints un-paleo on account of the sugar. I won't notify the paleo authorities if you don't notify the book club authorities that it took me 2 months to read TFiOS.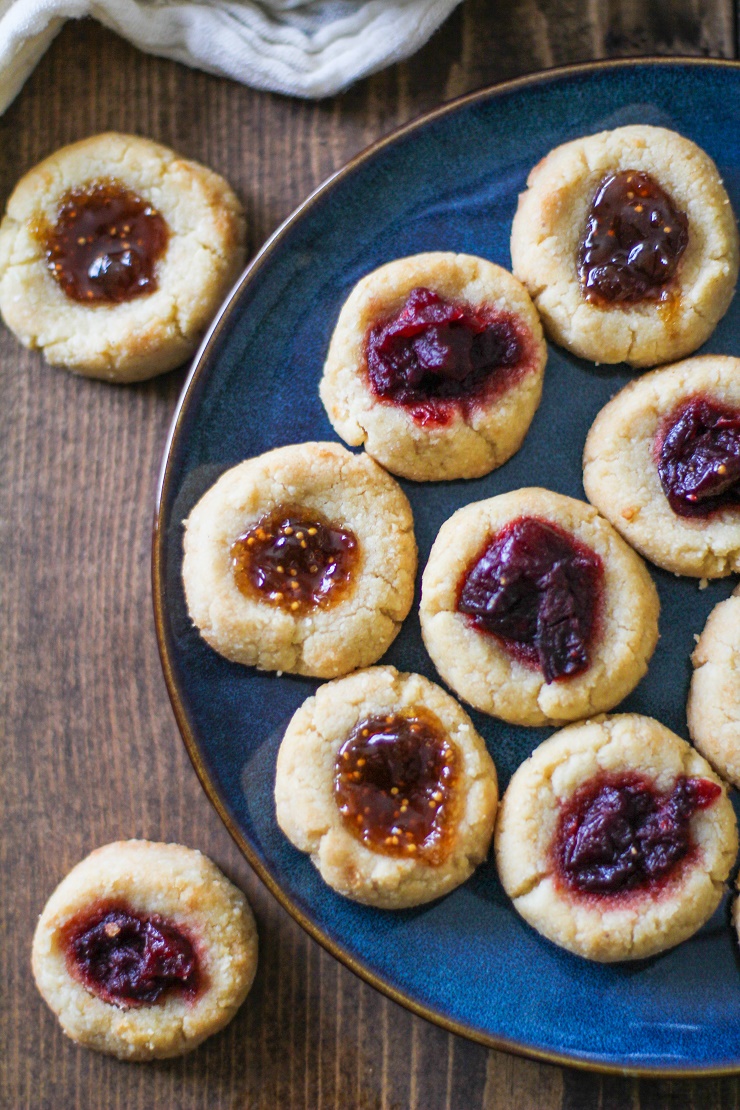 Make these for your homies!
Cardamom Almond Paleo Thumbprint Cookies
Cardamom Almond Paleo Thumbprint Cookies are fun and easy to make. Whip them up any time of year, particularly during the holiday season!
Ingredients
2 ½

cups

almond flour

½

teaspoon

baking soda

¼

teaspoon

sea salt

¼

teaspoon

ground cardamom

5

Tbsp

coconut oil

melted and cooled

3

Tbsp

pure maple syrup

1

teaspoon

pure vanilla extract

1

teaspoon

almond extract
Instructions
Preheat the oven to 375 degrees F.

Add the dry ingredients to a bowl and stir to combine.

Add the remaining (wet) ingredients to the bowl with the dry ingredients and stir vigorously until well-combined and a dough forms.

Roll a small ball of cookie dough in your palms, and gently press the center with your thumb. Place on a cookie sheet. Repeat for remaining cookie dough.

Fill the cookies with cranberry sauce (or preserves of choice) by measuring ½ teaspoon of sauce/preserves/jam per cookie, and placing in the center well of the cookie.

Bake in the oven for 8 to 12 minutes, or until cookies are golden-brown around the edges.
Notes
*You can also use any type of store-bought or homemade jam. Fig preserves are amazing here!
Nutrition
Serving:
1
of 22
|
Calories:
115
kcal
|
Carbohydrates:
8
g
|
Protein:
4
g
|
Fat:
8
g
|
Fiber:
1
g
|
Sugar:
4
g