Goodness gracious great balls of coconut!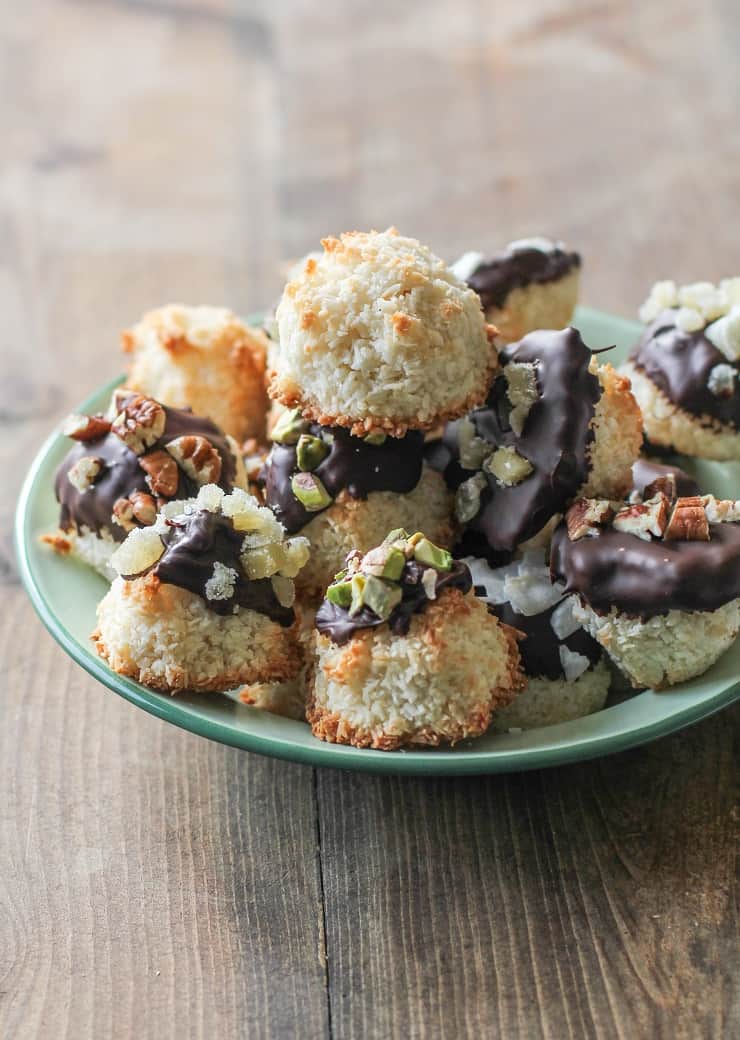 Calling all coconut naysayers!
Just kidding.
I can completely appreciate that some folks just can't do the coconut, but I gotta tell ya: I can. I mean, the warm, nutty flavor that just melts in your mouth like sweet surrender? I can do that eeerydamnday.
Well, it's the final countdown until Christmas, how many more cookies can you jam out in record time? Thankfully, these coconut macaroons take very little time and prep, which makes them ideal for some last-minute baking. Fourscore and seven years ago, I posted this recipe for coconut macaroons, but I figured I would re-visit the subject because it's just such an easy treat. Plus, I had a hankering for dipping something in chocolate.
Coconut macaroons are just so devilishly edible, are they not?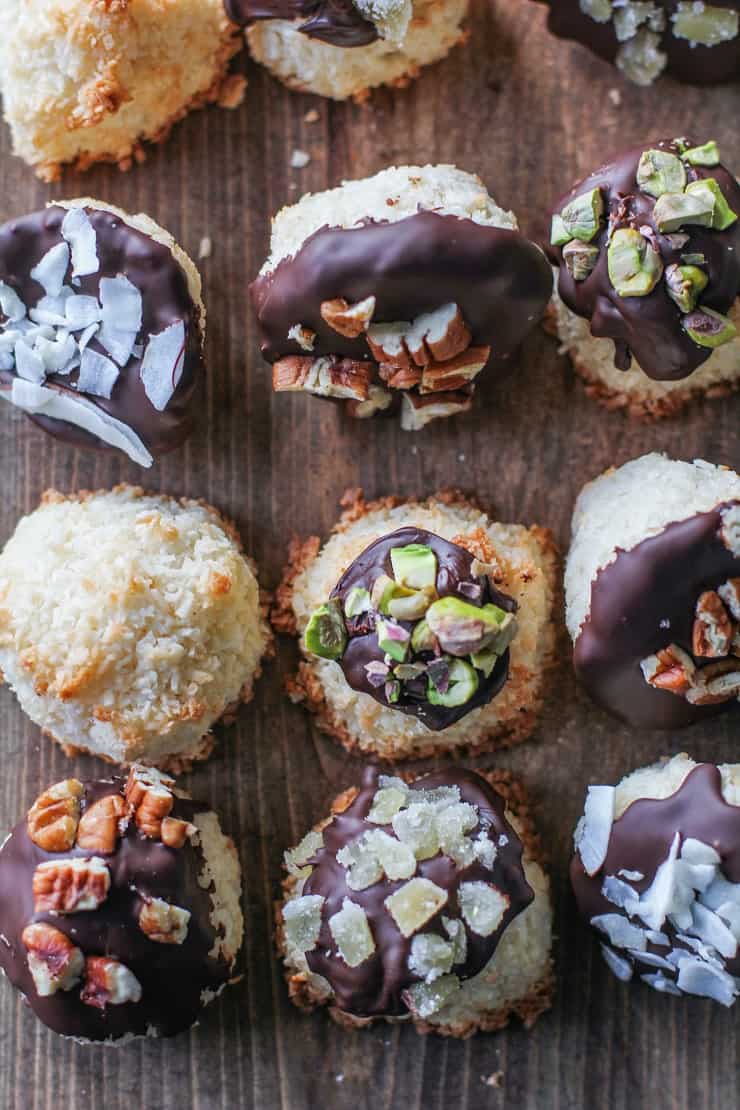 The recipe for the macroons is super simple. Unsweetened shredded coconut, egg whites, coconut oil, and maple syrup (or agave) is all you need. You basically whip the crap out of the egg whites, make macaroon balls, and bake them for 2 seconds (15 minutes). You'll need to do a bit of squeezing to form the macaroons, but fret not: they hold together through the baking. Once they have finished baking, you get to dunk those suckers in melted dark chocolate and then sprinkle them with your favorite goodies, like pistachios, pecans, flaked coconut, and candied ginger.
These are healthy, so go wild!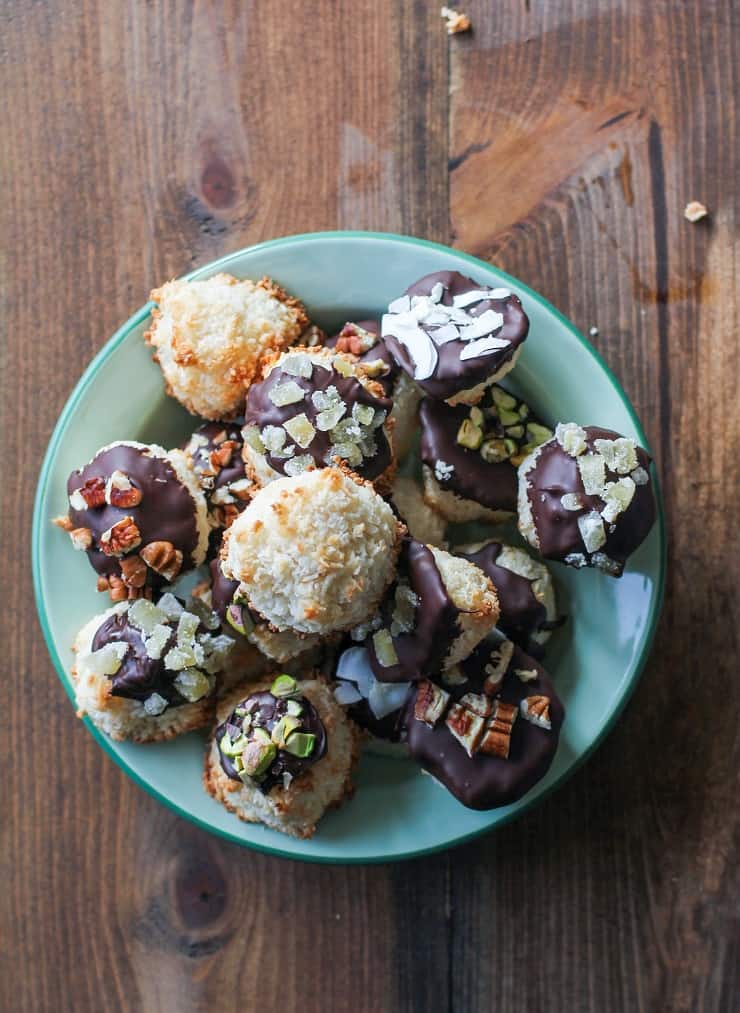 Have a ball!
Chocolate Dipped Coconut Macaroons
Chocolate Dipped Coconut Macaroons are a delicious treat that is so easy to make! Paleo-friendly, grain-free, and gluten-free.
Servings:
12
to 14 large macaroons
Ingredients
For Dipping:
½

cup

dark chocolate chips

melted

Pistachios

walnuts, pecans, chopped

Candied ginger

chopped

Flaked or shredded coconut
Instructions
Preheat the oven to 350 degrees F.

Beat the egg whites in a bowl until foamy. Add the remaining ingredients and stir well.

Form half-egg shapes by pressing together the coconut mixture (the mixture will be sticky - this is normal). Place coconut macaroons on a baking sheet and bake for 15 to 17 minutes, or until the edges are golden brown. Remove from the oven and allow macaroons to cool 5 minutes before using a spatula to lift them off of the cookie sheet.

Place the chocolate chips in a microwave-safe bowl and microwave for 30 seconds. Stir chocolate chips, and microwave at 15-second intervals, stirring the chocolate in between intervals, until melted (about 1 minute to 1 minute and 15 seconds total). Allow the chocolate to cool and thicken slightly.

Dip the bottoms or the tops of the macaroons in chocolate, then sprinkle the wet chocolat with desired toppings, such as chopped nuts, candied ginger, or flaked coconunt.

Place macaroons on their sides on a plate to dry.
Nutrition