Healthy Paleo Apple Cake made grain-free, dairy-free, refined sugar-free and warmly-spiced with cinnamon. This incredibly easy cake recipe is all-things moist, fluffy, and oh-so addicting to those of us who love apple cinnamon flavors!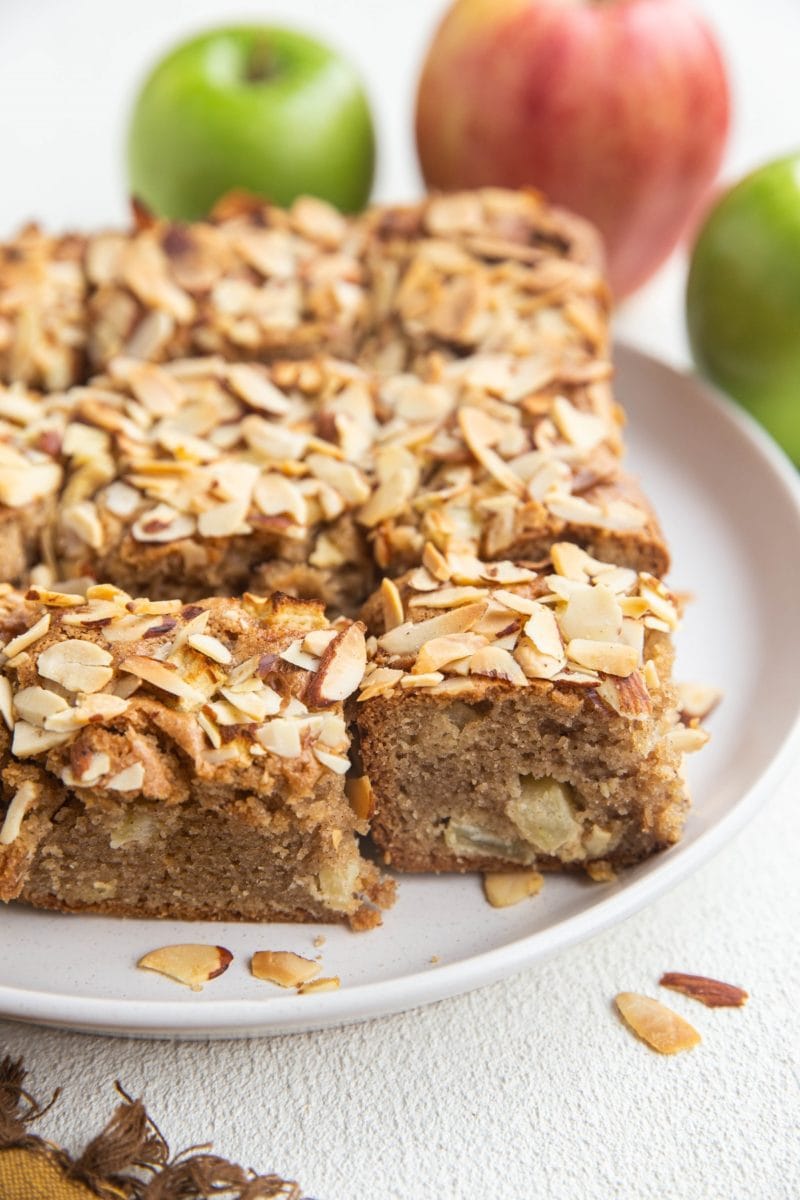 My grandparent's apple trees produced a generous amount of apples this season, so I've been baking up apple treats non-stop to put them to use.
The Paleo Apple Pie Bars, Baked Gluten-Free Apple Fritters, and Gluten-Free Apple Cobbler were all made with apples from my family's tree!
I even snuck them into my Instant Pot Whole Chicken recipe, because chicken and apples is a magical combination!
And I'm not even half-way through my supply! What abundance!!
But let us discuss this healthy Paleo Apple Cake!
This recipe is very similar to the Paleo Blueberry Cake, Grain-Free Cranberry Orange Breakfast Cake, and my Grain-Free Almond Strawberry Breakfast Cake.
We're using almond flour, avocado oil, and pure maple syrup for a treat that is lower in carbs and sugar, decadent enough for dessert, but nutritious enough for breakfast.
Although, I will admit, we enjoyed the majority of this cake with melted butter slathered on top, because when in Rome. 😉
You'd never guess there is less sugar in this yummy cake! You can always add more sweetener if you prefer your desserts on the sweet end.
Warm cinnamon flavors, chunks of sweet apples, and the moistest almond cake makes this easy apple cake recipe the ideal treat for serving guests or keeping on hand for any time the craving strikes.
I intentionally make this cake just the right amount of sweetness.
That way the sweet isn't overpowering and you aren't left feeling buzzed on sugar.
Of course, if you like your sweets sweeter, you can always drizzle a piece with honey or pure maple syrup before eating it.
Let's chat about the simple ingredients used in this moist cake!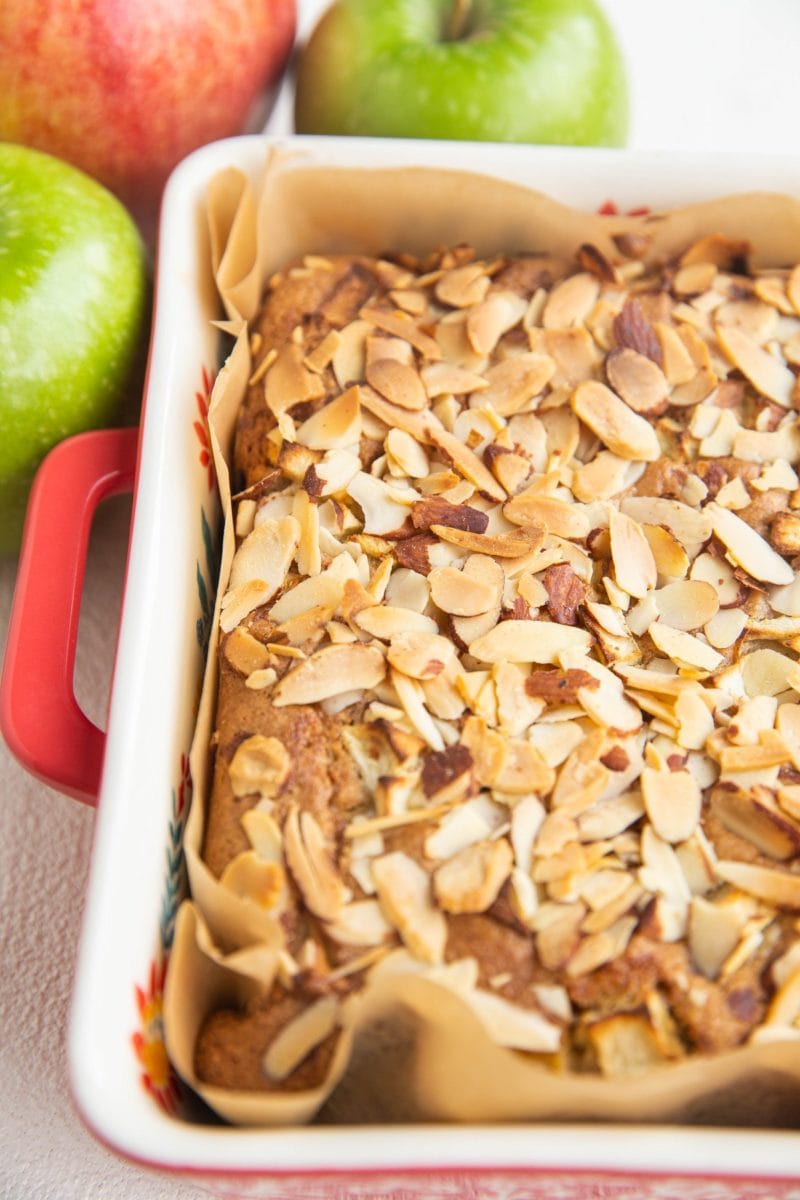 Ingredients for Paleo Apple Cake:
Eggs: Used to make the cake fluffy and keep it nicely held together, we use eggs as the backbone of the cake. Ideally the eggs will be room temperature but its fine if you use chilled eggs too. I haven't tested the recipe using an egg replacer yet but if you try it, feel free to let me know in the comments below.
I'm willing to bet flax eggs will work nicely, though the cake will definitely turn out on the denser (less fluffy) end.
Avocado Oil: For moisture and flavor, avocado oil produces a lovely, inviting consistency! It has neutral flavor so it doesn't interfere with the apple cinnamon essence, it helps with the yumminess of the cake and is also a good source of unsaturated fat.
You can definitely replace the avocado oil with melted coconut oil, vegetable oil, or olive oil, no harm, no foul!
Pure Maple Syrup: The sweetener! Pure maple syrup not only sweetens the cake to perfection, it also gives that nice maple flavor that pairs so well with apples and cinnamon. Pure maple is my favorite refined sugar-free liquid sweetener to use in baked goods.
If you prefer baking with sugar, replace the pure maple syrup with brown sugar and add 2 more tablespoons of avocado oil to make up for the loss of liquid.
Vanilla Extract: That warming ingredient that provides a lovely underlying flavor to any baked treat! If you don't have it on hand, you can skip it! I also love the idea of swapping the vanilla extract for almond extract for an extra rustic flavor.
Lemon Juice: Used to work in conjunction with the baking soda for leavening. You can also use cider vinegar, lime juice, or any type of vinegar as a replacement (you won't taste it).
Almond Flour: The flour portion of the recipe that takes the place of all purpose flour. In keeping the cake gluten-free and grain-free, we use finely ground almond flour, which generates such a lovely texture.
You'd never guess the cake is grain-free! Almond flour also contains a natural sweetness and has a lovely buttery flavor which adds to the deliciousnss of the cake.
Ground Cinnamon: What a magical ingredients! Any time cinnamon is involved, I am IN! Ground cinnamon produces a warm and inviting flavor and also helps level up the perceived sweetness of a cake.
Plus, did you know cinnamon actually lowers your blood sugar? Not a bad thing when it's combined with an otherwise sugary treat!
Baking Soda: The leavening agent. Baking soda helps the cake rice and keeps it held together nicely. Be sure you don't skip it!
Sea Salt: A truly crucial ingredient for enhancing flavor! I always get bummed when I forget to add salt to a baked good because the flavor falls flat. Salt enhances the apple and cinnamon flavors and also makes the cake taste sweeter without the need for additional sweetener.
Fresh Apples: The star of the show! You'll need 1 large or two smaller fresh apples for the cake and the type isn't really relevant. Most people prefer using Granny Smith, pink lady apples, honeycrisp apples, or Gala apples in baked recipes, but choose your favorite 🙂
Granny Smith apples are tart and therefore bring more apple flavor to the cake.
For even more apple essence, you could add one more additional chopped apple. Just note the added moisture content will require a longer bake time if you do add it to the batter.
Let's bake cake!!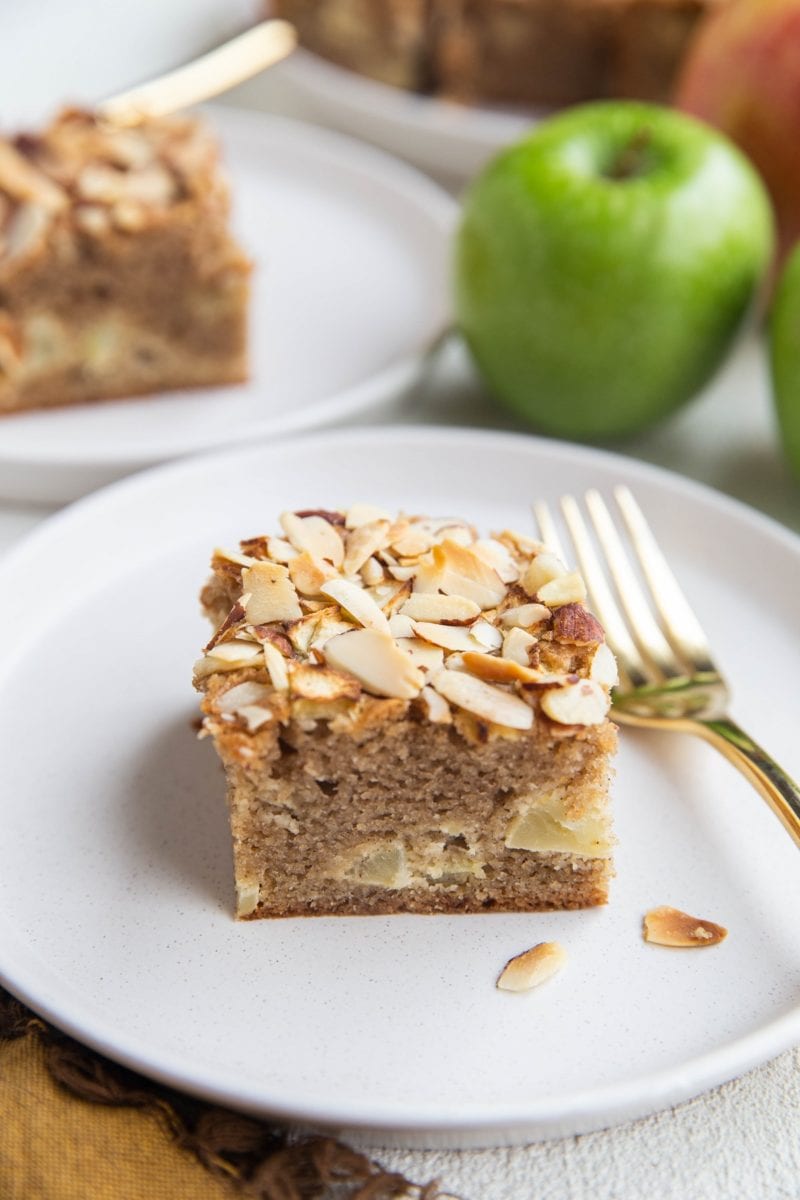 How to Make Paleo Healthy Apple Cake:
Preheat the oven to 350 degrees Fahrenheit and line an 8-inch springform pan or a regular 8-inch round cake pan or 8-inch square cake pan with parchment paper. If you don't have parchment paper, you can spray the cake pan with cooking oil.
Add all of the ingredients except for the apples to a blender and blend until smooth.
Note: If you don't own a blender, you can also mix the batter in a large bowl by hand in a mixing bowl by first mixing together the wet ingredients then adding in the dry ingredients (flour mixture).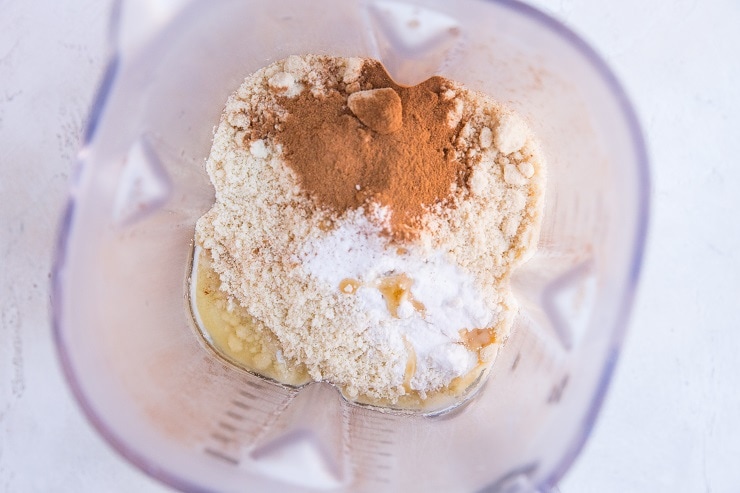 Stir the chopped apples into the cake batter until well-combined.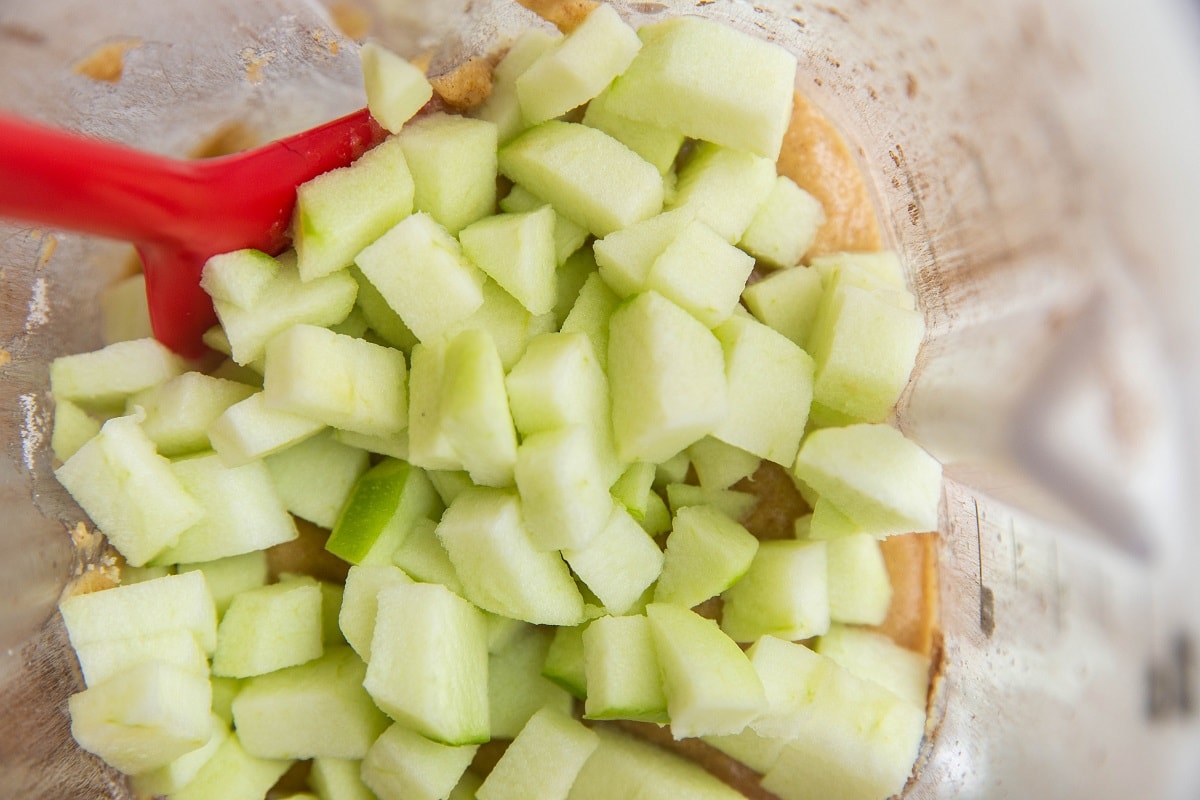 Pour the cake batter into the prepared pan and smooth it into an even layer.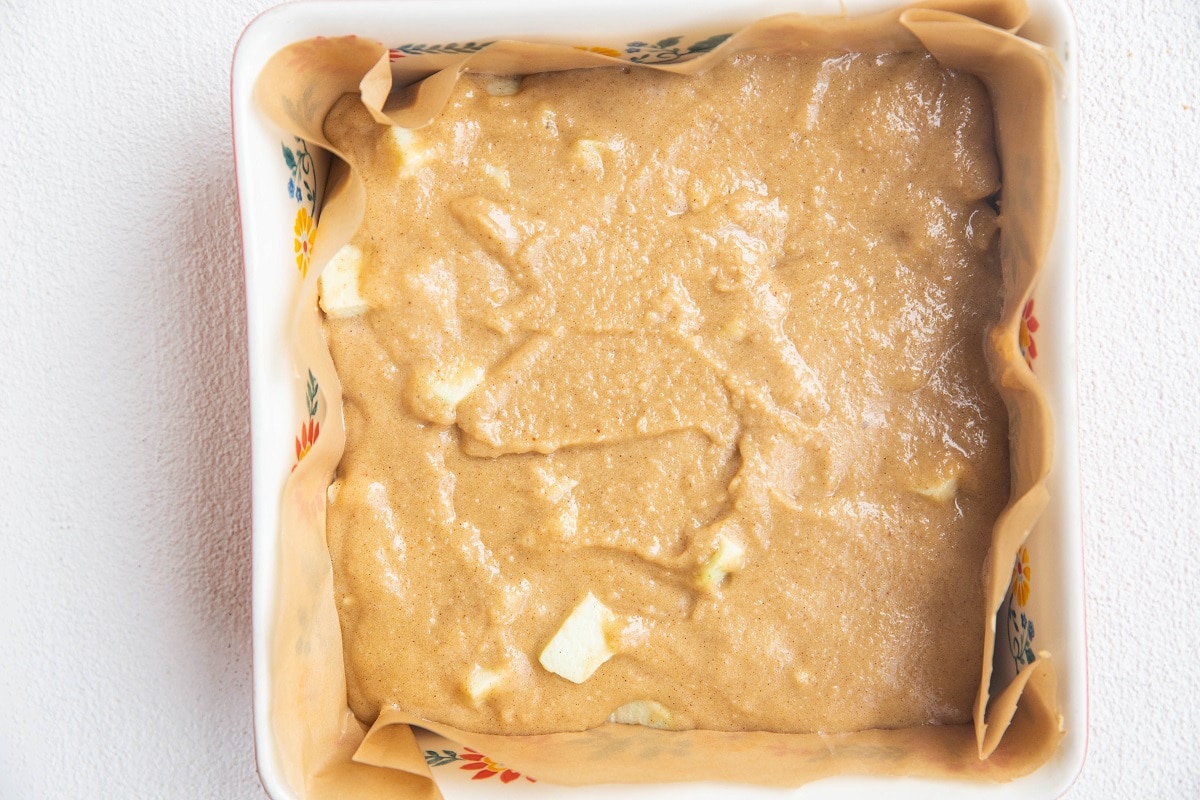 If desired, sprinkle with sliced almonds for a nice crunch.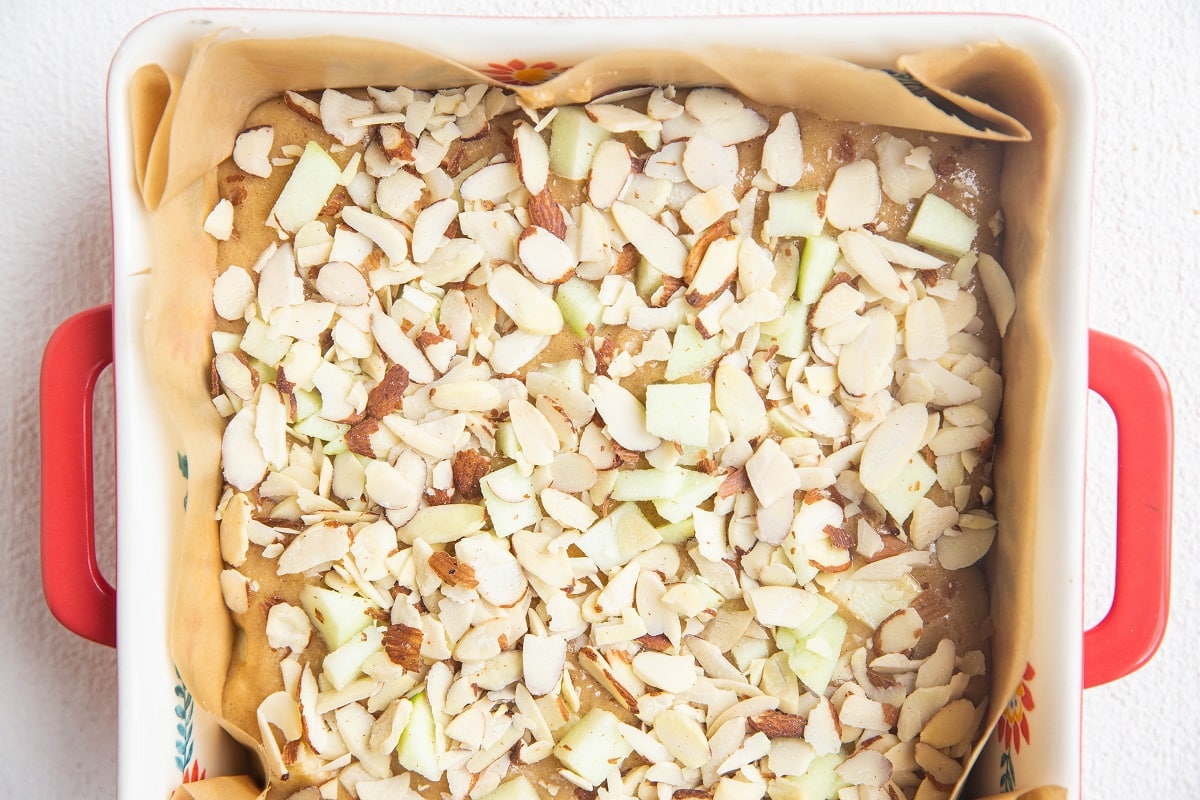 Bake on the center rack of the preheated oven for 35 to 45 minutes, or until the cake is golden-brown and tests clean. Let cake cool until it comes down to room temperature.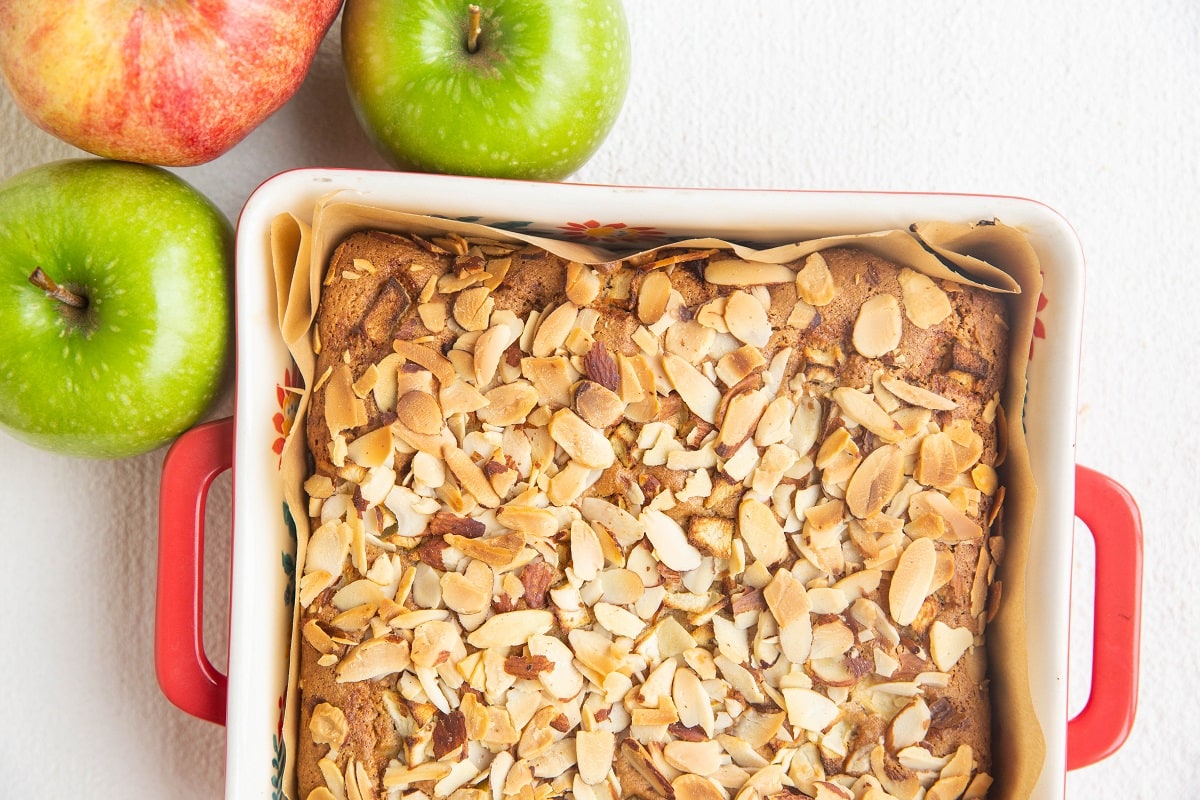 Note: you can also slice the apples into slices versus apple chunks and spread them on top of the cake in a decorative manner. I like the rustic vibe of a square cake with sliced almonds on top, but the look of the cake is entirely up to you!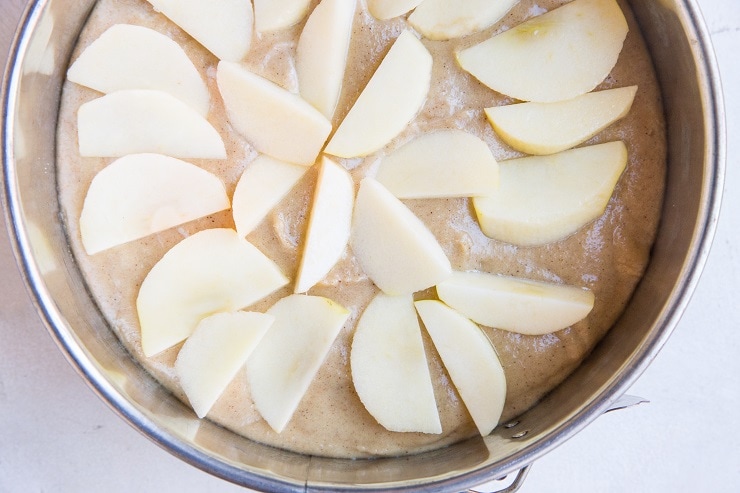 Once cool, remove the cake from the cake pan or springform pan and transfer it to a cutting board. Slice the cake and serve!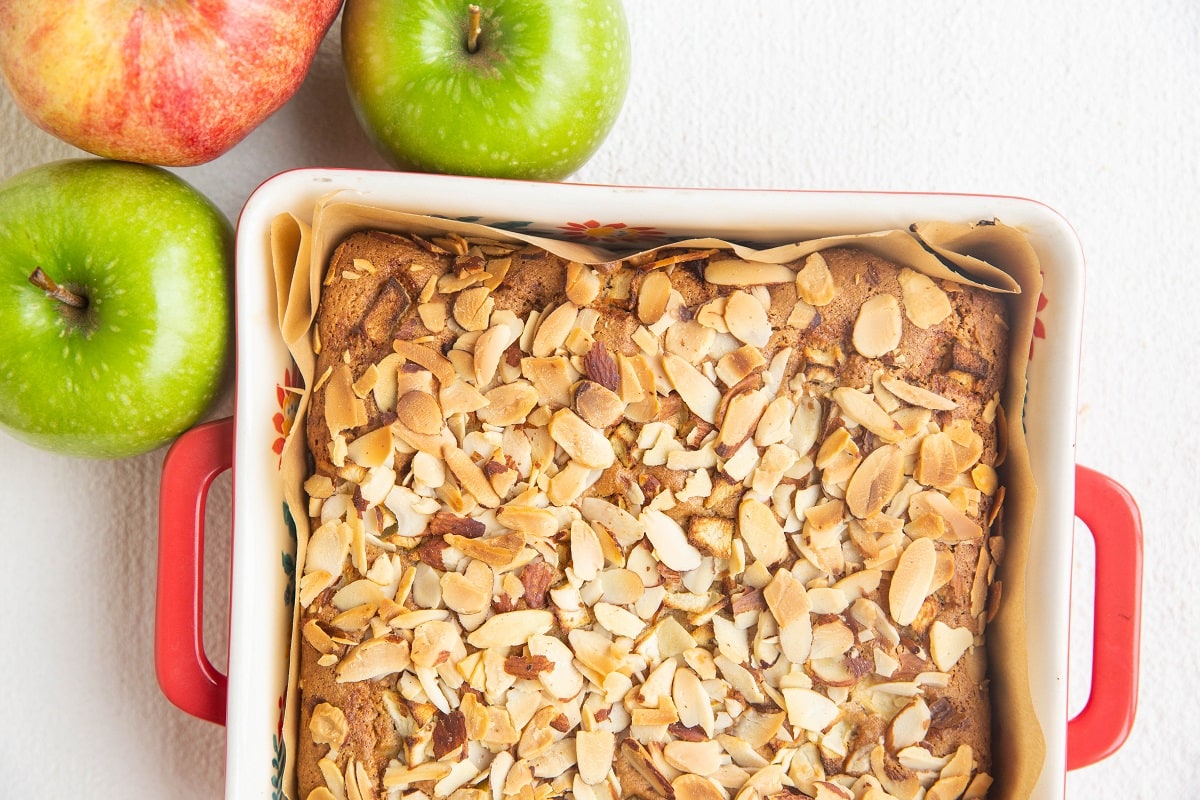 That's it! An easy, dreamy, flavorful rustic healthy cake recipe that is so tempting and easy to put on repeat!
There are all sorts of options to make this fancier for serving if you'd like. You can sprinkle it with powdered sugar, drizzle it with a glaze, or even drizzle it with store-bought or homemade Paleo Salted Caramel.
Fancy ice cream with your cake? A scoop of vanilla ice cream or dulce de leche ice cream would be an amazing sidekick.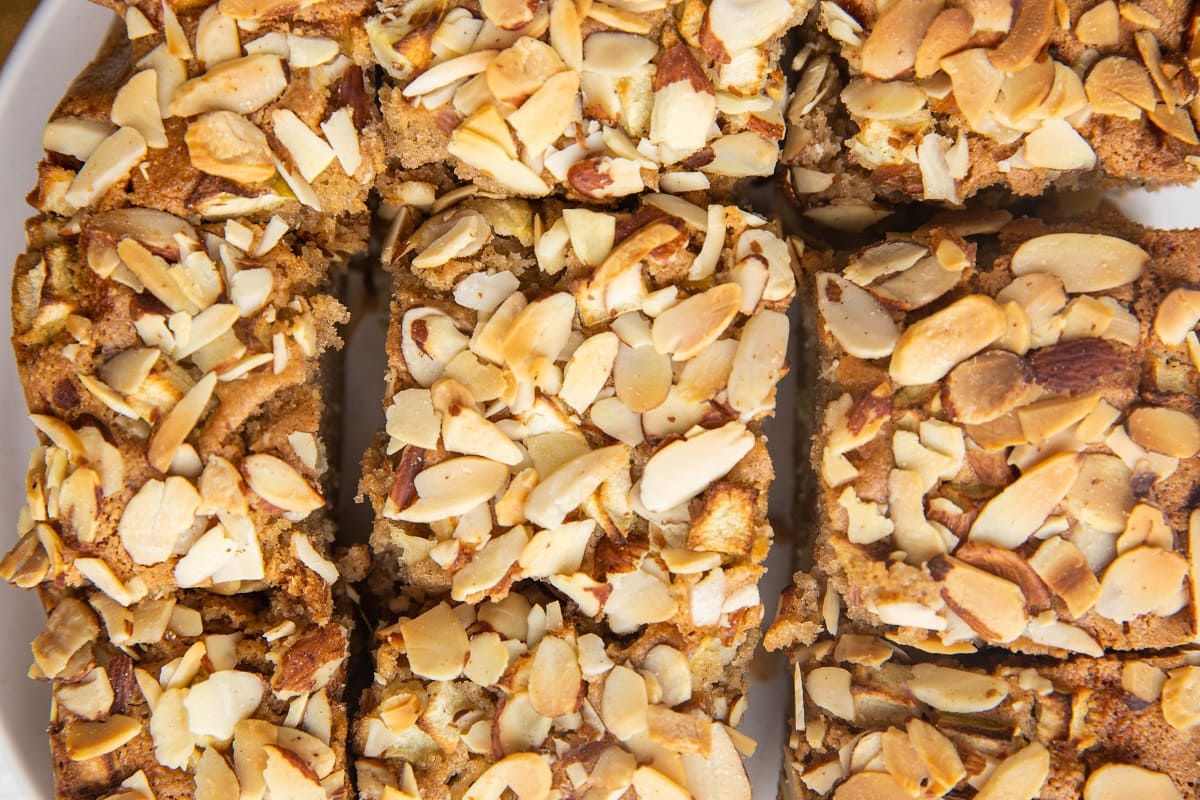 I'd love ideas for what to do with the rest of this season's apples!
Feel free to drop a comment below letting me know your favorite apple recipes!
In the meantime, I hope you enjoy this fresh apple cake as much as we do!
If you make this recipe, please feel free to share a photo on Instagram and tag @The.Roasted.Root!
Healthy Paleo Apple Cake (Dairy-Free)
A healthy apple cake recipe that is incredibly easy to make and so big on flavor, you'd never guess it's grain-free!
Ingredients
3

eggs

¼

cup

avocado oil

½

cup

pure maple syrup

1

teaspoon

pure vanilla extract

1

teaspoon

lemon juice

or cider vinegar

2 ½

cups

almond flour

1 1/2

tsp

ground cinnamon

½

teaspoon

baking soda

½

teaspoon

sea salt

1

large or two small apples

peeled and sliced + 1 Tbsp avocado oil
Instructions
Preheat the oven to 350 degrees Fahrenheit and line an 8-inch springform pan or an 8-inch square cake pan with parchment paper. Or spray a cake pan with cooking oil if you don't have parchment paper.

Stir in the chopped apples until they are well-incorporated into the cake batter.

Pour the cake batter into the prepared baking pan. If desired, sprinkle the cake batter with sliced almonds (or more chopped apple).

Bake on the center rack of the preheated oven for 35 to 45 minutes, or until the cake is golden-brown and tests clean.

Allow the cake to cool completely before releasing it from its mold. Transfer the cake to a cutting board. Slice the cake and serve!
Nutrition
Serving:
1
of 9
|
Calories:
275
kcal
|
Carbohydrates:
22
g
|
Protein:
10
g
|
Fat:
17
g
|
Fiber:
2
g
|
Sugar:
14
g
This post contains affiliate links, which means I make a small commission off items you purchase at no additional cost to you.