These grain-free crepes are made easily in a blender and only require four ingredients. Gluten-free, and paleo-friendly, you can serve these for breakfast or dessert with fresh fruit for one helluva treat!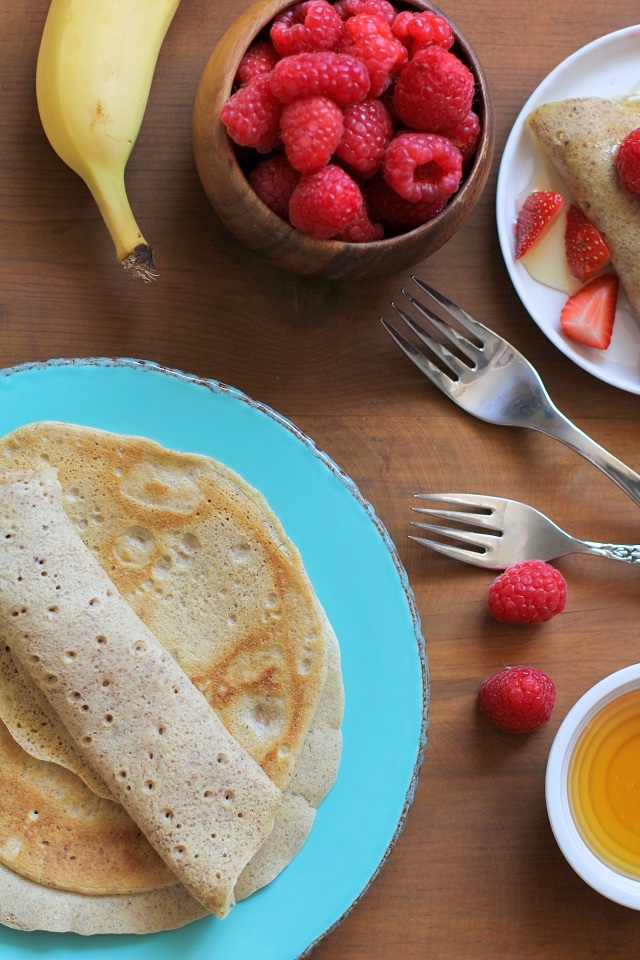 As excited as I am for the upcoming cool autumn days, I've been holding onto summer with an ironclad grasp – desperate to soak in the long daylight hours, hoping my warm weekends outside last for as long as possible. Yes, I am that person wearing white pants after Labor Day in a sea of pumpkin spice latte-colored garb – denying the fact that it's time to layer up in the mountains, still day dreaming about the peach galette I have yet to make before peaches hightail it outty and say, "Sayonara! Until 2016!"
Le sigh. Le summer. I love it so.
To make the summer stretch, I've been buying up strawberries, blueberries, and raspberries for smoothies, cocktails, and breakfast pancakes/waffles/crepes. There's something about a sweet, tangy berry that keeps the summer fun rolling and freshens up a dish. As we make our transition from summer squash to winter squash, blueberries to cranberries, we can pick and choose which bounty of produce to enjoy. Hell – we can make crepes.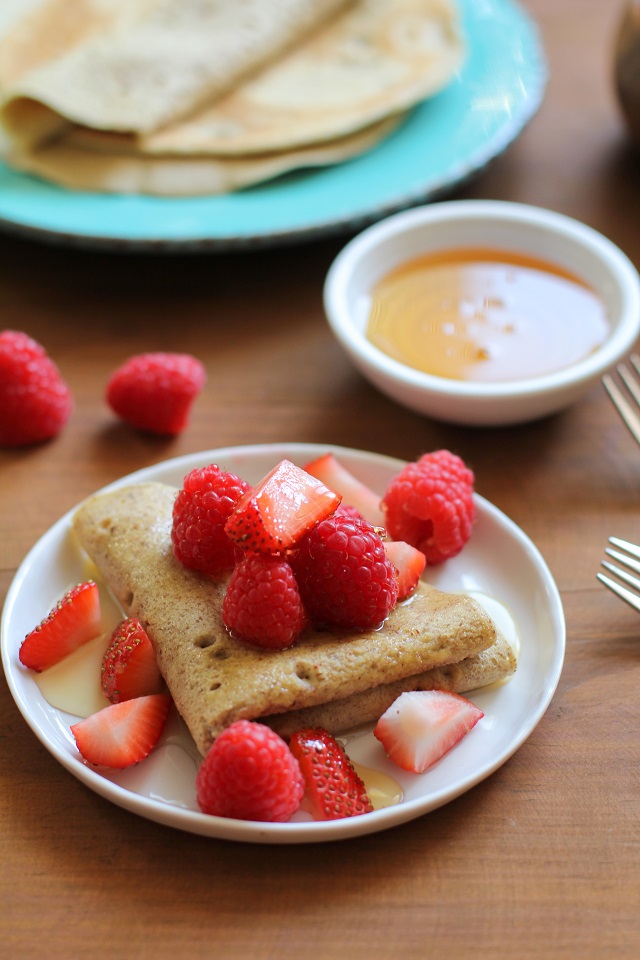 When I was young and silly, I thought it was totally normal for kids to eat crepes for breakfast on the weekends, because my mom made them regularly. I absolutely loved them with gobs of butter and maple syrup, but my siblings would get more creative, with peanut butter, banana, cinnamon and sugar. Carrying the weekened crepe ritual into adulthood, you best believe I missed them once I started eating gluten-free. My first few attempts with grain-free crepes were a fail, but by golly, I've got them down pat now!
Just like those paleo waffles I showed you a couple of weeks ago, I made these grain-free crepes in the blender. Just threw all of the ingredients in, buzzed it up, and the batter was ready for the cooking. There's no need to refrigerate this crepe batter overnight, oh no…it's ready lickety split!
The combination of almond flour and tapioca flour makes for soft and spongy crepe that holds together super well. If you still haven't brought tapioca flour into your gluten-free flour arsenal, I highly suggest it! A little bit goes a long ways, and it helps keep your gluten-free goods supple and texturally-pleasing.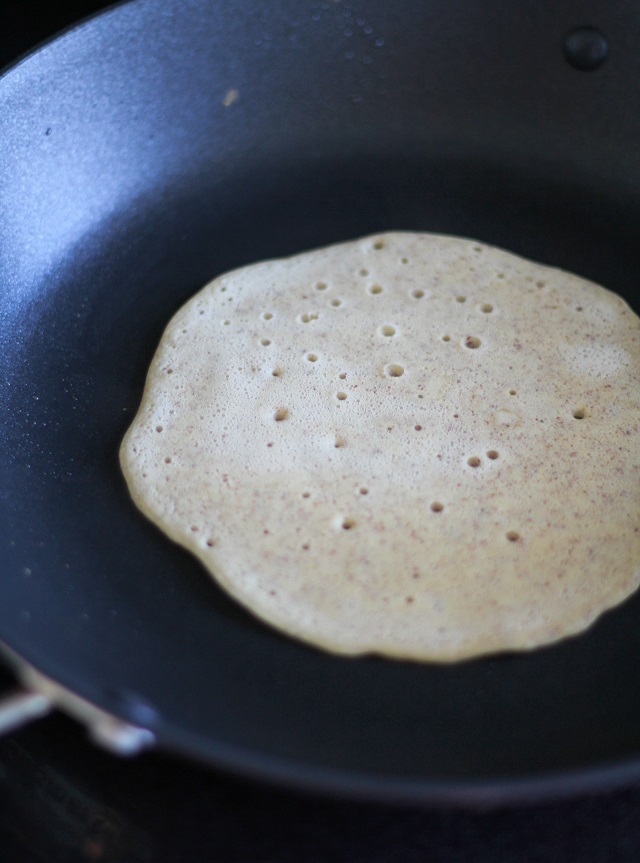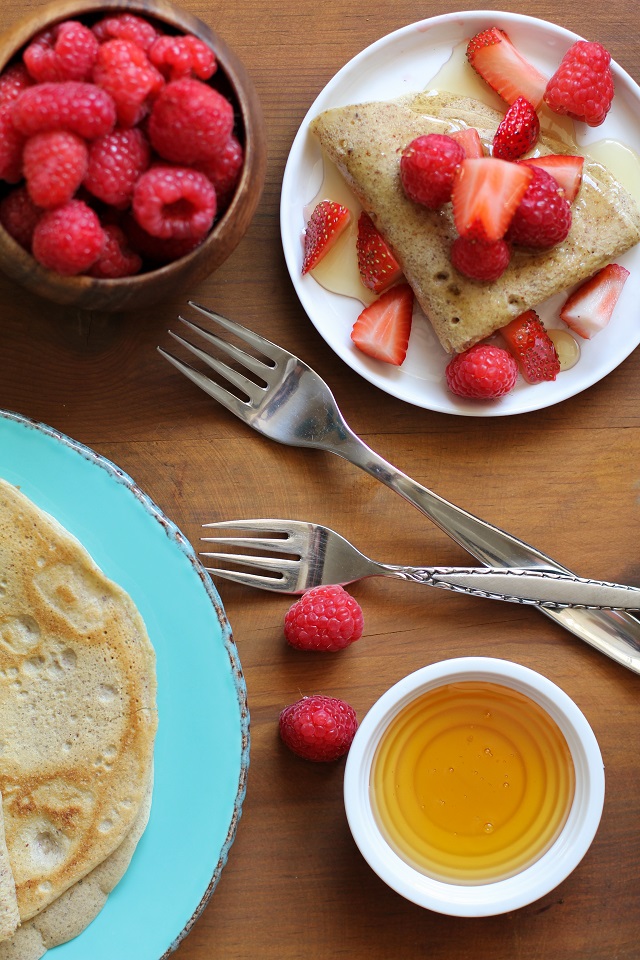 You can serve these crepes with your choice of fresh fruit, honey, coconut whipped cream, nut butter of choice, melted chocolate, you name it. You can even go savory by enjoying the crepes with roasted vegetables, cheese, and/or baked or grilled meat. There's no end to the meal options here!
I used part of this batch for the berry and honey combo, and enjoyed the rest with roasted veggies and feta cheese. Confession: I totally made a breakfast burrito by wrapping scrambled eggs and salsa in one of the crepes. GF breakfast burritos? Don't mind if I do!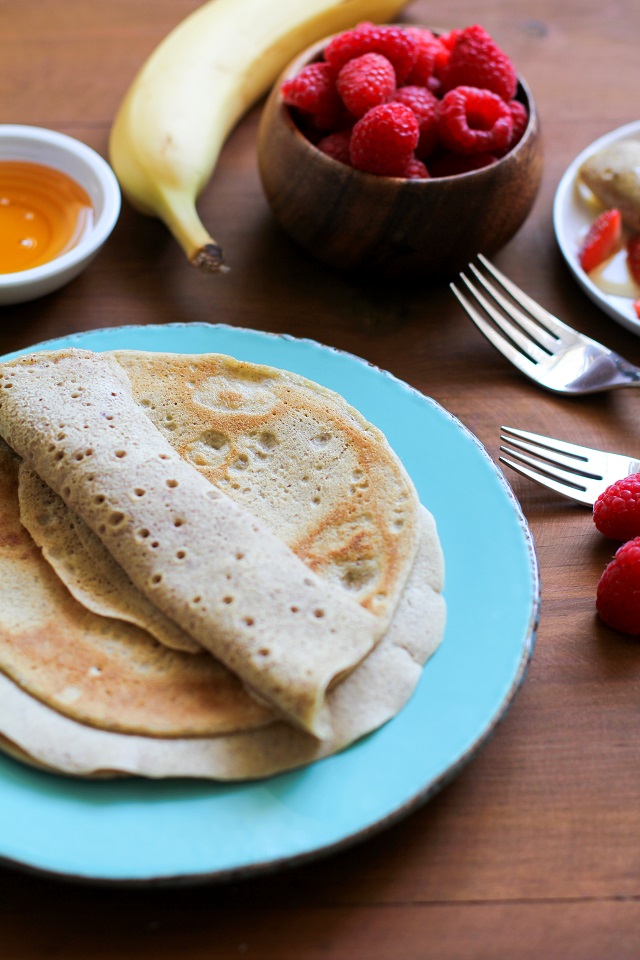 Get thee to crepe-ing
Grain-Free Crepes (Paleo)
Grain-free paleo-friendly crepes made with almond flour and tapioca flour are indistinguishable from traditional crepes! Serve them up with your favorite toppings for a winning breakfast!
Ingredients
For Serving:
Honey or pure maple syrup

Fresh ripe berries
Instructions
Place all ingredients for the crepes in a blender and blend until smooth.

Heat a large skillet to medium and add a small amount of coconut oil - just enough to lightly coat the surface.

Measure out 1/3 cup crepe batter and pour it into the center of the hot skillet. Rotate the skillet in small circles to allow the batter to spread out just a bit (don't spread the batter as thinly as you would a regular wheat flour crepe).

Cook until many air bubbles rise to the surface, about 1 to 2 minutes. Carefully flip with a spatula and cook an additional 20 to 30 seconds.

Transfer to a plate and serve with honey and fresh berries (or toppings of choice).

Repeat for remaining batter.
Notes
*You can also use hazelnut meal
Nutrition
More Crepe Recipes:
Buckwheat Crepes with Blackberry Mint Topping
Cheddar Cheese Crepes with Spiced Apples and Salted Caramel