Gluten-Free Blueberry Banana Bread is a moist, delicious inviting quick bread that is sweetened primarily with bananas. Just a touch of pure maple syrup is all you need for this refined sugar-free, dairy-free banana bread recipe.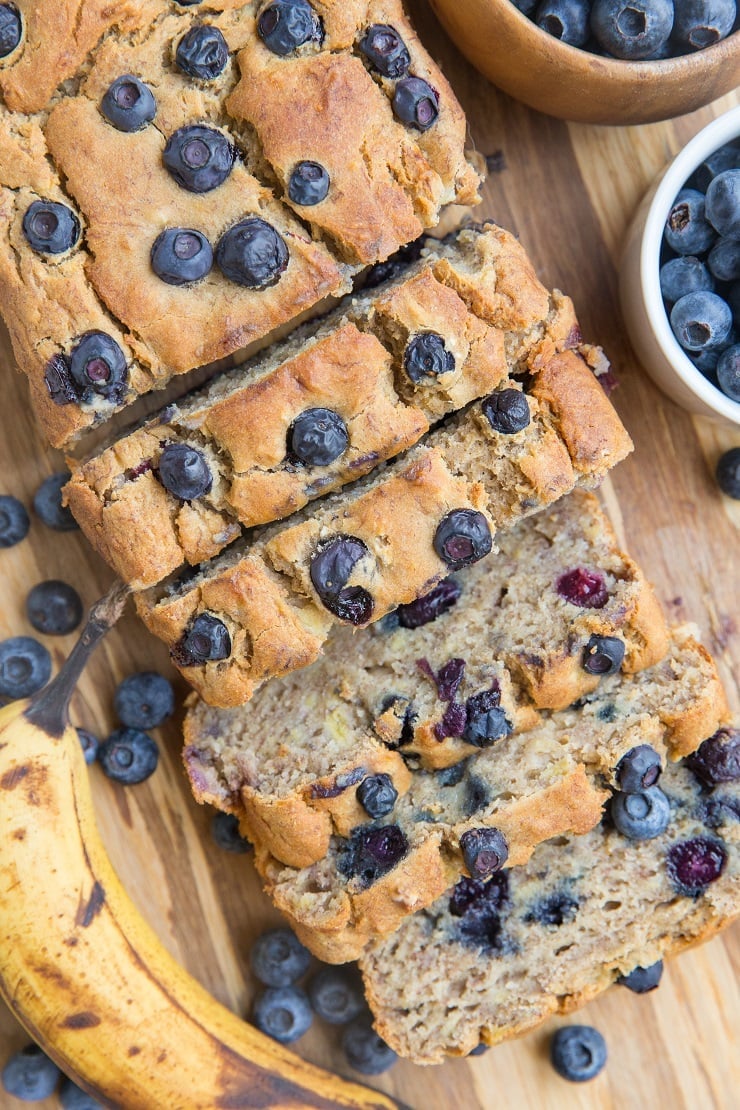 Blueberries and banana, banana and blueberries. Could there be a more perfect combo?
Well, maybe chocolate and peanut butter depending on your stance, but we'll save that combination for another day.
This magically moist and fluffy gluten-free banana bread is a great option for those of us who love a sweet treat but don't want to consume a large amount of excess sugar.
I've played with my original The BEST Gluten-Free Banana Bread Recipe time and again and have learned it doesn't take much additional sweetener to get an amazing banana bread!
In this sense, this recipe is sweetened almost entirely with ripe bananas and is studded with delicious tangy blueberries.
Bonus: The banana acts not only as a sweetener but as a moistener and volumizer for this bread, not only making the bread lower in added sugar but also lower in added liquid, taking the place of fat.
You're still stuck on "moistener," aren't you?
I was shocked to learn it's actually a word.
Moving right along.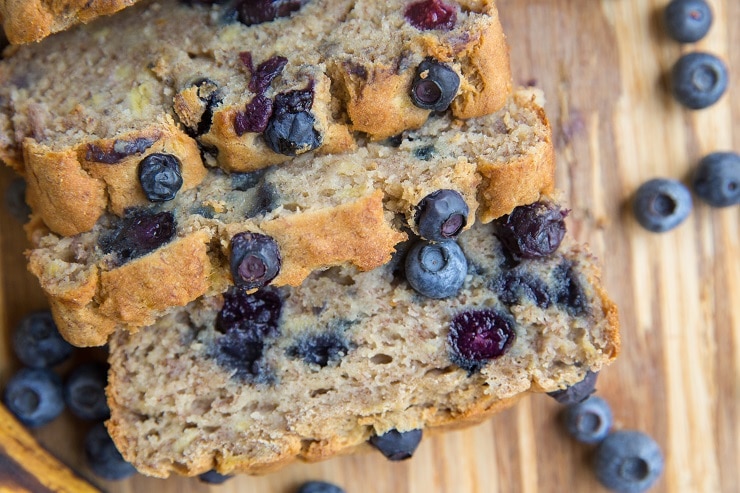 What do we need in order to make this bread happen? Let's chat about the ingredients. They're simple!
Ingredients for Gluten-Free Blueberry Banana Bread:
Gluten-Free Flour: Pick your favorite gluten-free flour blend. I use Bob's Red Mill's gluten-free 1-to-1 baking flour, but brands such as Pamela's and King Arthur will work great too.
Ripe Bananas: Be sure to use bananas that are deeply yellow with lots and lots of brown spots. This will ensure the bananas themselves taste very sweet and have a high moisture content.
Avocado Oil: A touch of fat is needed to maintain epic moistness and deliciousness, so I use either avocado oil, coconut oil, or melted butter. To keep the bread dairy-free, go with the avocado oil or coconut oil.
Eggs: Used to fluff up the bread, give it that delectable hold-together pull-apart texture, we use a couple of eggs. I haven't tested the recipe with an egg substitute yet, but let me know if you try it without eggs and what you use for a swap.
Pure Maple Syrup: All I add to this bread is 2 tablespoons of sweetener like pure maple syrup or brown sugar. You don't need much on account of all the bananas! Go with your favorite sweetener here. Pure maple, regular cane sugar, brown sugar, sugar-free sweetener, coconut sugar, maple sugar, etc.
Baking Powder & Baking Soda: Our leavening agents to ensure the bread rises, holds together, and becomes bread-like.
Sea Salt & Ground Cinnamon: Cinnamon makes all the banana breads a million times more cozy, if that's even possible, and sea salt brings out all of the flavors in the bread to boost up the pizzaz.
Blueberries: That blueberry portion of the recipe! I use fresh berries and haven't tested the recipe using frozen blueberries yet. Because frozen blueberries tend to leach a lot of moisture as they thaw, I would recommend thawing and draining the blueberries before adding them to the bread if you do decide to use frozen.
Optional: Chocolate chips! I love adding about ⅔ cup of chocolate chips to this bread for an added benefit of chocolatey pockets of goo! You can also add chopped walnuts or pecans if that's your jam!
Let's bake a loaf!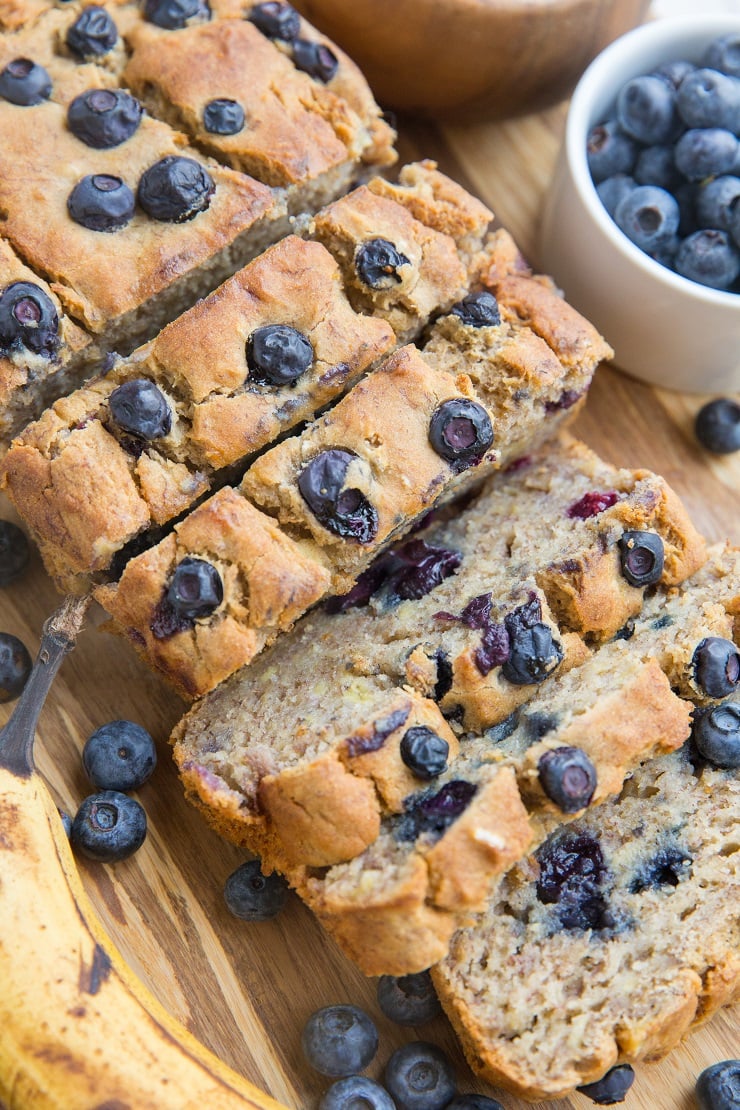 How to Make Gluten-Free Blueberry Banana Bread:
Preheat the oven to 350 degrees Fahrenheit and line a 9″ x 5″ loaf pan with parchment paper.
Mash the bananas in a mixing bowl with a fork until creamy. Mix in the eggs, avocado oil, and pure maple syrup until creamy.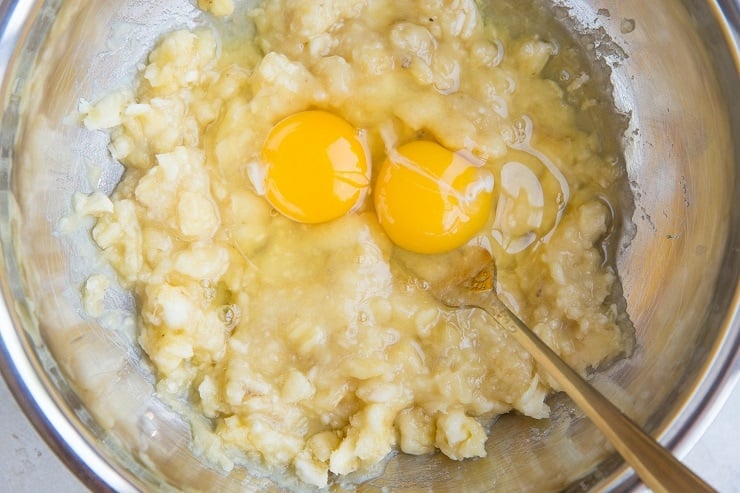 Add the dry ingredients (flour, baking soda, baking powder, sea salt and cinnamon) and stir well until the dough is nice and combined.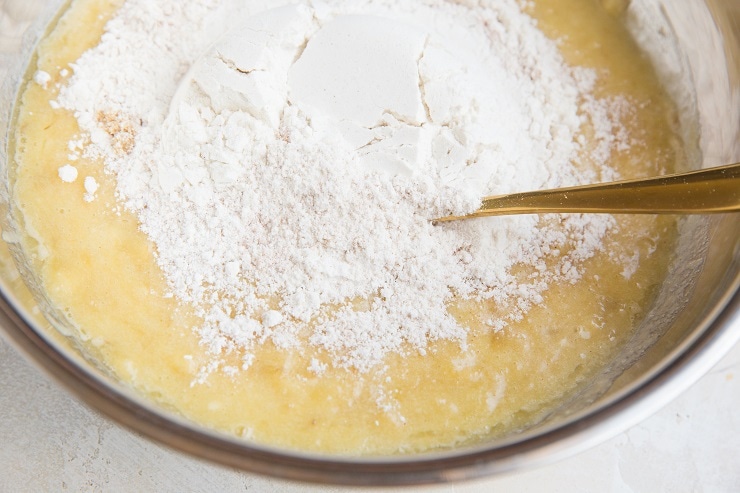 Toss the blueberries in 1 teaspoon of gluten-free flour in a bowl before adding them to batter. Carefully stir in the blueberries until distributed into the batter.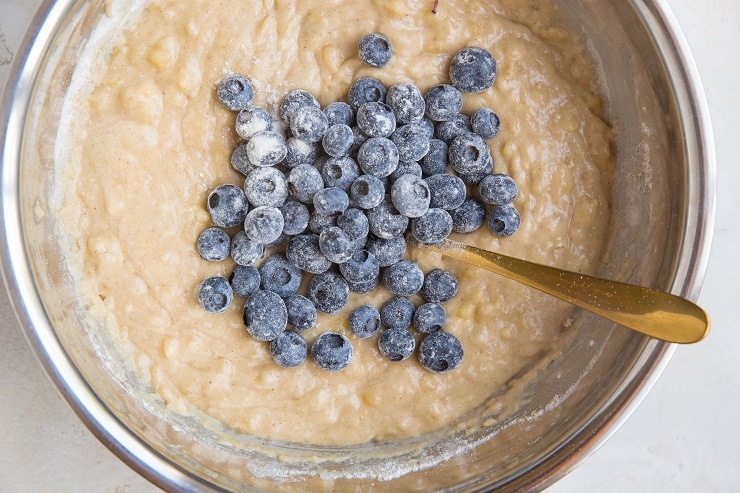 Transfer the banana bread batter to the parchment-lined loaf pan. Bake for 50 to 60 minutes, until the bread tests clean. I bake mine for 50 minutes, turn off the oven and allow the bread to sit in the hot oven for another 10 to 15 minutes.
Allow the bread to cool completely before slicing and serving.
I like heating up a slice with a pat of butter and a drizzle of honey 😉
How to Store Leftovers:
Leave the banana bread on the counter covered in plastic wrap for up to 5 days, then transfer it to the refrigerator (or store it in the refrigerator from the get go).
If the bread lasts longer than a week in my house, I freeze any remaining leftovers by first cutting the rest of the loaf into slices, wrapping them in plastic wrap, then sealing them in a zip lock bag.
That's it! Your ultra moist and fluffy gluten-free banana bread studded with blueberries for that feel-good treat!
Let me know what you think of this one in the comments section below!
More Delicious Banana Bread Recipes:
Banana + blueberries = great success.
Gluten-Free Blueberry Banana Bread
A moist, delicious inviting quick bread that is sweetened primarily with bananas. Just a touch of pure maple syrup is all you need for this refined sugar-free, dairy-free healthy banana bread recipe.
Ingredients
4

ripe bananas

mashed (about 1.5 cups)

2

large eggs

¼

cup

avocado oil or melted butter

2

Tbsp

pure maple syrup or brown sugar

1 ⅔

cups

gluten-free all-purpose flour

1/4

tsp

baking soda

1

tsp

baking powder

1

tsp

sea salt

2

tsp

ground cinnamon

1

cup

fresh blueberries + more for sprinkling on top

⅔

cup

chocolate chips

optional
Instructions
Preheat the oven to 350 degrees Fahrenheit and line a 9" x 5" loaf pan with parchment paper.

Mash the bananas in a mixing bowl with a fork until creamy. Mix in the eggs, avocado oil, and pure maple syrup until creamy.

Add the dry ingredients (flour, baking soda, baking powder, sea salt and cinnamon) and stir well until the dough is nice and combined.

Toss the blueberries in 1 teaspoon of gluten-free flour in a bowl before adding them to batter. Carefully stir in the blueberries until distributed into the batter.

Transfer the banana bread batter to the parchment-lined loaf pan. Bake for 50 to 60 minutes, until the bread tests clean. I bake mine for 50 minutes, turn off the oven and allow the bread to sit in the hot oven for another 10 to 15 minutes.

Allow the bread to cool completely before slicing and serving. I like heating up a slice with a pat of butter and a drizzle of honey 😉
Nutrition
Serving:
1
of 12
|
Calories:
178
kcal
|
Carbohydrates:
30
g
|
Protein:
3
g
|
Fat:
6
g
|
Fiber:
2
g
|
Sugar:
9
g