Rich gluten-free chocolate beet cake with chocolate coconut milk frosting. This healthier take on beet cake is sinfully delicious, yet is free of dairy and refined sugar!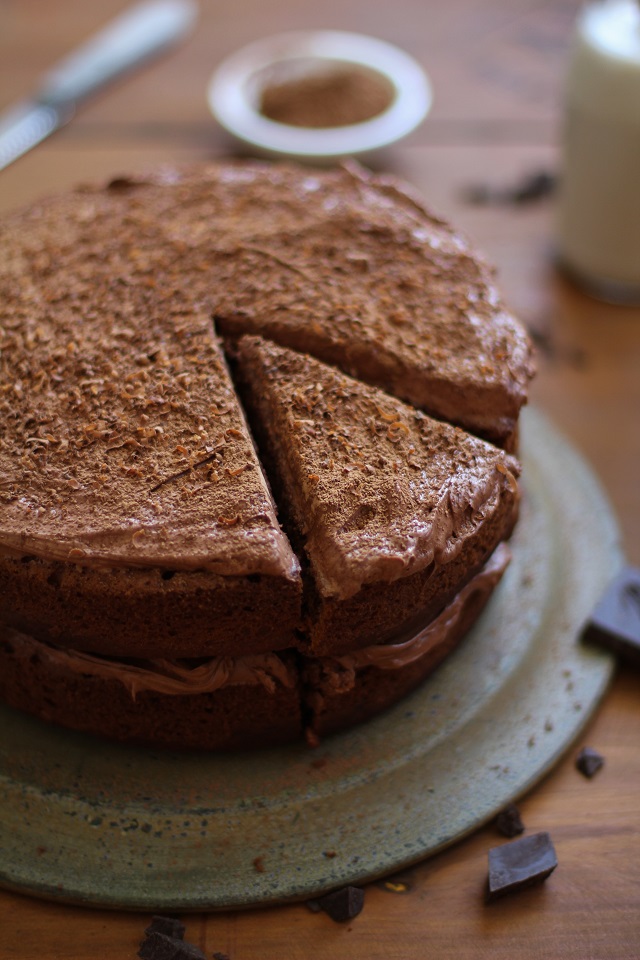 For those of us who are celebrating love with our partner this weekend…
For those of us who need no occasion to celebrate our love for chocolate…
For those of us who eat our emotions via thick slices of fluffed-out bliss…
I bring thee, cake.
Of the 2-layer varietal.

It's not every day I make cake, folks. The last time I baked a cake, I ate half of the thing all by my onesie, so I tend to shy away from the goody, for fear of eating my way into a new jean size. And you guys, this girl loathes shopping. But when cake calls, it.is.ON.
True to form, I made this cake gluten-free and refined sugar free, but you'd never be able to tell, no sir! Chocolate cake with a superfood spin and a guilt-free persona? Don't mind if I do!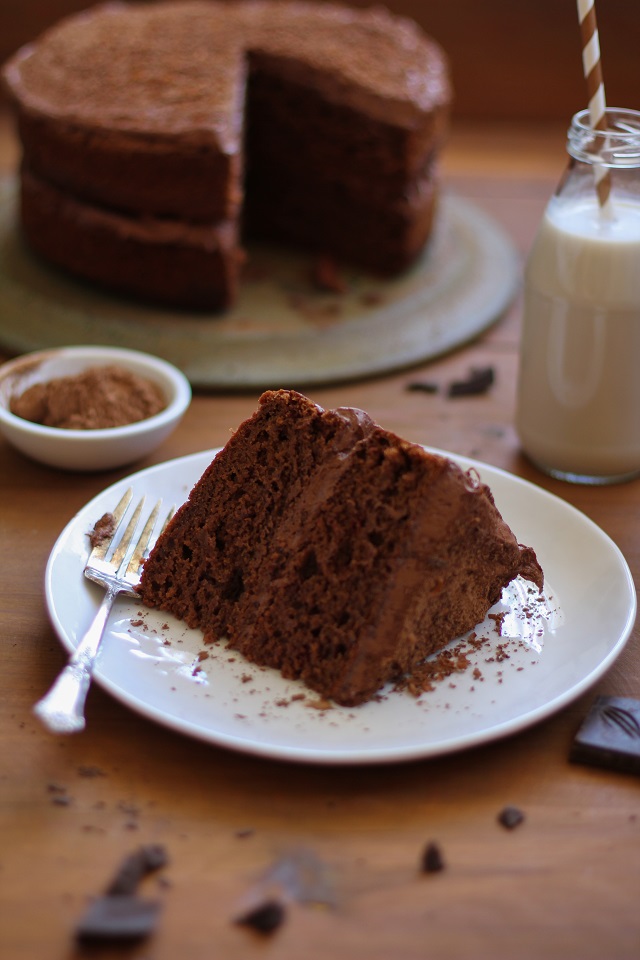 This recipe was inspired by Heart Beet Kitchen's Chocolate Beet Cake. I swapped the all-purpose flour for gluten-free, made the switch from cane sugar to coconut sugar and maple syrup, and effectively doubled the recipe so that I could have a multi-tier experience.
I whipped up a variation of the 2-Ingredient Chocolate Fudge Frosting from Oh She Glows, and you guys….this is just a really great chocolate cake. If you do prepare the chocolate frosting in this recipe, just be sure to make it ahead of time, as it requires a lot of time in the refrigerator.
The only thing I can think of that would ramp up this experience is adding a third chocolate element – we're talking dark chocolate chips to the cake batter – for a triple chocolate goo factor. Can.you.imagine?
Tell your honey buns this multi-level cake deserves multiple….nevermind.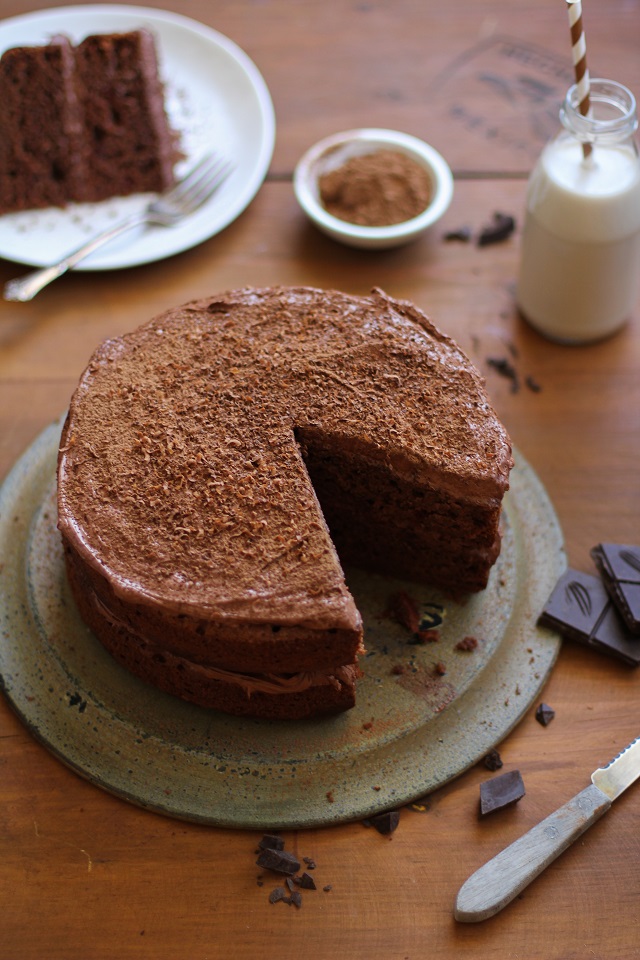 Chocolate Beet Cake with Chocolate Coconut Frosting
Chocolate Beet Cake with Chocolate Coconut Frosting is an incredibly rich and unique chocolate cake recipe.
Servings:
1
(8-inch) Layer Cake
Ingredients
Chocolate Coconut Frosting (prepare a day ahead of time):
Instructions
Prepare the Chocolate Frosting:
While the cake is baking, prepare the frosting. To do so, add the coconut cream and the chocolate chips to a saucepot and heat over medium, stirring occasionally, until melted. Stir in the vanilla extract and sea salt and transfer to a bowl. Cover, and refrigerate overnight.

Remove bowl from the refrigerator and use a hand beater or stand mixer to whip the whipped cream. If mixture is too stiff, allow it to soften on the counter until more malleable, and/or add a couple tablespoons of coconut milk to thin out mixture. Whip until light and fluffy and refrigerate until ready to use.
Bake the chocolate cake:
Preheat the oven to 350 degrees F. Trace and cut out two pieces of parchment paper so that they fit in the bottom of two 8-inch springform pans. Once the parchment papers are placed in the pans, butter them along with the sides of the cake pans. This will make for easier cake removal.

Combine the butter, coconut sugar, and maple syrup in a stand mixer. Beat on medium speed until mixture is very well combined, a few minutes. Beat in eggs, one at a time, for one minute after each addition. Stop the mixer and scrape down the sides of the bowl as necessary. Once eggs are incorporated, add the pureed beets, lemon juice, and vanilla extract and mix until thoroughly combined.

In a medium bowl, whisk together flour, cocoa powder, espresso powder, baking soda, baking powder, and salt. Add half of the dry ingredients to the butter and egg mixture. Continuing to beat on low speed, slowly add the buttermilk. Add the other half of the dry ingredients and beat on medium speed just until incorporated. Note: the cake batter should be very thick

Pour half of the cake batter into each prepared pan. Bake on the center rack for 45 to 55 minutes, or until cakes test clean. Let cakes sit 10 minutes, release them from their molds, and allow them to cool the rest of the way on a wire rack.

Place one of the cakes on a serving platter and spread chocolate frosting over the top. Place the second cake on top and frost with remaining frosting. If desired, grate a chocolate bar over the frosting for a fancy effect. Cut large slices and enjoy!
Notes
*Not to be confused with coconut milk. If coconut milk is the only thing your store has available, you can purchase two cans and refrigerate them overnight. When ready to make the recipe, scoop out just the thick cream on top and use the water underneath for smoothies, or another purpose.
Nutrition