Flourless, rich and delicious Black Bean Brownies that are moist, fudgy, and have amazing texture! You'd never guess they're made with beans!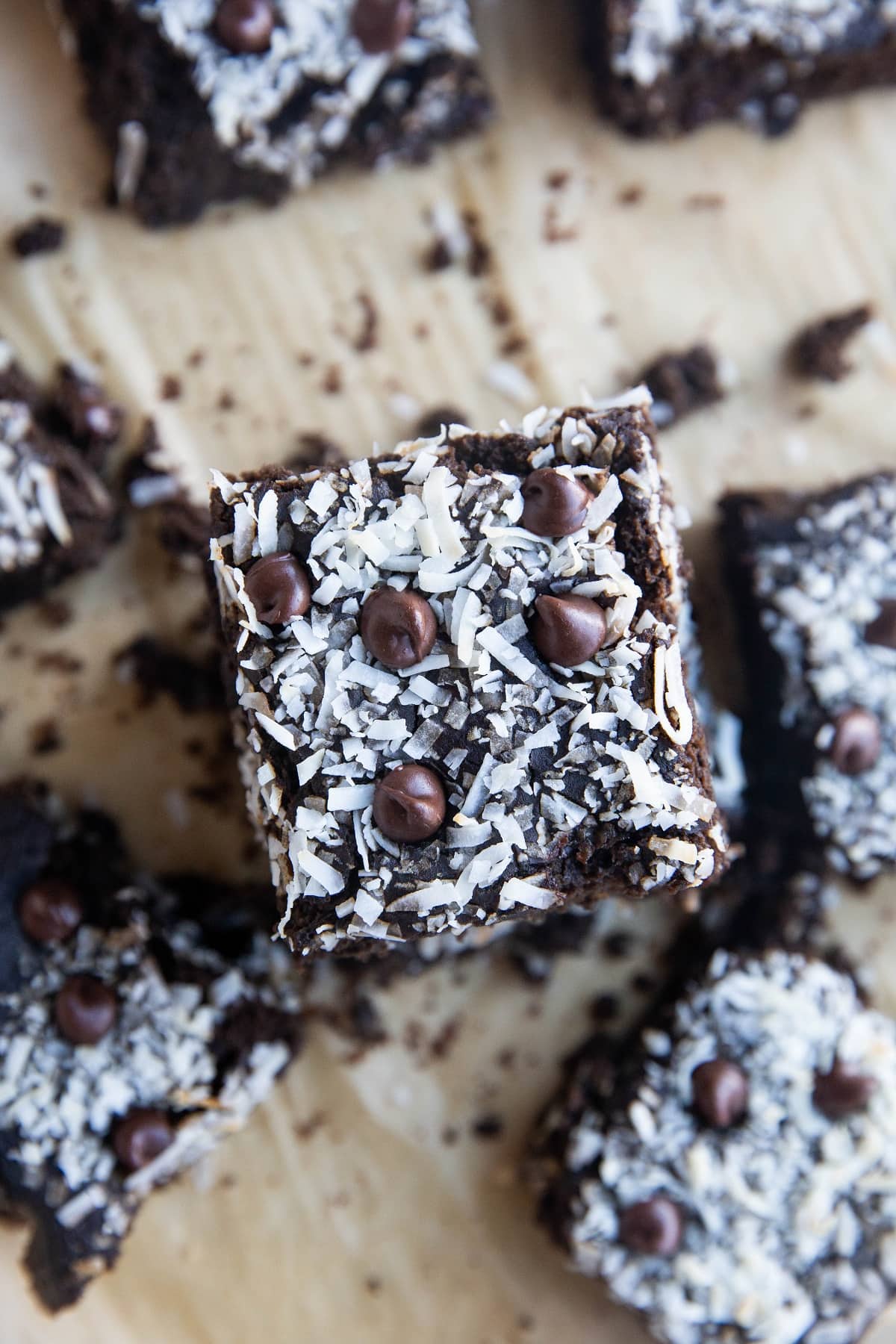 I first started making brownies with beans way back in 2012, and it's been a committed love affair ever since.
In fact, it all started with my Garbanzo Bean Brownies, which was one of my earliest recipes.
I first shared this recipe for black bean brownies in April of 2013 but I wanted to revisit the topic because they are just so irresistible! Plus, I don't think the world was ready for black bean brownies back then, but I'm confident it is now.
Made easily in a blender, these black bean brownies require minimal basic pantry ingredients and turn out tasting so fudgy and rich.
Nope, you can't taste the black beans!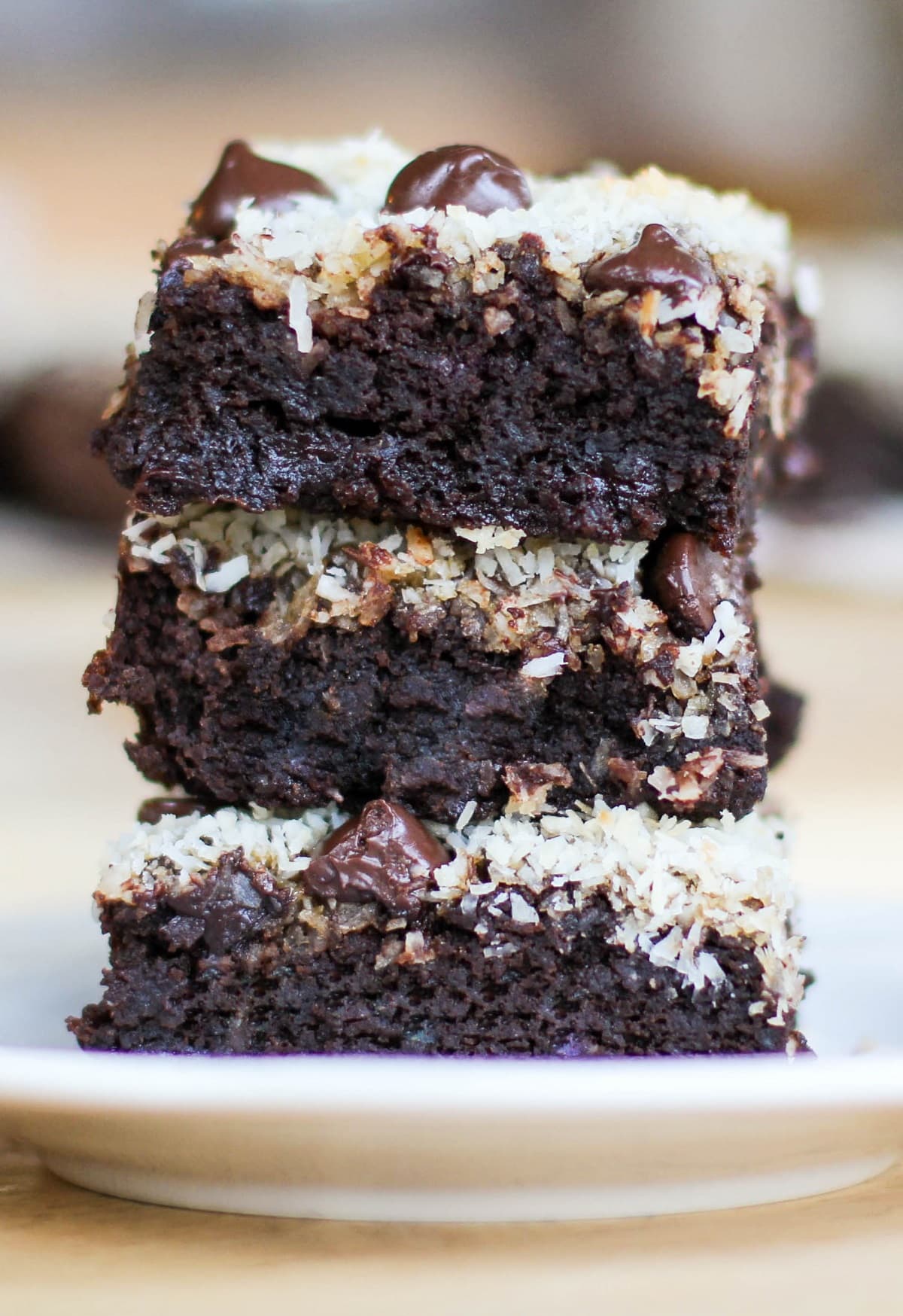 The one difference you may notice between regular brownies and black bean brownies is that brownies made with beans tend to be slightly crumbly (to be expected), but they are still magically moist and rich.
In addition to brownies, I've also made other sweet treats using beans!
My 6-Ingredient Peanut Butter Chickpea Cookies, Flourless Chocolate Black Bean Banana Bread, Chickpea Banana Muffins and my Double Chocolate Vegan Black Bean Cookies are some of my favorites.
Making black bean brownies is as simple as tossing all of the ingredients into a blender, blending, then baking the batter to gooey perfection.
No need for a separate bowl for the wet ingredients and dry ingredients, and no all purpose flour.
In this sense, they are easier to make than regular brownies and are entirely goof-proof!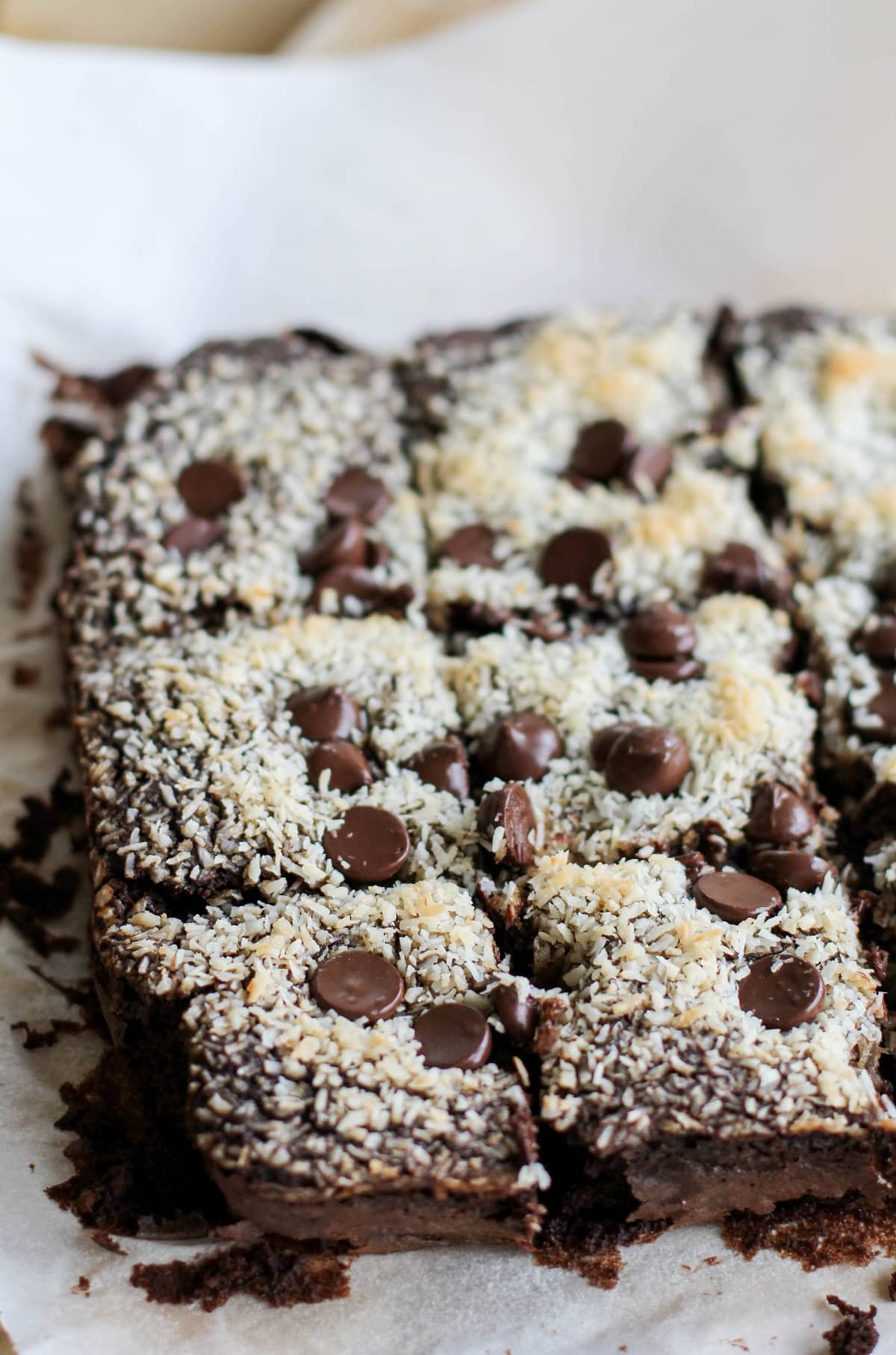 Let's discuss the simple ingredients needed to make this healthy dessert.
Ingredients for Black Bean Brownies:
Black Beans: The star of the show! Pick up one 15-ounce can of black beans from the store. If you'd like, you can also use garbanzo beans.
For those of you who cook dry beans and don't buy canned beans, use 1 ½ cups of cooked black beans. Don't worry about any black bean flavor coming through, as it is entirely masked by the chocolate decadence.
Eggs: A couple eggs help these brownies rise and give them a very slight cake-like texture. If possible, take the eggs out of the refrigerator 15 minutes before you begin the recipe to bring them to room temperature.
I've tried using flax eggs using ground flax seeds to make vegan black bean brownies and the brownies stayed molten without setting up. The mixture was delicious, but I wouldn't call them brownies. If you experiment with an egg substitute and have success, let me know.
Coconut Sugar (or regular brown sugar): I like using coconut sugar for a natural sweetener because they turn out nice and sweet but are lower glycemic than brownies made with regular cane sugar. You can absolutely use any granulated sweetener you have on hand, including white sugar, brown sugar, or sugar-free sweetener.
Oil: A touch of oil is all we need to bring more richness to these healthy brownies, giving them moist texture. I use avocado oil or coconut oil but olive oil and vegetable oil work too.
Pure Vanilla Extract: A little bit of vanilla brings warm flavor. Skip it if you don't have any on hand.
Cocoa Powder: The majority of the rich chocolate flavor in these brownies comes from cocoa powder. I use raw cacao powder because I find it has a creamier (less bitter) flavor than regular cocoa powder, but you can use whatever you love.
Salt: A pinch of salt brings out all the lovely chocolatey flavors in the fudgy black bean brownies, so be sure not to skip it.
Baking Soda & Baking Powder: The leavening agents here are both baking powder and baking soda. They help the brownies rise and ensure the brownies hold together nicely after they are baked.
Vinegar: Balsamic vinegar is added to cause a chemical reaction with the baking soda, ensuring the chemistry is just right. Anything acidic works here. Apple cider vinegar, rice vinegar, lemon juice or lime juice are all great options.
Chocolate Chips: The all star ingredients that is responsible for the fudgy texture of these yummy brownies! I use dark chocolate chips, but semisweet chocolate chips, sugar-free chocolate chips, and any chips you like will work! If you skip the chocolate chips, you'll lose out on the gooeyness and some of the richness, but the brownies will still taste great.
Optional Additions:
Shredded Coconut: If you love the flavor and texture of shredded coconut, sprinkle it all over the brownie batter before baking.
Instant Coffee Granules: If you have instant coffee on hand, add a couple teaspoons to the batter for deeper flavor.
Recipe Adaptations:
Add ⅔ cup of chopped walnuts or pecans to the batter for nutty brownies.
Cut back on the chocolate chips or omit them altogether for less sugar.
Use garbanzo beans instead of black beans.
If you're like me and you love adding cinnamon to baked goods, use ½ teaspoon to 1 teaspoon of ground cinnamon.
Add more chocolate chips for even more decadent black bean brownies.
These secret ingredient brownies have the perfect texture!
Now that we're experts on the ingredients for black bean brownies, let's bake a batch!
How to Make Black Bean Brownies:
Drain the can of black beans into a colander and give them a light rinse with water. No need to dry them off with a paper towel. Simply shake them around in the colander until it looks like the majority of the moisture is gone.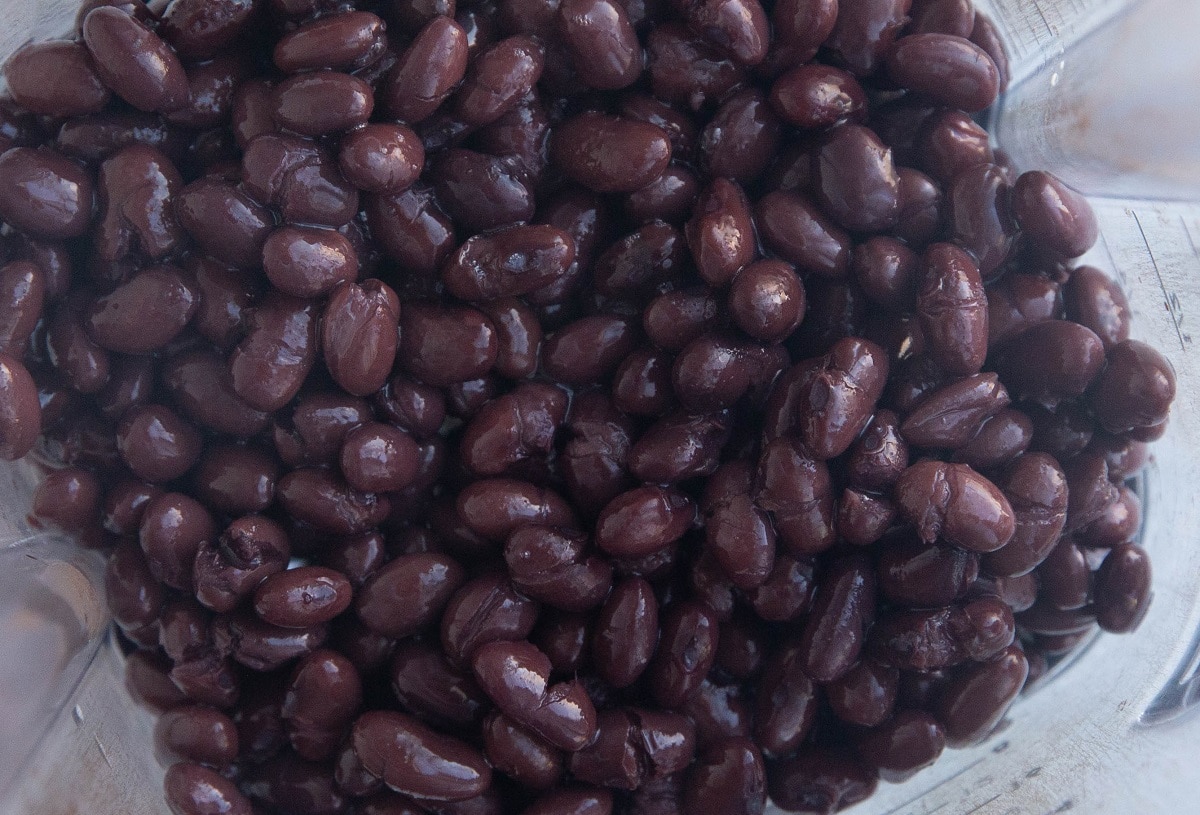 Preheat the oven to 350 degrees Fahrenheit. Line an 8″ x 8″ baking pan with parchment paper.
Add all of the ingredients to a high speed blender or food processor except for the chocolate chips and blend until completely smooth.
Stir ½ cup of the chocolate chips into the batter with a rubber spatula.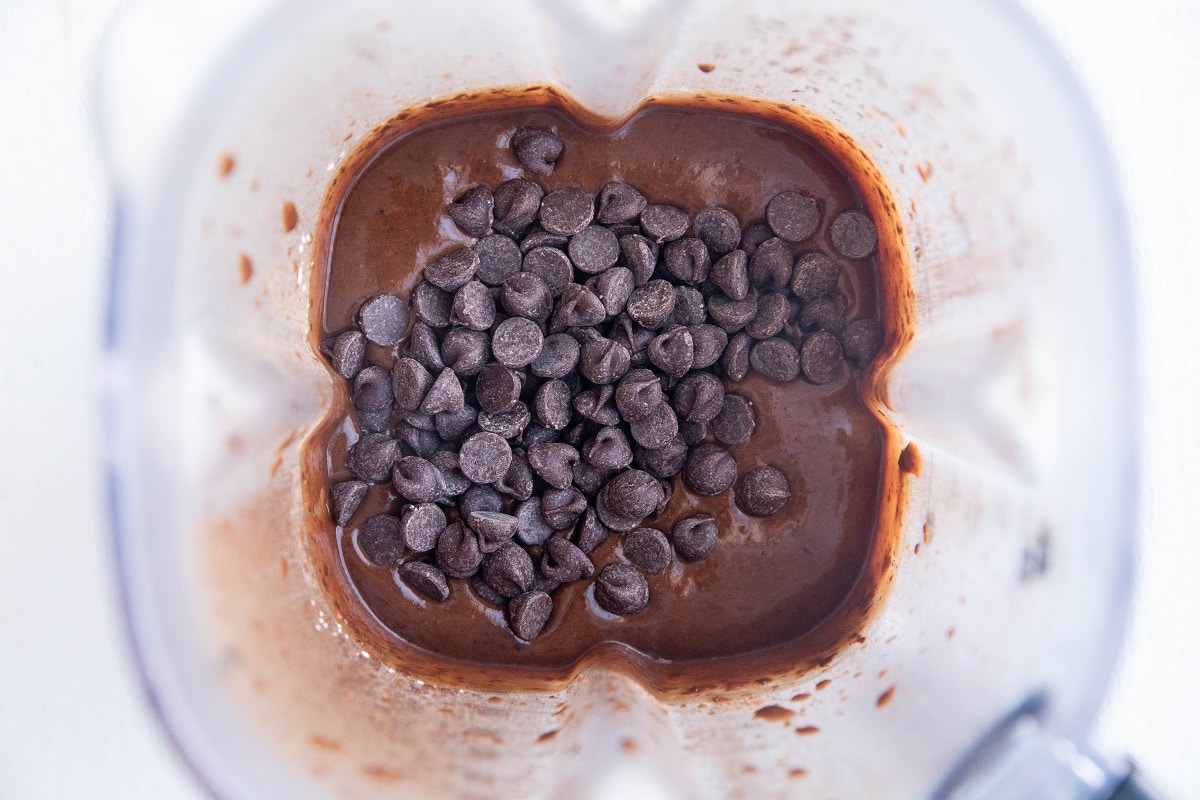 Pour the batter into the prepared baking dish, making sure to scrape the sides of the blender to get all of the batter.
Sprinkle the shredded coconut on top of the batter (the shredded coconut is optional), and sprinkle chocolate chips on top as well.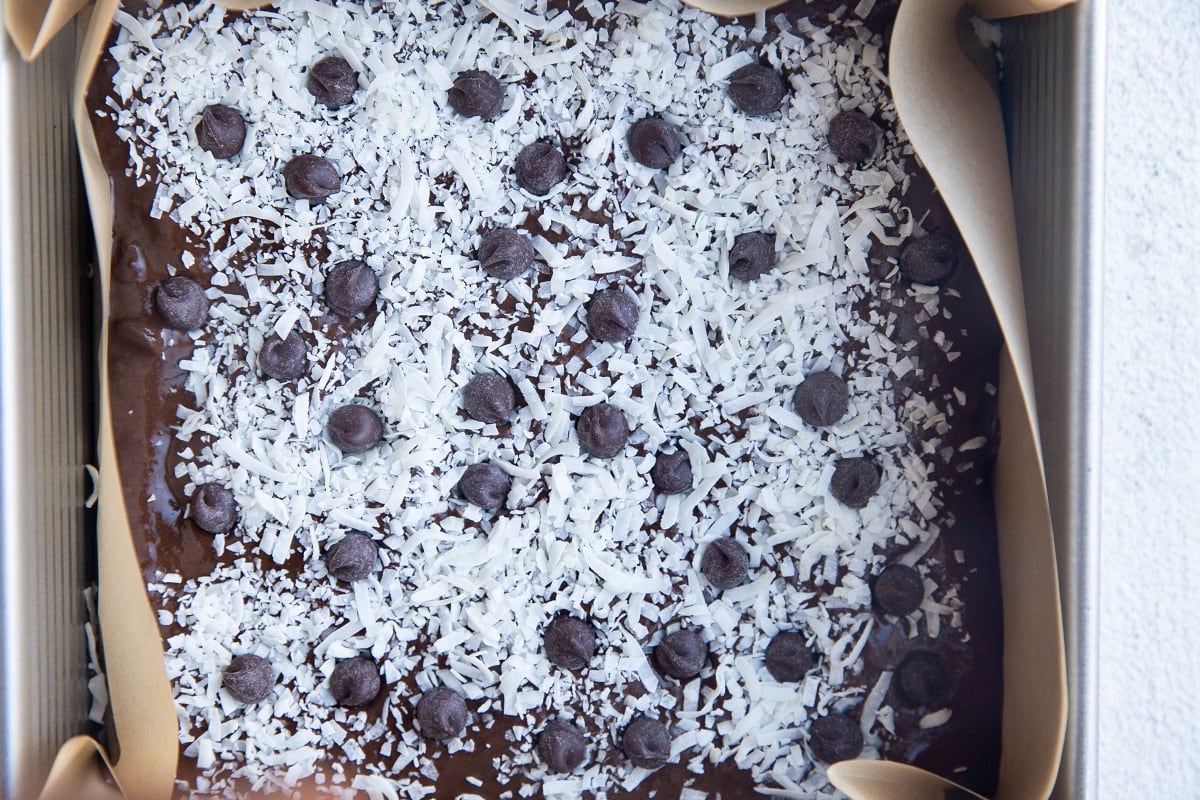 Bake for 18 to 20 minutes until brownies are set up.
For gooey brownies, bake for less time. The brownies will be cooked through once they reach an internal temperature of 190 degrees F, so feel free to use a thermometer to check the temperature if you're aiming for brownies that are nice and gooey and perfectly baked.
Allow brownies to cool for at least 15 minutes before slicing and serving.
Store any leftover brownies in an airtight container in the refrigerator for up to 5 days. Freeze brownies in a zip lock bag or freezer bag for up to 3 months.
Miraculously, the brownies taste even better the next day once they have had time to let their flavors marinate and develop.
And that's it! The absolute best black bean brownies recipe that is guaranteed to impress every time!
I'm willing to bet your friends and family won't be able to guess that these brownies are flourless, dairy-free, refined sugar-free, much less made with beans!
Make them the next time you're craving a decadent chocolate treat!
If you love healthy brownie recipes, also try these out!
More Healthy Brownie Recipes:
Magical fruit brownies for life!
Black Bean Brownies (Flourless and Naturally Sweetened)
Moist, fudgy, delicious brownies made out of beans! You'd never guess these grain-free brownies are healthy!
Servings:
9
large brownies
Instructions
Preheat the oven to 350 degrees F. Line an 8" x 8" baking pan with parchment paper, then lightly oil the parchment paper.

Stir ½ cup of the chocolate chips into the batter and pour into a lightly oiled or parchment lined baking dish.

Bake for 18 to 20 minutes until brownies are set up and a toothpick tests clean.

Allow brownies to cool 15 minutes before cutting into them.
Notes
*Use regular white sugar or brown sugar as a 1:1 substitute if you'd like.
**You can also use melted coconut oil, olive oil, or 2 tablespoons of melted butter.
***Replace the balsamic vinegar with any other type of vinegar, including apple cider vinegar or rice vinegar. You can also use lemon juice.
Nutrition
Serving:
1
of 9
|
Calories:
239
kcal
|
Carbohydrates:
37
g
|
Protein:
5
g
|
Fat:
9
g
|
Fiber:
3
g
|
Sugar:
28
g
This post contains affiliate links, which means I make a small commission off items you purchase at no additional cost to you.
I originally shared this recipe on April 5, 2013. I updated the photos, added information to the post, but left the recipe the same.