Coconut Walnut Sunflower Seed Paleo Granola is grain-free, refined sugar-free, and vegan! This healthy granola recipe results in huge clusters and is an amazing breakfast or snack!
Extra lumpy coconut walnut cashew sunflower seed granola that happens to be paleo and vegan!
Get a load of this cluster!
Ain't no skirting the issue, my granola comes with a little junk in the trunk. As in, it's got a lil' sumthin' sumthin'. You guys, it's super chunky! I'm of the opinion that the bigger the cluster, the better, and I have a feeling you share my cluster of sentiments.
Almost a year ago, I posted a recipe for Paleo Granola, and you all took it viral. In point of fact, it continues to be one of my most popular recipes on this site.
Turns out, you not only LOVE granola, but you enjoy it grain-free and naturally sweetened (paleo-style). How could you not? The fungry monster's all about nutty nuggets of crunchy bliss.
Anyhoo, Saturday morning, I woke up all hot to trot with a massive craving for granola, so I figured I'd shake out Paleo Granola v. 2.0. And lemmejussayrightnow: bueno.
If you made my first paleo granola recipe, you know my secret to making HUGE granola clusters is using an egg white and honey. Being cognizant of my vegan readers, I changed the recipe up and used a flax "egg" (ground flax seed mixed with water) instead of an egg white, and replaced the honey with pure maple syrup.
BOOM: vegan paleo granola!
The flax "egg" worked magically, and I ended up with clusters the size of my palm!
"My granola clusters are too big," said no body ever.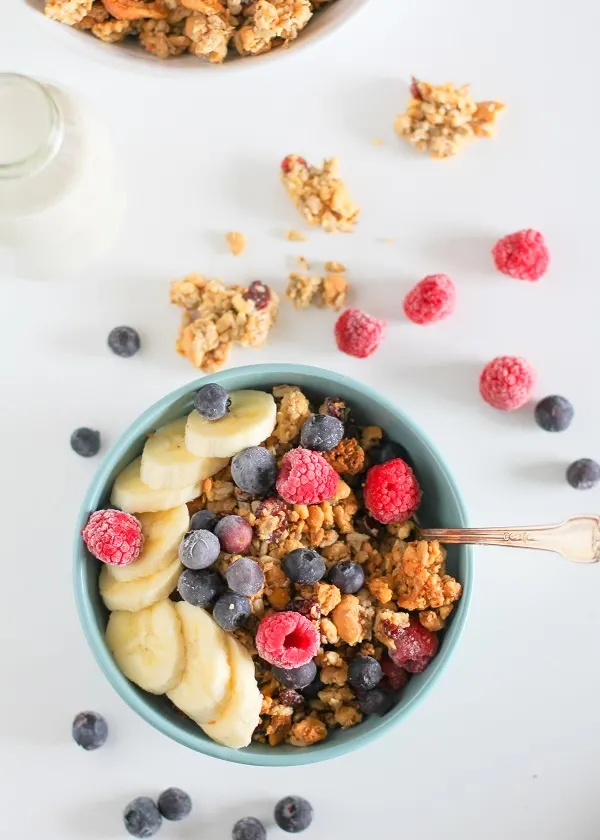 There are plenty of substitutions you can make in order to customize this sunflower seed paleo granola.
You can use almonds instead of cashews, pumpkin seeds instead of sunflower seeds, raisins instead of dried cranberries, etc., etc., etc., amen. Shoot, I bet you can even use molasses instead of maple syrup and turn this into a gingerbread flavored granola! I make my granola only mildly sweet, so for a sweeter granola, simply add more maple.
My favorite way of consuming granola is with almond milk and fresh fruit, but you can also take the yogurt route, or munch on the dang thing dry. So much crunch, so many options.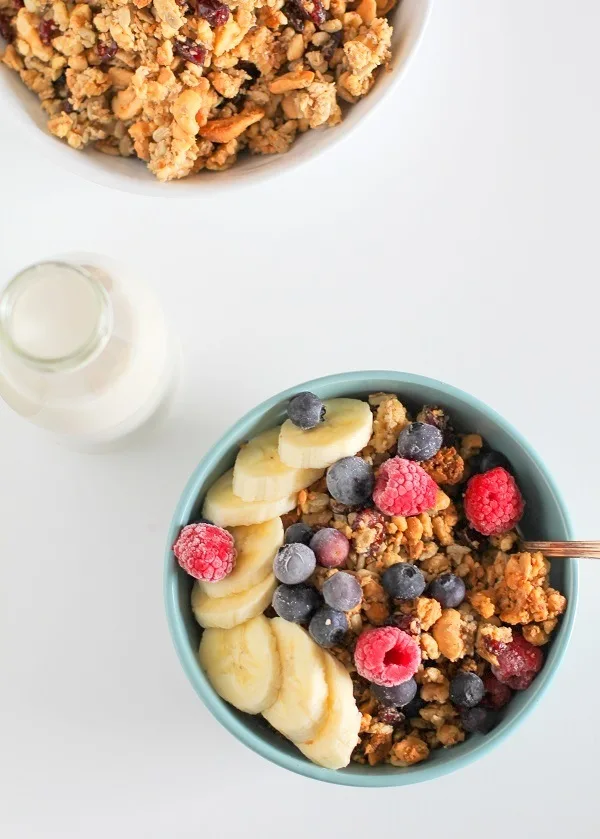 More Healthy Granola Recipes:

Here's what you need for all the granola lumps: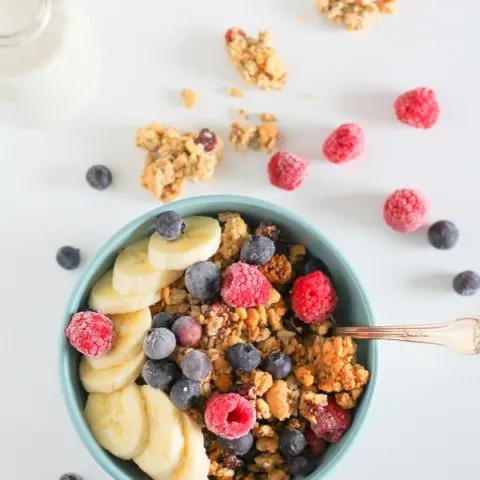 Coconut Walnut Sunflower Seed Paleo Granola
Coconut Walnut Sunflower Seed Paleo Granola is grain-free, refined sugar-free and vegan!
Ingredients
1 tablespoon ground flax seed
3 tablespoons water
2 cups raw walnuts
1 cup raw sunflower seeds
Instructions
Preheat the oven to 300 degrees F.
In a small bowl, whisk together the ground flax seed and water. Allow it to stand for 10 minutes, or until mixture is thick and egg-like.
Add the walnuts and cashews to a blender or food processor and pulse a few times to chop the nuts - avoid grinding the nuts into a flour.
Add flax mixture to a large mixing bowl, along with the coconut oil, maple syrup, vanilla extract, ground cinnamon, and salt. Whisk together until well combined.
Add the chopped nuts, sunflower seeds, shredded coconut, and cranberries to the bowl with the wet mixture and stir well until everything is coated.
Spread the granola mixture over one large baking sheet, and place in the oven for 35 to 40 minutes, stirring once after 20 minutes. (My granola took 35 minutes on the dot. Do be sure to keep an eye on the granola, as it burns very easily).
Remove the granola from the oven and do not stir! Allow it to sit for 10 minutes before touching it.
Using a spatula or wooden spoon, break up the granola into desired chunk sizes.
Serve granola with yogurt, almond milk, berries, and/or banana.
Nutrition Information
Yield

2
Serving Size

1 grams
Amount Per Serving
Unsaturated Fat

0g