Super crunch, extra large cluster cinnamon raisin paleo granola. This vegan, grain-free granola recipe features nuts, seeds, almond butter, and pure maple syrup for a super nutritious breakfast or snack!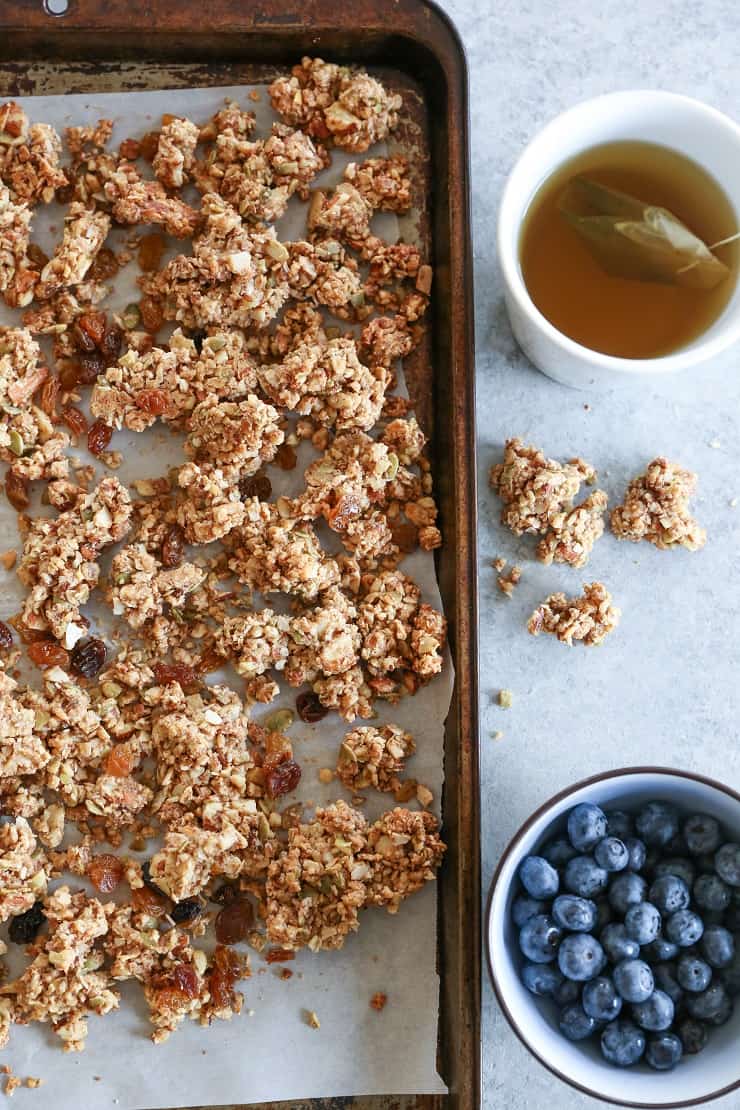 I wanted to name this post, "Oatmeal Cookie Paleo Granola," but then I counted the ways that would be confusing.
This granola really does taste like a crunchy oatmeal raisin cookie, loaded with cinnamon and oat-esque flavor from the combination of almond butter, vanilla extract, roasted nuts and coconut.
Essentially, all ingredients put together yield a cozy cookie flavor that'll keep you fiending for more.
And the crunch.
You guys, the crunch is REAL.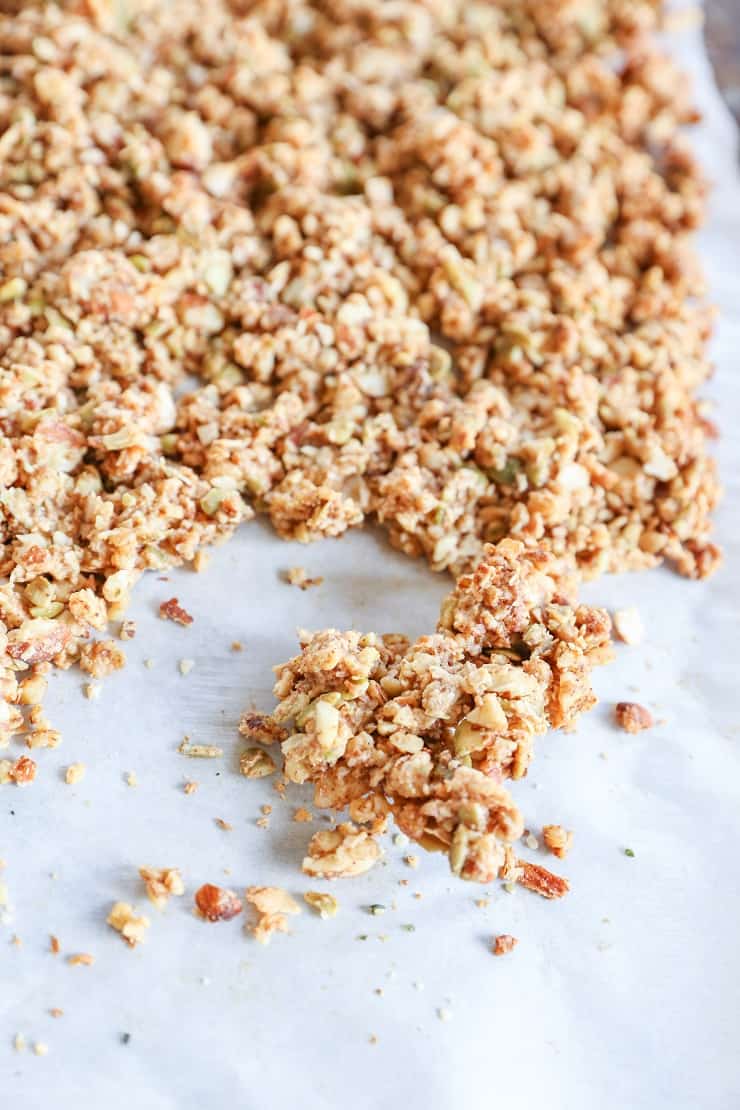 I spoke about this in the first Paleo Granola recipe I posted years ago, but when I'm craving something crunchy, there's just nothing that satisfies the way enormous crunchy granola clusters do.
While I can definitely get on board with a vegetable chip (fun fact: I LOVE kale chips and beet chips), there's something about a sweet crunch that just jettisons my heart into outer space.
Let's talk details.
How to Make Cinnamon Raisin Paleo Granola:
Gather up your granola ingredients. Pulse the nuts, pumpkin seeds, and flaked coconut in a food processor…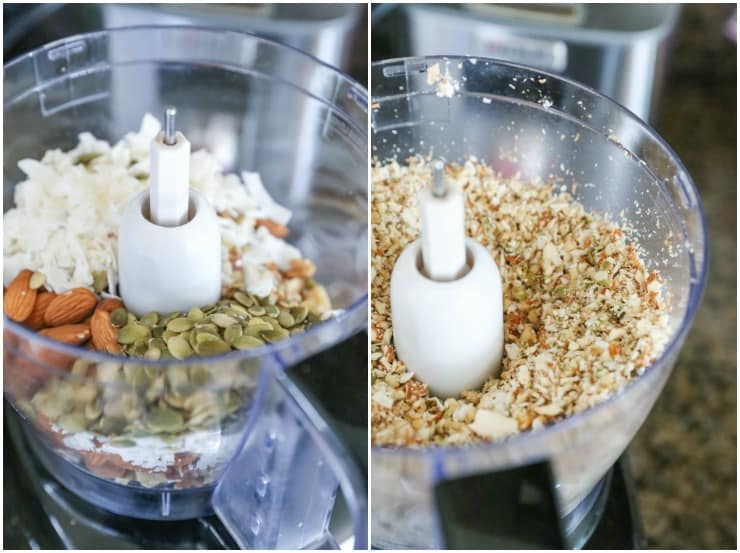 Mix together coconut oil, pure maple syrup, almond butter, vanilla extract, and cinnamon in a small bowl. Pour said mixture over the nut mixture and mix well to combine.
Spread the granola mixture on a parchment-lined baking sheet and bake.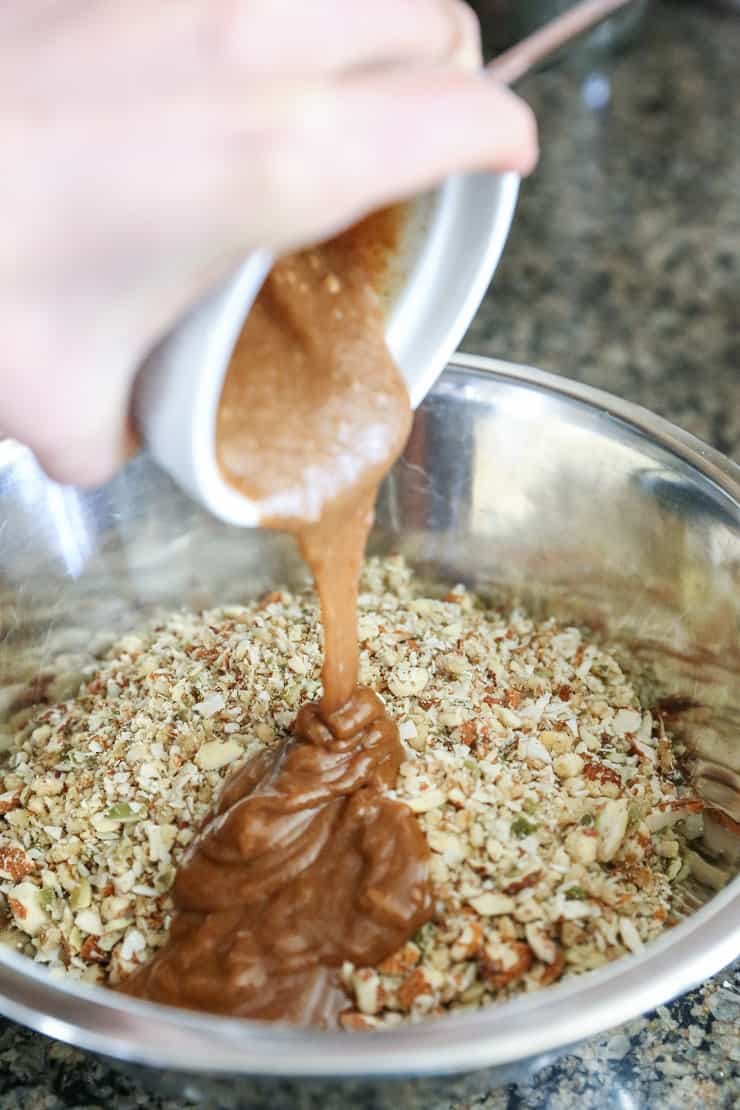 After baking, allow the granola to sit AT LEAST 15 minutes (I usually let mine sit for an hour for good measure) before we dive in.
This resting process is what yields the most mega of granola chunks you ever did see.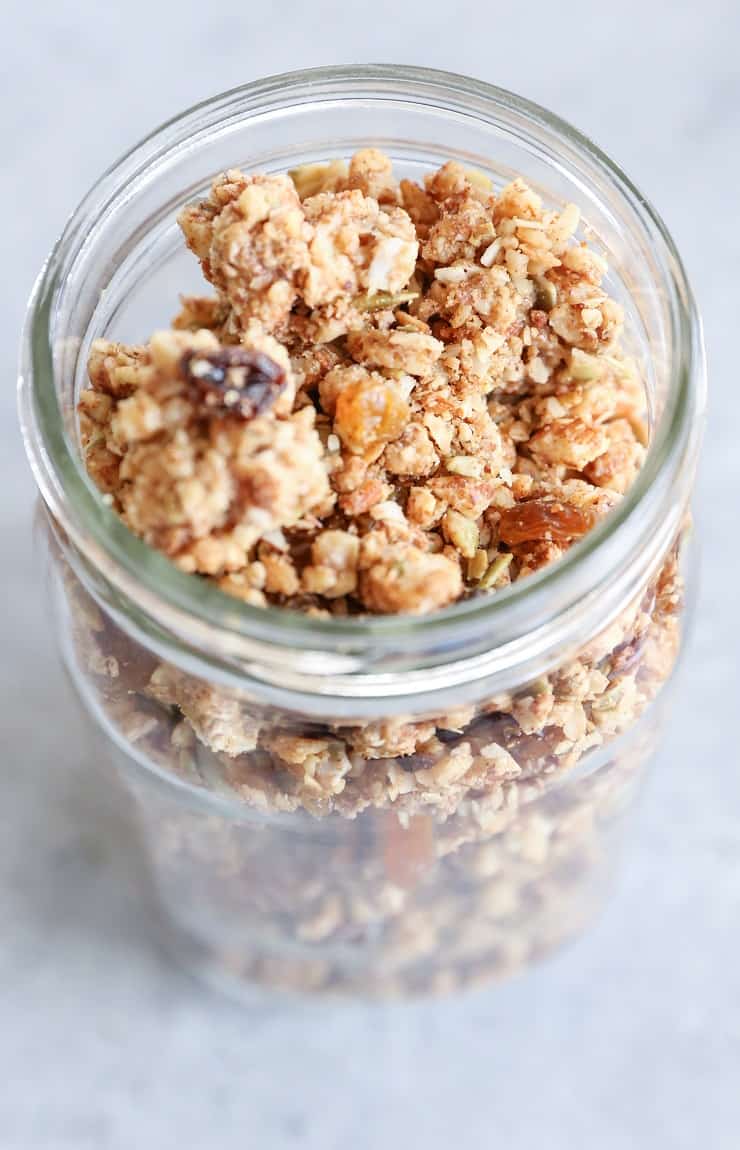 Serving options? May I be so bold as to say I love just popping the granola straight into my mouth?
I also enjoy cinnamon raisin paleo granola with blueberries and almond milk and eat it like cereal.
In the event I make a smoothie bowl (which is honestly pretty rare), I'm always up for some super crunchy granola on top.
I got a little fancy with this particular batch of granola and made little yogurt bowls (using store-bought coconut milk yogurt).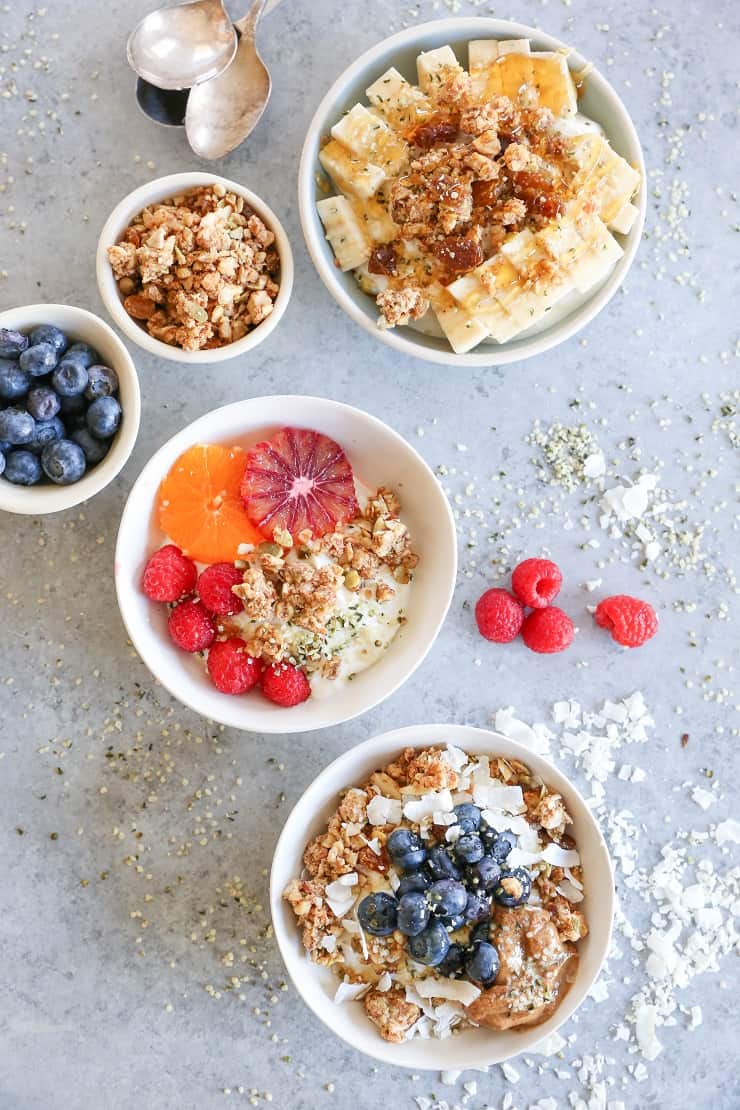 In one bowl, I added yogurt, granola, sliced banana, and a drizzle of honey, in another bowl, I added blood orange slices, raspberries and hemp seeds, and in another bowl, I did the ol' blueberry-almond butter-pure maple syrup combo.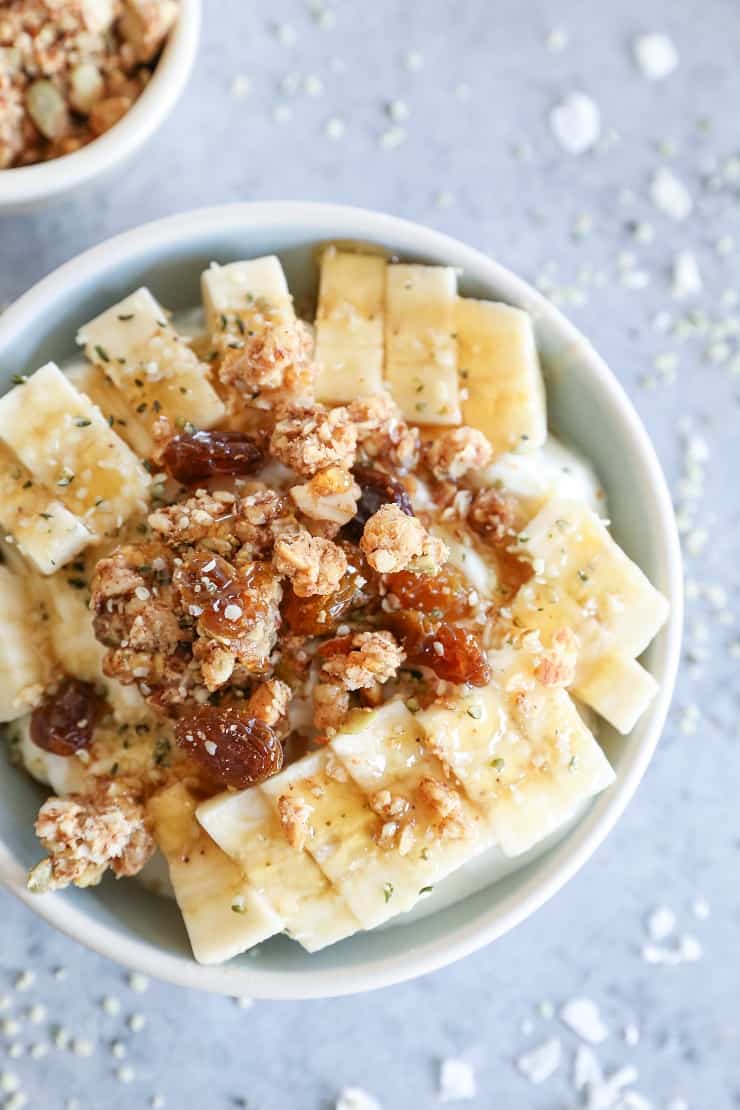 Get your crunch on!
More Healthy Granola Recipes:
My cookbook,
Paleo Power Bowls
, is now availa
ble! CLICK HERE to check it out. Thank you for your support!
If you make this Cinnamon Raisin Paleo Granola, please feel free to share a photo and tag @TheRoastedRoot on Instagram!
Cinnamon Raisin Paleo Granola
Grain-free healthy granola recipe designed to taste like a crunchy oatmeal raisin cookie
Instructions
Preheat the oven to 300 degrees F and line a baking sheet with parchment paper.

Add the first 4 ingredients (walnuts through flaked coconut) to a food processor and pulse until nuts and seeds are chopped into small bits (avoid grinding too finely into a flour). Transfer this mixture to a mixing bowl.

Heat the next 6 ingredients (almond butter through sea salt) over the stove top (or in the microwave), stirring constantly until mixture is well-combined. Pour this mixture into the mixing bowl with the chopped nuts and stir well until combined.

Transfer the granola mixture to the baking sheet and smooth into an even layer - you want the granola to clump up, so don't spread it out too thinly - it should look like one big massive granola bar. Bake on the second to the top rack of the oven for 20 to 25 minutes, until golden-brown.

Remove granola from the oven and allow it to cool at least 30 minutes before touching it. This allows the granola to clump and form large clusters. Break up the granola into desired-sized chunks and mix in the raisins. Store in an airtight jar for up to 10 days (note: this granola does not need to be refrigerated).
Nutrition
Serving:
1
of 15
|
Calories:
194
kcal
|
Carbohydrates:
11
g
|
Protein:
5
g
|
Fat:
15
g
|
Fiber:
2
g
|
Sugar:
5
g