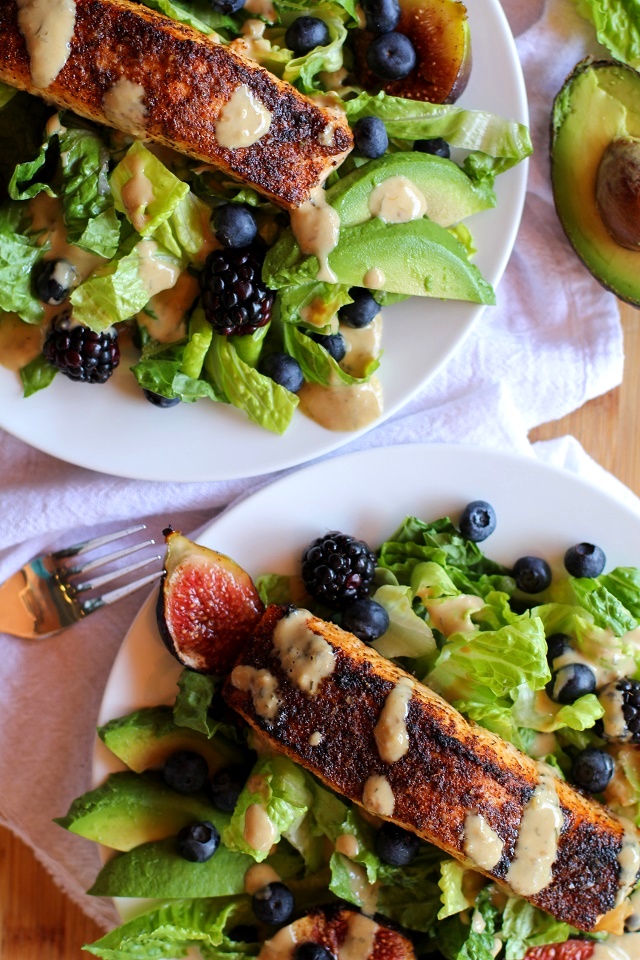 Ensalada de Salmón!
I feel like a broken record.
The broiled salmon bake has been on constant replay since the dawning of this site.
You'd think I'd be over it by now…
…and yet:
My mouth is watering just typing the words.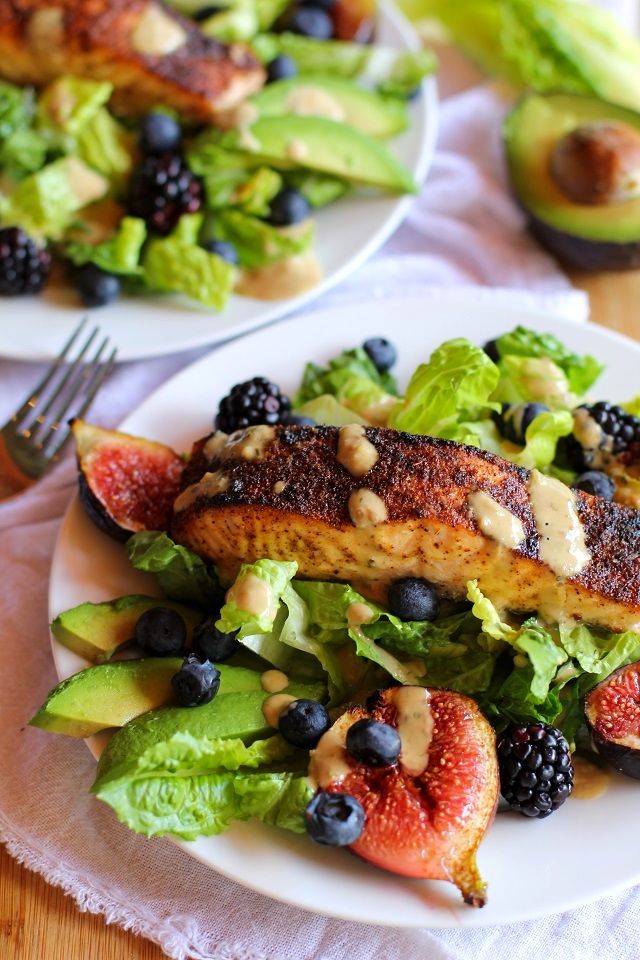 I salmon at least once a week, because aside from straight up pork belly, salmon is my favorite of all the animals. Most of the time, I broil it, but I also love grilled salmon. Broiling takes less than half the time of grilling, so unless I have other things to grill, I just stick with the oven approach.
It's so easy. All I do drizzle with oil, sprinkle with salt and any spices I feel like tasting. I like using spice blends, such as chili powder, Cajun seasoning, Pappy's Prime Rib Rub (<-you read that correctly), za'atar, Spiceologist's Cowboy Crust rub, curry powder, etc. I find rubs are an easy way of injecting the fish with tons of flavor and they take the guesswork out of portioning the spices. If I want to create my own spice blend, I usually use cumin, and paprika, onion powder, and garlic powder.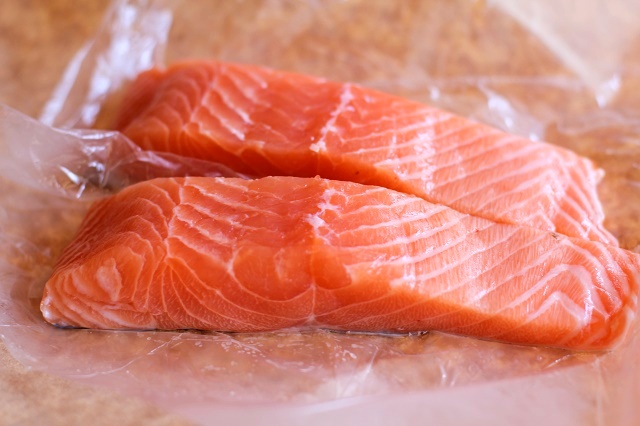 For this round, all I used was chili powder, garlic powder, and sea salt. I went light on the spice because I knew the salmon would be going into a salad with lots of other ingredients. When I eat salmon with roasted veggies, I go heavy on the spice, creating a big ol' crispy crust.
Pop 'er under the broiler, and BOOM: insta-crisp.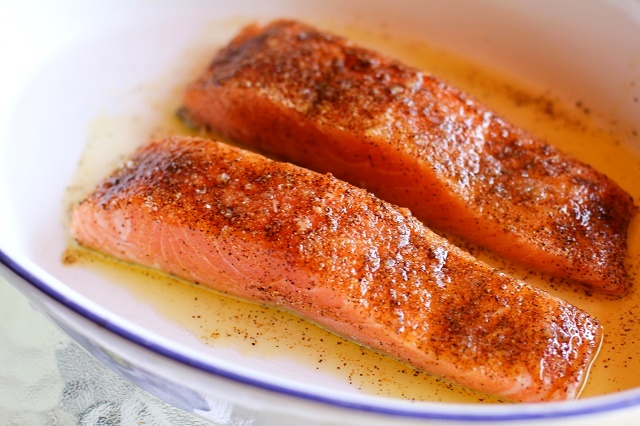 Let's face it, this is basically my dinner every Saturday evening.
The heart's been craving salmon and figs together lately, so I figured, "ZIP-A-DEE-DOO-DAH, if the oven's already going to be on for the salmon, why not roast some figs at the same time?" <- resource utilization FTW. So I made these maple roasted figs, and plunked them down on a bed of romaine lettuce with the salmon. I had all sorts of berries left over from all those sangrias I whipped up last week, so I used some of them in this salad, too.
Speaking of which…you know what would go really well with this meal? Sangria!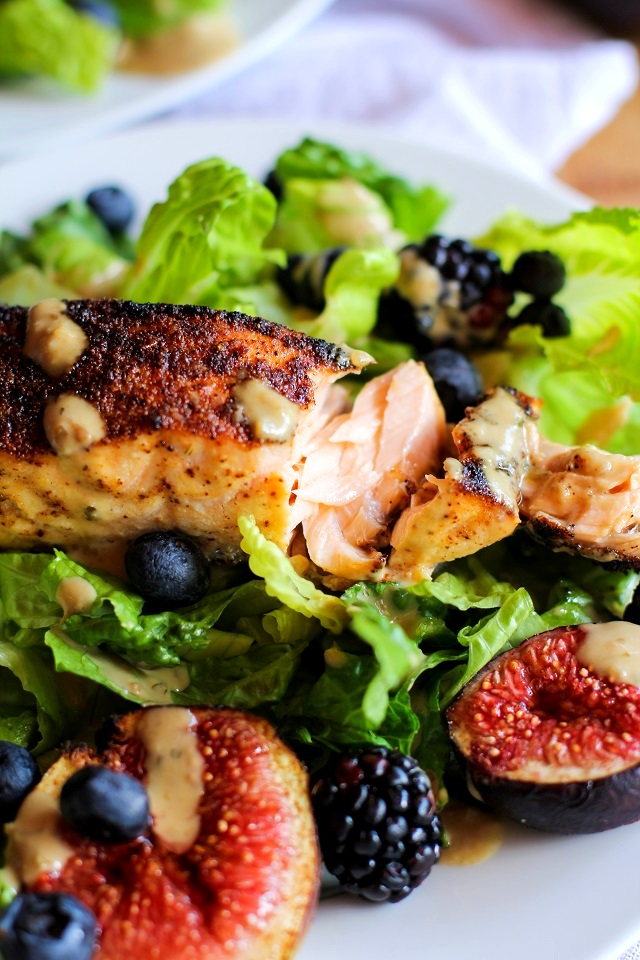 A note about dressing: I used this mayo-free green goddess dressing I whipped up a while back, which was wonderful. BUT in retrospect, I think this creamy raspberry vinaigrette would have been better suited for the meal as a whole…like I really think it'd be the cherry on top. Date-balsamic vinaigrette? That'd work too!
Pause: have you seen this music video yet? It warms my heart.
Fishy fishaaaay!
Salmon and Fig Salad with Green Goddess Dressing
Salmon and Fig Salad with Green Goddess Dressing is packed with a delicious variety of flavors and textures for a palate-pleasing meal
Ingredients
For the Broiled Salmon:
3/4

pound

salmon

cut into two fillets

Garlic powder
For the Salad:
5

ounces

hearts of romaine

chopped

1

ripe avocado

sliced

½

cup

blueberries

½

cup

blackberries

Maple Roasted Figs

Mayo-Free Green Goddess Dressing
Instructions
Preheat the oven on the high broil setting and move one of the racks to the second to the highest shelf.

Coat the bottom of a baking dish with olive oil and place the salmon in the dish. Sprinkle the fish with chili powder and garlic powder (or spices of choice). Drizzle olive oil on top and use your hands to coat all of the salmon fillets. Sprinkle with sea salt.

Slice 3 to 4 figs in half and place face-up on a baking sheet. drizzle with a small amount of maple syrup and sprinkle with sea salt.

Place both the fish and the figs in the oven. Broil figs for 6 minutes, or until juices are seeping out, and broil the salmon for 8 to 12 minutes, or until crispy and cooked through (mine took 10 minutes). Remove from the oven and allow the figs and salmon to cool a couple of minutes.

Divide the romaine lettuce, avocado, blueberries, blackberries, salmon, and figs between two plates. Drizzle with desired amount of green goddess dressing and enjoy.
Nutrition