Easy Healthy Creamy Raspberry Vinaigrette made refined sugar-free and lower in fat than regular store-bought salad dressing. This vibrant, tangy salad dressing recipe is amazing on just about any green salad!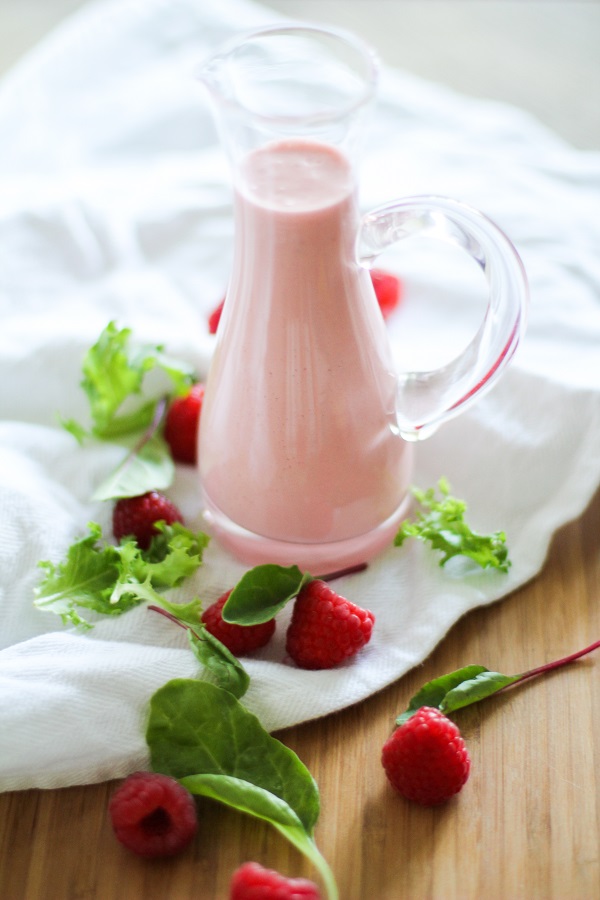 This sunset pink healthy raspberry vinaigrette may resemble a smoothie, cotton candy, or a Polly Pocket Pull-Out Playhouse, but I assure you what the dressing lacks in he-man super hero colors it makes up for with flavor.
Easy to prepare, loaded with yummy berry tang and naturally sweetened with honey, this simple yet powerfully flavorful salad dressing is a surefire way to keep your salad game strong.
Drizzle it over any combination of greens and veggies with your choice of protein, nuts, seeds, and cheese for a real deal meal!
I love it on my Raspberry and Pistachio Salad with Creamy Raspberry Vinaigrette.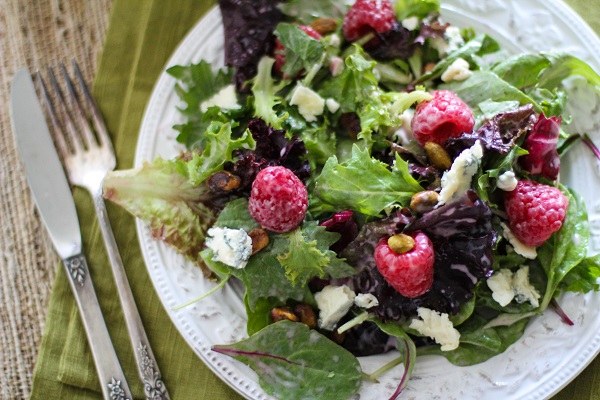 If you enjoy creamy dressings and detest mayonnaise with every crevasse of your salad-crunching soul, you'll love this recipe!
No mayo here, just simple ingredients and a whole lotta pink! I use plain yogurt to take the place of mayo and keep it luscious.
Ingredients for Healthy Raspberry Vinaigrette:
Fresh raspberries, olive oil, white vinegar, honey, and plain yogurt is all we need!
For added citrusy flair, you can add in some fresh lemon juice. Love sweeter dressings? Add more honey!
You can also swap the honey for pure maple syrup or regular granulated cane sugar if you'd like.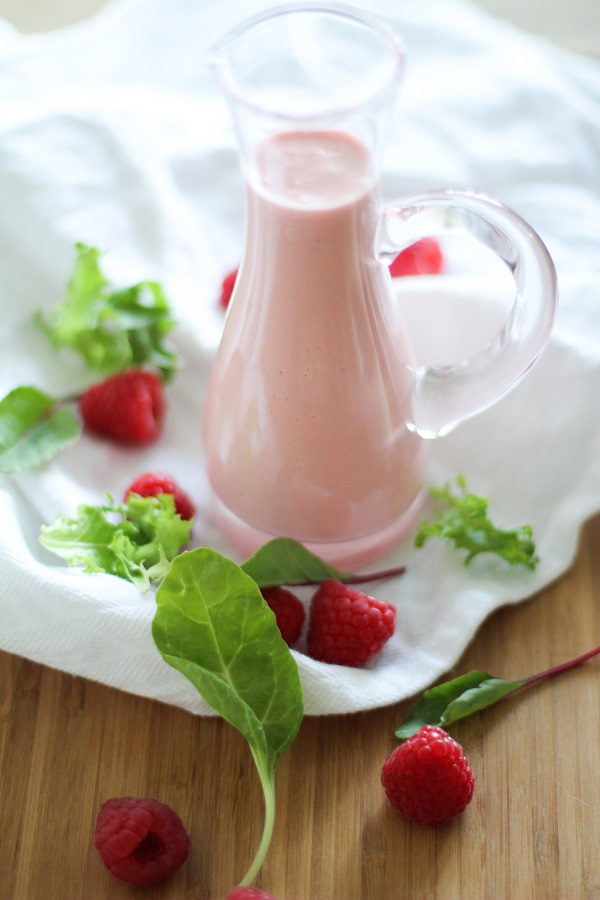 How to Make Healthy Raspberry Vinaigrette:
We start by making a sort of raspberry syrup by heating the raspberries on a stove top. Once they come to a boil, we mash them up until we have a raspberry sauce. From here, we must strain the juice from the pulp, as we will only be using the juice. This ensures the dressing is very creamy.
Once the raspberry syrup is chilled, simply add all of the ingredients to a blender and blend well until it's perfectly smooth and creamy. Taste the dressing for flavor and add more honey or sea salt to your personal taste.
Use on all of your salads from now 'till forevermore!
Take a looksy at my Massaged Kale Salad with Creamy Blueberry Vinaigrette for a similarly delicious dressing recipe!
And here's where we break it down.
Creamy Raspberry Vinaigrette
Creamy raspberry vinaigrette is a delicious, healthier homemade salad dressing recipe perfect for any salad!
Ingredients
Instructions
Heat the raspberries and 1 tablespoon of water in a small saucepan over medium heat, covered.

After a couple of minutes, juices will begin seeping out of the raspberries. Use a fork to mash the raspberries and allow the mixture to come to a gentle boil.

Remove the cover from the saucepan and allow the mixture to gently bubble for a couple of minutes, ensuring the raspberries are completely softened. Add the honey and stir to combine.

Pour the raspberry mixture into a bowl or container and place it in the refrigerator until completely cold.

Using a fine strainer, strain the raspberry mixture into a bowl, separating the pulp from the syrup. Press the raspberry pulp into the strainer to get out as much liquid as possible. Save the raspberry pulp for a smoothie or to put on ice cream later, and use the raspberry syrup for this dressing.

In a small blender (I used my magic bullet), combine all of the ingredients, including the raspberry syrup. Blend until completely combined and creamy. If you don't have a blender, you can whisk all of the ingredients together in a bowl vigorously.

Taste the raspberry dressing for flavor and add more honey (or sweetener of choice) until it reaches your desired level of sweetness. I recommend 1 to 3 tablespoons to start out. Add more sea salt if desired.

Use creamy raspberry vinaigrette on your favorite salads!
Notes
*I used whole milk yogurt, which I recommend because it makes a creamier flavor and texture than low-fat. Refrigerate in a sealed container for up to one week.
Store Raspberry vinaigrette in an airtight container such as a mason jar in your refrigerator for up to 1 week.
Nutrition
Serving:
2
Tbsp
|
Calories:
134
kcal
|
Carbohydrates:
7
g
|
Fat:
12
g
|
Fiber:
2
g
|
Sugar:
4
g