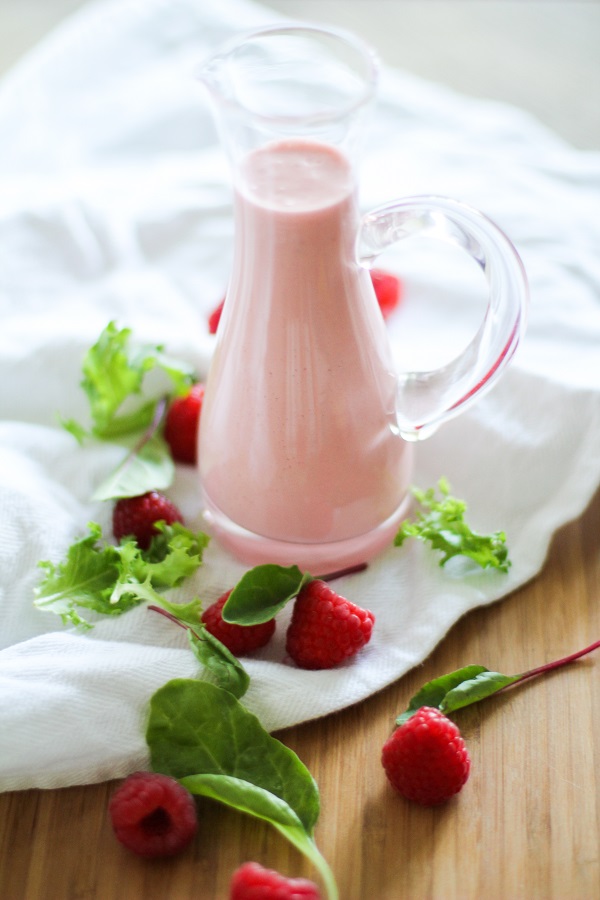 You just saw a photo of a sunset-pink Creamy Raspberry Vinaigrette and now you want to go away and come again another day. DOOOOOOON'T DOOOOOOO THAAAAAAAT. Can you sense my co-dependence? I need you here to take a gander at my pink salad dressing. I need you to sit your pretty little hiney down in that ther cher and become engrossed like you mean it.
Can I take you there? I'll take you there. In a Staple Singers sort of way…absolutely not a Flo Rida sort of way.
My bounce rate just went up.
Whoooooa this is pink.
This may resemble a smoothie, cotton candy, or a Polly Pocket Pull-Out Playhouse, but I assure you what the dressing lacks in he-man super hero colors it makes up for with flavor. You knew I would say that. You can write these posts for me at this point.
But it's all true! Remember when raspberry vinaigrette was the shiiiiii – thing? Remember how every salad at every restaurant ever had cranberries, feta, pine nuts and raspberry vinaigrette? You do. You ODed, just like me. But because time has passed since the days of yore, we're ready to saddle 'er up and take 'er for a spin.
If you're a man and you're still reading this post, you have the patience of a saint. I appreciate your saintly presence.
This vinaigrette is easy to put together and makes plenty for you to keep on hand for your summer salad delight. If you enjoy creamy dressings and detest mayonnaise with every crevasse of your salad-crunching soul, you'll love this recipe! No mayo here, just simple ingredients and a whole lotta pink!
And here's where we break it down.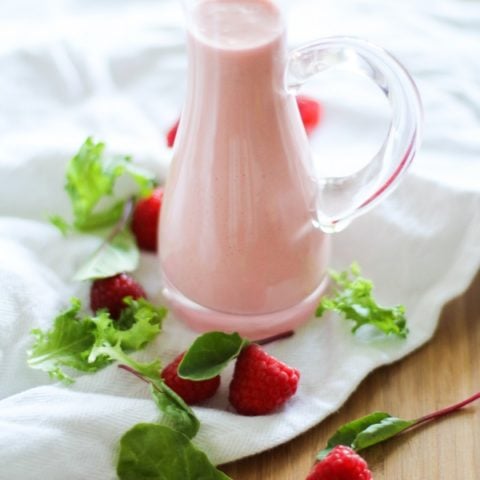 Creamy Raspberry Vinaigrette
Creamy raspberry vinaigrette is a delicious, healthier homemade salad dressing recipe perfect for any salad!
Ingredients
1.5 cups fresh raspberries
1 tablespoon water
1/3 cup olive oil or grapeseed oil
3 tablespoons white vinegar
1/3 cup plain yogurt*
2 teaspoons honey, or to taste
¼ teaspoon salt
Instructions
Heat the raspberries and 1 tablespoon of water in a small saucepan over medium heat, covered.
After a couple of minutes, juices will begin seeping out of the raspberries. Use a fork to mash the raspberries and allow the mixture to come to a gentle boil.
Remove the cover from the saucepan and allow the mixture to gently bubble for a couple of minutes, ensuring the raspberries are completely softened. Add the honey and stir to combine.
Pour the raspberry mixture into a bowl or container and place it in the refrigerator until completely cold.
Using a fine strainer, strain the raspberry mixture into a bowl, separating the pulp from the syrup. Press the raspberry pulp into the strainer to get out as much liquid as possible. Save the raspberry pulp for a smoothie or to put on ice cream later, and use the raspberry syrup for this dressing.
In a small blender (I used my magic bullet), combine all of the ingredients, including the raspberry syrup. Blend until completely combined and creamy. If you don't have a blender, you can whisk all of the ingredients together in a bowl vigorously.
Serve on your favorite salads!
Notes
*I used whole milk yogurt, which I recommend because it makes a creamier flavor and texture than low-fat. Refrigerate in a sealed container for up to one week.
Nutrition Information
Serving Size

1 grams
Amount Per Serving
Unsaturated Fat

0g
Take a looksy at my Massaged Kale Salad with Creamy Blueberry Vinaigrette for a similarly delicious dressing recipe!