Layered vegan cheesecake bars with fresh blueberries and cherries. This dairy-free cheesecake recipe is a fun and unique take on the classic dessert.
Funny story: A few months ago, (pre-4th of July) I set out to make red, white and blue layered cheesecake bars for a client of mine, and this is what I ended up with. 2 shades of purple.
It turns out, cherries don't turn perfectly red, and blueberries don't turn perfectly blue. In retrospect, I should have known I'd end up with Barney bars, but hey, it's all a part of the journey, right?
And the upside is now we get to feast our eyes on pretty purple layered cheesecake bars, which as far as I'm concerned, are way cooler than the potential red, white, and blue counterpart, right?
::Insert words of affirmation here::
What we're doing here is turning our classic No-Bake Vegan Cheesecake into a multi-faceted flavor-blasted experience.
We have a standard cheesecake layer (the white), a blueberry layer (the darker purple) and a cherry layer (the lighter purple). The tri-flavor aspect of these is otherworldly…it's one of those super unique desserts that you almost can't describe. It's creamy, tangy, cheesecake-y, but in a beautiful berry-cherry sort of way. So basically, it's a blueberry cherry cheesecake. There we go.
I don't make recipes this complicated very often. When it comes to dessert recipes, my preference is to toss every ingredient into a blender, blend, then bake. I can't be bothered to do more than three steps, you see.
WELL, my adoration of cheesecake is so powerful that I made an exception to my own rule. As in, this layered situation is much more time-consuming and thought-provoking than I'd like, but I have to admit, the end result is pretty worth it. ESPECIALLY if you are making these for a special occasion.
In fact, don't make these unless you're planning on sharing them or your have the self-control of a saint…because they're too addicting to just have laying around, and let's face it: they are packed with fat and sugar (not a good macronutrient combo as it's a recipe for weight gain…unless you're an ironman athlete and need all the calories you can get, macronutrients be darned).
I bet you're dying to make these now.
Seriously, though, they're fun. If you have children, nieces or nephews, or spend time around kids, they're an awesome no-bake project for summertime. Have I mentioned they're addicting?
So here is our order of operations:
We make our crust. This can be done ahead of time while the cashews are soaking or it can be done the same day.

Soak 4 cups of raw cashews (3 hours works, but overnight is better)

Once soaked, we divide the soaked cashews in three equal parts, so we can make three layers. I divide the cashews into three separate bowls, but that's just me.

We gather the ingredients we need for each layer. I also put these ingredients in the bowl with the soaked cashews so that when I go to blend a layer in the blender, all the ingredients are already there.

We blend one layer first. I started with the cherry layer.

Pour the first layer over the prepared crust and freeze it for at least 1 hour – this way your layers won't blend…unless you want them to blend, in which case you can skip the between-layer-freezing process.

Once the first layer is mostly frozen, we prepare our second layer. Repeat the freezing process.

Blend the final layer, then freeze at least 3 hours. This helps the cheesecake set up. After you have frozen the cheesecake, you can thaw and serve it, or you can transfer it to the refrigerator and serve it later. My preference is to freeze, then transfer to the fridge so that the texture is nice and creamy.

Cut and serve! And share!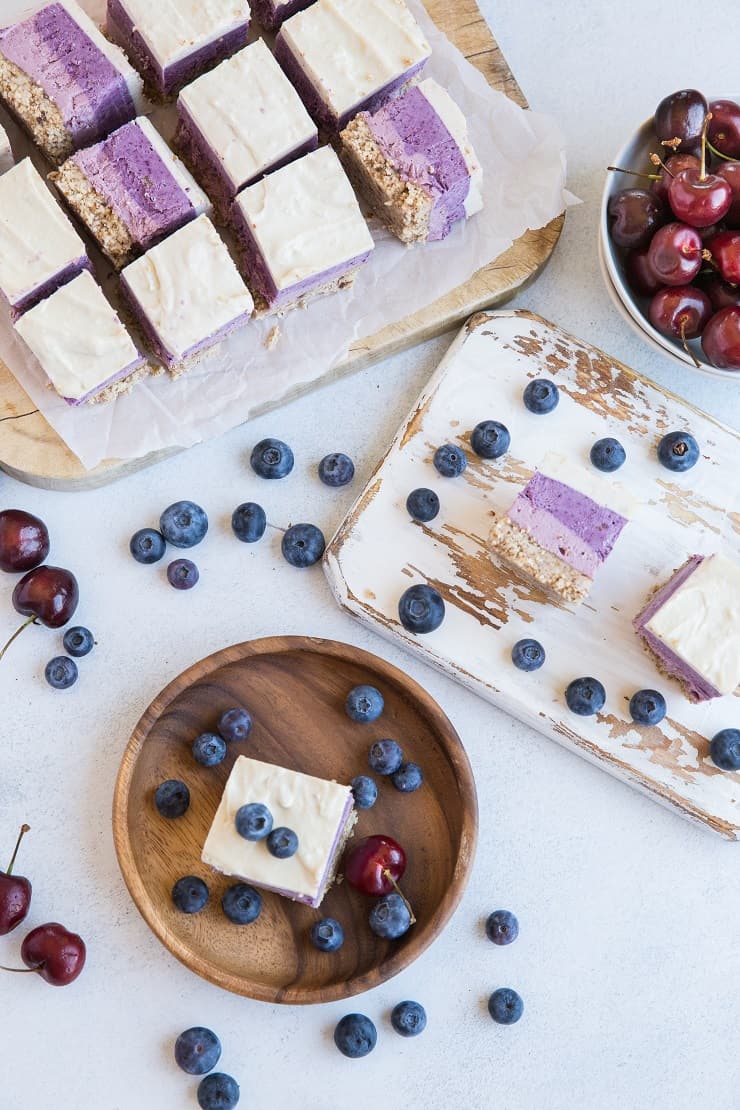 So that's it. When you break it down step-by-step, it's quite easy. Again, just a bit more time-intensive than I typically make my recipes. Nevertheless, I hope you enjoy these berry flavorful blueberry cherry cheesecake bars!
Blueberry Cherry Vegan Layered Cheesecake Bars
Cheesecake has never been so fun with these fresh, flavorful, vibrant layered bars!
Ingredients
Instructions
Place 4 cups raw cashews in a large bowl and cover with water. Soak at least 4 hours, preferably overnight. Divide the cashews in thirds (you should have about 4.5 cups soaked cashews). I like to put them in three separate bowls.
Prepare the Crust:
Add all ingredients for the crust to a food processor and process until well combined. You will need to stop the food processor a few times to scrape the sides to help it process.

Line an 8" x 8" cake pan with parchment paper. Transfer the crust mixed to the parchment-lined pan, and press the mixture firmly into the pan, creating an even crust layer.
Cherry Layer:
Add a third of the soaked cashews to a high-powered blender, along with the remaining ingredients for the cherry cheesecake layer. Blend until completely smooth (note: this may take some time. You can add some additional full-fat canned milk to help the mixture blend if necessary).

Pour the cherry cheesecake layer mixture into the pan on top of the crust. Smooth into an even layer, then transfer the pan to the freezer and freeze at least 1 hour.
Blueberry Layer:
Add 1/3 of the soaked cashews to a high-powered blender along with the remaining ingredients for the blueberry layer. Blend until completely smooth. Remove the pan from the freezer and pour the blueberry layer over the cherry layer. Smooth until even. Place pan back into freezer and freeze at least 1 hour more.
White Layer:
Add the remaining cashews to a high-powered blender along with the remaining ingredients for the white layer. Blend until completely smooth, adding some full-fat canned coconut milk to help blend if necessary. Remove cheesecake from the freezer and spread the white layer on top into an even layer. Freeze another 1 to 2 hours, until completely set up.

When ready to serve, thaw the cheesecake (either in the refrigerator or on the counter top) and slice into bars.
Notes
*You can also use almonds or cashews
Nutrition